This week Mark Abma came in to get a little bit of boot work done and seeing how Mark always has interesting stories I wanted to share both Marks set up but also an insight into the man himself. I posed questions asked by NS users, chatted about what he is up to this season and even got him to take up the Challenge set by user ISP_wa.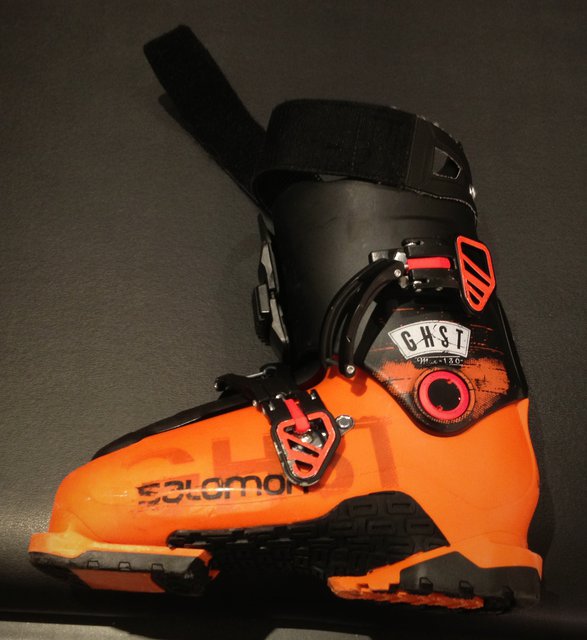 No Mark is not getting back into the park these are the new Ghost 130 not the current Ghost FS 90
The first Boots Mark had for fitting were the new Salomon Ghost 130, I had already done some slight stretching but Mark wanted just a bit more adding. Apart from the slight shell modification Mark does not change anything else on the shells. I had made a set of Sidas Custom footbeds a couple of years ago and he is still using them in the current boots. The one area that is a little different to what you or I could have is the liner.
The above image may look like a fairly non descript liner but they are more interesting then they appear. These liners are a very rare prototype liner created specially for Mark to test. I can not tell you much about the liners as honesty I don't know too much about them but speaking to the French boot designers who dropped them off they appear to be Salomon's take on an intuition liner.
Mark had used his previous pair for 2 full seasons and loved them but they were definitely showing signs of wear. When he was over at the Salomon factory in France recently he saw a pair of the same liners and asked if he could have them. Luckily for Mark they gave him the liners so he can have a couple more years in his favorite liner.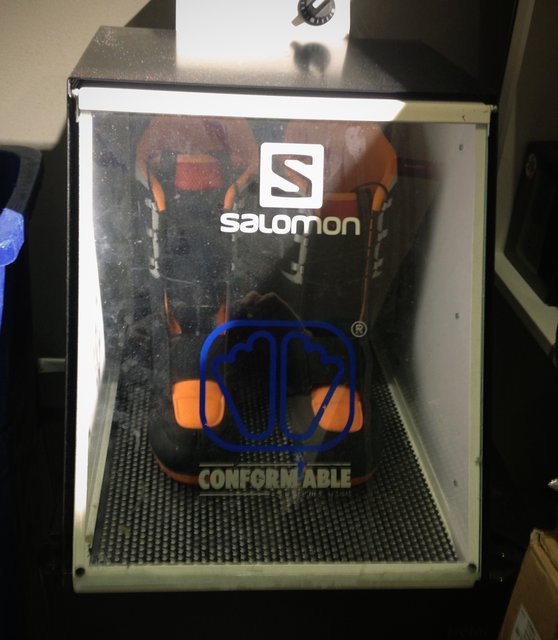 When the boot designers originally dropped the liners off with me a couple of years ago, they gave me very exact instructions on how to heat the liners. They explained because they were testing new foams the heating process had to be very precise. 1 minute too little and they would not mold, 1 minute too much and they would shrink and be ruined instantly.
Unfortunately neither me or Mark could remember the exact time they told me so when I was heating them today I was watching the oven very closely. I seemed to remember it was 5 Minutes and at that time I took them out and they were perfect.
The second boot Mark had with him were the new Salomon MTN Lab. Salomon had provided mark with a tech setup and he was planning on using these boots for longer tours.
Mark had been touring in the Ghosts and his answer for why he used the Ghost rather then something like the Quest was simple, for him it was all about the way down and he was happy to sacrifice some comfort on the up to get the ultimate ride back down.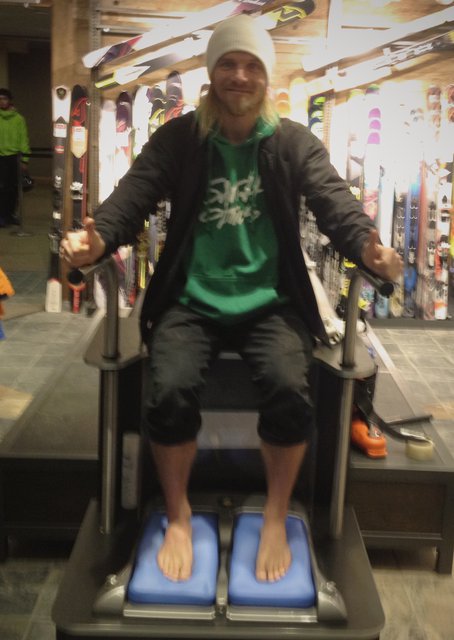 Mark needed some new footbeds for the MTN Lab's and while I had him sat on the footbed machine I asked a question by Mr Bishop "Favorite boot you've ever ridden?" This took Mark quite a long time to answer. He has been on Salomon his whole carer and has skied a lot of different boots over the years. His answer is a boot the older members here I'm sure will remember, the Salomon X Wave.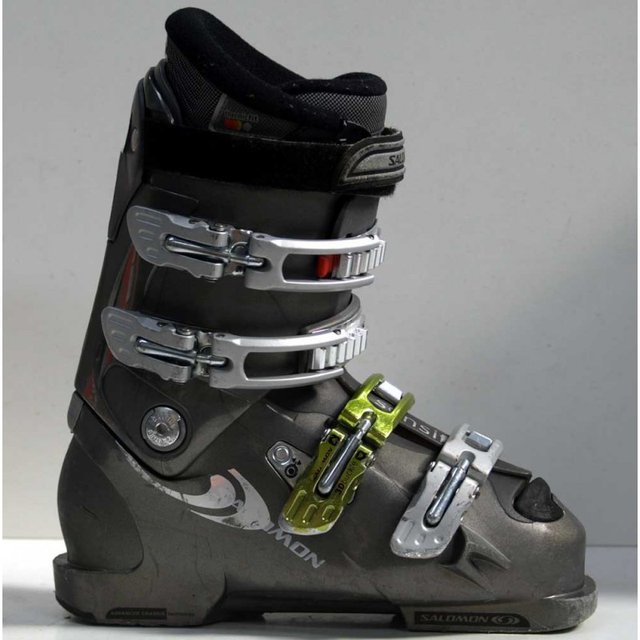 The X Wave was a hugely popular boot back in the early 2000's and I had a couple of pairs myself.
Talking about older gear brought up stories of the Whistler Glacier back when Freeskiing was just beginning. It was interesting hearing the reasons Mark went certain directions in the sport.
Growing up on the west Coast he always loved skiing powder but seeing what skiers like JF Cusson and JP Auclair were doing on the glacier made him want to try the park himself. For someone like me who watched Marks video segments and was inspired to try things, it still seems strange that the pro's I looked up to, looked up to other skiers in just the same way.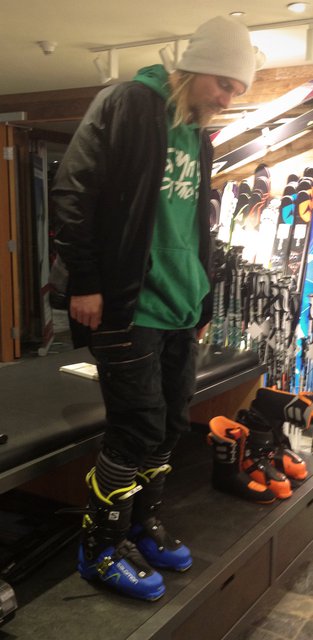 Once I had the footbeds finished and the liners heated I got Mark stood in the boots to mold the liners. In this time I asked him a question from member Bogez "Do you sometimes feel as if the extreme risk involved in high level skiing isn't worth it anymore?"
His answer to this was interesting. Mark will I'm sure not mind me saying he is getting a bit older now and he said his view on the risks involved has changed over the years. When he was younger his main goals were like many pro's, to get the shot no matter what. To say this attitude had changed would be wrong, he is still all about getting the shot but is smarter about it. He may not huck to flat repeatedly like he would when he was younger but the desire to get the shot is there just as strong.
His main priority now is to ski as long as he can, he wants to ski to the day he dies so an injury now which could potentially take skiing away from Mark is just not worth it. Mark really does beyond anything else, love skiing so making sure he can do that for as long as possible is his new highest priority.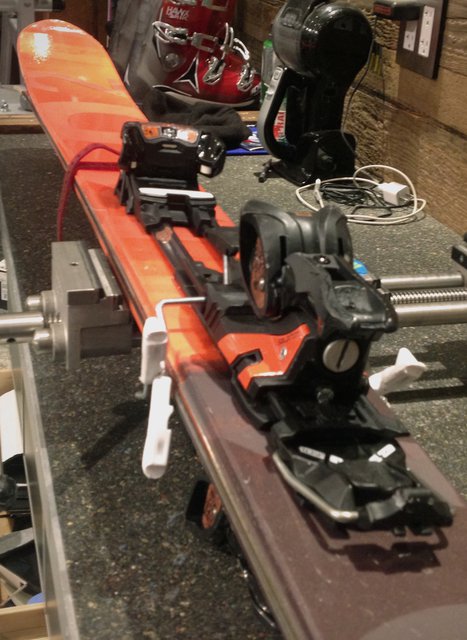 While Mark was taking the boots off I got a quick picture of his skis. He is taking two pairs of skis away on trips now, he has two pairs of Rocker 122's both in size 184, one with Guardians and one with a tech binding. The MTN Lab boot actually has a WTR sole so could be used with the Guardian but for longer tours the full tech setup will save some weight.
Mount wise Mark is still a park rat at heart, all his powder skis are mounted at -1cm from Center and his all mnt ski, the Rocker 108 is also mounted at -1cm.
NS user .lencon had asked whether Mark was still using Panda poles and although he does they don't make an adjustable pole and Mark was saying he has found he uses adjustable poles nearly all the time now.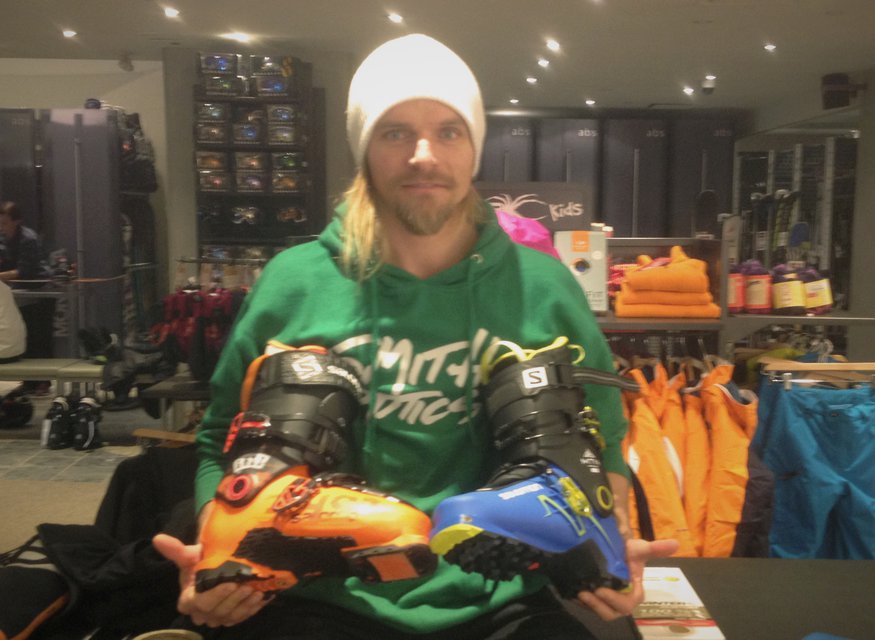 While Mark was packing up his stuff we chatted about what else he is doing other then skiing. Some of you may not know that Mark opened a restaurant called http://www.newschoolers.com/watch/754955.0/IMG-1371-MOV
So ISP_wa the challenge is set at 47. Post up a video in the comments here if you want to take on Mark.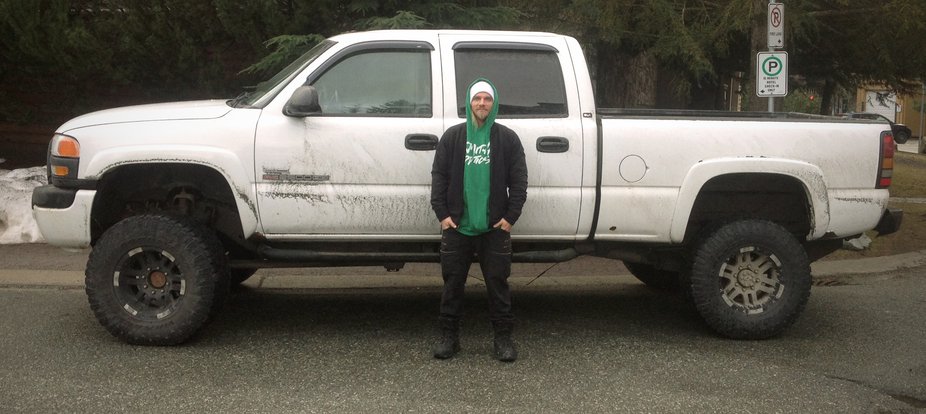 Whistler has a lot of bigger trucks but this thing is just massive.
Along with making improvements to his house Mark has converted his truck to run on used vegetable oil. Owing a restaurant himself he is never short on fuel and being so clean really helps off set all the traveling Mark does to ski, it sounds pretty awesome too.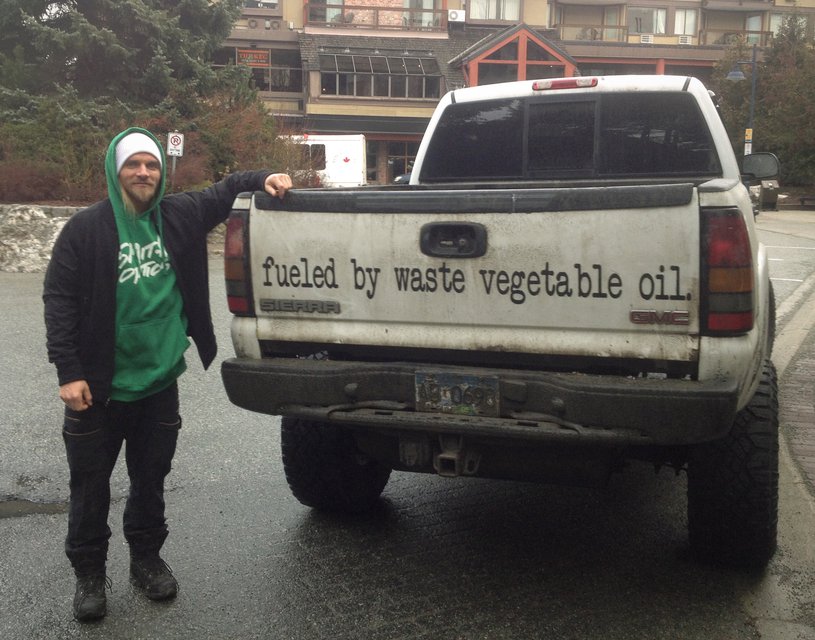 Thanks to Mark for answering the questions and for taking on the challenge.