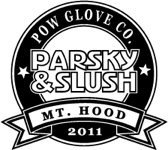 Pow Gloves Announces First Annual Parksy and Slush Invitational
One-of-a-kind golf and snow tourney brings in big names and big sponsors to party in the summer sun
SEATTLE, Wa (July 13, 2011) – POW Gloves is excited to announce the first annual Parsky and Slush Invitational, a social blend of freeriding and golf designed to bring together skiers and snowboarders for some unique summer fun. POW Gloves Promotions Director John Kaiser explains, "I have always wanted to create an event like this to get riders out of their usual element, have some fun and make new connections outside of their typical circle."
The front nine will be held at Mt. Hood' s Timberline Resort, and will be represented by nine ski or snowboard tricks. The back nine will be a legit green-grass round at The Resort at the Mountain in Welches, OR, where argyle, personal score cards and the honor system will take place of judges and hot park laps.
With a collection of golf and snow sponsors including, COAL headwear, Oakley Apparel, Dang Shades, Contour HD, Kikkor Shoes, Full Sail Brewing, Mt Hood 26 Boardshop and POW Gloves, each athlete will receive a proper kit for the tournament. Russell Winfield will be holding things down as the Master of Ceremonies and the invite list includes athletes such as Sammy Carlson, Austin Sweetin, Ana Segal, Austin Hironaka, Tim McChesney, Pat McCarthy, and Chad Otterstrom. Come prepared with your John Daly tall-boy tee and be ready for a mandatory Happy Gilmore hole and more.
"We don't align ourselves to any one industry, and are focused on making the best gloves possible for the activities that we are passionate about. July 20th is gonna be so much fun, bring your sticks and your bag of tricks!"
DON'T FORGET!
July 20th – 10:00 am @ Timberline Lodge and 3pm @The Resort at the Mountain, Mt Hood Oregon
For more information, look for Parsky and Slush on Facebook.
To view the entire POW Gloves line, visit powgloves.com
About POW Gloves: Since 2002, POW Gloves has remained committed to producing the finest performing hand-wear for the activities we love. Based in Seattle, Washington, POW is a global glove-specific brand with products for winter sports, biking/cycling, and golf. POW is one of the fastest growing glove brands with distribution in over 37 countries worldwide. POW Gloves are "Built to Last". For more information on POW Gloves, visit powgloves.com or call (888)POWGLVS.