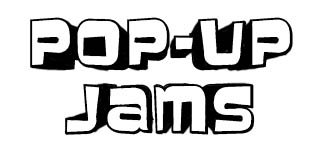 We are not going tell you where or when because that defeats the purpose of a Pop-Up Jam! Well I guess we have to tell you when to make sure everyone is ready for it right?!
On Tuesday December 27 and Thursday December 29 we will randomly pick a feature in one of our parks and have a 45min. jam sesh on it. There will be one jam each morning somewhere around 10am & 11am and one each afternoon somewhere around 1pm & 2pm. The sick part of a Pop-Up jam is that?s all the info you get, so make sure you're ready on the spur of the moment!
-There is no entry fee! But, you must register for this event. Registration will take place in the Carinthia lodge each morning from 8am – 9am.
-If you over sleep, yes you can register at the jam, but that will cut into your time to compete.
-Once you register you will get a little sticker to put on your pass or lift ticket. This sticker can be used at any of the Pop-Up Jams that week.
-You don't have to register to join in, however no registration = no awesome prizes.
-There will be two Pop-Up Jams on Tuesday Dec 27 and two on Thursday Dec 29. The first one around 10am or 11am and the second around 1pm or 2pm.
-It's open to both skiers and riders!