Words by Jeff Schmuck
Photos by Parker Hemingway
Ski movie premieres are quite possibly the most time-honored tradition in our sport. From the early days of Warren Miller narrating his films in person to small crowds in the 1970's, to the juggernaut festivals of today like iF3, Freshtival and The Meeting, there's nothing on earth that makes a skier salivate for the imminent arrival of Old Man Winter quite like a premiere.
This past weekend, a cavalry of athletes, filmmakers, photographers, team managers, media scumbags like myself, and most importantly, fans, honored this tradition and then some by making the annual pilgrimage to Seattle for the World Premiere of Poor Boyz Productions' brand spanking new film, WE: A Collection of Individuals.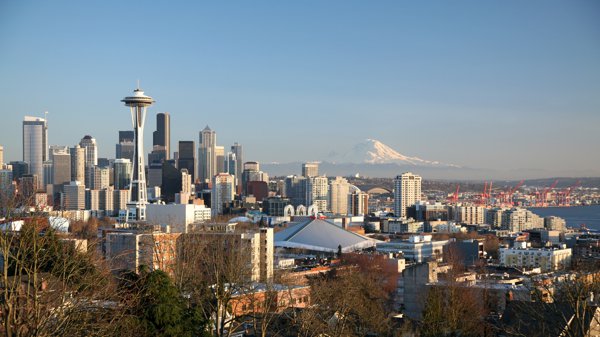 Seattle, Washington. Home of the Poor Boyz World Premiere and the kick-off to the Triple Threat Tour.
PBP's World Premiere serves as not only the kick-off to their legendary and long-running Triple Threat Tour, but the ski movie premiere season in general, as WE was one of the first ski films to be premiered to the masses this fall, and just like each and every year in Seattle, neither the film nor the crowd failed to disappoint.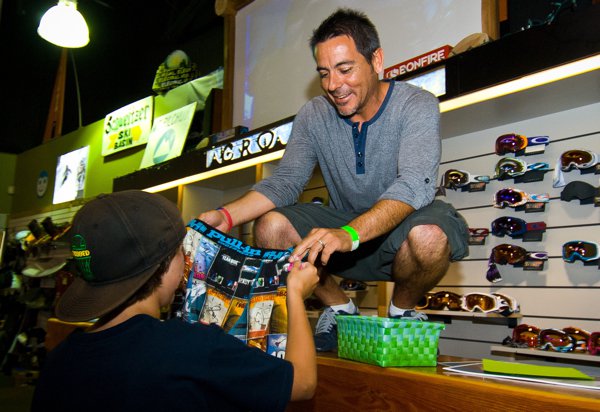 Poor Boyz Productions Founder Johnny Decesare hooks a lucky fan up with a pair of PBP special edition boxer shots from Pull-in at the GRO pre-party.
The weekend began on Thursday night with a pre-party at GRO, an absolutely stellar shop just up the road from Seattle in Everett, Washington who've been a strong supporter of Poor Boyz for years, before making its way to one of the most fabled ski outlets in North America, evo, the following afternoon for an autograph signing.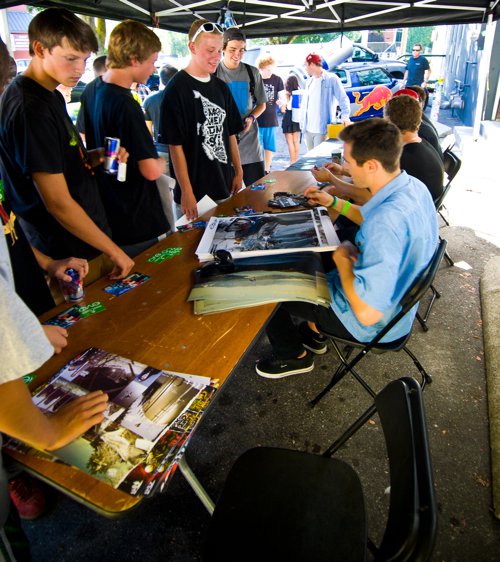 Bobby Brown laying down his best John Hancock at evo.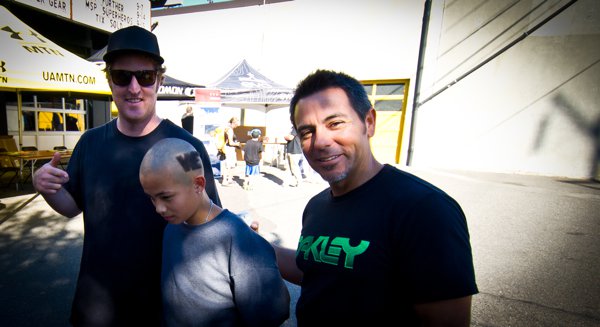 PBP's Tyler Hamlet and Johnny Decesare with the Seattle fan who, without fail, shaves a PBP logo into his head each and every year.
While there, a long line of lucky fans got to wet their whistles for the night ahead via some hobnobbing and shoulder rubbing with their idols, and after a few too many hot dogs and Red Bull, it was time to head to the Neptune Theatre in Seattle's historic and eclectic U-District for the premiere.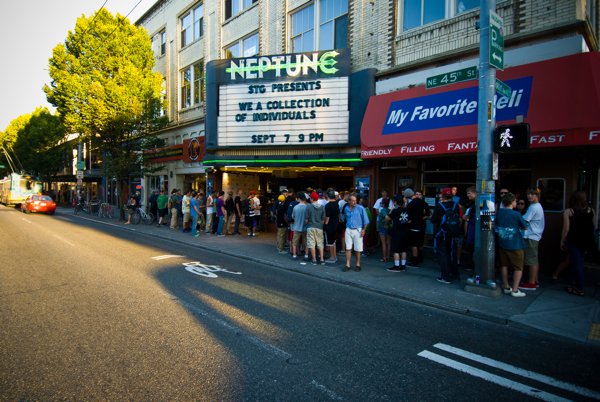 The Neptune Theatre
The Neptune provided an ample venue for the proceedings, with another autograph signing at the front of the theatre and a bar conveniently situated smack dab in the middle of it, making the evening that much more enjoyable for those who enjoy excessive consumption of adult beverages, while at the same time assisting in what made this premiere so special...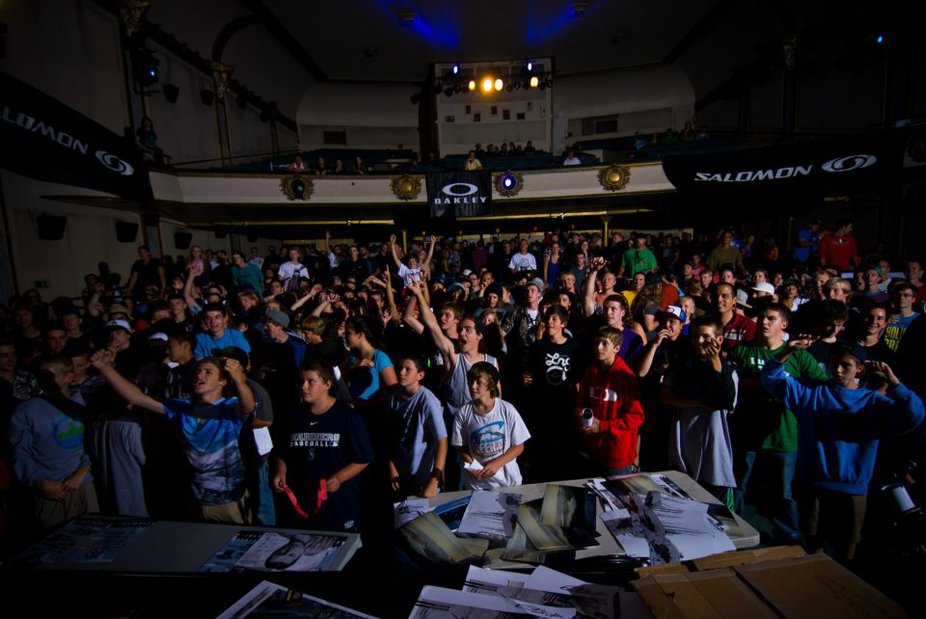 It was loud. And when I say loud, I mean LOUD, as after having spent the better part of the last 15 autumns attending ski movie premieres, I can confidently state that this past weekend's premiere was the loudest and rowdiest I've ever been to (take note future premiere attendees...Seattle has set the bar), with so much noise being made that it was a struggle to hear the music, let alone think.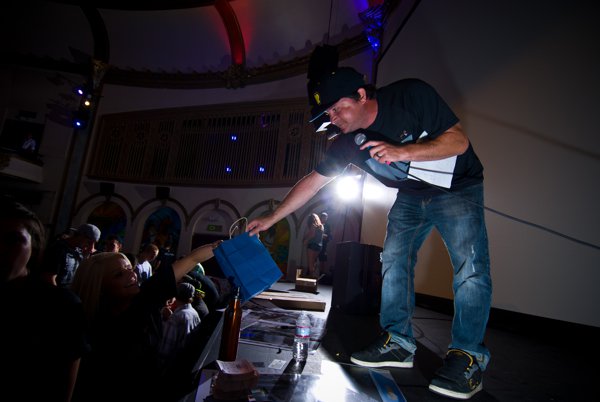 The evening's host with the most, K2's Mike Powell.
The reason for all this hullabaloo of course, was the movie. WE is exactly what you'd expect from a Poor Boyz movie, with a well-rounded and ski porn-filled mix of park, urban, backcountry and big mountain, complemented by a riot-inducing soundtrack. This year's film contains a nicely balanced mix of individual parts and crew segments, including enjoyable group offerings from Legs of Steel, Stept, The Kids, and an opening segment that showcases the multitude of park shoots PBP threw down this past spring and the stampede of athletes that attended them.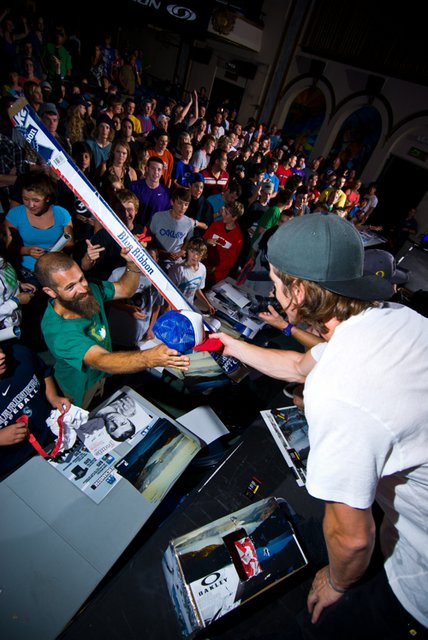 No premiere is complete without free swag...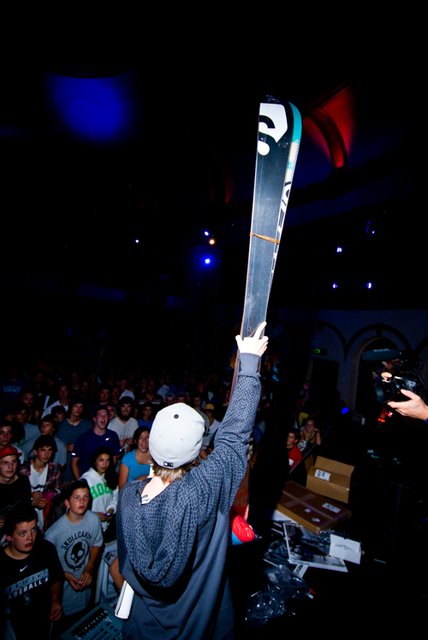 For the die hard shredder in all of us, some of the biggest highlights of the film are courtesy of (to no one's surprise) Sean Pettit's closing segment, who demonstrates what a valuable addition he is to the PBP family in his first season filming with them, the aforementioned and always hard rocking cast of metal heads that is Legs of Steel, jaw-dropping offerings from Joe Schuster, Riley Leboe and Mike Henitiuk, another impressive segment from the always consistent Dane Tudor, and Pep Fujas once again certifying that he's going to be the boss for as long as Bruce Spingsteen has.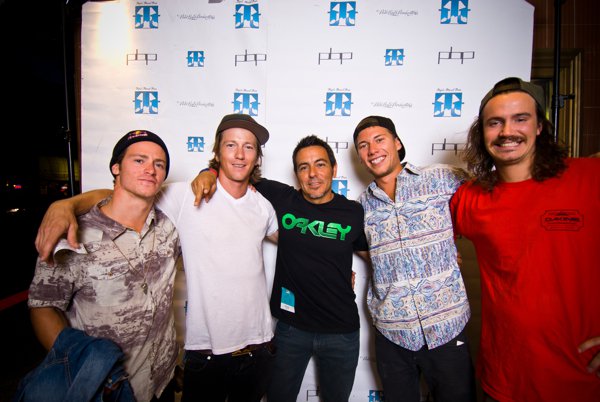 Sean Pettit, Pep Fujas, Johnny Decesare, Joe Schuster and Mike Henitiuk.
On the jib happy side of things, the Stept trifecta of Cam Riley, Sean Jordan and Clayton Vila continue to establish themselves as quite possibly the most burly and stylish urban skiers in the game, while Leigh Powis, for your consideration, visually testifies why he may be the most creative. But perhaps the most head turning part of the entire movie belongs to Karl Fostvedt, who's long-awaited breakout segment (highlighted by his extremely high risk antics on the redirect feature at Ski Bowl that graces the film's cover) won him the loudest cheers of the evening, a subsequent second place finish at the after party (behind Joss Christensen, who was without question the undisputed late night victor), and although I've yet to see any of the other films, my pick for Rookie of the Year.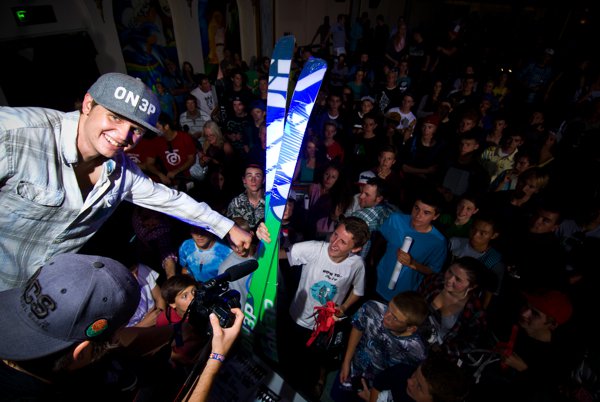 MVP Karl Fostvedt
But don't just take my word for it. Check it out for yourself, as Poor Boyz Productions' Triple Threat Tour is now roaring full steam ahead, with stops all over North America, Europe, Russia and Australia. Check out poorboyz.com/tour for a list of dates and locations, and if it turns out that PBP is coming to a theatre near you, be sure to check it out. WE won't disappoint you.
WE: A Collection of Individuals Trailer