Attention all Los Angeles area residents! Poor Boyz Productions is once again concluding this year's Triple Threat Tour with a bang, so join them for a screening of The Grand Bizarre this Friday night, followed by a jam-packed evening of epic rock and LA's hottest DJs!
Doors open at 7pm at the Holding Company in Los Angeles (104 Robertson Ave), with The Grand Bizarre promptly screening at 8pm. Following the film, the night will ensue with live performances by Joe Con and The Real Thing, Ultralove and The Sons of Bitches, and Stunnaman Two-Eight of The Wolfpack. After the raging live music, DJ Ectocooler and DJ J Labs will be on the 1 and 2's until the night's end at 2am.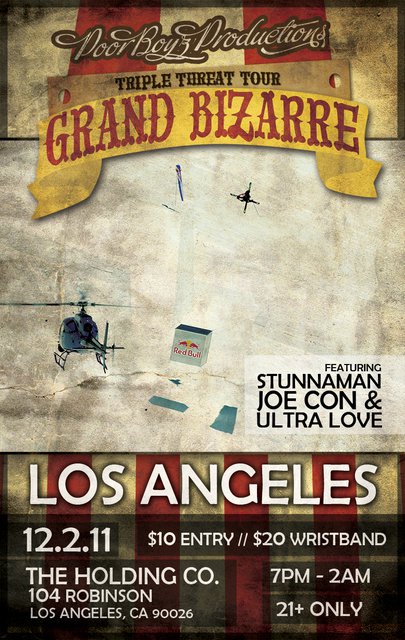 Entrance to the event is $10 for those not drinking alcohol, and for those who are, an additional $20 fee will be charged for an all you can drink evening! So leave the kids at home with a babysitter, as this is a 21 and over event, but other than that, this special VIP premiere is open to anyone! 


The Holding Company is an unmarked New York-style loft with a large outdoor Patio on the northeast corner of Beverly Blvd and Robinson (next to Medusa Lounge). From the outside, the venue is hidden. There is a small entrance in the alley next to Medusa Lounge. There is street parking throughout the area it is also a short 0.5 mile walk or cab ride from Vermont /Beverly Metro Red Line Subway Station. For more information on the premiere, check out the event page on Facebook by clicking here.