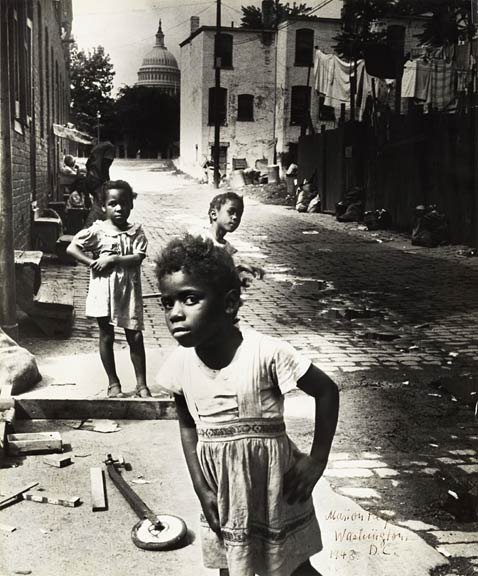 In the Shadow of the Capitol ? 1948 (Marion Palfi/The Jewish Museum/© 1998 Arizona Board of Regents)
Every so often, I discover or am reminded of tectonic shifts in photography that seem to be little-known by the exploding world of photographers. No harm, no foul; but in those cases, I feel feel a social + moral desire (obligation?) to occasionally point to these shifts.
One such case is New York's Photo League – a collection of some of the most innovative, culturally relevant and influential photographers who took to the streets and showed us life as it had been rarely explored before. Photogs like Lisette Model or Weegee (featured earlier on my blog here), Avedon, Leipzig, Orkin and Weston. These and other photogs are genre-defining photojournalists who created stark and unwavering images that offered unique glimpses into a world that – until their groundbreaking work – was infrequently or even NOT explored by photography. Instead of posed images of families, the NYPL documented rampant social change, the great divide between classes, racial issues, the rise of music, the war, and images of New York City in the 40s (even going so far as being labeled "Communists" by the US government…). In short, we have these artists to thank for the way that photojournalism has evolved today. Spin through the image tabs above to sample their arresting work.
If this group or any of these names are unfamiliar to you, give a read here to get the cliff notes, and more importantly – if you're able — the exhibition called Radical Camera which features an extensive body of this work is on display at the Columbus Museum of Art from now until September 9, 2012.