Words & photos by Sam Davies
Video by Ben Zackin
(for more photos from the event click here)
Ahhh Memorial Day Weekend. A time dedicated to those who have fought for our country, a weekend to honor the men and women who have served to ensure our freedom, and time for skiing. Yup, that's right…on May 28th in 75-degree weather, a few hundred of New England's most dedicated skiers and riders made what has become an annual pilgrimage to West Dover, Vermont to enjoy Mount Snow's Peace Pipe Rail Jam.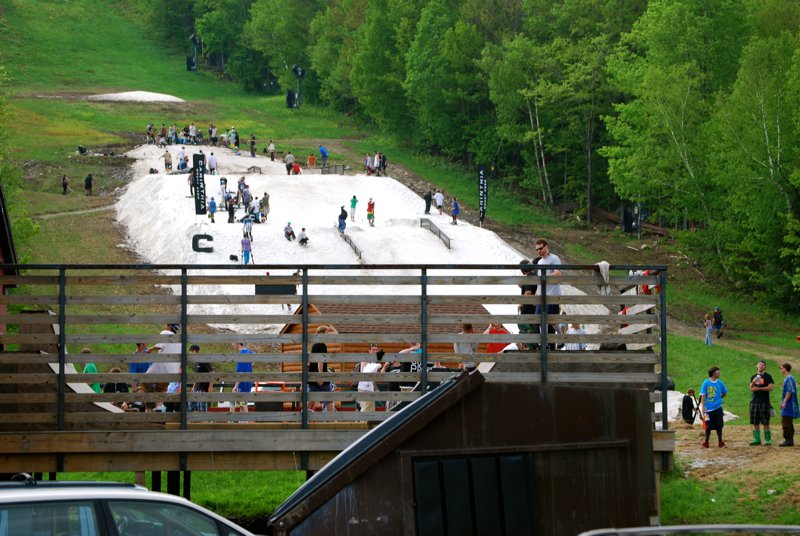 This spring, the slushy remains of Inferno's 70-foot booters were bulldozed flat, and like a phoenix rising from the ashes, reborn into a glorious rail garden. Despite an ominous forecast and swarms of black flies large enough to carry off some of the smaller riders, the day was a success. With seven features and a few hundred yards of snow-covered slope, those who showed up were well received.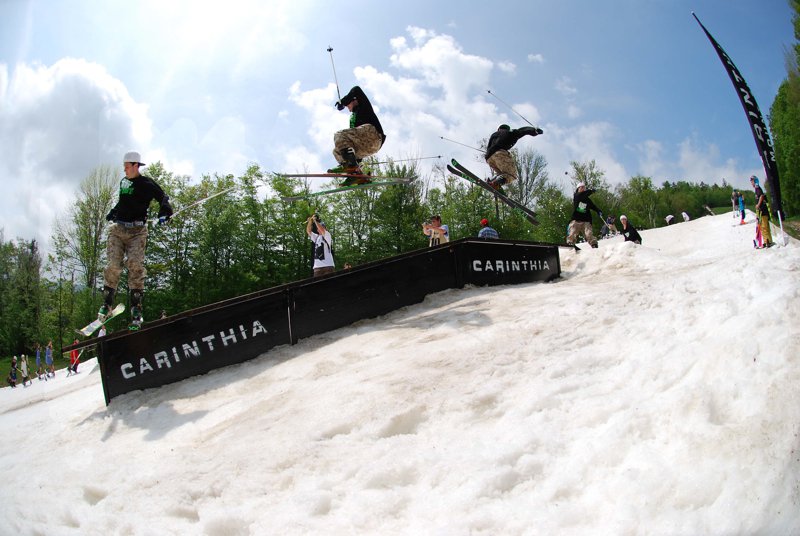 Tony Tagariello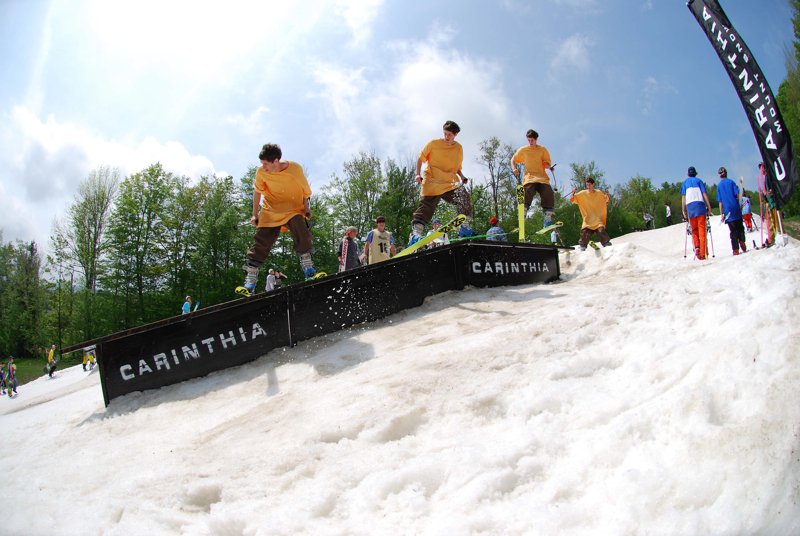 Austin Flag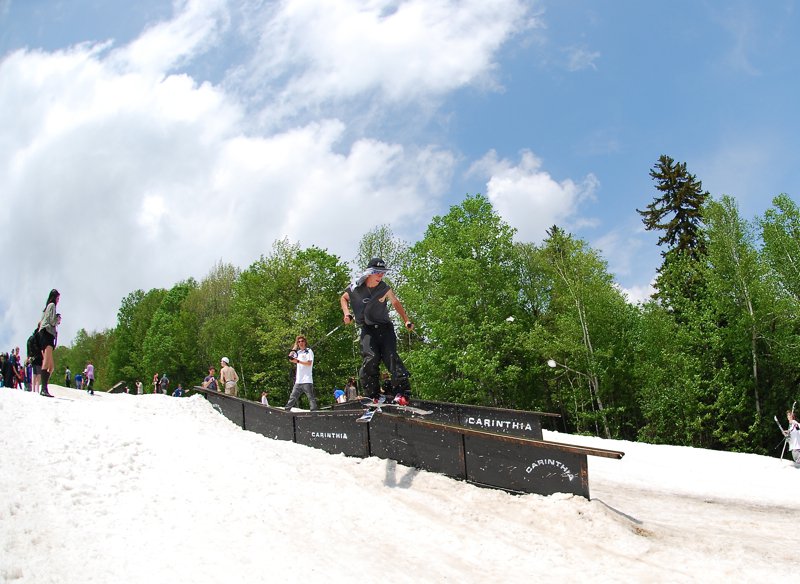 Luke Haegerty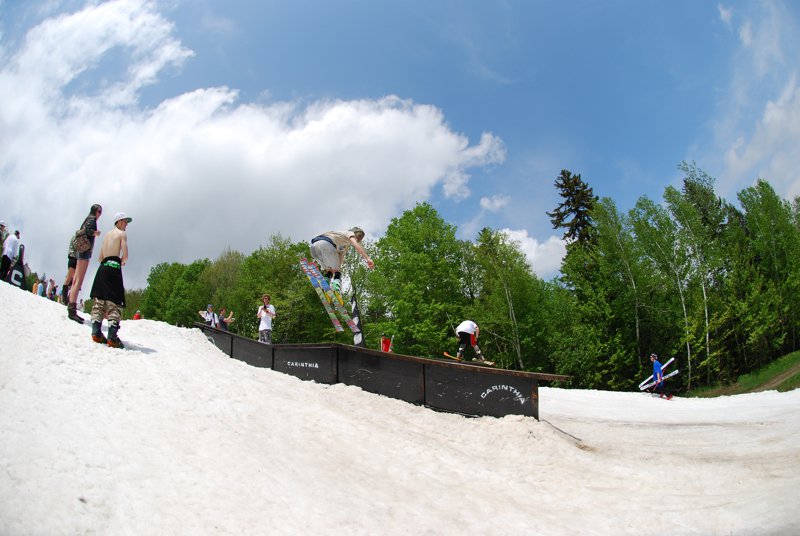 Oh, and Ian Compton showed up for a bit…
This year's set up consisted of some corrugated pipe, an A rail, an up rail, a flat box, a down-flat-down rail, a flat-down, and a water tank jib, not to mention the collection of mini-ramps on the lodge deck for people to play on if they wanted to take a quick skateboarding break. As Phill Geyselears pointed out, "The setup is great. The only thing that could be better is if we had a lift...maybe a pony that could pull us up the hill, just something so that we didn't have to walk so much."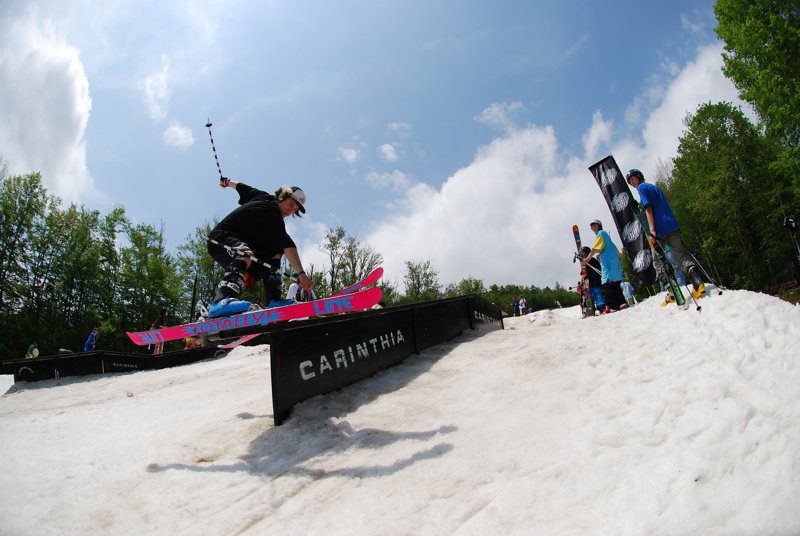 Geyselears killing it, despite the lack of a pony lift…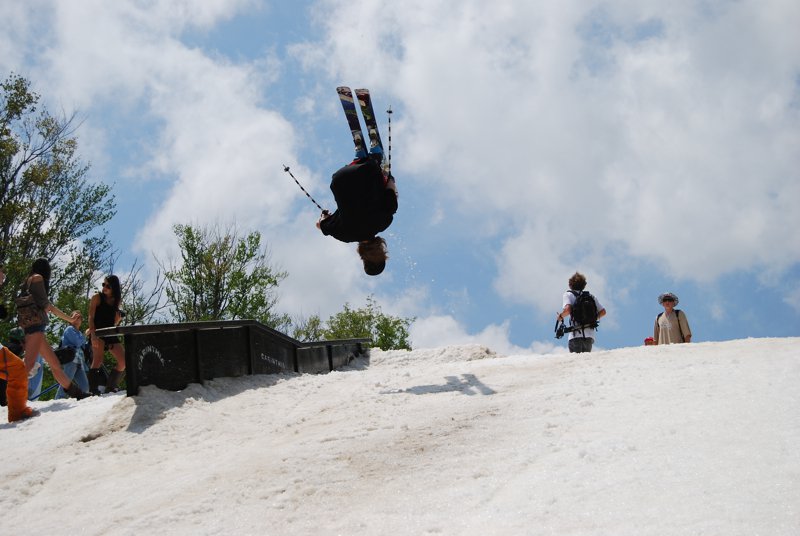 …and busting out a front flip for good measure.
Lift or not, moral at the Peace Pipe only improved as the day went on. The day was described by some of the skiers as "energetic, bomb, spectacular, saucy, awesome, intense, and beautiful." However it was best summed up by Rob Dresser. When asked to express his thoughts about the event in three words, he responded with a wide grin, calling Saturday simply a, "real fun day." Others, such as Spenser Cook, echoed this sentiment saying, "It's hot, snowy, what more could you want? This is the most fun I've had all year, too bad it's the last event."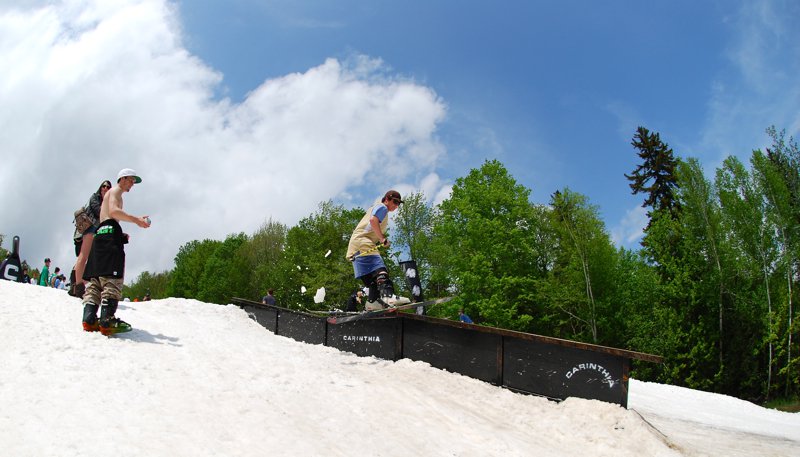 Rob Dresser, switch-up.
As the day went on, the cloudy skies gave way to a mostly sunny day, as if the ski gods were in full support of this last hurrah. As the temperature increased, so did the intensity of the tricks. By noon, flips – both front and back – had been thrown despite the lack of any real jump, k-feds became a regular sight, and pretzels were plentiful. However it really started going off when 17-year-old Robert Bittner threw a 450 disaster, 270 out on the flat-down rail.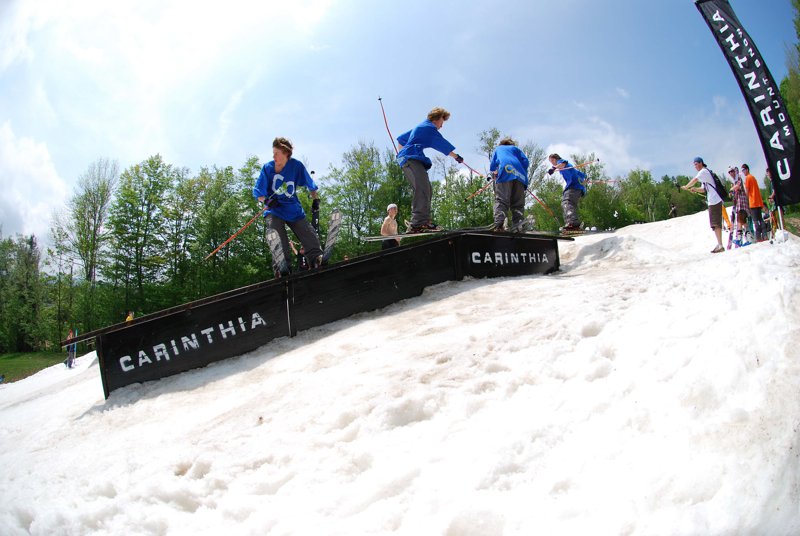 Robert Bittner throwing down.
This year, like the past four years, the Peace Pipe has been all about getting everyone together for one last day of on-snow shenanigans, not about competition or a fat cash purse. Cook, when asked what he thought of the Peace Pipe's format, replied with, "This is perfect, I wouldn't want anything else. With this, it's just pushing yourself for the fun of it."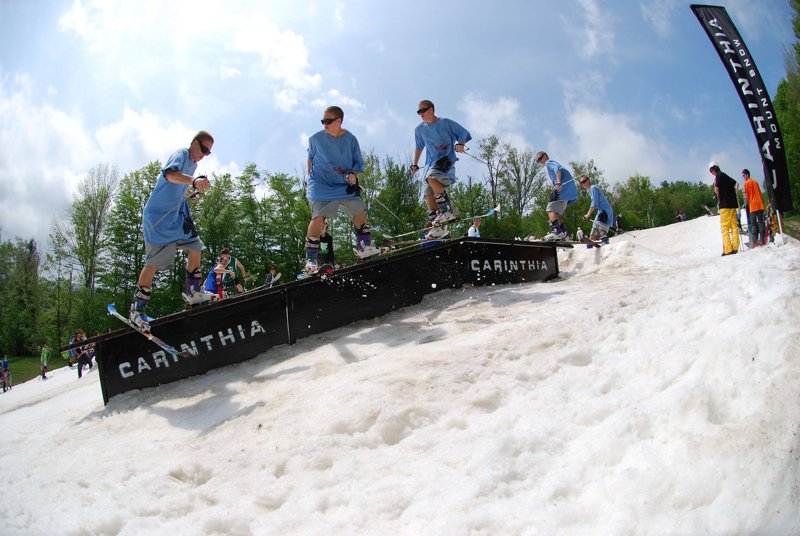 Spenser Cook
Overall, the day was one to be remembered. It's events like this that will help us all push through the warm, snowless months to come as we wait for the first flakes of the 2011/2012 season to fall. For 15-year-old Hunter Tyrrell, the three-hour drive to Mount Snow was, "totally worth it," saying that, "when opportunities come like this, take them no matter what." This sort of passion is the driving force that helps us continue to advance the sport we have all come to love, and it is great to see it alive and well in so many of the younger skiers who took part in Saturday's event.
Hunter Tyrrell
None of this would have been possible if it weren't for the Mount Snow Park Rangers, so a big thank you to them. Their hard work was what gave us the chance for one final day of fun. Bittner put it best by saying, "It's awesome that these guys set this up so late in the year. I never thought that I'd be skiing Memorial Day weekend. This is like paradise for me." Thanks again to the Rangers and to everyone who came out for the jam, making it one of the best days this year. Have a good summer.
Peace Pipe Jam '11 from Ben Zackin on Vimeo.