Anyone living on the east coast will know one thing, Tremblant always has a killer park which is constantly well maintained and switched around to keep in fresh.
The first park is located on the south side of the mountain, and has it's own quad-chair (Flying Mile) which is fast and is run right above the park. They also enforce anyone who enter the park to buy a mandatory 10$ park pass, which keeps the gapers out and allows the staff to build more difficult features for the experienced riders.
Normally they have a rail/box line leading down to the main part of the park, which often has multiple features followed by a jump line, and normally finishes off with a few more jibs and sometimes a wall ride.
View of the 4 features before the jump line from the chairlift
Down rail and down flat down
Mellow down flat down box and a log slide (top of it is metal, so it's easy to slide)
These four features then lead into a jump line, which consists of 3 jumps varying in size and kick, but between 20-30 feet.
First jump is fairly mellow, and is perfect for warming up
Second jump sends you floating through the air
Third jump is great because it sends you flying with lots of kick and has a nice long landing.
The north side park can be accessed from the top of the mountain and is open to anyone who wishes to cruise through. There are however park staff scattered throughout to ensure you are wearing a helmet IF you are hitting any of the features. The north side park also has it's own triple chair which runs the length of the park.
If you stick to the skier's left, you will come up upon a 2 jump line of about 15-20 feet each, perfect to warm up on or for the beginners looking to progress.
Numero uno taken from the lift
Friendly park staff on deck of second jump ensuring no one without a helmet hits any of his well built and maintained features.
By sticking to the skier's right, you will come upon a box/rail line perfect for learning park or trying your new tricks.
Coming into the rail line you have a choice between two fun flat boxes which lead into two down boxes which are perfect for 270 on's
After the down boxes, you can hit a small up box which sends you flying, or a simple flat bar. Both are great for learning 270 off. These jibs lead into two small ride-on flat rails, perfect for learning to slide metal as opposed to lexan.
The park then breaks off and gives you the chance to hit this rainbow box or...
This wide flat bar.
If you land clean or choose to skip the last two features, you should have enough speed to hit this trap box which is perfect for learning switch ups or gaping the middle section.
As you can see, Tremblant has a great variety of jibs and jumps for all skill levels of skiers and boarders. This is but only a small fraction of their park inventory, and you can head over to http://www.tremblant.ca to see some of the crazy features they have had in the past and plan on continuing as the season progresses.
Here are a few pictures to tease you!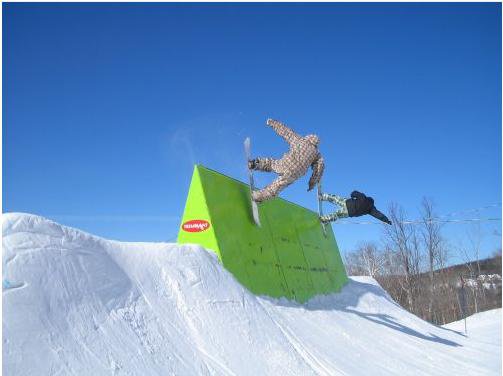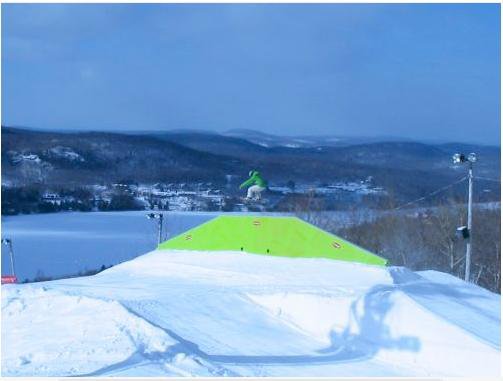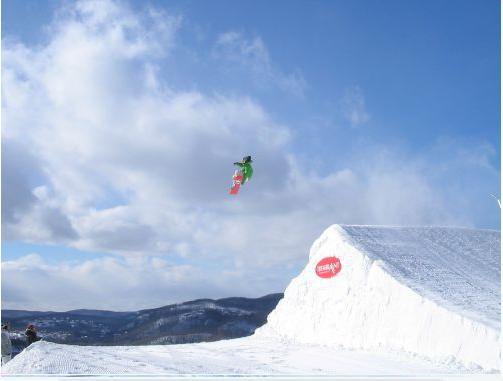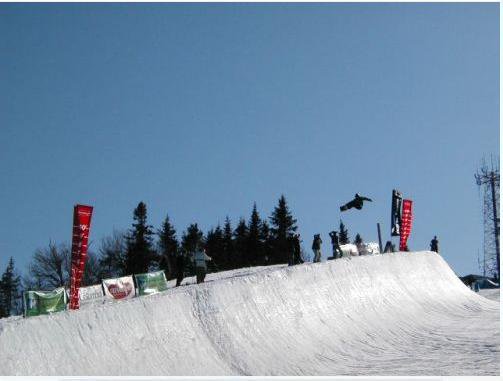 Thanks and we're hoping to see you guys soon!