Words: Max Kuszaj
Photos: Ross Downard & MTN Ranks
Over a month has passed since the Cycle for a Cause crew arrived in San Diego. The butts have healed from saddle soreness, the tan lines are starting to fade, and the memories from the road are a constant reminder of how much the ski industry is actually one big family. When we all reached the final destination of Southern California in late October we all wanted to celebrate, but we all needed proper rest and recovery time.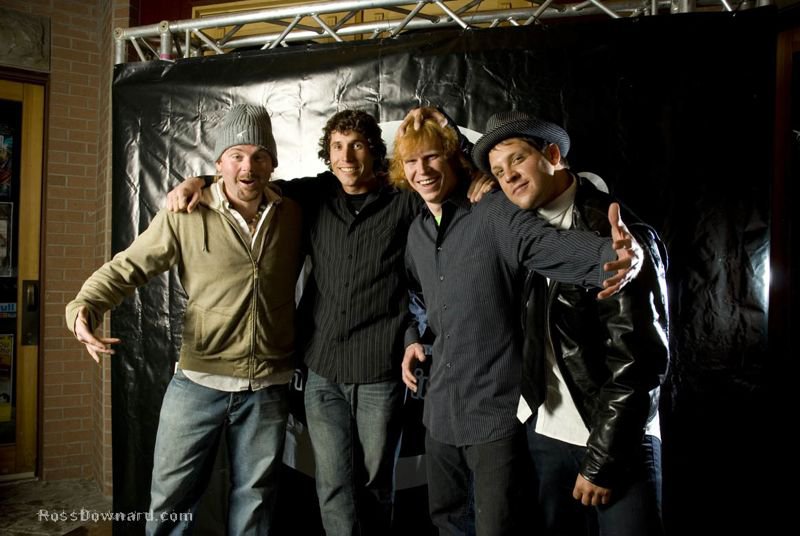 From left to right...Ralph Kristopher (SLC Photographer), Jesse Hall (Cycle for a Cause Participant, BASE Jumping and Freeskiing psycho), Clayton "White Gravy" Butler (Ultimate Rager), and Max Kuszaj (Cycle for a Cause founder, BASE Jumper and Freeskier) pose for the camera and get ready for the night.
Now that we have recovered as much as possible, I felt a proper celebration of Shane and Billy's lives, and Riley's recovery was in order and The Downstairs bar in Park City, Utah gave us the location to do so. Not all the riders from Cycle for a Cause were able to make the evening, but Pep Fujas, Cody Barnhill, Jesse Hall, Suz Graham, Carston Oliver, and myself Max Kuszaj were present and brought the celebration (and amazing dance moves) all night long. Dave Steiner, Jackie Paaso, Angeli Vanlaanan, Alex O'Brien, and all the other riders, you were greatly missed.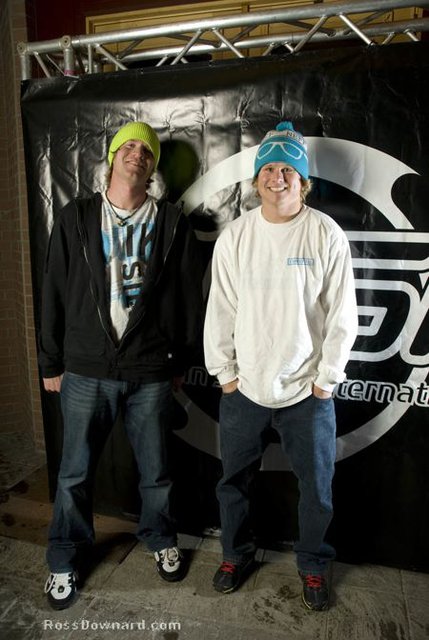 Harrison Cole and Freeskiing's Madman, Mike Wilson, made an appearance to support the Cause.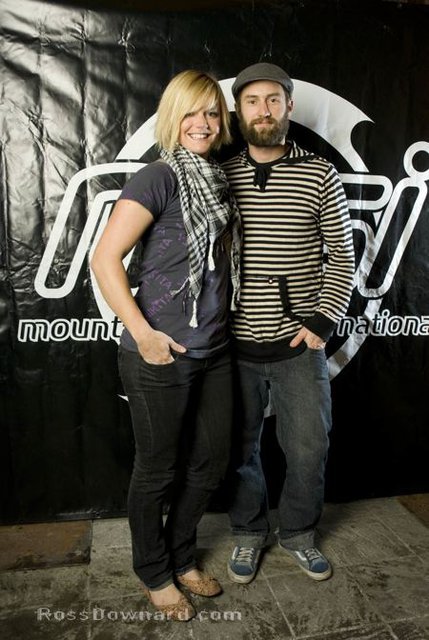 Cycle for a Cause participant and excellent facial hair farmer, Cody Barhill, with his lady Kalen.
The evenings entertainment was top notch with beats spun by PC local, DJ Knuckles, and reggae/punk performed by the Cody Jordan Band, eye candy on the flat screens by Matchstick Productions, and an amazing raffle to raise money for the charities.
Winner, winner, chicken dinner....Park City local, Jenny Lindsey wins the grand price of the night, a Shane McConkey tribute pair of K2 Pontoons. I think you can see the excitement and jealousy in Cody Barnhill's eyes!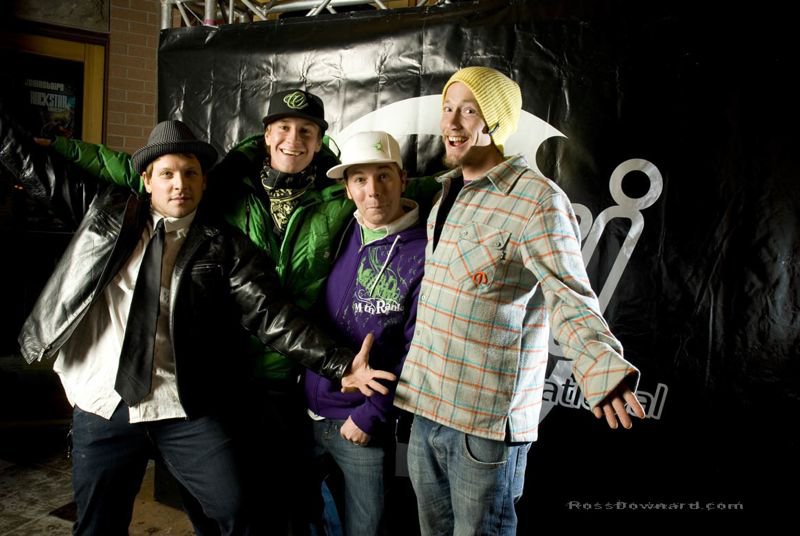 Cycle for a Cause's Max Kuszaj grabs a photo with Joel Chase (Park City socialite) Ross Downard from MTN Ranks, and freeskiing icon and Cycle for a Cause participant, Pep Fujas.
The outpouring of the ski industry and it's participants once again reached beyond my expectations. Thank you Park City, the family of freeskiers and snowboarders in the Park City and Salt Lake area, and all the others that made it a point to make this night memorable.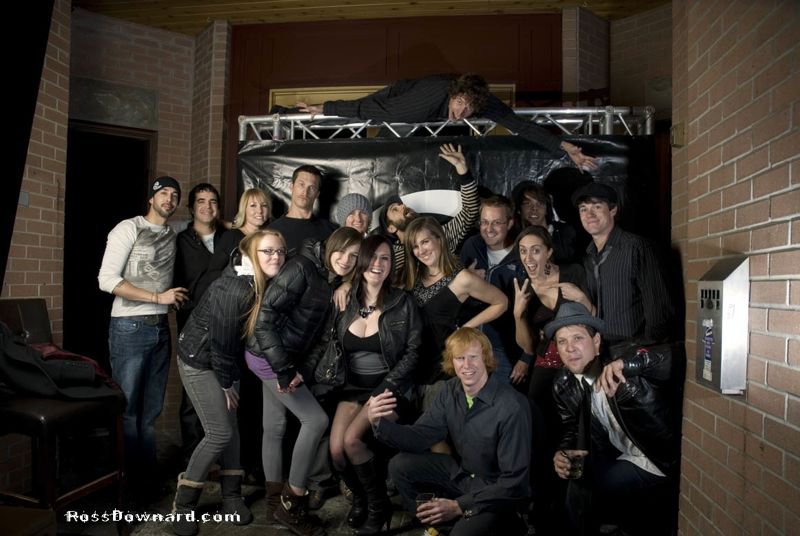 The crew in full effect. Scattered amongst the crowd is: Tim and Shauna Smith of Underground Liquor, Drew Billington, Carston Oliver, Cody Barnhill, Jesse Hall, Mike Steen, Suz Graham, Max Kuszaj and other people that are NOT sorry for partying!
MOST IMPORTANTLY, THANK YOU RILEY POOR, SHANE MCCONKEY, AND BILLY POOLE! WE LOVE YOU GUYS.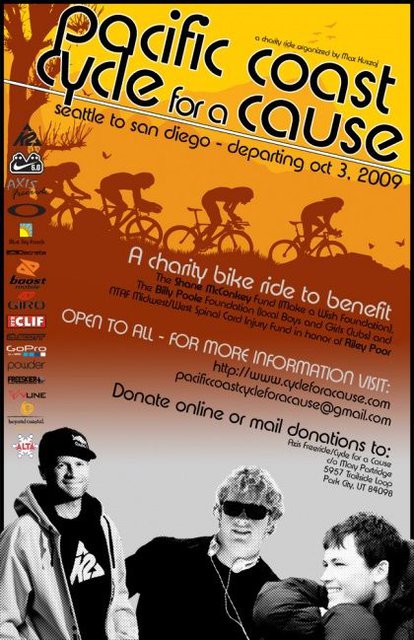 See you next year???
Cycle for a Cause would personally like to thank the following people and companies that made this night possible:
SETH HILL and THE DOWNSTAIRS BAR
UNDERGROUND LIQUOR
THE CODI JORDAN BAND
RED BULL
ROSS DOWNARD and MTN RANKS
MSI
SHERRY MCCONKEY
SKULL CANDY
SCOTT USA
GO PRO
DISCRETE
NIKE 6.0
VLINE CLIMBING
ALTA
SNOWBIRD
THE CANYONS