PORK FRAT 1
Who and what is the Pork Frat?
Pork Frat is everyone I ski and film with on a regular basis. Staples include Evan Furbeyre, Pete Koukov, Tanner Mottau, Kevin, Boardslide Dude, Mack Camp, GARL and myself. If I'm in the same state as CREASTON or Spencer Harkins then you KNOW we'll be filming and skiing together. As filming goes, there will always be random people who we'll ski with and might get shots.
Where'd the idea and the name come from?
Well if you're going to make consistent ski edits you gotta have a ski crew, which my friends and I have had for a while, but we didn't have a name. As far as I know, the name of our crew was Totally Trevor crew? Why should the sick skiers I film and ski with be associated with the dumb name I came up with for a webisode 5 years ago? Anyway, it's fun to have a crew, and have something to rep. Coming up with a name was the next step. How many 'crews', 'squads', 'gangs', 'production companies', are out there? I wanted something memorable and unique, and as far as I know there weren't any fake frats on Newschoolers yet (unless Dude Ranch is still kickin'), so it was an obvious choice. Pork has been a long standing inside joke between my friends and I, plus the aesthetics of a nicely marbled pork chop….I mean c'mon! It makes the perfect logo.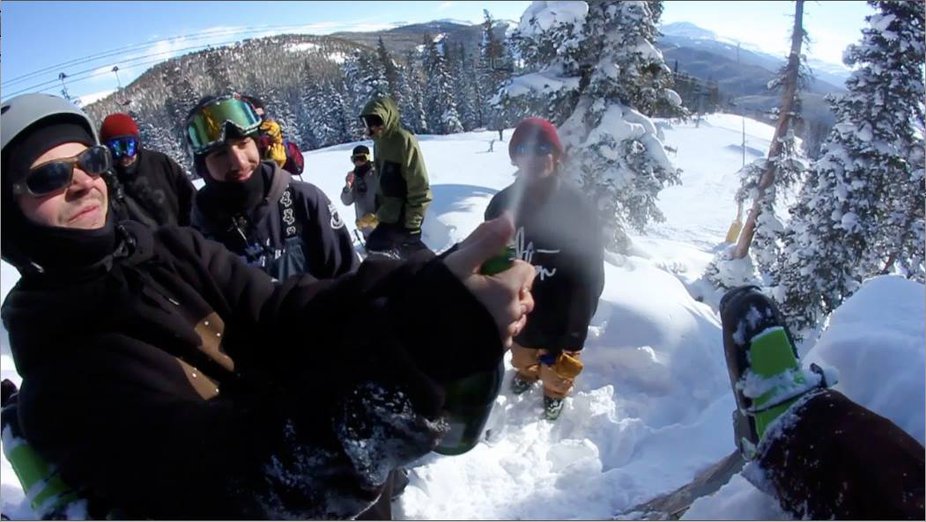 Does this mean no more Totally Trevor?
I came up with the name Totally Trevor the first year I lived in Colorado (2010/2011) to enter the first Newschoolers TV contest. My logic at the time was that I did about half of the filming, about half of the skiing in the edits, and did all the editing. I thought it was a dumb name, but didn't have anything else in mind. The name caught on and now I'm pretty stoked about it. Since then, more people have become key players in our edits and I can't take as much credit. SO. People know me as Totally Trevor, and I will continue doing most of the editing and a good deal of filming, but Pork Frat can hopefully grow into something bigger and better now that the edits aren't just my name.
Have you had a response from the Boulder greek life community?
Pete has some friends who are in frats. Apparently they're not stoked on our fake frat. I'm pretty sure he's been putting stickers up in frats too, which is awesome.
Peter is a jew, how's that kosher?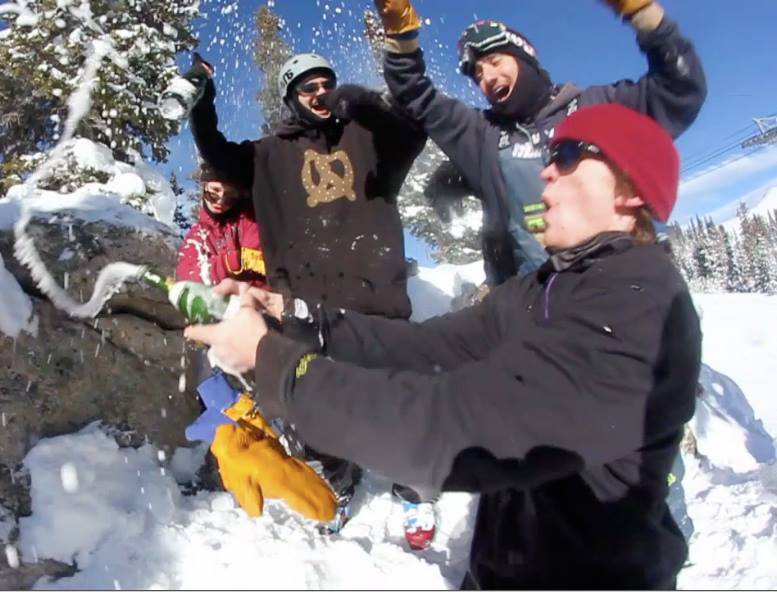 [/center]
If you're a frat, where's the house? Keystone?
We live in Boulder, Colorado. Keystone is where we do most of our skiing because Keystone is fucking DOPE. Send us some weird stuff (nothing illegal) and maybe we'll send you something back.
Pork Frat Mainhouse
1040 Aurora Ave
Boulder, CO 80302
What kind of hell are you gonna raise this year?
Lately Calvin and I have been getting pretty competitive about snaking the lift line, it's a LOT of fun. One time Calvin took his skis off and just walked past like 40 people to catch up to me. Almost no one has called us out yet, except for this one kid who said "that'll get you knocked out", and a couple parents.
How serious is skiing?
Dumb question, won't answer.
Is Evan sponsored yet?
No! Throw him a frickin' bone here ski companies! He does something I've never seen someone do on skis before most of the days we film.
Shout outs?
Of Course! JLev and J Skis. LINE, Head, and Surface. Tall T Dan and Arsenic. Jerm at Saga, and RUNA! #drinkRUNA. All the Tyrol Basin homies and The Hood Crew. Boolers Ball is fucking sick! Peyton O'Connor and the Woodward boys. I'm always pumped to list shout outs, but always disappointed when I know I forgot people, OH WELL! See ya on the slopes!