Surf time. Hadn't been in the ocean for quite awhile, not that any of my previous experience in the ocean surfing was going to help me immensely while on this trip, but a change of pace had me motivated. Ryan Stephens and I headed west to rendezvous with Eric Pollard and Chris Benchetler.
Our location, Pacific City. Equipped with 4/3 suits, booties, hoodies and gloves we jump in the azz cold waters of the Oregon coast and went after it. I am happy to report that even though my rubber covered chilled muscles still managed to get me on top of my board to catch a handful of waves.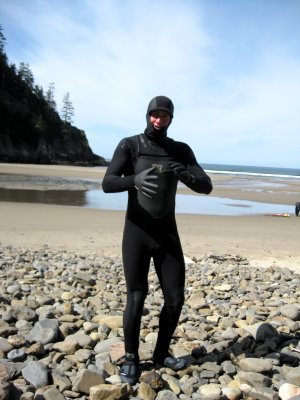 Ryan had to make it a day trip to get back to work, but Eric, Chris and I headed a little further north to Short Sands aka Shorty's aka Ozwald's. We got a rainy evening session in there, quite enjoyable. Day two, back to Shorty's. This time the sun decided to hang around. Good looking place and a good time for all.Peas.