Words by Davina Williams
After the votes were tallied, Slovenian skier Bine Zalohar and Australian local snowboarder Robbie Walker took top honours and of course the cash in the inaugural year of this first of its kind event held in Thredbo, Australia.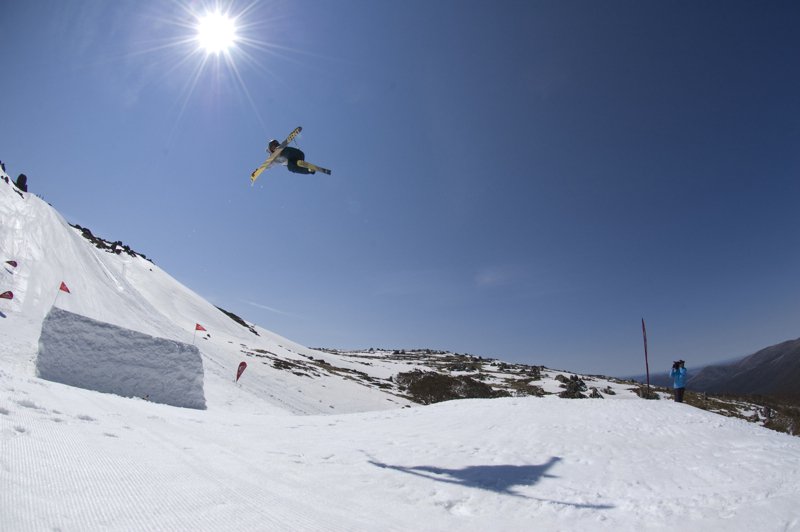 One Hit Wonder Down Under winner Bine Zalohar. photo: Ben Hansen
The One Hit Wonder Down Under event is film based and interactive, introducing a brand new competition format to the Southern Hemisphere's 2009 calendar. Skiers and snowboarders progressed their tricks during the week until their "wondrous one trick" was captured on film and posted online for the public to vote on who they think should win, thus doing away with the traditional judges. Photographer Timothy Lloyd described "It was such a cool event to be involved with and you will see how the chilled vibe attracted some insane action." All the details plus the tricks that have never been seen in Australian competition can still be found at http://www.onehitwonderevent.com. The public had three weeks to have their say.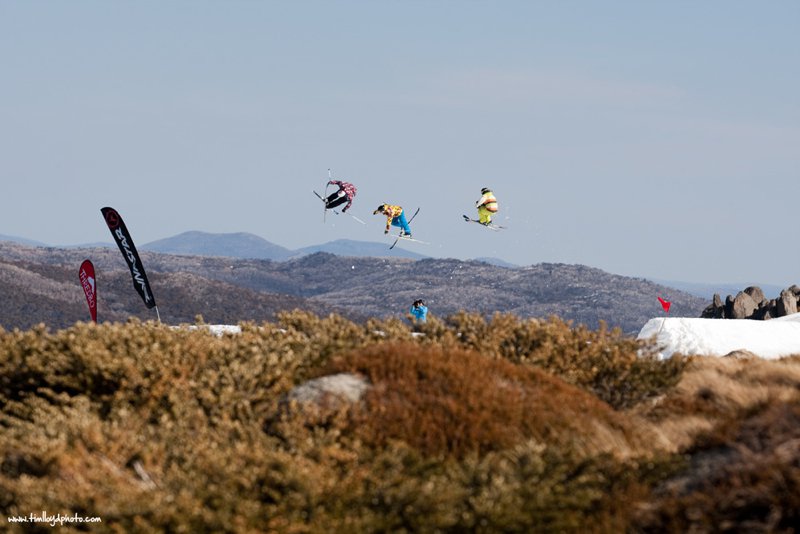 Jordan Houghton, Johnny Lipzker & Tim Myers. photo: Timothy Lloyd
In addition to the publicly voted winner of the One Hit Wonder who will share in the $4000 prize purse, the riders themselves also voted the skiing and snowboarding winners of the Red Bull Charging Bull Award. Thredbo skier Johnny Lipzker made the strongest impression amongst his peers by jumping with one of the most unique styles seen in this country, before stepping it up a level with consistently big and smooth double back flips; "Good jump, good friends, good times. Best event of the season!" Jindabyne local snowboarder Andy Lloyd was deserving in sharing in the $1000 Red Bull award by charging so hard over every day of the competition, he had to be physically pulled off the Charles Beckinsale built jump long after the event had packed up.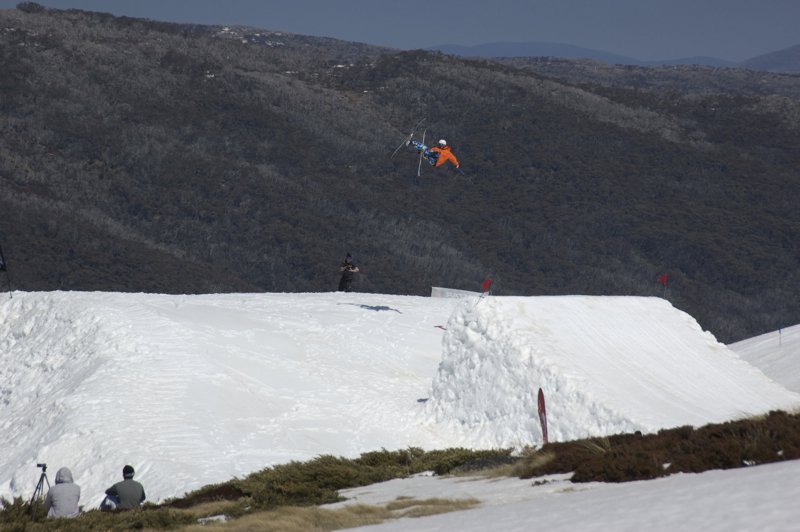 Luke Kneller. photo: Ben Hansen
Despite a few minor hiccups during the weeks preparing for the arrival of the competitors such as Thredbo Park Crew member Charles Beckinsale separating his shoulder whilst testing out his own jump, all the athletes responded well to the unique competition format. Skier Charlie Timmins commented; "It's much less pressure than normal where you would usually only have two jumps to do your best. The One Hit Wonder gave us time to safely build up to bigger tricks over three days, which allows for much more progression."
Charlie Timmins & Boen Ferguson. photo: Ben Hansen
Progression is exactly what was evident with an impressive array of double inverted spins, flips and some very unique styles that captured the essence of a freeride skiing and snowboarding event. "What these athletes are doing through 80-100ft of airspace is becoming more and more like stunt work rather than what most Australian's would know to be traditional ski jumping. It has to be seen to be believed." – Andreas Gloor, Team manager to a number of the participating athletes.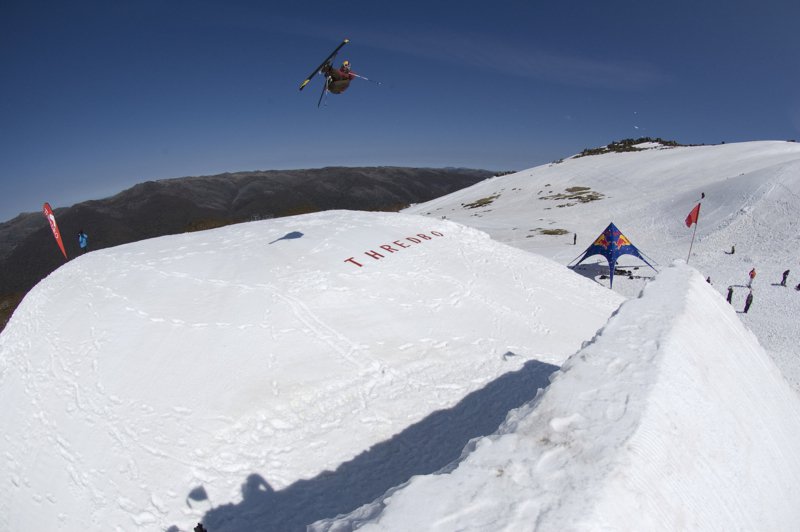 Russ Henshaw. photo: Ben Hansen
By voting, the public also had the chance to win for themselves a $2500 head-to-toe ski equipment package from Dynastar skis, Sinner Outerwear and Lange boots, and a $2500 package from Rome Snowboards, Boots and Bindings for the snowboarders. Congratulations to Richie Carroll of Coogee and Jessica Arnold of Goulburn who will both be sharing in the lot.
A wrap-up from the athletes and a glory reel of the action from the One Hit Wonder Down Under in its inaugural year at Thredbo, Australia.