Words by Davina Williams
Prior to the commencement of the One Hit Wonder event, tensions were running a little high after a few of Thredbo's locals reported back that Thredbo's own professional snowboarder and park designer/builder Charles Beckinsale has created one monster of a jump...and although Charles himself unfortunately separated his shoulder whilst testing his own 80-foot creation, Armada Team Skier, Johnny Lipzker was impressed. "The jump is pretty scary at first but once we're warmed up you can expect a new standard of skiing and snowboarding from Australia during the week."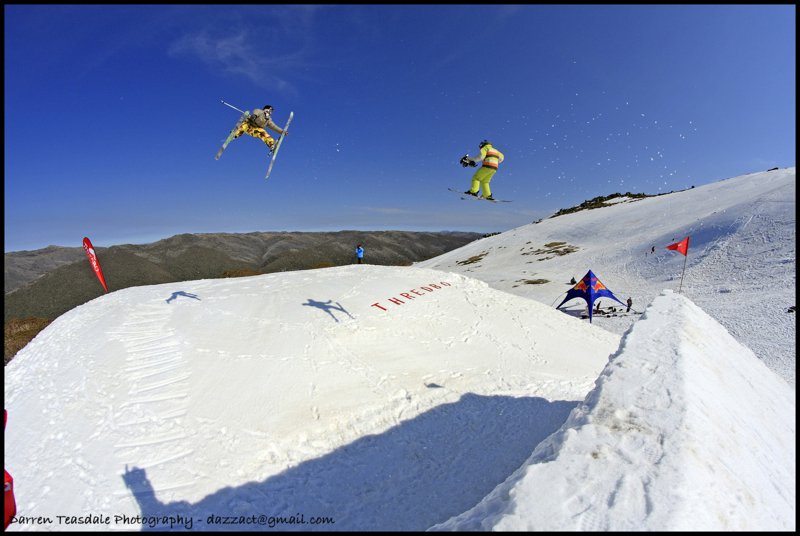 Johnny Lipzker. photo: Darren Teasdale
Australia's best skiers and snowboarders first had to audition against one another to even get a start in the event. The final line up consists of skiers Johnny Lipzker, Charlie Timmins, Boen Ferguson, Jordan Houghton and Slovenian import, Bine Zalohar.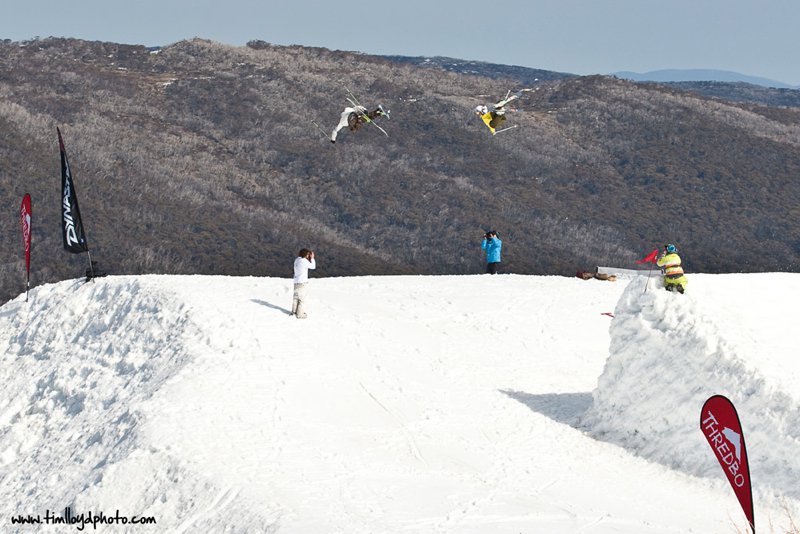 Charlie Timmins & Boen Ferguson. photo: Tim Lloyd
The increasing number of Australian skiers and snowboarders infiltrating the international scene has helped fuel an interest in more Australian ski and snowboard events. Though the One Hit Wonder becomes unique when the riders have the option to keep changing or improving their "Wondrous" One Hit to gain the competitive edge over the other riders, provided of course that they possess the skills and a deep enough bag of tricks. Event director, Tim Myers says "This jam session format is unlike the usual high pressure competition dynamic, where early drawn riders have to anticipate the forthcoming standard of tricks. Riders can warm up to the jump in a relaxed atmosphere and hopefully inspire each other with varying skiing and snowboarding styles throughout the four day duration." The One Hit Wonder Down Under is about creating an environment where skiers and snowboarders can step up their big air acrobatics and produce the most crowd pleasing show that they know how.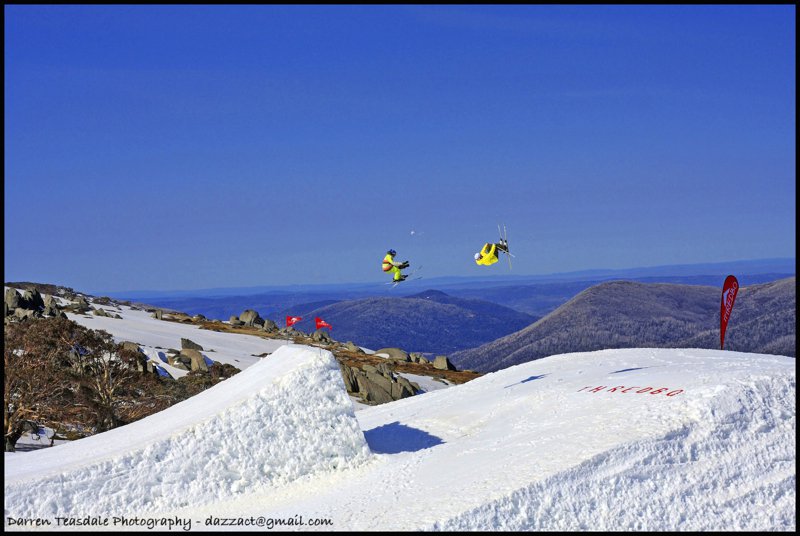 Even Director Tim Meyers follow caming Boen Ferguson. photo: Darren Teasdale
At the end of the filming window, each riders selected big air trick will be hosted online for the viewing audience to judge and ultimately decide who shares in the cash purse provided by Sinner Outerwear and Red Bull. By voting for your favorite rider, the public, will also go into the draw to win from a $5000 head-to-toe equipment package from Sinner Outerwear, Dynastar skis, Lange ski boots, or a Rome snowboard, boots and bindings set up. Natalie Khoo from Wintervolume.com says "What Myers has invented is very interesting, and bound to capture the interest of those both inside and outside of the snow community. This competition is film-based and interactive. Never before has the Australian snow sports industry seen a competition like this..."
Day 1
An amazing start to the One Hit Wonder Down Under as day 1 of the event kicked off with blue bird skies and perfect springtime conditions. Skiers and snowboarders turned up to the 80ft jump that Charles Beckinsale created in Thredbo with nothing but excitement.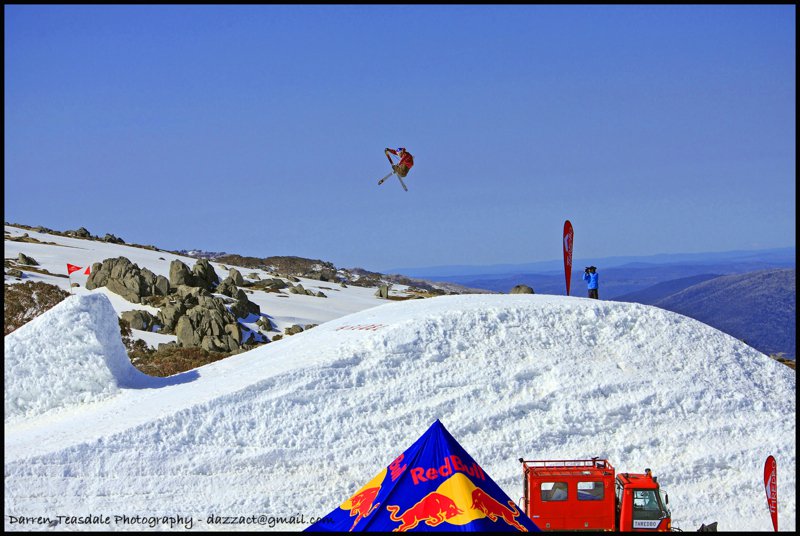 Russ Henshaw. photo: Darren Teasdale
Hailing all the way from Slovenia, Bine Zalohar was going deep with some stylish cork 10s, Robbie Walker was stepping it up for the snowboarders with flawless switch back 10s and Russ Henshaw, who turned up to spectate, couldn't but help himself to the perfect set-up and threw down some epic double corked 10s and 12s.
A Sneak Peek into Day One from One Hit Wonder Event on Vimeo.
Day 2
The weather gods delivered yet another beautiful spring like day here in Kosciusko Thredbo Ski Resort, with minimal winds and warm temperatures. The athletes where in good spirits and at ease as they appreciate the never before seen in Australia competition format... Charlie Timmins says "it's such low pressure as you don't just have two jumps to throw down and land, you have time to build up to bigger and bigger tricks over three days, which encourages much more progression."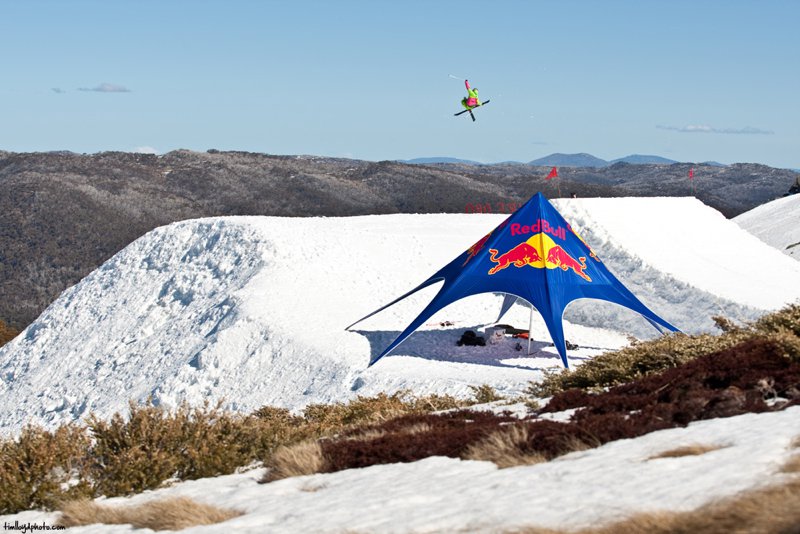 Forerunner Andreas Gloor. photo: Tim Lloyd
As filmers gathered around the jump in different locations to make sure the best action was captured, the riders stepped up their game from yesterday and started throwing down some tricks that may land them the cash as voted by the public. As an extra incentive, the riders themselves will vote at the end of day three for who they think deserves to share in the immediate $1000 Red Bull Charging Bull Cash Award.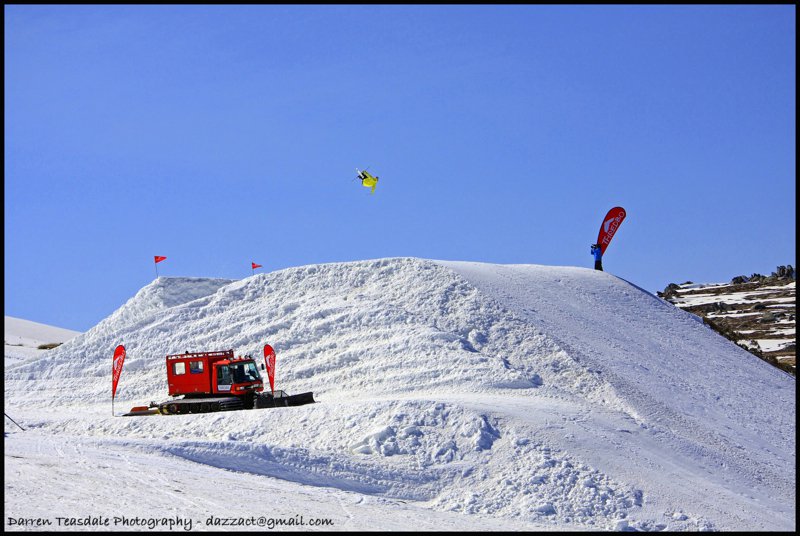 Boen Ferguson. photo: Darren Teasdale
After a reshape and salt, Boen Ferguson punched out some massive double fronts, which on the day was very much a crowd pleaser. As the sun started to fade, the athletes certainly didn't... Organizers practically had to drag the athletes off the jump, but knowing that they still had day three to go they finally made their way off the hill 1 hour after the scheduled end time. Hey, who's going to say no to these boys when the heat is on.
A Brief Wrap of Day Two from One Hit Wonder Event on Vimeo.
Day 3
If this was cricket, we could call this a "hat-trick." Day three was just like the last two, an absolutely perfect blue sky day. Creator of the event Tim Myers gathered the athletes for a quick pep talk and then they were off. Myers quotes "The jump has been shaped and salted and I expect to see the level of Australian skiing raised as there has been talk of big tricks amongst the athletes for day three". With that said, it was business as usual.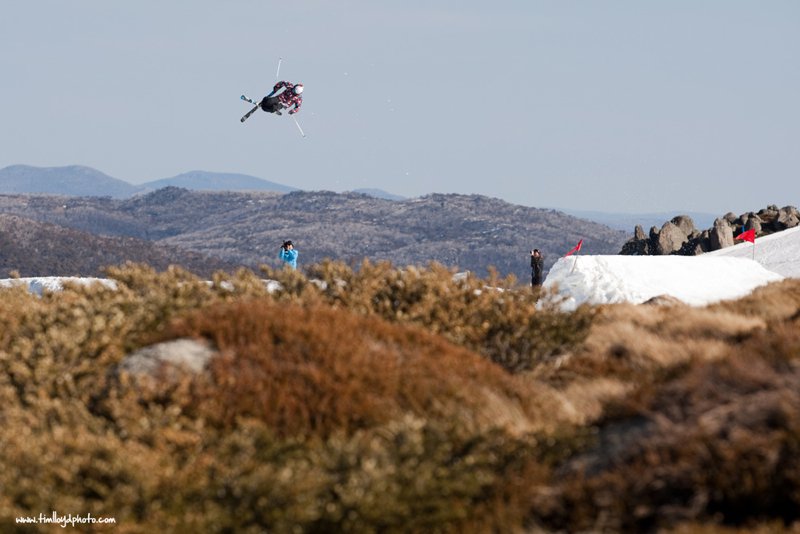 Jordan Houghton. photo: Tim Lloyd
Jordan Houghton got "dub nasty" with his Kangaroo flip, and it was like the flood gates had been opened. The boys where hungry to put down a trick they would call their "One Hit Wonder," which is now posted online at http://www.onehitwonderevent.com and voted on by you guys. Double cork 10s' and 12's, switch 10's, double rodeos, double backs and double fronts made up the onslaught and as the day progressed, the athletes where one by one confirming their tricks for the vote.
With still some time left on the booter, and tricks locked in and confirmed by the athletes, the afternoon was finished off with a fun session of lofty spins and tandem jumps to wrap up what looked to be Australia's leading skiing and snowboarding event of the year. Johnny Lipzker told us "We've never really had an event like this before in Australia where we have had time to progress over a number of days. And not to mention good jump, good friends, good times... Best event of the season!"
Just a Tease from Day Three from One Hit Wonder Event on Vimeo.
Taking out the Red Bull Charging Bull award for the skiers was Johnny Lipzker, and Andy Lloyd brought home the bacon for the boarders. But now it's now up to you, the public to vote online at http://www.onehitwonderevent.com/videos.htm to choose the winner. For the chance to WIN FOR YOUSELF, vote for your favourite rider by sending an email to vote@onehitwonderevent.com with the names of the skier and snowboarder in the subject line of the email, and a few details about yourself:
EMAIL: vote@onehitwonderevent.com
SUBJECT: skier name AND snowboarder name
BODY: your name / age / gender / home mountain
___________eg; Pete Smith / 21 / M / Thredbo, Australia.
By doing this you have a shot at taking home a $2500 head-to-toe set up from Dynastar, Sinner Outerwear and Lange for the skiers, and a $2500 package from Rome Snowboards, Boots and Bindings for the boarders. So check it out and help a poor ass Aussie skier and boarder put food on the table tonight by voting! Voting closes on October 15th. The winners of the ski and board equipment packages will be contacted via email.