There's a website called Sleeping in Airports and i often take a quick look at it to check out if i can save some cash on hotels whilst on the road. Leaving Heathrow at 6am tomorrow made it only sensible to rough it at the airport. Heathrow is renowned for not being very nice to be in but i think i've found a little gem with a Costa coffe shop tucked away, open all night and with free internet. Jackpot.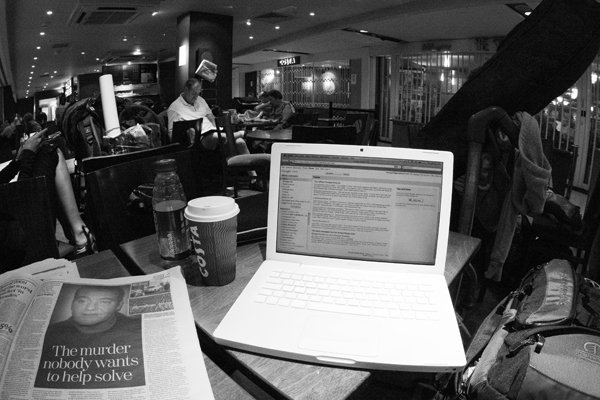 Time to catch up on blog reading and solve a murder – nobody else wants to
I'm on this very last minute planned trip over to Les Deux Alpes to catch up with the guys from Kumi Yama. They've organised a competition up on the Glacier and i've been invited to take part in the photo competition in conjunction with the snowboarding and skiing. Its going to be a great chance to hook up with some Japanese riders who have flown in for the event and to experience summer snowboarding for the first time in Europe.
For the competition i've got to produce three images with one of them being inter-linked with graphic design. For that aspect a designer friend of mine will take the reigns and hopefully we'll produce the goods. Will keep you updated as the journey unfolds.
Keep posted for updates.
3qx8hfupdw
Technorati Tags: Kumi Yama, Les Deux Alpes, Sleeping in Airports