"On The Come Up" is a series in which we highlight an up and coming skier each week. Some of you may recognize them but for many, the name won't ring a bell. Either way, one thing's for sure, you're going to be hearing a lot more of that name in the near future.
From the land of 10,000 handrails, Paddy Flanagan is a product of riding Minnesota hills, high speed rope tows, and some cold-ass weather. Able to spin easily 100 laps a day at some parks, he's putting the sticks to good use. The guy may be small, but he packs a heavy punch.
Though the endless Midwest laps are very alluring, Paddy doesn't let them get in the way of moving outside the park. If you haven't yet, watching his 2016 street part is a must. Filming rails all throughout the notorious streets of Minneapolis, this part will surely not disappoint. Most struggle to find the time, effort, and skill to put out a full length segment, so the fact that he managed this while still in high school makes it all the more impressive.
https://www.newschoolers.com/videos/watch/829397/Paddy-Flanagan-2016-Street-Part
Paddy Flanagan 2016 Street Part
As good a ski part this was, interestingly enough, Paddy says he only hit spots with snowboarders last season. More and more it seems that skiers are being heavily influenced by snowboarders and skaters, especially street skiers. He admits, "The Minnesota snowboard scene has a huge impact on how I ride. My oldest brother Aidan is an absolute mad man in the streets so it is nice to have him for spots and ideas. I mostly film with only snowboarders so I'm constantly getting ideas from them. Also makes me step out of my comfort zone and hit spots that skiers usually wouldn't hit."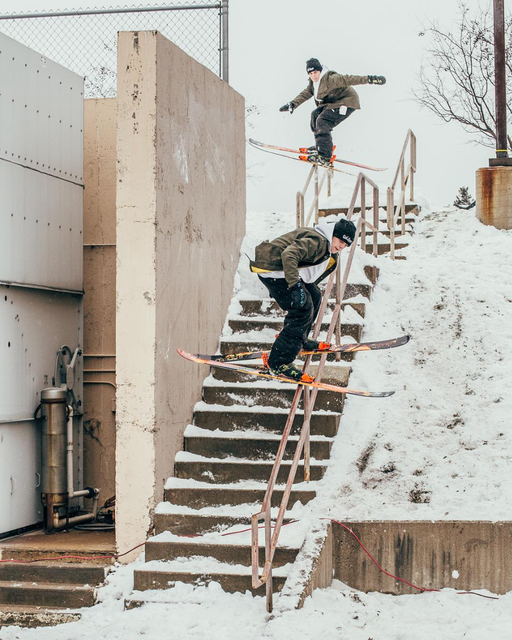 With the New Year feeling like yesterday, it's hard to believe that we are already halfway through the month of January. The west is getting pounded day after day, content continues to roll in, and skiers all over are getting after it; it's clear that winter is in full swing. When asked about his plans for the season, Paddy told us he wants to "put out the best street part I possibly can. My brother Seamus was just back in Minnesota for about 3 weeks and it was real good stacking clips with him again. Plan is to just keep going out and saving my clips." Coming off an addition to the Revision Skis family a couple months ago, he also mentions, "Spencer Milbocker and I have been talking and hoping to make a project with Revision at the end of the year."
https://www.instagram.com/p/BOYYx2RDC-U/?taken-by=pbone_
Different locations, better shots. I think that's what we can look forward to in the future from Paddy, as he is moving up to Duluth next year for college. City to city, it seems that Minnesota is filled with street spots. Paddy is gonna stick to his roots and take advantage of that, for now.