Words & photos: Ethan Stone
February 11, 2014: A day that will live in infamy. A day when the once-proud rebels of skiing surrendered their arms and made peace with the powers that be. A day when the black sheep sheared his curls and returned quietly to the fold. This is what I'm thinking to myself as I hustle along the roadway to the Rosa Khutor gondola on my way, a bit late, to watch the first-ever women's ski slopestyle Olympic event.
The narrow strips of land bordering the road, muddy quagmires just days ago, have all been covered with sod in an attempt to beautify the earth torn by months of frantic construction work. The mud has responded by swallowing the sod whole. It's like trying to cover up a swimming pool with paper towels.
A thin cloud blanket lays heavy in the sky, obscuring the heights. It is a dark day, and a dark day for skiing, I'm thinking as I near the slopestyle venue. What time is it? Almost ten? Shit, I've got to hurry, or I'm going to miss the start of an event that I flew halfway around the world to see.
I pick up the pace a little bit, jogging through a growing crowd of spectators streaming towards the slopestyle course. I start to realize that, okay, maybe I'm a little bit excited for this event after all. And all at once, I crest a hill, and this is what I see.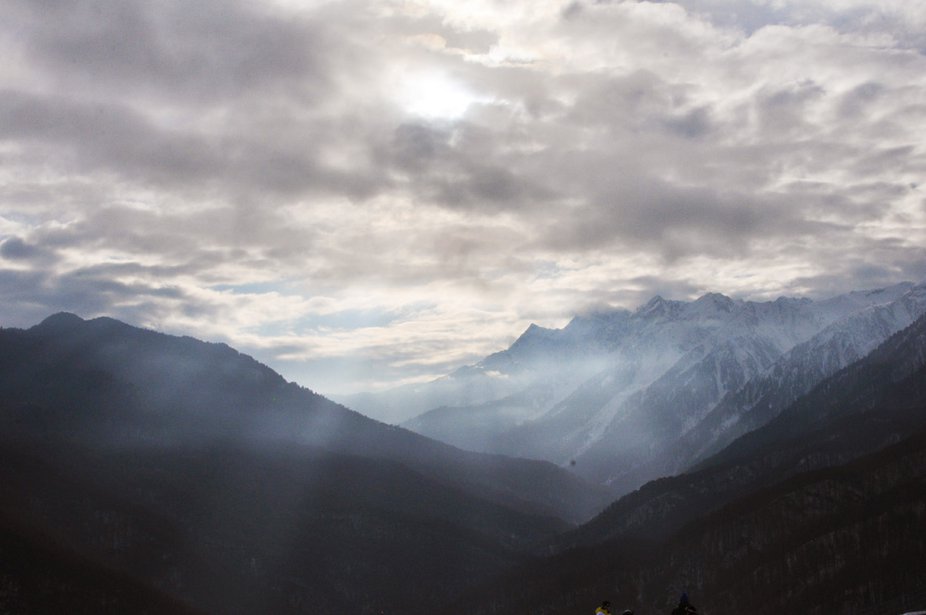 Hallelujah.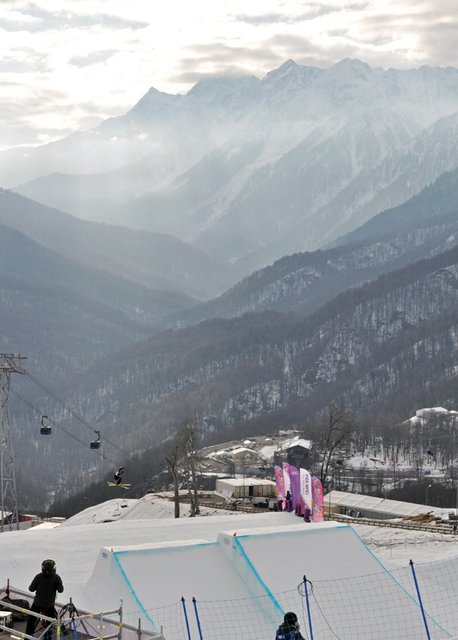 The sun is streaming through the thin cloud layer to the east, impossibly beautiful, a stunning backdrop to the slopestyle course. The first riders have dropped by the time I reach the grandstands at the bottom of the course, and a rapidly growing crowd, already numbering in the thousands, is cheering boisterously for each one. Each nation has its cluster of fans and waving flags: the Brits over here, the Aussies over there, the Germans there, and a whole lot of rowdy Russians up in the stands. The atmosphere is electric. I have never seen a crowd like this gather for a slopestyle event before.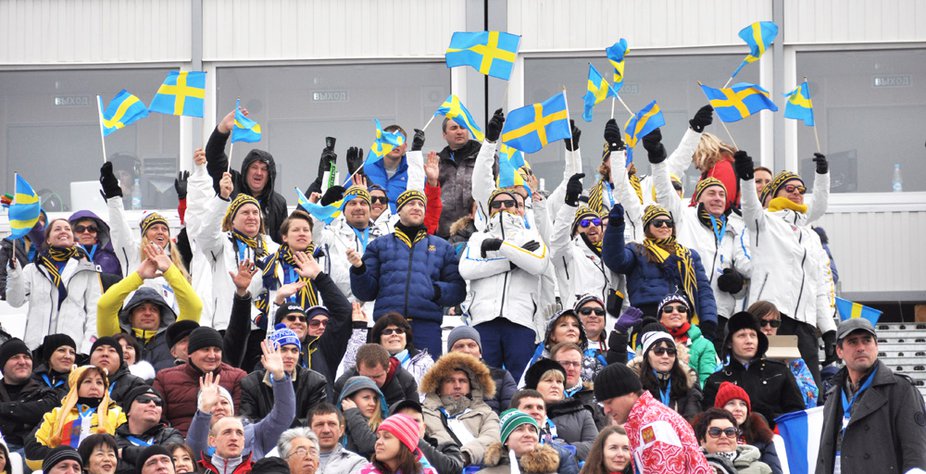 The Swedes getting rowdy during Emma Dahlstrom's run.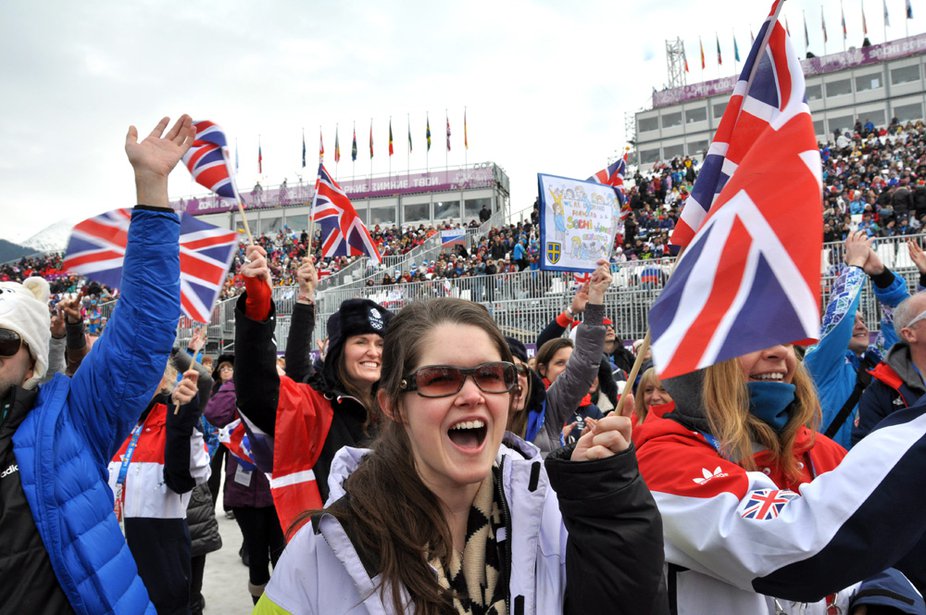 Excited Brits (with a Rachy cameo)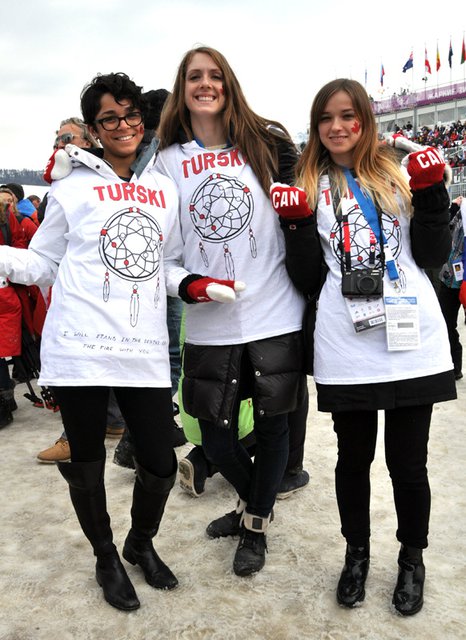 The Kaya Turski fan club.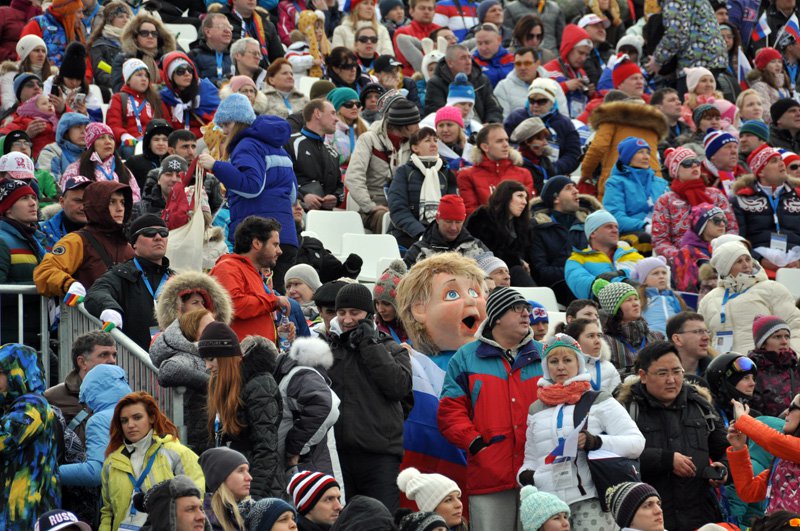 Apparently the polluted water from development in this area is already causing mutations.
And all of a sudden I realize that I'm not just excited, but actually ecstatic. I am literally skipping down the steps, dodging through families, now breaking into a full-blown run in my haste to reach the venue, and it's not just because I'm slightly delirious from not having slept the night before while preparing my first article. The women of ski slopestyle are dropping in on the world stage, and I don't want to miss a goddamn second of it!
Yes, me. The purist, defender of freeskiing's rebellious soul, critic of international ski federations and Olympic committees, jaded, mistrustful, misgiving old me. All of a sudden, without my knowledge or consent, I have been turned into a FANBOY, screaming like a banshee at the bottom of the course as the girls drop in one by one, waving at the boom camera as it swings overhead, cheering for each competitor and every stomped trick. And I'm thinking to myself: THIS. IS. FUCKING. AWESOME.
Look at this huge crowd gathered here from all corners of the earth. These are not passionate freeskiers come to watch slopestyle's debut. These are laymen and women, Olympic fans, tourists and spectators, who have come here to watch and support a bunch of kids who just like to hit jumps and slide rails. And you know what? That's cool.
The girls have risen to the occasion. They are killing it. The first full run I see is Canadian Dara Howell's - a clean rail section followed by a stomped switch 720, into a switch 5, and capping it off with a TJ Schiller-worthy rodeo 540 bow-and-arrow grab to post a score of 88. Wait a second, is this really WOMEN'S slopestyle I'm watching?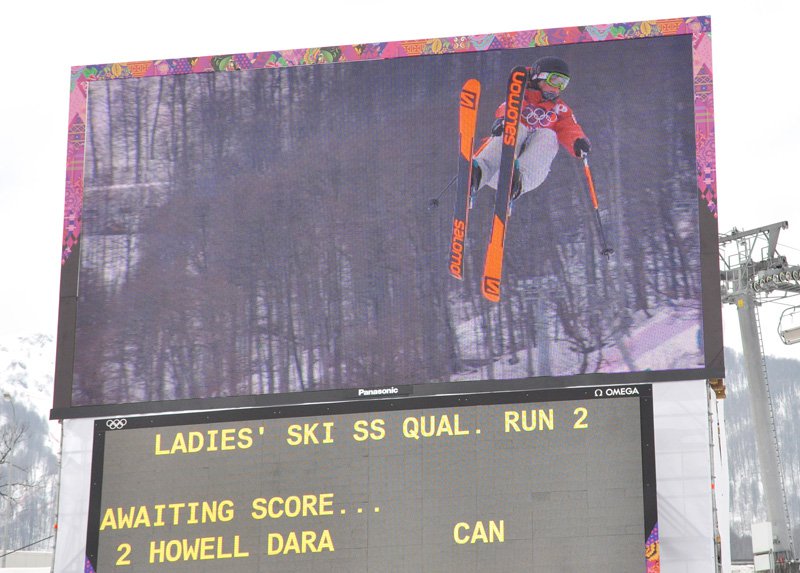 Dara on her way to the top qualifying score.
The crowd grows more raucous with each drop. Lisa Zimmermann murders the rail section: disaster 270 onto the down-flat down, front 450 out of the up-rail, into a clean switch 900 followed by a cork 900 that she bobbles the landing of. Katie Summerhayes is not to be outdone with a disaster onto the DFD, front 4 out, and a smooth K-fed on the down box. Julia Krass sends huge D-spin 7s and cork 7s. Anna Segal links up clean, technical runs.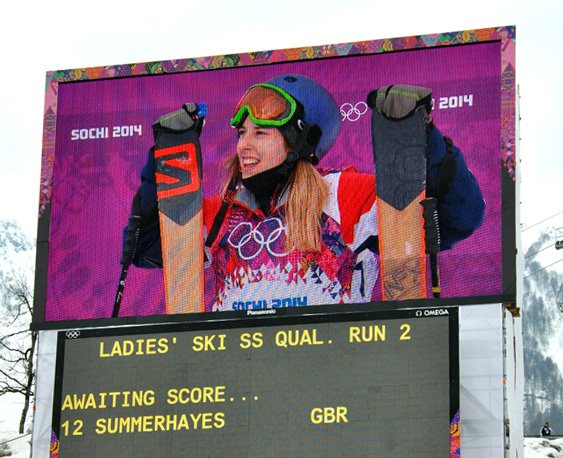 Katie Summerhayes waits for her score to drop.
Keri Herman, crossing her fingers for that finals spot.
The tricks are getting better with every run. Switzerland's Camillia Berra keeps it simple through the rails, then rocks the jumps: switch 5, rodeo 720, into a surprise double front flip on the last booter. Okay, that's what's good: chicks are doing dubs in the qualifying round. Women's Olympic ski slopestyle, nice to meet you.
But it's not all about the dubs: Devin Logan keeps it squeaky clean with 540s in three different directions, with three different grabs - a true slopestyle connoisseur. Yuki Tsubota stomps a huge run including a blind swap in the rails and a big cork 9 at the bottom to secure her spot in the finals. Hammers are dropping like it's an arthritic carpenters' conference.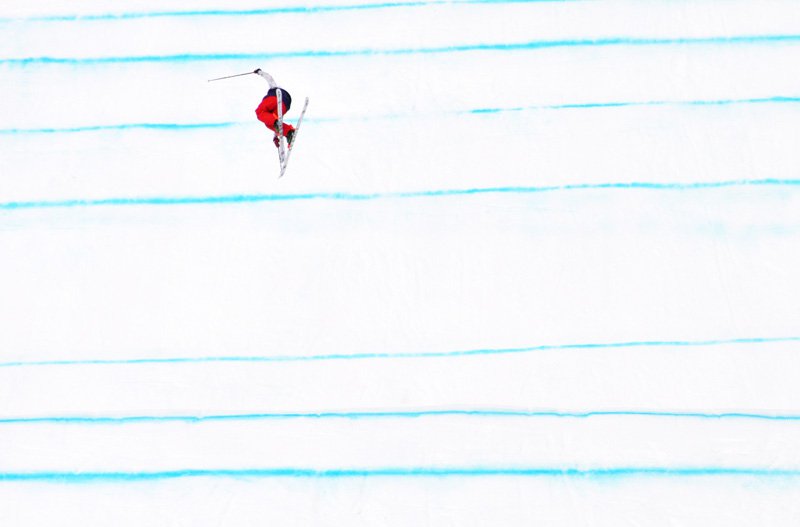 Devin Logan, in a field of her own.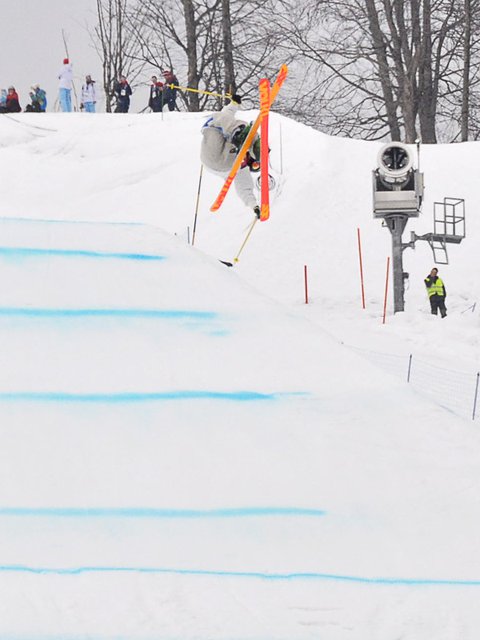 Sweden's Emma Dahlstrom snags cork 7 tail.
A few surprises are in store at the end of the second round. Kaya Turski, one of the most dominant skiers in the sport, has missed the cut after a brutal slam off the wallride in her first run, and an unintended revert in her second run that causes her to knuckle a 540. German phenom Lisa Zimmermann has some of the best tricks on the course, but can't link them up cleanly, and is also out. The field has been narrowed to 12 women ready to duke it out for the gold, silver and bronze.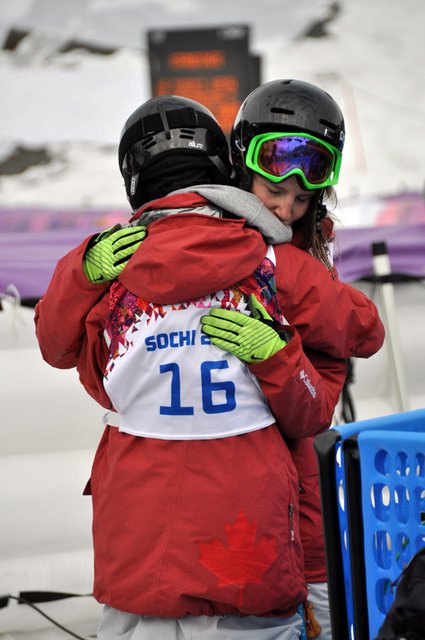 Kaya Turski gets a much-needed hug after crashing on her second qualifying run.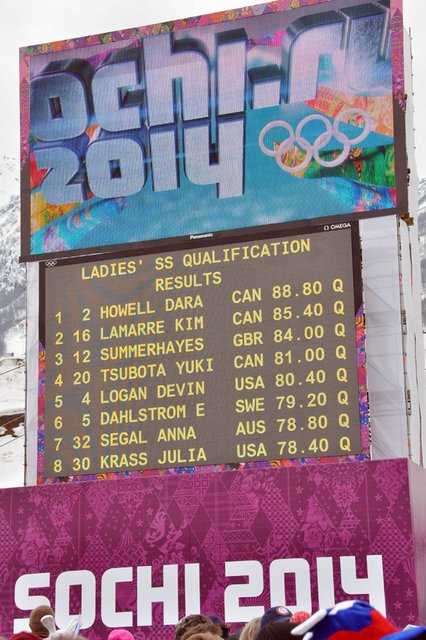 Qualification results
There's an hour-long break between qualifiers and finals, so I walk to the back of the venue to see how long the lines are for a hot dog and a Coke. Amidst the halftime bustle, I bump into the men's Swedish slopestyle team: Henrik Harlaut, Oscar Wester and Jesper Tjäder. We stop for just a second to chat, but the trio is instantly swarmed by a ravenous pack of fans, young & old, from all nations, who want to get a photo with E-Dollo and the boys. The level of celebrity that Henrik commands here is insane. Once the photo-taking starts, it's a chain reaction, attracting more and more people. The Swedish trio couldn't leave right now if they tried.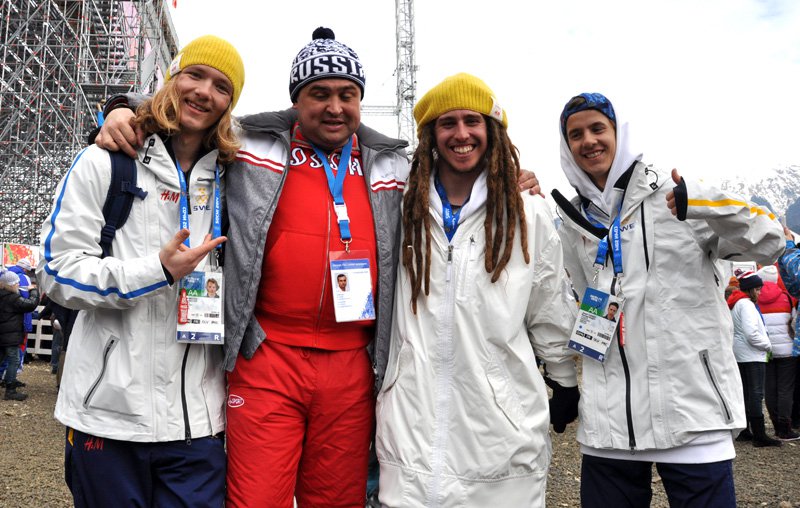 Oscar, Henrik and Jesper with a new Russian friend.
All of a sudden it's time: the finals are about to begin. Audiences worldwide are watching live. Very soon three of these girls will stand on top of a podium clutching three different medals, celebrated by the world's largest sporting stage for grabbing their skis and jibbing rails. A new era is about to begin. Women's slopestyle is about to become... manifest.
Nerves are acting up in the first run of the finals, and several girls go down. The snow isn't helping either--it's soft and slow, and these jumps demand every bit of speed that the ladies can muster. After a few spills to start off the finals, Anna Segal puts down the first big run, sliding the big wall to switch and into a switch 540, right 720, left 720, to net a score of 77 and move into the lead. But Devin Logan doesn't let her stay there long--she steps up her jump game from a 540 tail to a 720 tail on the last jump, and takes the top spot with a score of 85.
But Dara Howell's up next, and she's been on fire all day. I'm standing next to her fellow Canadian team athlete Alex Beaulieu-Marchand in the crowd, and he calls out the tricks as she drops in. "Switch 7, okay... now she's gonna do the switch bio 9"... which she does, and stomps it clean, into her signature rodeo 5 on the third jump. The crowd goes wild and Dara posts a score of 94.2 to take the lead going into run 2.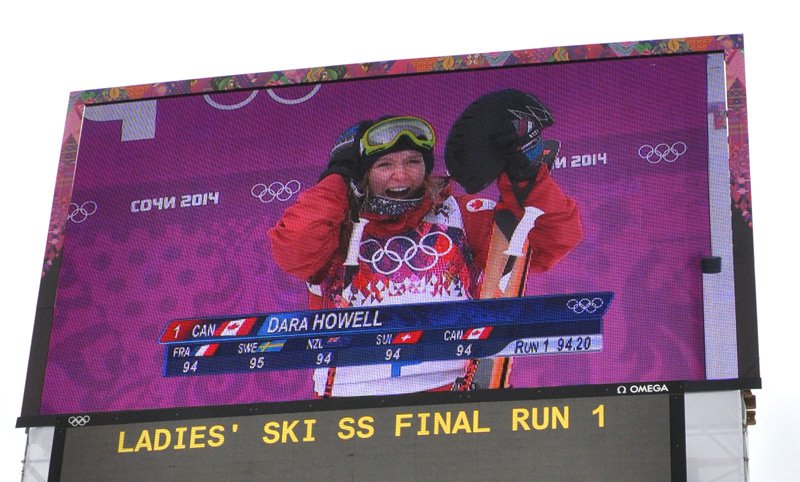 That moment you realize you're going to win a gold medal...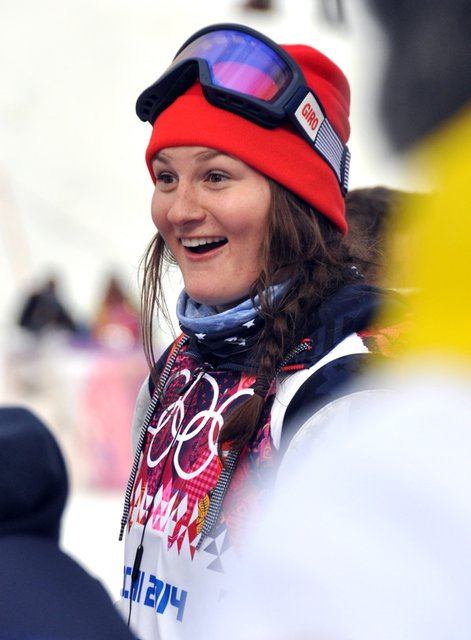 That moment you realize you just won a silver medal...
The speed issues seem to be increasing, and many of the ladies knuckle hard during their second runs. Silvia Bertagna loses a ski but rides out. By far the worst crash of the day goes to Yuki Tsubota, who in a last-ditch effort to break into the top three sends her beautiful cork 9 on the last jump but comes up well short of the landing, compressing hard and flipping gruesomely down the landing. She is quickly bundled off of the slope and hospitalized with a reported jaw injury. Hang in there Yuki, we're all behind you!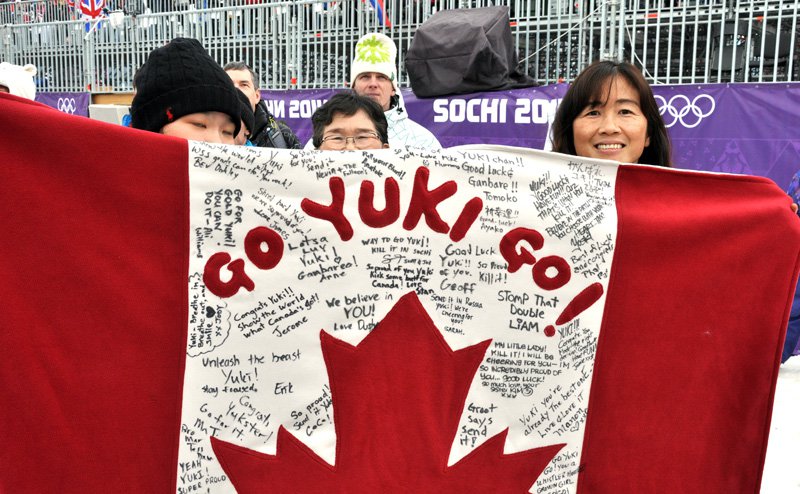 Yuki's family was there to cheer her on. My thoughts go out to all of you - your daughter is a champion!
The final challenger to Dara's score is teammate and second-place qualifier Kim Lamarre, who puts down a run for the books: disaster 270 onto the DFD, switch onto the wall, backflip japan grab, left 540 mute, and capping it off with a beautiful ZERO SPIN on the final jump, hitting perfect tranny when most of the other ladies are close to the knuckle. After a long wait, Kim's score comes in: 85, good enough for third place, bumping Anna Segal into fourth.
Let me acknowledge this zero spin real quick as one of the single dopest things to happen in slopestyle ever--right up there with Yuki's cork 900 in her first finals run, Camillia Berra's double front in the qualifiers, and hell, Eric Pollard's zero spin in the X Games so many years ago. Kim Lamarre, you are the shit, and you have cemented your name in the halls of those who have definitively shown the world what our kind of skiing is about. I bet there's a lot of Newschoolers who would love to take you out right now.
All that's left now is Dara's victory run, a few casual 360s, and then the post-event celebrations begin. I nudge closer to the finish corral, hoping for an interview or two with some of the ladies, before realizing that I am in the middle of a crush of hungry journalists from all over the world who are ravenous for sound bytes. This, I realize, is no place to be. They hover about like vultures, ready to swoop in upon any girl who drops her guard and thrust dozens of microphones in her face. For sure, it's cool to see journalists from the New York Times, Washington Post and Sports Illustrated fighting for face time with our favorite skiers; but one more voice recorder in their face is the last thing these girls need right now.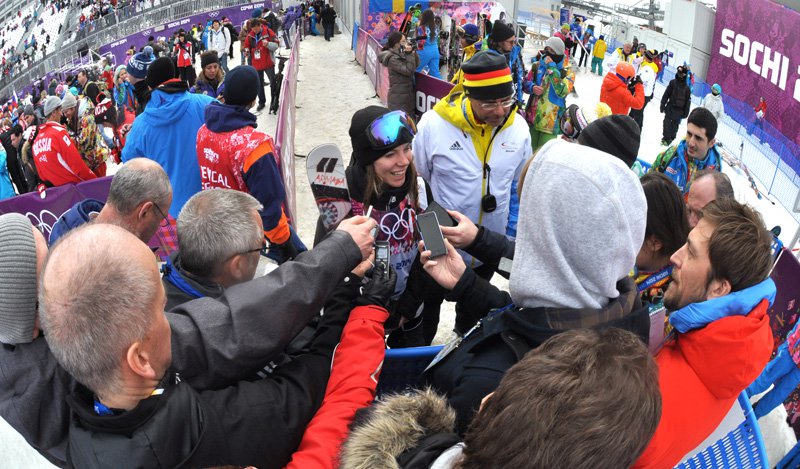 Lisa Zimmermann gets blitzkrieged by the German media.
I opt out of the rat race--if you guys want to read the corny quotes, go check out The Washington Post or something--and end up chatting instead with Chris Turpin, Russian team coach and inventor of the all-switch pipe run. And Turpin's got just the quote I need.
"What happened today was the best thing that could happen to women's skiing," says Turpin. "The girls have been skiing reserved this year, knowing that this is the grand finale. This is the apex, the all-or-nothing moment. And they let it out."
Let it out indeed--these ladies let it out for the whole world to see, and put ski slopestyle on the map in a big way. Huge congratulations to every girl who participated in the event today. You have done the sport well!
[center[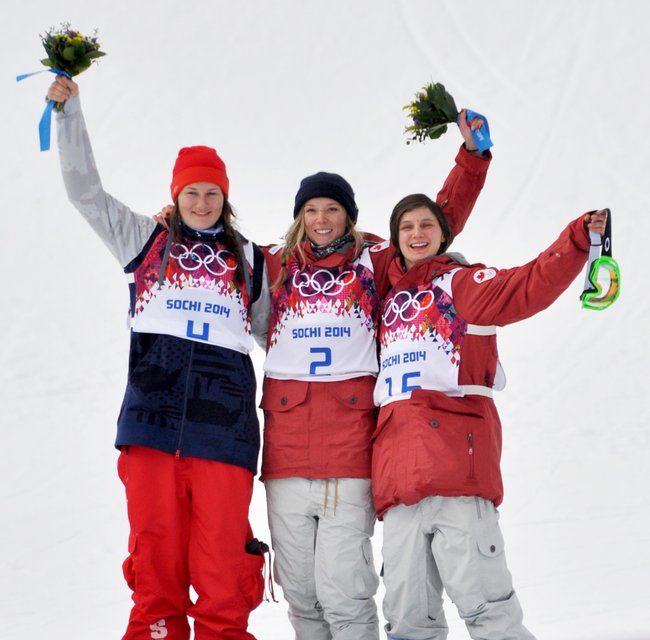 Your first-ever Olympic ski slopestyle women's podium: Dara Howell 1st, Devin Logan 2nd, Kim Lamarre 3rd.[/center]
Did you miss the livesteam? You can watch a complete recording here.
Freeskiing at the Olympics continues on February 13 with Men's Slopestyle. Stay tuned!