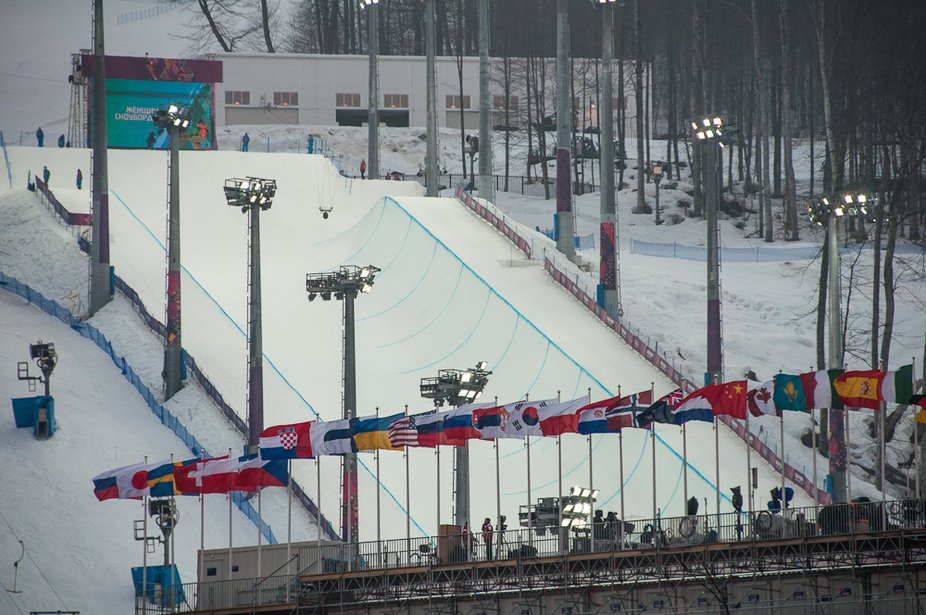 Words & photos: Ethan Stone
With the inaugural Olympic ski slopestyle competition in the bag here in Sochi, Russia, it's now time for freeskiing fans to turn their attention to the stunt-ditch venue just up the road, where in a few days' time, 60-odd men and women from sixteen countries will duke it out for the right to call themselves the first Olympic medalists in ski halfpipe.
The competitions get underway on Tuesday, February 18, with men's qualification from 5:45-7:25pm local time (8:45-10:25am EST), followed by finals from 9:30-10:30pm (12:30-1:30pm EST).
The women's competition will follow on Thursday, February 20, with qualification at 6:30-7:45pm local time (9:30-10:45am EST) and finals at 9:30-10:25pm (12:30-1:25pm EST).
Last night the second pipe practice went down in a foggy haze under the lights at Rosa Khutor Extreme Park, as both male and female competitors continued to feel out the peculiarities of this Russian Olympic halfpipe.
I spoke with a member of the shape crew this morning who told me frankly that they've had a lot of trouble keeping the pipe in shape. The snowboard competitions last week were marred by chunder in the flats, caused mainly by rainfall (which destroyed the snow structure) followed immediately by cold temperatures that made the pipe impossible to salt. The result was large, frozen granules of snow that wouldn't freeze together and wouldn't compact when slipped.
However, the crew has adopted the strategy of pushing out the old snow from the flats each night and replacing it with fresh snow, which will hopefully make for better conditions than the snowboarders had to endure.
Skiers' first impressions of the pipe are lukewarm. The walls have a lot of vert, and during practice tonight the loudest sounds were the sickening crack of landings three-quarters of the way down the transition. A few skiers have already gotten beat up during practice: New Zealand's Byron Wells went down during the first practice session with either a broken or badly bruised leg, and last night Great Britain's Rowan Cheshire knocked herself out during a training run.
"It's no X Games pipe," said Justin Dorey, who arrived in town a few days ago from Canadian team training in Tignes, France. "But it's the Olympics, so we'll make it work. People are going to send it regardless."
"There's a lot of vert and little room for error," he added.
"It's like anything, you've just got to get used to it," said Matt Margetts, who will be competing for Canada this week despite tearing his ACL at the Park City Grand Prix last month.
"It's the Olympics," he explained. "I wasn't going to miss this for anything."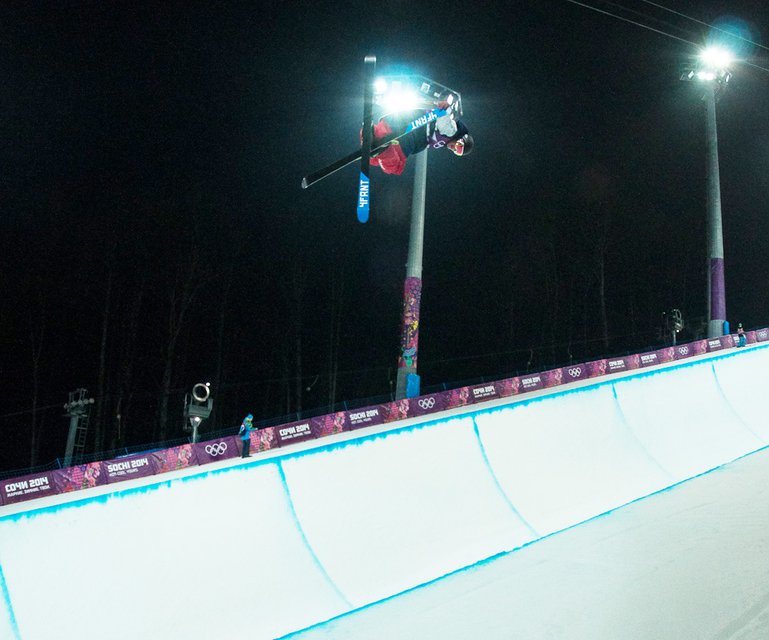 Who to watch for: Men
David Wise (USA)
The three-time X Games champ and self-professed "rad dad" is the undisputed favorite in men's pipe. Few competitors can match his huge amplitude and both-side double cork 12s, not to mention his switch double. Wise is riding high off his third consecutive X Games win and will doubtless be looking to cement his legacy with a win in Sochi.
Torin Yater-Wallace (USA)
In December TYW broke four ribs and missed all of the qualifying events for the U.S. Olympic team. He made it to Sochi as a coach's discretionary pick, but if Joss Christensen's performance in slopestyle is any indicator, the discretionary pick isn't one to count out. Watch for Torin's alley-oop double flatspin and down-the-pipe double flatspin.
Kevin Rolland (FRA)
Kevin won four back-to-back X Games golds in Aspen and Tignes in 2010-11. He hasn't been back on top since an ACL injury in 2012, but his second-place finish behind Wise at this year's X Games shows that Kevin is hungry for a comeback. Watch for big amplitude, his signature double 1080 first hit, and a switch double lower in the pipe.
Mike Riddle (CAN)
Perennial Canadian contender Mike Riddle is no stranger to the competition circuit. After eight years on the World Cup tour, the Riddler is hoping his experience will pay off in Sochi. Watch for clean grabs, flawless execution, and a switch-to-switch double in the lower pipe.
Wild cards: Justin Dorey (CAN), Noah Bowman (CAN)
J-Bone is one of few competitors besides Wise to have both left and rightside double cork 1260s in his bag of tricks. The question is whether he'll be able to land a run with both. He'll doubtless be scarfing down a good-luck sushi dinner in Sochi tonight in hopes that he will.
Dorey's Canadian teammate Noah Bowman has possibly the cleanest switch-skiing game in the pipe right now. His second-place finish in the 2012 X Games pipe definitely turned some heads. Watch for a run linking flawless forward and switch hits and a switch double.
Full Entry List: Men's Ski Halfpipe
AUT - Austria (2 competitors)
GOHL Andreas
LADNER Marco
CAN - Canada (4 competitors)
BOWMAN Noah
DOREY Justin
MARGETTS Matt
RIDDLE Mike
FIN - Finland (1 competitor)
KEMPPAINEN Antti-Jussi
FRA - France (4 competitors)
BERTONI Xavier
KRIEF Thomas
ROLLAND Kevin
VALENTIN Benoit
GBR - Great Britain (2 competitors)
BUCHAN Murray
MACHON James
IVB - British Virgin Islands (1 competitor)
CROOK Peter
JPN - Japan (1 competitor)
TSUDA Kentaro
KOR - Republic of Korea (1 competitor)
KIM Kwang-Jin
NOR - Norway (1 competitor)
LINDSTAD Jon Anders
NZL - New Zealand (4 competitors)
SHEEHAN Lyndon
WELLS Beau-James
WELLS Byron
WELLS Josiah
RUS - Russian Federation (1 competitor)
NABOKIKH Pavel
SUI - Switzerland (3 competitors)
GISLER Joel
LAUPER Nils
LERJEN Yannic
USA - United State of America (4 competitors)
BLUNCK Aaron
CURRIER Lyman
WISE David
YATER-WALLACE Torin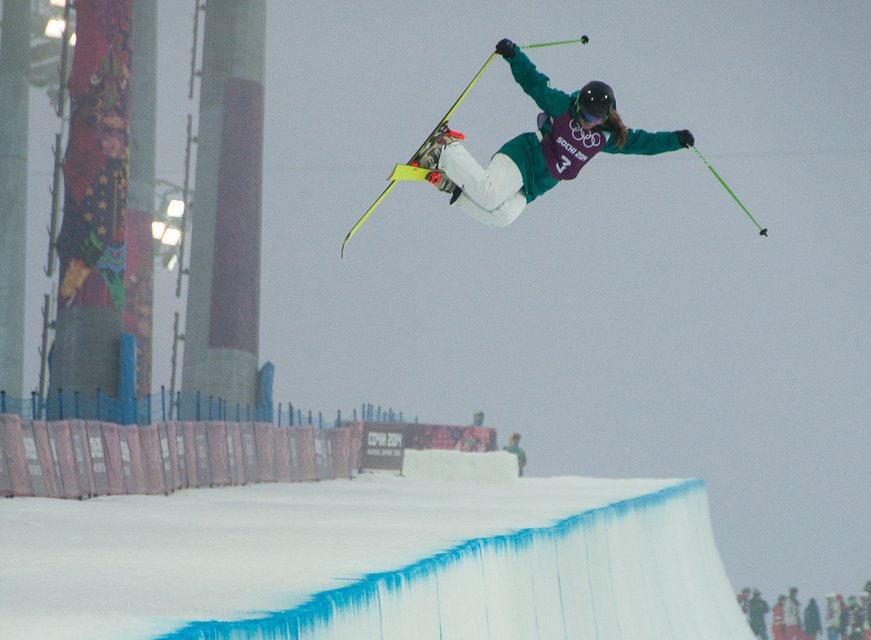 Who to watch for: Women
Maddie Bowman (USA)
Two-time X Games champion Bowman is currently enjoying a heyday in the pipe. Her left and rightside 900s are the current standard to beat in women's competition.
Rosalind Groenewoud (CAN)
Roz G came straight out of double knee surgery to place second in the 2014 X Games pipe, just behind Bowman. With an extra month of recovery under her belt, the brightly lipsticked Groenewoud should be gunning for the top of the podium. But she'll need leftside spins to get there.
Marie Martinod (FRA)
After retiring from the sport in 2007 to raise a family, Martinod returned to competition in 2012 with her eyes on Sochi, and promptly won the Euro X Games pipe in Tignes in 2013. She's hoping that her long years of experience will pay off against the young guns this week.
Virginie Faivre (SUI)
Switzerland's Faivre is one of the oldest competitors in the field, but don't count her out just because of that. Her first-place finish at the World Championships in Voss, Finland in 2013 prove that she's still a force to be reckoned with in the halfpipe.
Wild card: Ayana Onozuka (JPN)
Ayana is a relative newcomer to pipe competition, but her recent performance at this year's X Games showed that she's ready to contend with the top names in the sport. Watch for big amplitude and some clean switch skiing from Onozuka.
Full Entry List: Women's Ski Halfpipe
AUS - Australia (2 competitors)
SHEEHAN Amy
WILLIAMS Davina
BEL - Belgium (1 competitor)
AERTS Katrien
CAN - Canada (2 competitors)
GROENEWOUD Rosalind
HANSEN Keltie
ESP - Spain (1 competitor)
GRIFFITHS Katia
FRA - France (2 competitors)
CARADEUX Anais
MARTINOD Marie
GBR - Great Britain (2 competitors)
CHESHIRE Rowan
LONSDALE Emma
GER - Germany (1 competitor)
CAKMAKLI Sabrina
JPN - Japan (2 competitors)
MITSUBOSHI Manami
ONOZUKA Ayana
KOR - Republic of Korea (1 competitor)
PARK Hee-Jin
NZL - New Zealand (1 competitor)
KUZMA Janina
RUS - Russian Federation (2 competitors)
CHESNOKOVA Elizavetta
MAKAGONOVA Natalya
SUI - Switzerland (3 competitors)
FAIVRE Virginie
JAEGER Mirjam
RAGLETTI Nina
USA - United States of America (4 competitors)
BOWMAN Maddie
DREW Annalisa
SIGOURNEY Brita
VANLAANEN Angeli