In Off the Hill I hope to shine a light on skiers' other hobbies and passions that aren't just skiing. While most people know about these individuals for their skiing, there is often a lot more that goes on off the hill that could range from a way to make enough money to ski more, to a full on passion.
------
Zam Matchett and the rest of the Inflik crew have been killing it for quite sometime, especially with last years "The Doorstep Project". This year, they embarked on another full-length film titled "The Unseen", which is going to be a combination of Inflik X Zam's Zamimated Studios. I caught up with Zam to ask about his animation and the new film.
When did you first start drawing and animating?
I spent a lot of my childhood drawing and painting. Creating art is something I have been interested in for a long time. Animating on the other hand, is something that I've only been messing with for the last couple of years.
How did you get introduced to it? What originally inspired you and continues to inspire you?
I loved lots of cartoons as a child, "Teenage Mutant Ninja Turtles" on Saturday mornings, "The Land Before Time" movies, "The Lion King" was my favorite. I watched a lot of South Park as I got older, but it wasn't until I was a freshman in college in Salt Lake City when somebody showed me "MUTO a wall-painted animation by BLU," that I realized that creating moving artwork was something that intrigued me. This video really opened my mind, before seeing it, I don't think I really understood that a video is just a series of images played back at a rapid and constant rate. The MUTO video was definitely the first thing to inspire me to want create my own animations, but this desire got lost in some hidden corner of my brain for several years before I actually did anything about it.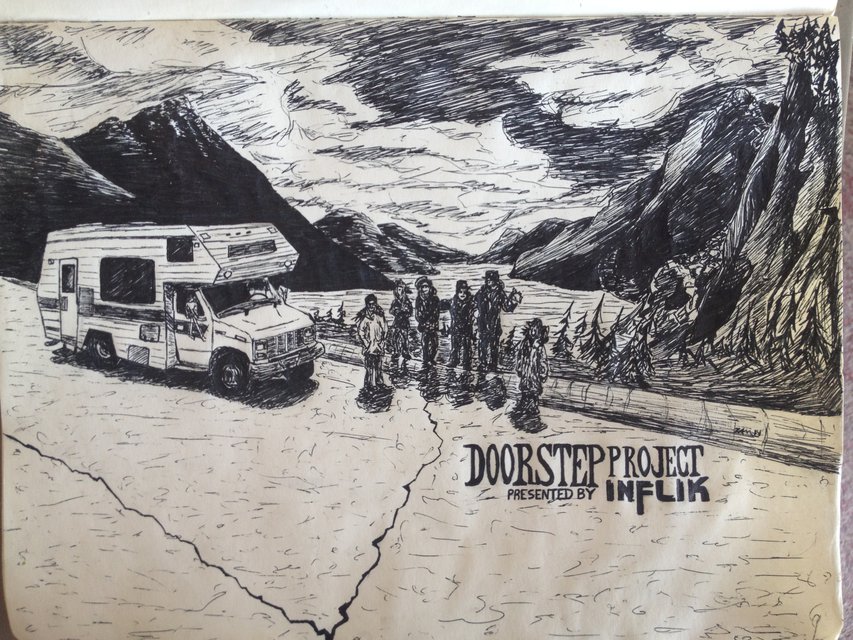 Fast forward four or five years... I had been in British Columbia shooting for the Doorstep Project with the Inflik boys for about two months when I had the misfortune of double ejecting during a forward heavy switch landing, and falling with all my weight directly on the sharp corner on the side of my heel piece, splitting the side of my leg open pretty wide, just below the knee. Those of you who saw the Doorstep Projected or Zamimated pt 2 may remember the afore mentioned clip. [ Lesson learned: don't try to get away with rocking worn out boots] Anyway, I had to take some time off of skiing to let my leg heal up. Around this same time I discovered the show "The Boondocks" which inspired me to start thinking about animation again. At this point I started scheming about trying to create an animated version of myself to try to bring something fresh and original to my skiing videos. A few weeks later I was down in Salt Lake again visiting some homies, still waiting for my leg to finish healing when I received a fresh pair of DaNollies from Icelantic Skis. The box was leaned up against the wall by the door when I noticed that the Icelantic Logo and Lettering could actually be interpreted as a transition and butter pad line for a miniature skier. I still had a few weeks until I would be able to ski so I decided to go for it, right there on my homies living room floor. After a few practice runs in my notebook, I cut off the side of the skibox, positioned it in front of my camera, and started drawing. I decided to use white out to cover up the previous frames of my character which worked out well because it kind of gave it an effect of snow trailing behind him. Although the process is incredibly time consuming, [I spent well over a week laying on my stomach on hardwood floor making the intro to the original Zamimated edit.] I found it to be rewarding to see the sequence transform from an idea, to some scribbles in my notebook, all the way to a watchable video. So thats pretty much the story of how Zamimated came to be.
https://www.newschoolers.com/videos/watch/706401/Zamimated"Zamimated"
Another source of inspiration worth mentioning is RudyGarmisch and the "Hand Drawn Skiing Sequences Thread" here on ns. That thread reassured me that I wasn't the only crazy person spending endless hours drawing skiers, and must have had at least some influence on my drawing style due the countless times I looked through every page when I was in high school.
As far as things that continue to inspire me, the list is too long. Music would be at the top or close to it.
How has the evolution of your drawing/animating been?
My drawing/animating style is in constant evolution as I gain knowledge and experience, hopefully improving with each attempt, much like my skiing style.
https://www.newschoolers.com/videos/watch/741630/Zamimated-pt-2--ZAM-FULL-PART-"Zamimated pt.2"
What is your process like?
My process and work space has been different for each of my animation projects, I am still learning and experimenting for sure. Basically I have a constant background, and just draw and redraw a character moving across the background. I take a photo of each drawing before moving to the next frame. I finally invested in a remote trigger thing for my camera this year and it made a world of difference in smoothness of the playback. When I'm done drawing I just dump all the photos into premiere at 24 frames per second, one frame per photo. then I just nest it and edit it as if it was a video, adjusting speed,adding sounds, and making other changes as needed.
https://www.newschoolers.com/videos/watch/784860/Private-Video-on-Vimeo
"Zamimated Studio Peek"
Sweet little video Zam was kind enough to make showing his studio and process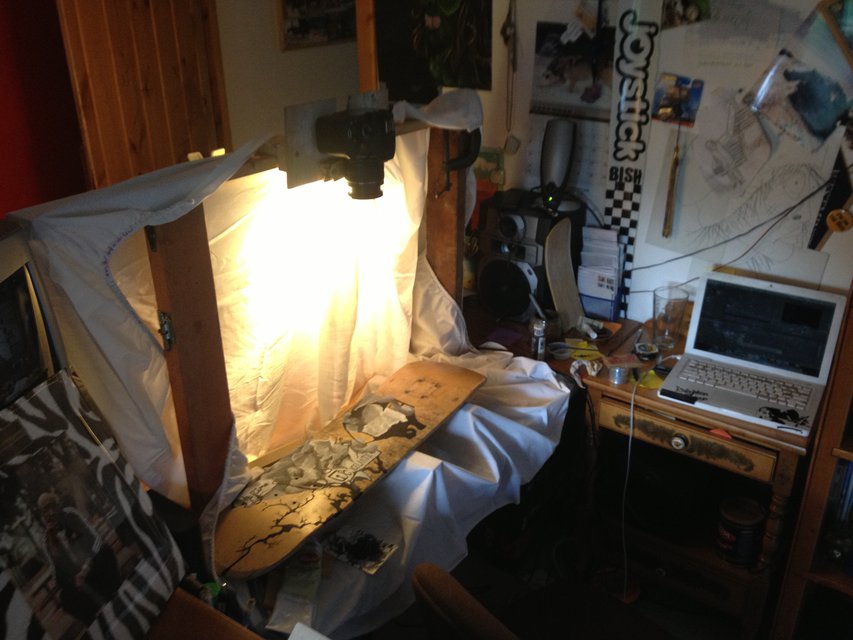 Zamimated Studio
What do you end up doing with a lot of your work?
Most of my work ends up collecting dust in my parents basement in Montana. I consider myself lucky to have a place to store it until I figure out what do with it.
How has your animation interacted with your skiing?
I think of my animation as an extension of my skiing. The 2d character, which is usually a likeness of myself, can do all kinds of things that real life Zam can only think about. My character has no fear of injury, or limits to his strength or balance when it comes to holding a press or absorbing a compression. I'm pretty sure he can also bend the laws of physics a little bit... The character's style, trick selection, and vision for choosing lines is meant to be modeled after my own, or maybe its an expression of what I would like to see my skiing to become.
How has your season been going skiing wise?
Snow in the mountains around Bozeman a few days ago! I haven't skied since May though.
Last season was my best season of riding street yet! Some unfortunate occurrences for the crew, such as injuries, and no pow segment due to lack of snow, landed me in the drivers seat of Inflik so to speak. This meant I could hit lots of the smaller stranger spots that the homies didn't really want to fuck with. I got to hit way more spots of my choosing than previous years.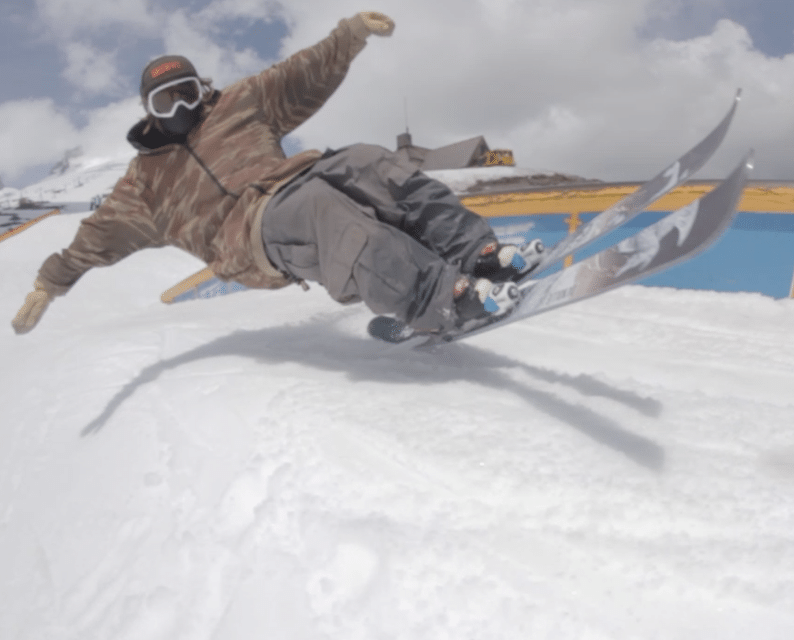 Zam at Mt. Hood last spring
How is the new Inflik project going?
It's going great! I couldn't be more stoked. Being in the drivers seat also meant I got pretty much full on creative control for figuring layout of the film, and what it would be about other than the skiing footage. Proud to say we were able to bring the ideas from my notebook to life, many of them anyway. The film is called The Unseen, and is meant to be an artistic rendition of some of the unseen work that goes into creating a film. It is also a tribute to the infamous west coast hip hop villain Lord Quas, whose first album was titled The Unseen. The official teaser will drop here on Newschoolers.com on September 28th. The world premier will be at IF3 Whistler on October 3rd. We are still fine tuning a couple things but I'm confident we will have it all polished up for those dates. It will be released online later this fall.
Any plans for the upcoming year with your skiing and animation?
I hope to go back to British Columbia and keep working with the Inflik crew in the coming year. I spent most of the summer working on this film, so my funding situation is definitely not ideal this year, but we'll see what happens. I haven't really thought much about future animations since I've been 110% focused on making this movie, but I'm sure this won't be my last go at animation.
Any final thoughts/shout outs?
I'd like to thank the countless people who have helped me out in some way or another. I've slept on quite a few couches and floors over the past few years and I would like to extend a sincere thank you to all of their owners. Thanks to my parents for letting me turn their basement into the Zamimated Studio for a few months, and my sister Maggie for being the best person I know. Big Thankyou to Icelantic Skis, Rime Knits, and LB Snow in Missoula for helping to keep me ridin. Shout out to my truck. Shout out to all the Inflik homies, my people down in Utah, all my people in Sun Peaks, Revelstoke, Montana, Mt Hood, New Zealand, Cali, Colorado, out on the East coast, and everywhere else. Shout out to TheBunch ontheDais with the HoodCrew. Thank you Tupac, Nappy Roots, Andre 3000, MF DOOM, Freddie Gibbs and Madlib for keeping me inspired through the monotonous process of putting together the animations for this film. I also want to thank our fallen brothers Matt Heffernan, Joe Lohr, and Ryan Bishop for the knowledge and energy imparted on me during our time together. All three of you continue to inspire me everyday. Finally I wanna give a big shoutout/thankyou to anyone who read this article, or has ever watched one of my videos! Peace.
If you haven't watched the teaser for "The Unseen" yet, make sure to check it out:
http://www.newschoolers.com/watch/784602.0/-The-Unseen--Official-Teaser
The film drops later this season here, on Newschoolers!
Thanks again to Zam for being awesome and doing this interview!