Cover photo: Klaus Listl - Tom Ritsch styling it out in the Kitzsteinhorn park.
Sometimes you go on a trip and the most interesting story to come out of it isn't the one you thought it was going to be. My recent trip to check out the Kitzsteinhorn Glacier is a prime example. I set out expecting to be writing this article about a hidden gem, the Austrian glacier resort that everyone forgets. And there is no question that Kitzsteinhorn is that. It has an all-time park, with that rare flow that makes doing tricks seem so much less important than the simple feeling of shredding fast through features that are perfectly positioned to maximise the number of hits in a lap. It's also overlooked when compared to the other Austrian glaciers: Stubai, Kaunertal and Hintertux, all of which are better-known for early season fun. But from the perspective of someone who enjoys hitting massive jumps and standing in Stubai's insane lift queues in about equal measure, Kitzsteinhorn is the place to be, a jibber's paradise. It's so good that I'm sorely tempted to make it my base for the season.
https://www.newschoolers.com/videos/watch/884477/1080p-MOV
Tom with a top to bottom of the Kitzsteinhorn Early Season Park
But what I see as the more intriguing tale began, as they so often do in the ski industry these days, with an Instagram post. In this case, one from Tom Ritsch showing off the Kitzsteinhorn park, which resulted in a message from me trying to figure out the best way to get there and fast. 'No problem' was the reply, 'sort some flights and leave it to me'. Fast forward a week or so, and I was heading - via every form of public transport imaginable - to stay with a friend of Tom's. Pretty standard practice for a ski trip thus far, except that said friend turned out to be OG Newschoolers member, an ex-pro turned hotelier, Matthias Leitner. Back in 2005, he was dropping clips on Newschoolers of him figuring out rodeo 7s and dub backies under the moniker sCoTtRiDeR. Over the years, he had a couple more accounts, and became one of Austria's first generation of pros. As such he's one of the local freeski heros in Kaprun, the inspiration for a new generation of local riders. The most famous of whom, Tom, credits Matthias for setting him on the path to a freeski career.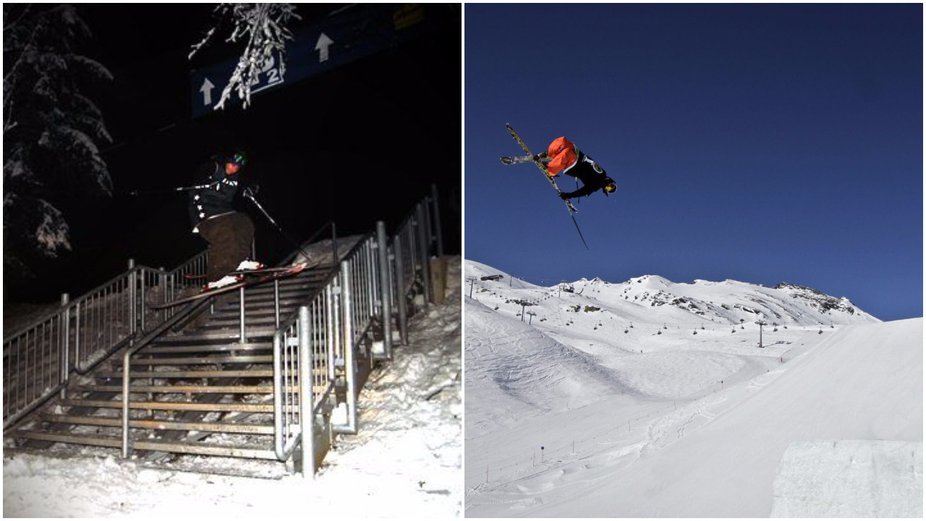 Hias back in his 'Newschoolers days'
Hias', as he's known to everyone around the resort, freeski background becomes apparent as soon as you walk into Active by Leitner's, his hotel, with three framed action shots adorning the reception. This isn't a youth-oriented hostel though, it's a full works 4* mountain getaway for those who find themselves in the mountains to enjoy an active break. But again, this isn't the story. The story is how Matthias uses his position to support an industry that, especially in Austria - the ski capital of the world - is often forgotten amongst mass ski racer fan worship and a growing ski-touring market. Tom Ritsch, for example, is backed directly by the hotel. To Hias, who paid his way through college on the back of a tour of freeski jump shows with fellow Austrian OG Patrick Hollaus, the struggles of living off freeskiing are deeply familiar. The hotel supports local events too, which up until recently included the Austrian Freeski Open, but also more grassroots happenings, like the Cash For Tricks Jam that was going down the day after I left. When I told riders in the park where I was staying, "Oh, Hias is the man" was the inevitable response. Locals credit his influence as one of the main reasons why 'Kitz' is so freeski-friendly, because it's Hias' position as a businessman which has allowed him to explain the sport to fellow local owners and promote it so effectively within the Kaprun area.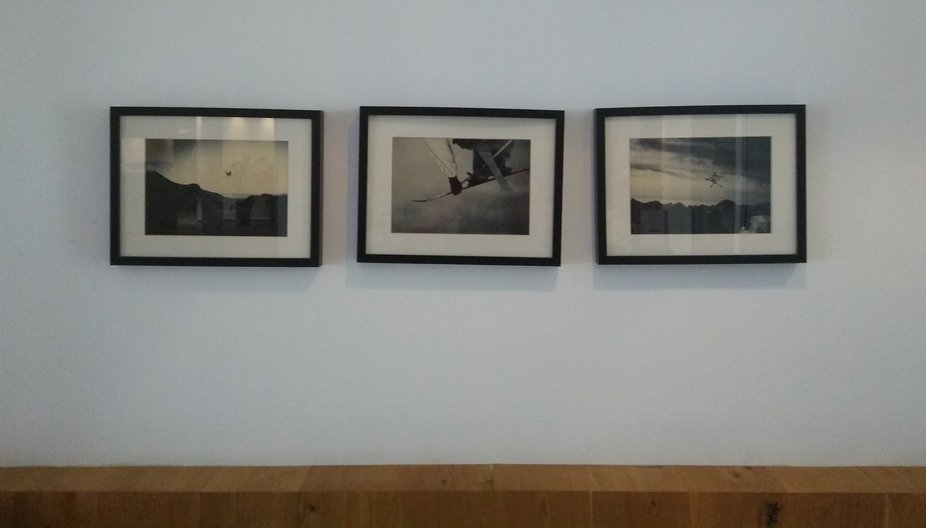 Pride of place in the lobby at Leitners
There's no hiding from the fact that the freeski boom has faltered in recent years. It's those who have graduated through its ranks who may now hold the key to its longevity. In Europe, support for the park scene has fallen away in many big resorts and only a few have actually been improving their park offering in recent years. Thanks in no small part to Hias and the support of the hotel, alongside a dedicated and creative shape crew, Kitzsteinhorn is one of those few that has been booming. David Wise recently stayed at Hias' hotel, and many of the other recent occupants were there for some early season halfpipe training too. It's all part of supporting freeskiing and building a local scene. The hotel manages to be at the centre of that scene while still appealing to families and guests who are completely divorced from it.
Hias belongs to a generation which has grown up with freeskiing and is slowly moving into various positions within the ski industry. As more and more of the older generation of freeskiers move into similarly senior positions and start to influence thinking, we'll hopefully build a more solid foundation for an activity which has without doubt been treated as a trend by many upstairs. With luck, more resorts and more brands will grasp the long-term value freeskiers can bring to their business as the skiers of the future. The signs haven't always been positive for freeskiing of late, but at Kitzsteinhorn things were looking healthier than ever. So I suppose you could call this a freeski success story, which is a more than welcome relief after many recent tales of industry woe. There's the Olympics this year, and plenty of snow in Europe for early season too, so fingers crossed for a much needed good season, we need one.