After years of research and testing, the Canadian based startup North45 came up with a scarf engineered to work perfectly for skiers and snowboarders. The patent-pending design of the North45 scarf covers and regulates the temperature of the lower face area and neck, keeping the individual warm, dry and comfortable while making it easy to breathe naturally. Unlike traditional scarves and ski masks, the North45 scarf is easy to pull down from the face and even easier to replace on the exact spot where it's needed: snaps directly to any set of ski goggles! The first North45 scarves will be shipped worldwide by February 2014.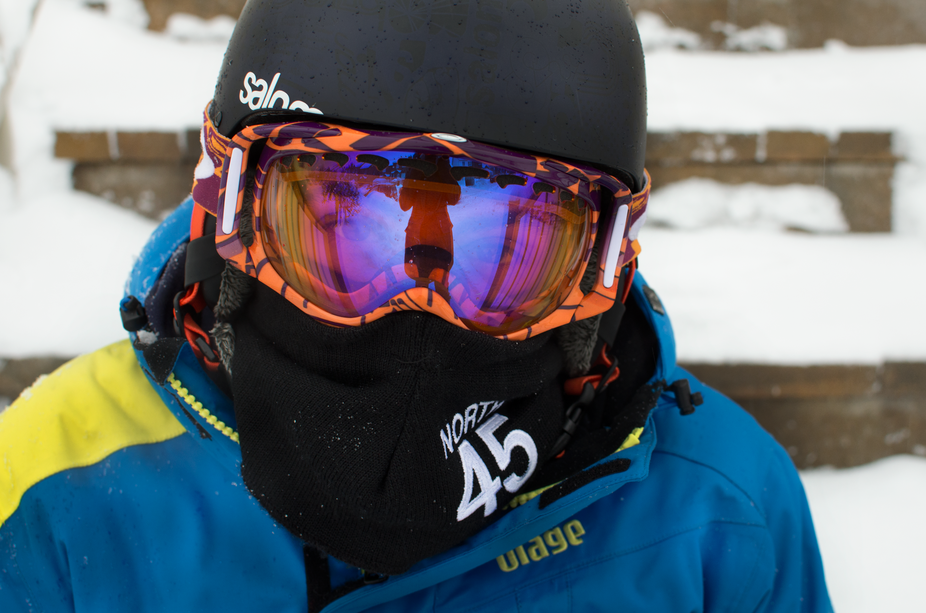 A simple and clever design
An integrated magnet in the top of the scarf mates with a goggle attachment that sticks to the bottom of any set of goggles using 2-sided industrial strength 3M VHB tape (same stuff used to stick window panes to skyscrapers). This allows the wearer to easily pull down the scarf to talk to friends and replace it without a hassle, even with gloves and ski poles in hand.
GIF Magnet in action: bit.ly/1bkH1Sw
A magnetized Merino wool scarf that snaps to any ski goggles
The North45 scarf is made from a blend of Merino wool so it will keep the wearer dry and regulate warmth. The overlapping two-piece scarf design allows a natural breathing experience. The lower part covers the neck while the upper part works to shield the face. The two overlap thus keeping the face warm but still allowing for a natural breathing feeling.
GIF Overlapping 2-piece design: bit.ly/1gbF56X
Where it all began
It all started with an idea and a hand-sewn prototype. Since then, North45 have made 32 variations and are finally at production quality. North45 recently partnered with fabric producers and manufacturing plants in Montreal, Canada and they are currently running the first production run. To finance the project, the founders of North45 have invested their personal savings and launched a Kickstarter campaign ending December 26th. Prospective partnerships were also signed with several local retailers who want to carry the North45 scarf as soon as possible.
Designed, created and made in Canada
Based out of Quebec, Canada, North45 is no stranger to the cold. Winter days can hit -40C (-40F) with the wind-chill. Spending a lot of time on the hills skiing and enjoying the outdoors can be fun but typical scarves accumulate moisture, slide down off the face and leave the cheeks and nose exposed to the cold or worse, fog up the goggles. After examining the base functions of what a scarf needed, Dimitri Poliderakis, a young engineering entrepreneur came up with the idea of a magnetized Merino wool scarf that snaps to ski goggles and thus create the North45 scarf with business partners.
Amazing feedback from skiers and snowboarders
Here is what some of North45's Twitter and Facebook fans had to say about the scarf:
"Now that's awesome" - @camcleary
"I'm so bored of my goggles steaming up or my face freezing! Looks like a great product!" - @rokealey
"This looks great! I've watched video and it looks like it works so well" – @ewarmisham
"Oh wow, I really like the idea of a magnetized scarf that sticks to goggles" - @gudibear
Kickstarter page (the only way to order the North45 scarf for now): http://north45.ca
Twitter: twitter.com/north45_
Facebook: facebook.com/north45scarf