The event-organizers of Fabolous Ruka took us to a pretty cool place last night. The actual home of Santa-Claus, or so they say. We had some food and drinks, watched some people gap a fence shooting pictures for magazines, and froze our asses of. -22 minus is cold.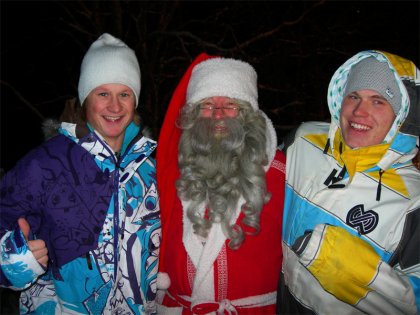 Me, S-Claus and Marius. Not everyday we get to see the santa in person.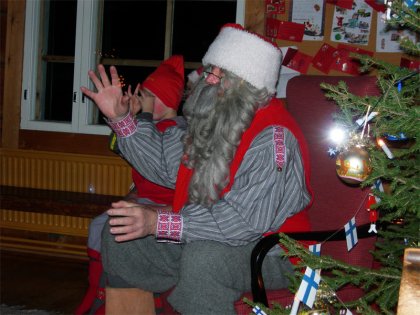 He also invited us into his "summer-house" for the christmasdrink "Gløgg" and gingerbread. Worth it!!
Afterwards it was time to join the most finish of the finish traditions; Sauna! Santa had the most awesome new place outside his house with not less than three different saunas, chillout zone, and a smooth jacuzzi! In the end we had the warmest sauna I had tried, and jumped into the snow, making snowangels. The feeling of jumping back into the tub was absolutely fabolous! If you get to try it sometimes, DO IT!
Just sitting with my first coffee of the morning with Matti Raty, the norwegians are still asleep, got a little late last night.
Bigair training starts 3.00pm, looking foreward to get to know the course here, the jumps looks amazing.