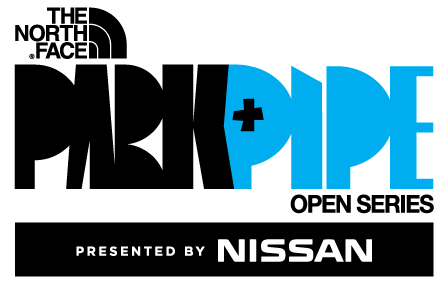 Nissan Joins The North Face Park and Pipe Open Series as Presenting Sponsor
2014 Season Kicks off at Copper Mountain, Dec. 6-8, 2013
SALT LAKE CITY (December 2, 2013) - The North Face Park and Pipe Open Series (PPOS) is thrilled to announce the addition of Nissan and the all-new 2014 Nissan Rogue as presenting sponsor. Nissan joining the series as the presenting sponsor assists The North Face Park and Pipe Open Series provide more opportunities for aspiring freeskiers to enter the sport alongside top pros.
"Nissan strives to bring 'innovation that excites' to owners through its bold products, and the all-new Nissan Rogue challenges convention with bold emotive styling, a premium interior created with comfort in mind, and an array of available affordable technologies," said Jon Brancheau, vice president, Nissan marketing. "Joining The North Face Park and Pipe Open Series as presenting sponsor is a natural fit with the Nissan brand and everything the completely-redesigned Rogue offers. Nissan is excited to be on board for the 2014 season."
Nissan products are known for performance, efficiency, safety and style; key qualities to freeskiing competition. The 2014 Nissan Rogue is designed to energize owners' lives by not only meeting their expected needs, but by going beyond the norm with features such as class-exclusive Divide-N-Hide® Cargo System that provides athletes with 18 adjustable variations for transporting the essential equipment for an active lifestyle. It is bold and versatile like an athlete maneuvering a halfpipe or slopestyle course.
The North Face Park and Pipe Open Series presented by Nissan will feature four stops during the 2013-14 winter competition season including halfpipe at Copper Mountain, CO (Dec. 6-8), halfpipe and slopestyle at Whistler Blackcomb, BC (Jan. 13-16), slopestyle and rail jam at Stratton Mountain Resort (Feb. 20-22), and a final stop yet to be announced. The Copper Mountain and Stratton Mountain stops will both be International Ski Federation (FIS) sanctioned events with Copper Mountain designated as a NorAm Cup. All PPOS events are also part of the Association of Freeskiing Professionals (AFP) competition schedule.
http://www.youtube.com/watch?v=FjGZPKtaf5U
The North Face Park and Pipe Open Series presented by Nissan Copper Mountain Teaser
2013-14 PPOS Schedule
Location / Date / Discipline
Copper Mountain, Colorado / December 6-8, 2013 / Halfpipe
Whistler Blackcomb, British Columbia / January 13-16, 2014 / Halfpipe & Slopestyle
Stratton, Vermont / February 20-22, 2014 / Slopestyle & Rail Jam
Final Stop / TBA / TBA
For athlete or registration information visit www.thenorthfaceppos.com or contact Julia Jimmerson MSI athlete relations manager at jjimmerson@mtsports.com or (801) 349-4616.
Follow The North Face Park and Pipe Open Series on Facebook at facebook.com/thenorthfaceppos and on Twitter at twitter.com/TNFParkandPipe and #PPOS.
For media or general information contact Jessica Kunzer MSI marketing and communications director at jkunzer@mtsports.com or (801) 349-2612.
###
The North Face
The North Face, a division of VF Outdoor, Inc., was founded in 1968. Headquartered in Alameda, California, the company offers the most technically advanced products in the market to accomplished climbers, mountaineers, snowsport athletes, endurance athletes, and explorers. The company's products are sold in specialty mountaineering, backpacking, running, and snowsport retailers, premium-sporting goods retailers, and major outdoor specialty retail chains. For more information, go to www.thenorthface.com.
Nissan North America
In North America, Nissan's operations include automotive styling, engineering, consumer and corporate financing, sales and marketing, distribution and manufacturing. Nissan is dedicated to improving the environment under the Nissan Green Program and has been recognized as an ENERGY STAR® Partner of the Year in 2010, 2011, and 2012 by the U.S Environmental Protection Agency. More information on Nissan in North America and the complete line of Nissan and Infiniti vehicles can be found online at www.NissanUSA.com and www.InfinitiUSA.com, or visit the Americas media sites NissanNews.com and InfinitiNews.com.
Nissan
Nissan Motor Co., Ltd., Japan's second-largest automotive company, is headquartered in Yokohama, Japan, and is part of the Renault-Nissan Alliance. Operating with more than 248,000 employees globally, Nissan provided customers with more than 4.8 million vehicles in 2011, generating revenue of 9.4 trillion yen ($118.95 billion US). With a strong commitment to developing exciting and innovative products for all, Nissan delivers a comprehensive range of 64 models under the Nissan and Infiniti brands. A pioneer in zero-emission mobility, Nissan made history with the introduction of the Nissan LEAF, the first affordable, mass-market, pure-electric vehicle and winner of numerous international accolades, including the prestigious 2011-2012 Car of the Year Japan and 2011 World Car of the Year awards.
For more information on our products, services and commitment to sustainable mobility, visit our website at http://www.nissan-global.com/EN/.
Mountain Sports International, Inc. (MSI)
Mountain Sports International (MSI) is a private company, founded in 1997, to develop and produce action/adventure sports events and programming in North America. MSI operates the Swatch Freeride World Tour by The North Face, in addition to several other properties and concepts. MSI launched MSI Live in 2009, to provide live HD webcast production, content management, encoding, and satellite uplink & delivery. MSI provides event management services, infrastructure and expertise for high-end brands, including The North Face, Red Bull, Subaru, UFC, Burton and Sierra Nevada. MSI matches brand and culture, company and credibility, to create sought-after events that help to define the action sports culture. For more information, visit www.mtsports.com.
Contact:
Jessica Kunzer
Mountain Sports International, Inc. | Communications and Marketing Director
O: (801) 349-4612
Skype IM: UtahPowderGirl
Barb Hamblett
Mountain Sports International, Inc. | Event Director