The second annual Suzuki Nine Queens was another fantastic week for women's freeskiing. Stoked skiers, stylish and technical tricks, awe-inspiring videos and photos as well as an after party for the history books marked the event as arguably the biggest highlight in the women's freeski calendar!
The last week in Serfaus-Fiss-Ladis, Austria can be described in many ways: magical, groundbreaking, awe-inspiring, awesome or just a great time all around. The world's best female freeskiers had come to the Tyrolian resort on invitation by multiple European champion Virginie Faivre to session the multi-feature "Chateaux" for the Suzuki Nine Queens. X Games gold medalist Kaya Turski and former World Champion Anna Segal made the trip to Austria along with young gun Emilia Wint, Europe's freeski elite of Caja Schöpf, Emma Dahlström and Eveline Bhend, and many more.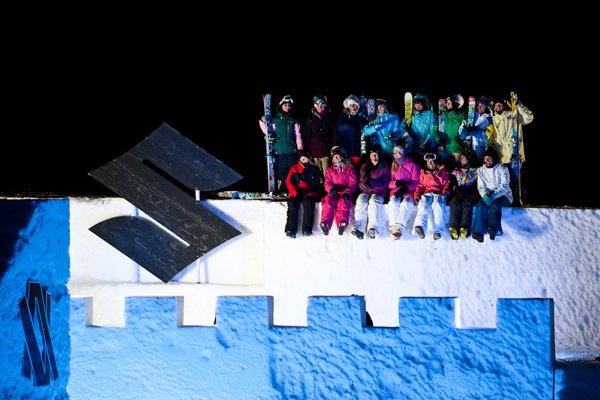 The Queens. Photo by Klaus Polzer
The women were absolutely blown away by the incredible feature built by the hard working Schneestern crew, which included two rails, a massive jump and a hip all seamlessly integrated into a beautifully shaped castle. After the first session on Tuesday it was obvious that the Queens once again meant business: styled out 360s and 540s, big corked out 720s, rodeos and switch hits during the first jump session along with multiple tricks on the rail features showed everyone that the level of women's freeskiing is progressing faster than ever.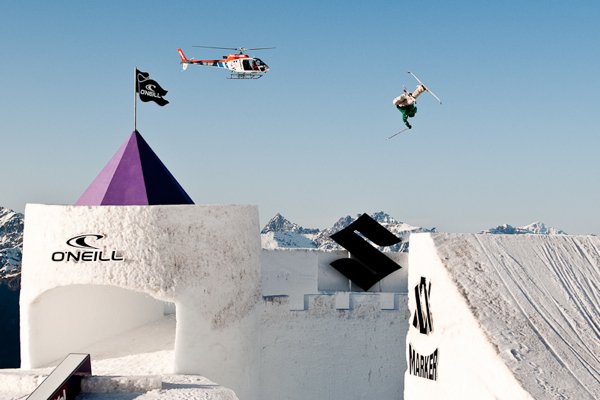 Emilia Wint. Photo by Klaus Polzer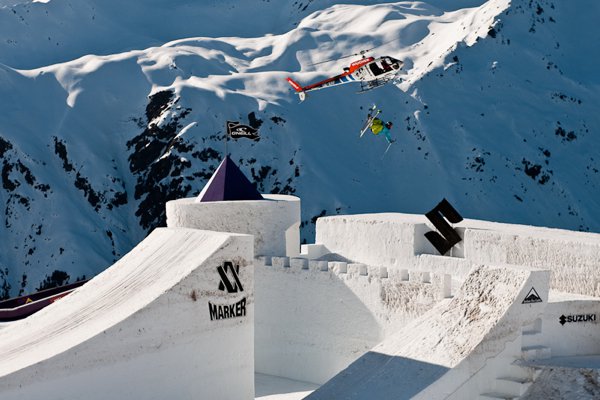 Eveline Bhend. Photo by Klaus Polzer
The week included some awesome photos and film shoots, some at sunset, some at sunrise and even one at night, with the jump lit up by countless floodlights. It was a busy schedule for everyone and the girls were consummate professionals; always throwing down incredible tricks for the many cameras that were on hand to document the sessions. All the while, the Queens were always smiling, laughing and having a good time. Throughout the week the atmosphere was always positive and stoked, and the jump was always pristine. They had the perfect environment to work on new tricks and progress the sport.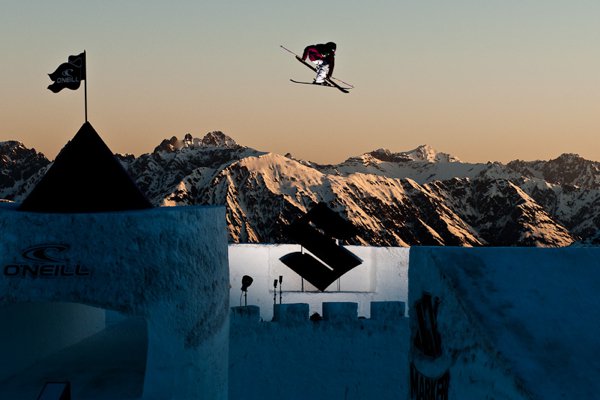 Keri Herman. Photo by Klaus Polzer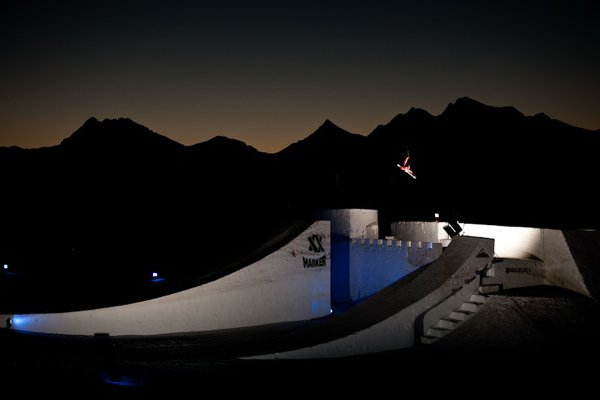 Anna Segal. Photo by Klaus Polzer
The invited Queens had an opportunity to rest a little after three days of shooting the feature day and night, at which point they took some creative lifestyle photos in traditional Austrian dresses with the invited photographers. Meanwhile, five additionally invited skiers, including current AFP World Tour leader Devin Logan, had the chance to session the jump before the big finale.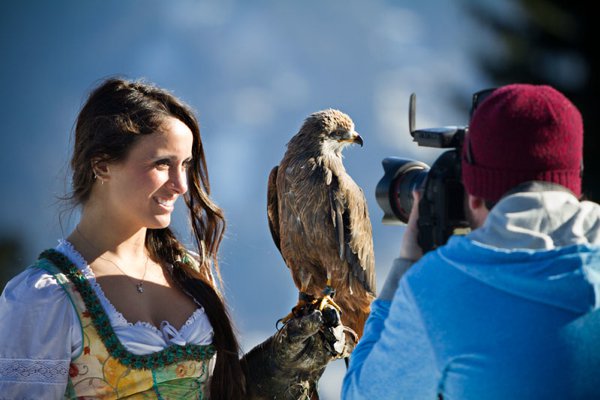 Ashley Battersby. Photo by Flo Breitenberger
The Big Air competition the following day most definitely lived up to expectations. American Ashley Battersby won by throwing her first ever switch 1080 mute grab, while Swiss ripper Eveline Bhend took second after stomping the first ever misty 900 landed by a female freeskier, and Kaya Turski rounded out the podium in third with a switch 1080 of her own.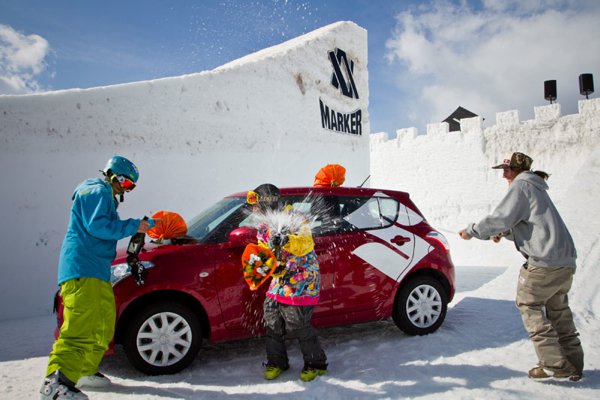 Eveline Bhend, Ashley Battersby and Kaya Turski. Photo by Flo Breitenberger
Following the Big Air competition all the media and competitors convened at the Apres Ski headquarters of the Hexenalm in Fiss for dinner, a final prize giving ceremony and a well deserved after party. After a scrumptious meal the four invited photographers presented their best photos from the week to a captive audience. Each photographer then judged each others' work to determine who would win prizes provided by O'Neil, Marker Völkl, Gore-Tex and Baby G. Dan Carr won the "Best Action" and "Best Creative Angle" categories, Christoph Schöch won "Best Black and White" and Ruedi Flück won "Best Lifestyle". It should be noted that the French photographer Pierre Augier got a close second in three of the four categories.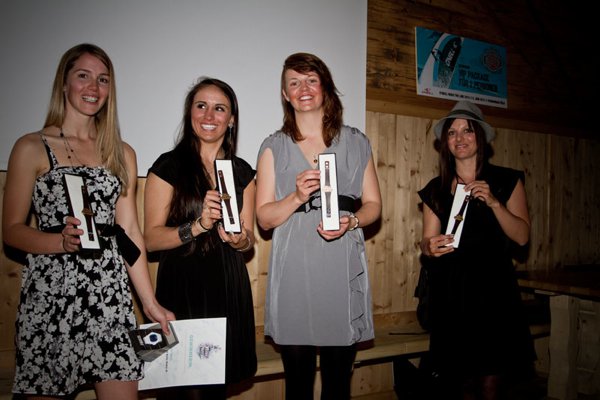 Silvia Bertagne, Ashley Battersby, Emma Dahlström and Virginie Faivre. Photo by Flo Breitenberger
After this it was the Queens' turn to do some judging. They were shown a highlight video of the week and were asked to vote for two categories. "Best Overall Performance" went to Emma Dahlström, who threw some mind-blowing cork 720s, styled out 360 and 540 japans and some sick switch 540s and 720s. The award for "Best Style" went to Silvia Bertagne, who stomped some perfect 360 mute-japan double grabs. The vibes could not have been better, as applause and cheering echoed through the Hexenalm all evening. When the awards were done everyone took in the festivities at the after party courtesy of Sweet Protection where some seriously progressive dance moves were thrown down. It was the perfect ending to a perfect week for the Suzuki Nine Queens, and everyone already can't wait to come back for next year's event, which will once again be held in Serfaus-Fiss-Ladis. Women's freeskiing is progressing faster that ever, and next year's Suzuki Nine Queens will undoubtedly be another event for the history books.
Check out the event wrap-up video above which shows the awesome atmosphere and incredible action from throughout the week, and for more information on Nine Queens, check out http://www.ninequeens.com!