Words & photos: Ethan Stone
Earlier this month I got the chance to join the crew building the Nine Queens feature in Serfaus-Fiss-Ladis, Austria. Who could say no to this opportunity? Two weeks in the Austrian Alps, building an unbelievable snow feature and then watching the world's best female freeskiers throwing down on it: doesn't sound like a bad gig, right?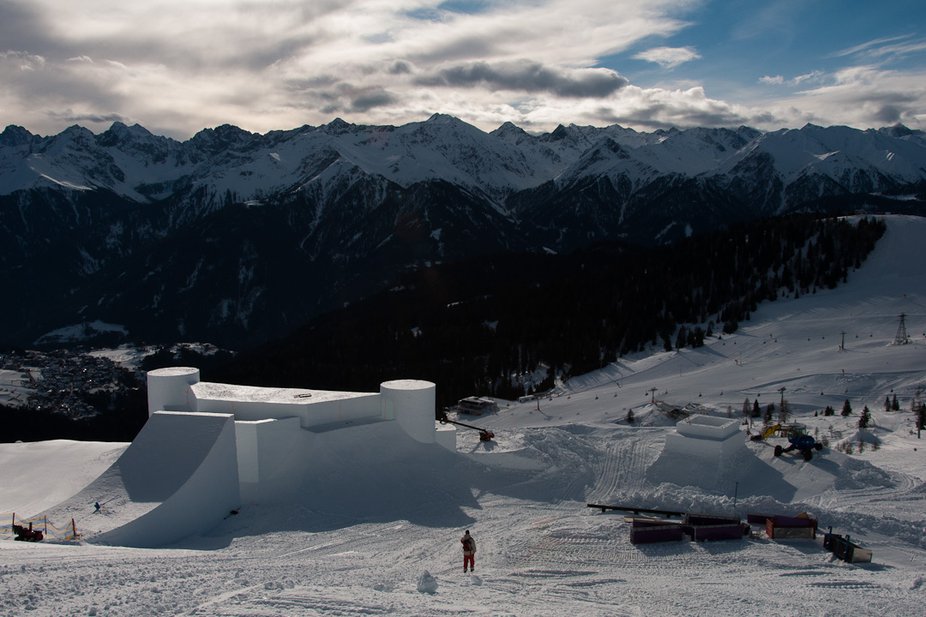 Not a bad place to be working.
Of course, that's not to say that it was all fun and games. Building a snow feature of this size and complexity is no walk in the park, and being on the crew means being ready to shovel, sweat, curse and improvise for a week straight in whatever conditions Mother Nature wants to throw at you. Nevertheless it was an honor and a privilege to be a part of the international team responsible for building this masterpiece, a crew of terrain park builders from six different countries headed up by master German parkbuilder Dirk Scheumann. Dirk and his company Schneestern are responsible for all the crazy Nine Knights and Nine Queens features you might have seen in the past few years, as well as several other groundbreaking projects like last year's Nike Chosen superpark in Montafon. But this feature definitely topped all that have come before.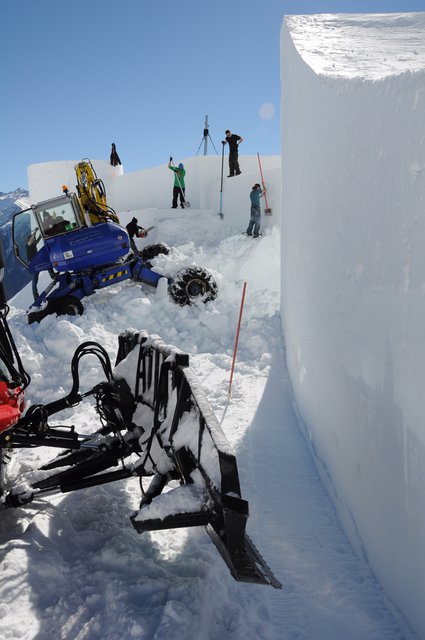 Men at work.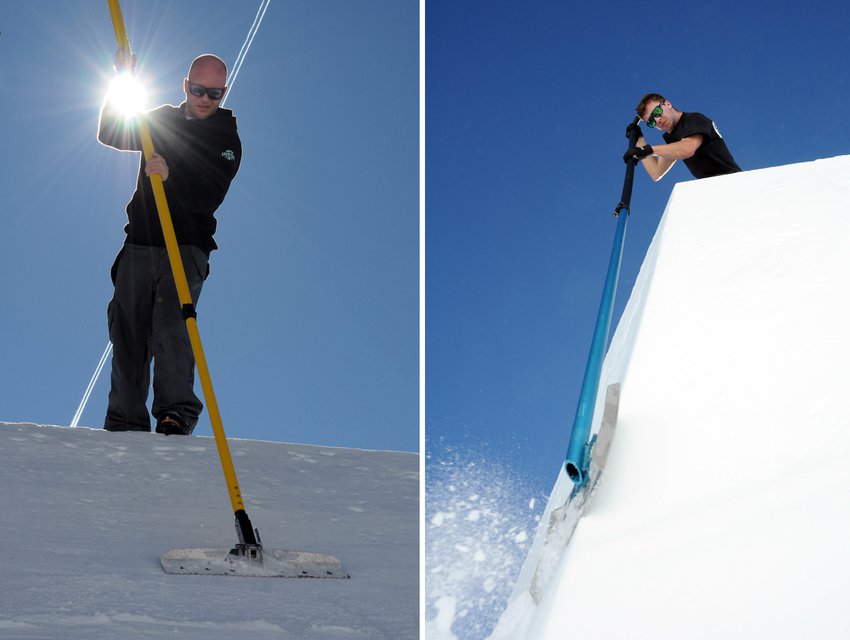 Left: Schneestern boss Dirk Scheumann doin' work. Right: our enthusiastic South Tyrolean head shaper Bernie.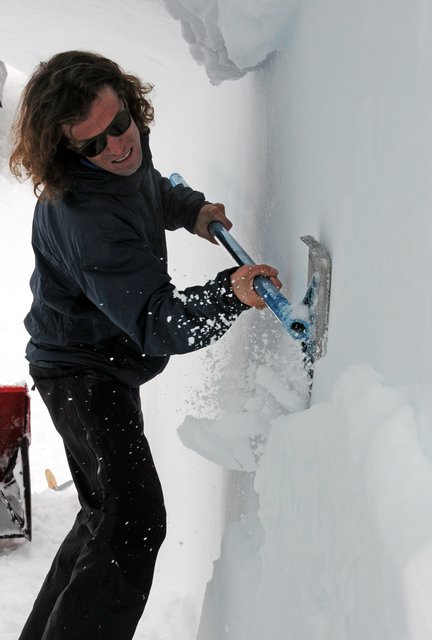 This is how those clean vertical walls get cut.
"Erryday I'm shovelin', erryday I'm shovelin"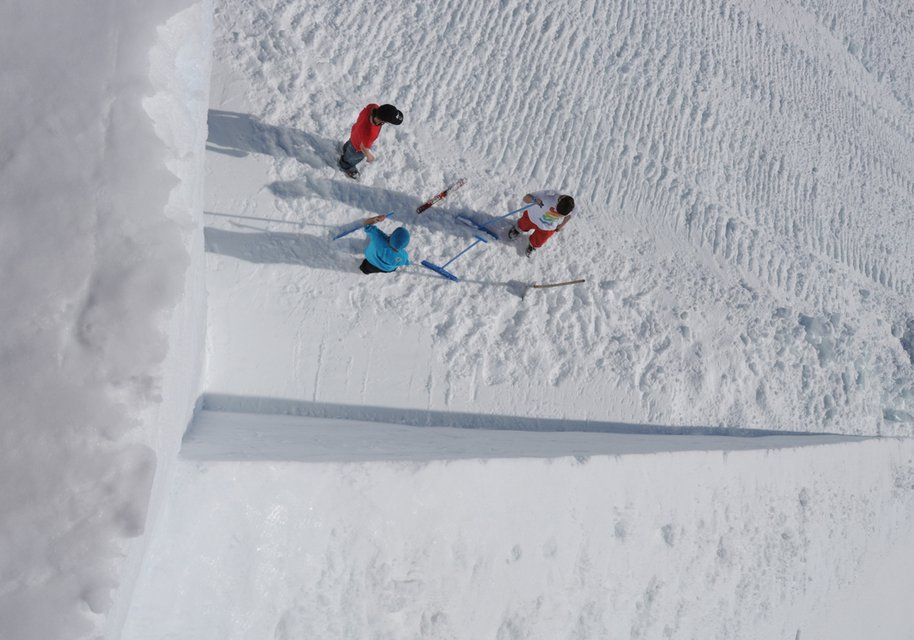 Once the walls reach a certain height, you definitely don't want to slip.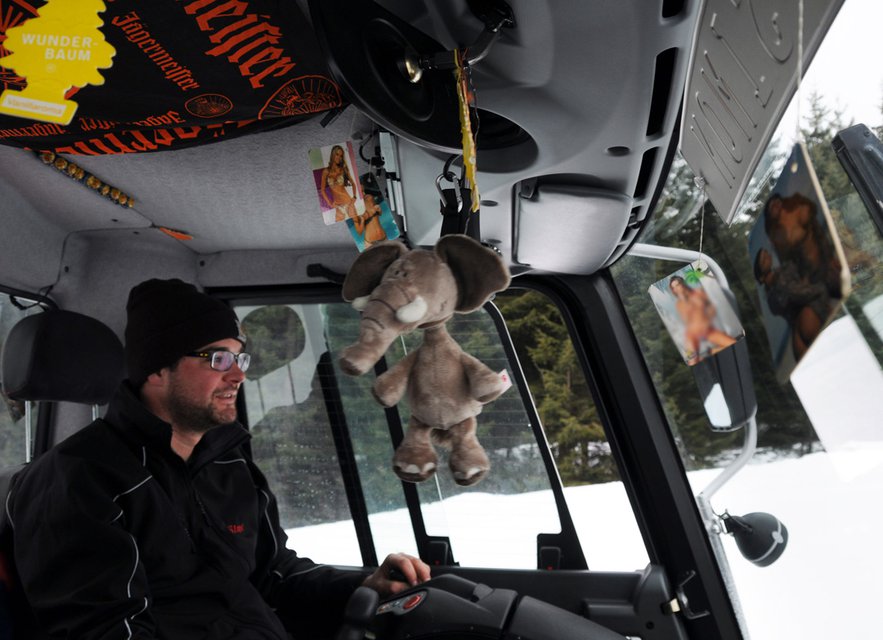 Austrian snowcat operators have a unique way of decorating the cabins of their machines. (Photo, sadly, edited for content.)
We spent eight days cutting vertical walls, hand-shaping hip landings, measuring and re-measuring heights and angles, digging tunnels, and perfecting our shapers' sign language to communicate with our cat drivers and excavator operator. Nine Queens organizer Nico Zacek checked in every day to keep us well-stocked with Red Bull and chocolate, approve last-minute design changes, and guinea-pig features as they emerged from the snow.
Unlike most features which are built "up" by pushing together heaps of snow, on a project like this we work mostly by digging down. The ski area had already been making snow on this spot for months in advance, leaving us with a 40,000 cubic-meter snow mountain to chisel out like sculptors. Working in this manner means the snow is more compact and consistent, which is absolutely necessary for tall towers and snow tunnels, but it also means frustrating ice layers, and a lot more snow to be moved out of the way. Whenever one of the team would ask, "How much deeper do we have to dig here?" the answer invariably came back: "Til you hit the ground!"
Finally, after a week of work, the beast was ready for the beauties. In addition to the central 60-foot kicker, the "Chateau" featured left- and right-side hips, which were accessed by two tunnels crossing diagonally underneath the main booter. Another option was to ride slowly up the rightside hip takeoff onto a flat section, then drop through a tunnel to hit a down rail. And last but not least, the second jib feature offered a gap to down box, a quarterpipe with coping, and an A-frame box.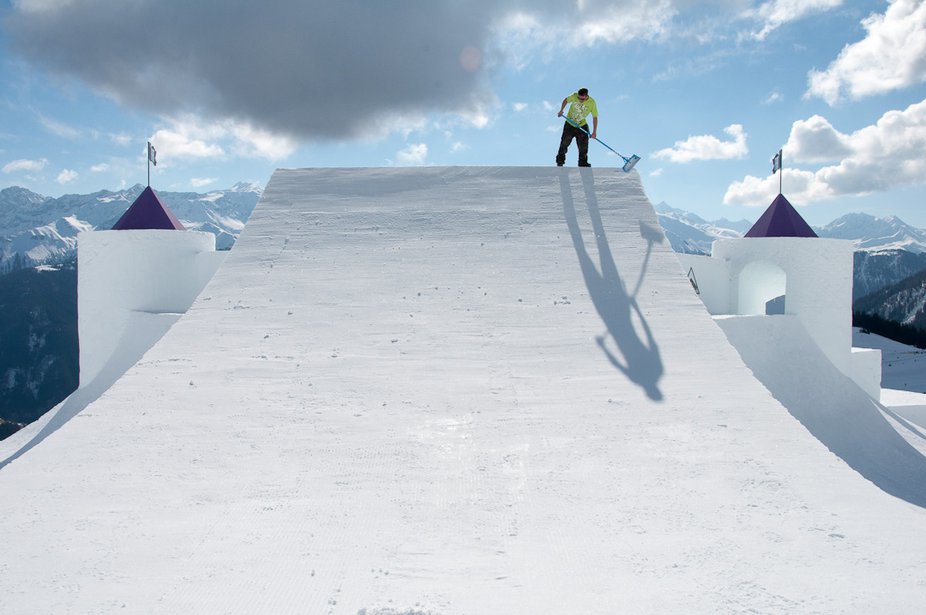 Bernie touches up the kicker.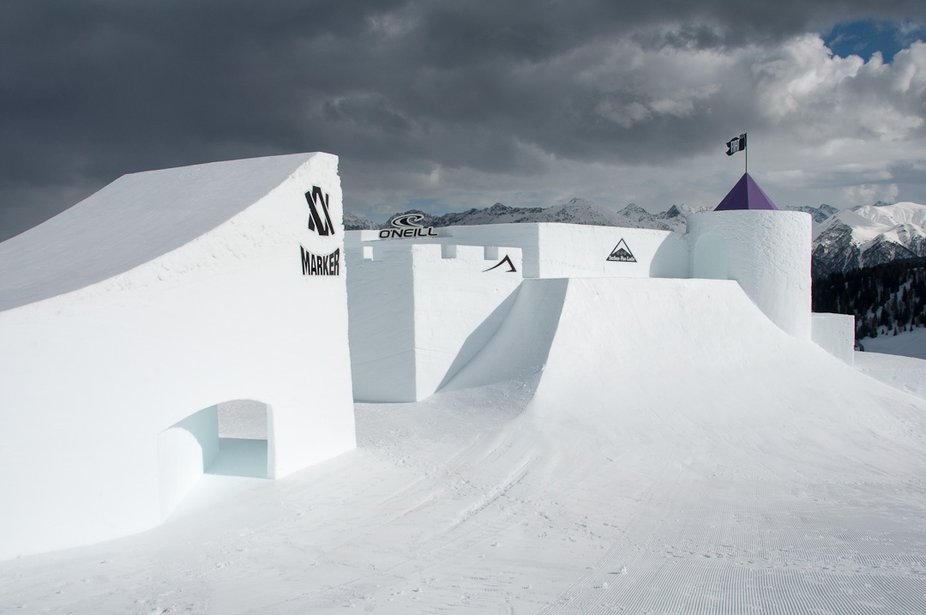 The finished product. The tunnel you can see here accesses the left-side hip takeoff; there's another tunnel on the other side accessing the right-side hip.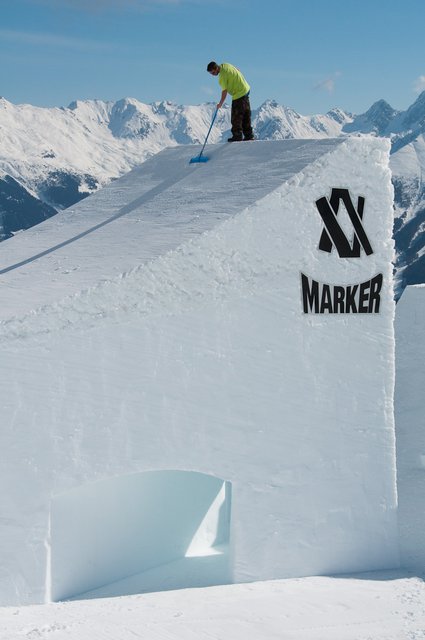 This shot provides a little bit of scale... don't slip!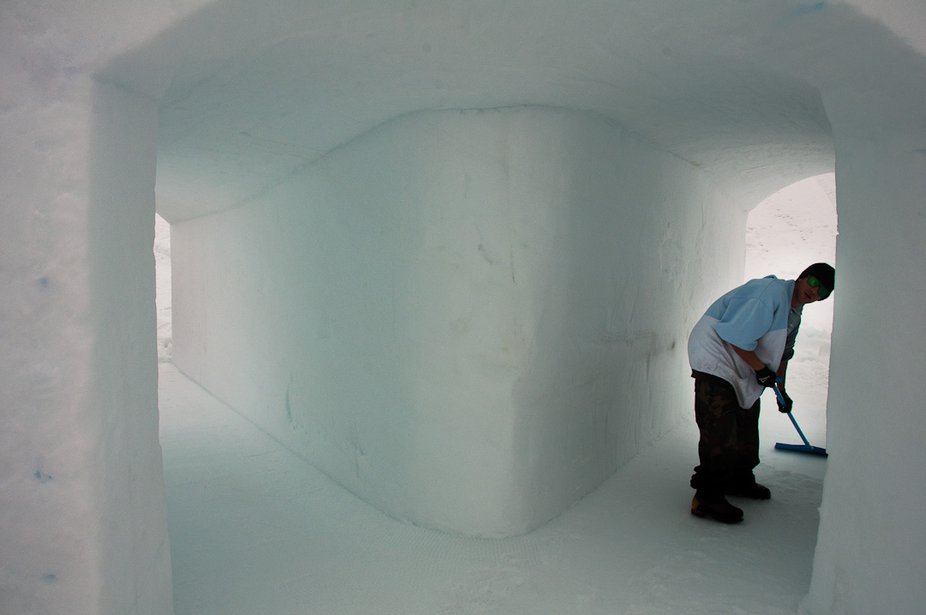 I nicknamed these tunnels underneath the kicker "the Fallopian tubes."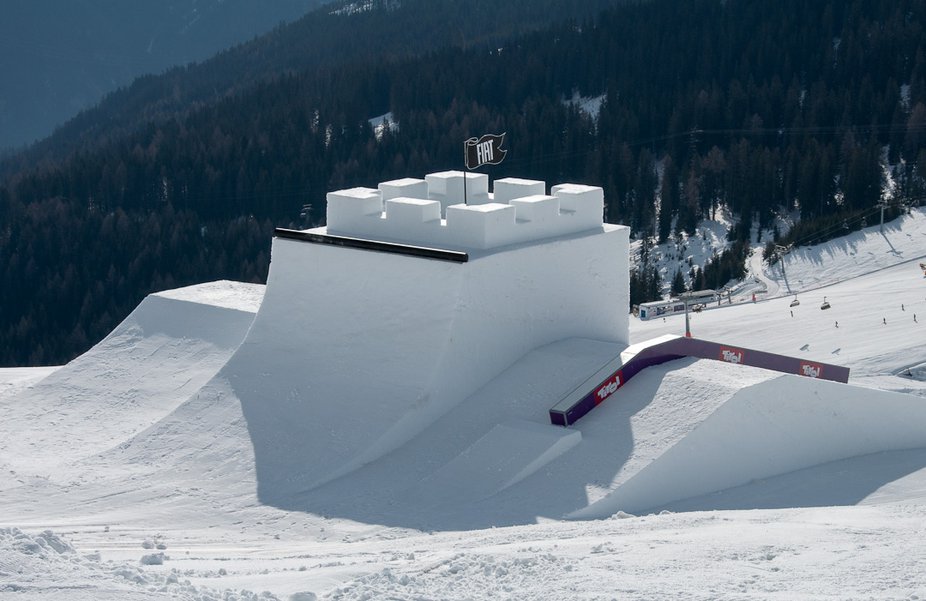 The second feature.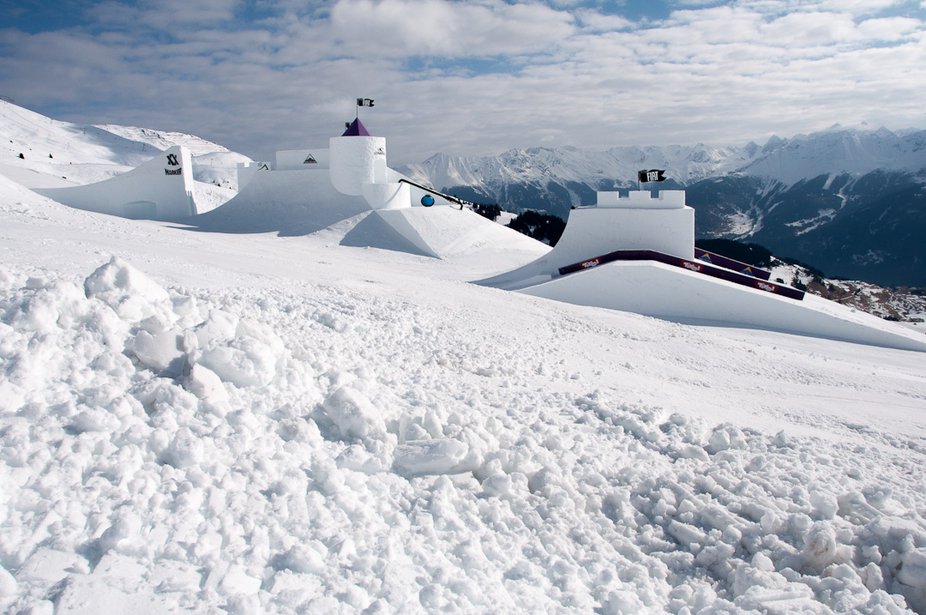 Welcome to Camelot.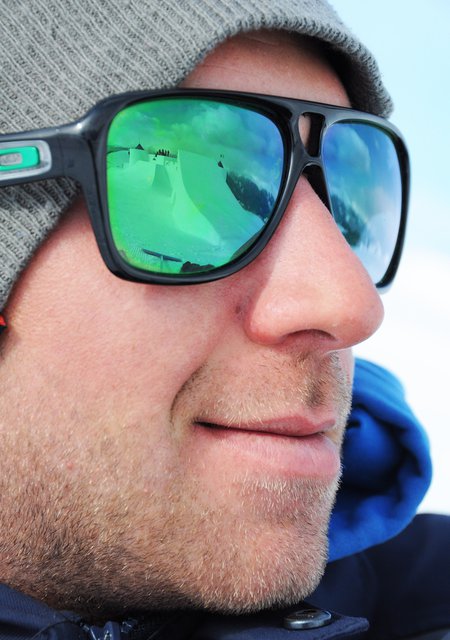 A satisfied shaper.
We wrapped up the build just in time; since the weather was good and several of the girls had already arrived, Nico decided to kick things off a day early. On Sunday, March 10 the first group of Queens had a small session on the Chateau, testing out speed for the various features and getting warmed up for the long week to come.
The shooting week went by in a blur. Between fancy raclette dinners, two helicopter shoots, a fogged-out night shoot, and lifestyle shoots in dirndls (sorry boys, I didn't tag along for those), the Nine Queens (actually there were more like twelve) were constantly kept busy, while our three-man shape crew had our hands full keeping the Chateau in pristine condition. Despite less-than-perfect weather for much of the week, the girls packed in some heavy sessions on the jump and the other features. At some points it was almost impossible to keep track of everything: girls were flying over the jump, hitting the hips and sessioning the jib features simultaneously.
https://www.newschoolers.com/videos/watch/620776/-Nine-Queens-2013---Action-Day-1---2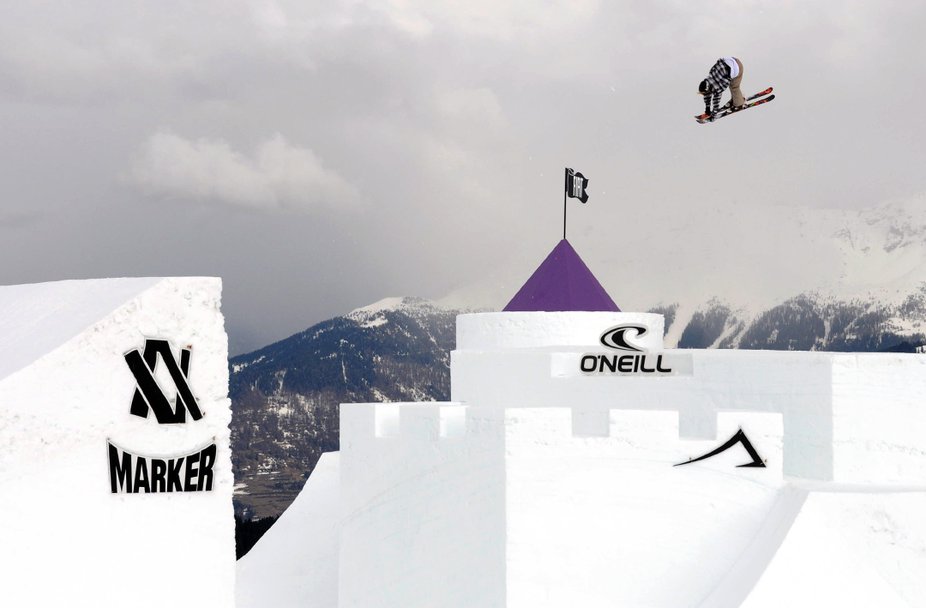 Lisa Z. stacking bangers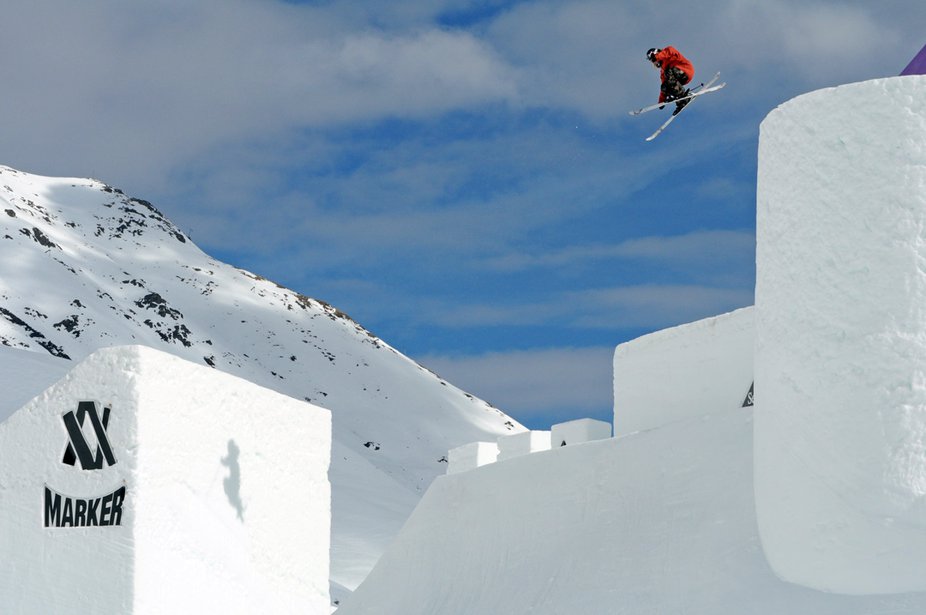 Dania Assaly with a nice 540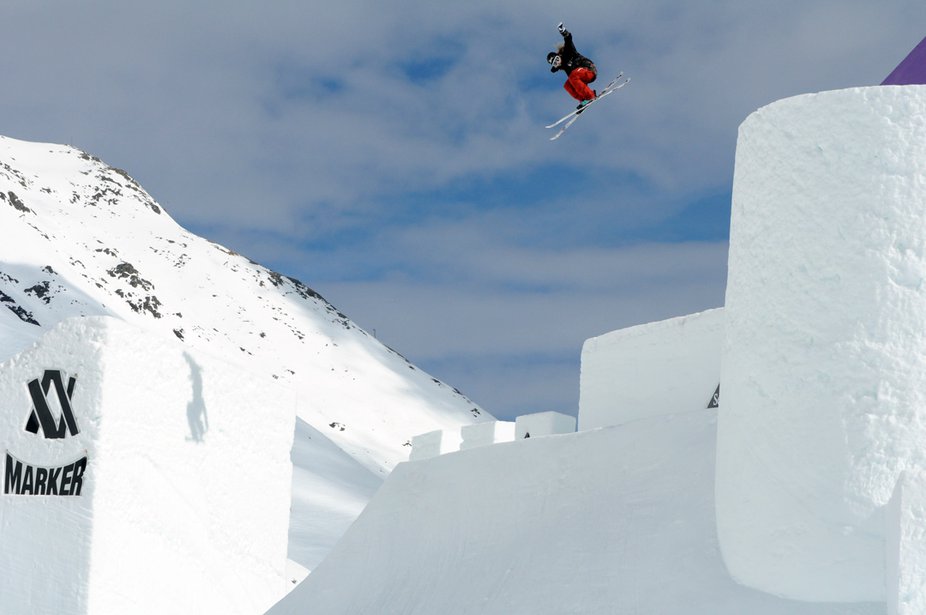 Maude Raymond steezin.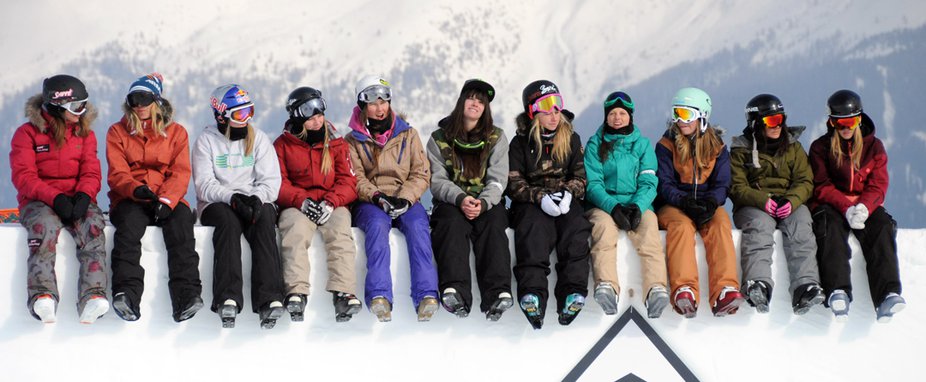 The Queens hanging out: (L-R) Zuzi Stromkova, Dania Assaly, Katie Summerhayes, Lisa Zimmermann, Philo Bair, Keri Herman, Maude Raymond, Virignie Faivre, Camillia Berra, Anaïs Caradeux, and Silvia Bertagna. Not pictured: Grete Eliassen, Jamie Crane-Mauzy, Eva Patscheider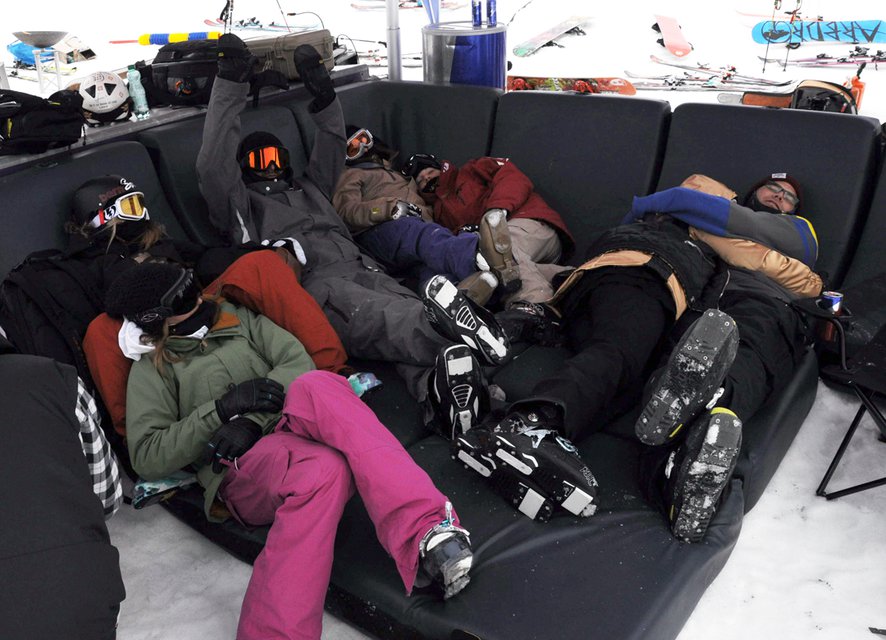 Downdays' Mark von Roy and Sean Balmer, Newschoolers contributor and Dutch magazine editor Ananda van Welij, and some of the Queens enjoy a midweek cuddle pile under the Red Bull tent.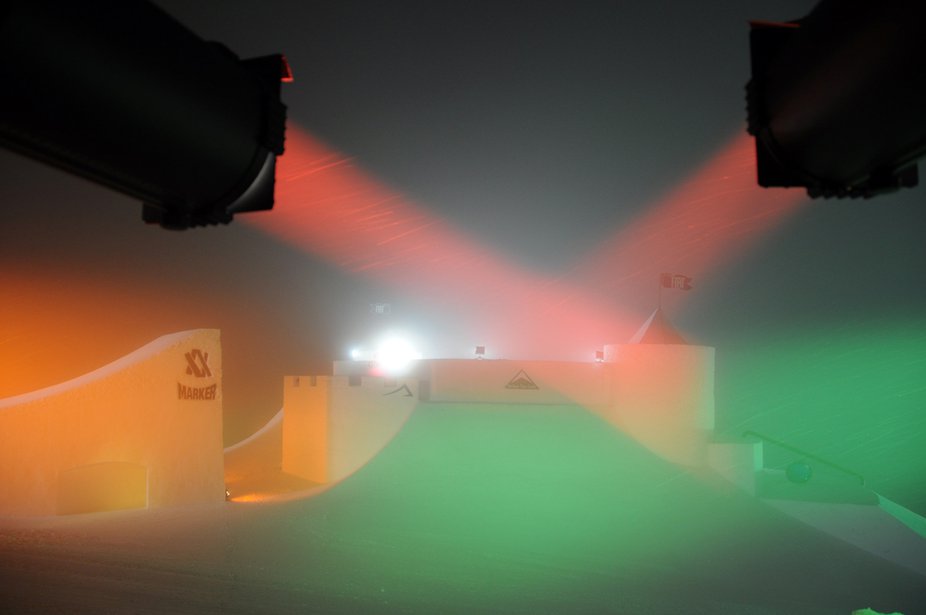 Sadly, the night shoot got fogged out.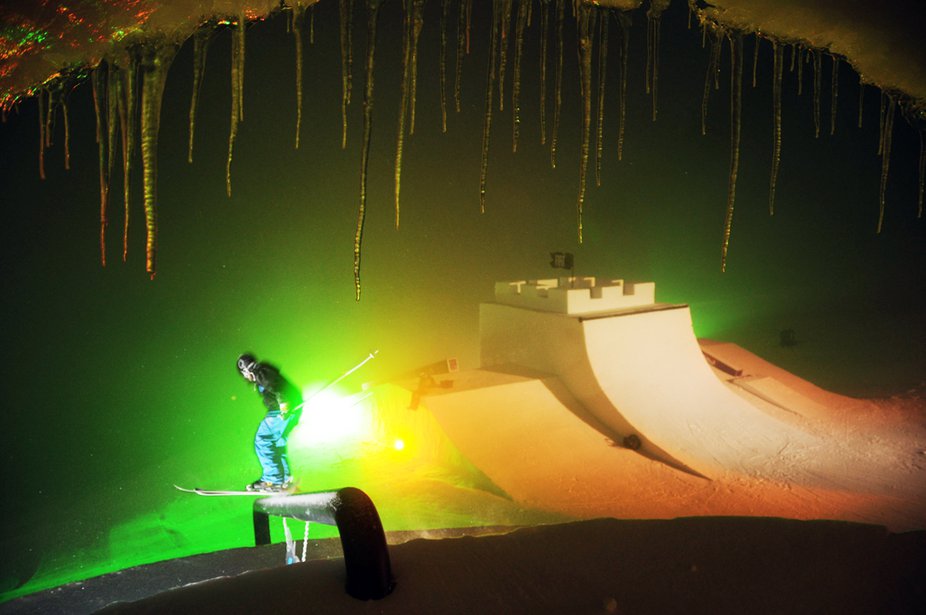 ... But the girls still sent it on the jib features. Philo Bair on the down rail.
Philo stackin' lifestyle shots
Some of the highlights of the week included Jamie Crane-Mauzy stomping a perfect double backflip during the heli shoot, Coline Ballet-Baz dropping bangers on every feature in the Chateau, your intrepid Newschoolers reporter going a bit too big while pioneering the hip-landing-to-jump-table gap, and just about every single trick that Lisa Zimmermann threw: cork 9 truck drivers, double cork 12 safetys, misty 7 japans, and so on. Maude Raymond oozed style all over the jump with blunted switch spins, and Zuzi Stromkova from Slovakia stomped rodeo 7 after rodeo 7. The girls sent it hard and a few of them got slammed hard: Keri Herman suffered a concussion and a badly jammed thumb early in the week, Crane-Mauzy concussed herself on a kangaroo flip attempt, and Ballet-Baz broke her collarbone while being the only girl to spin onto the gap to down box.
After a long week of shoots, finally it was Saturday and time for the big air contest to close out the event. The weather was totally bluebird for the first time all week, the Chateau was perfectly shaped, and a sizeable crowd of friends, family and gawking tourists came out to see the show.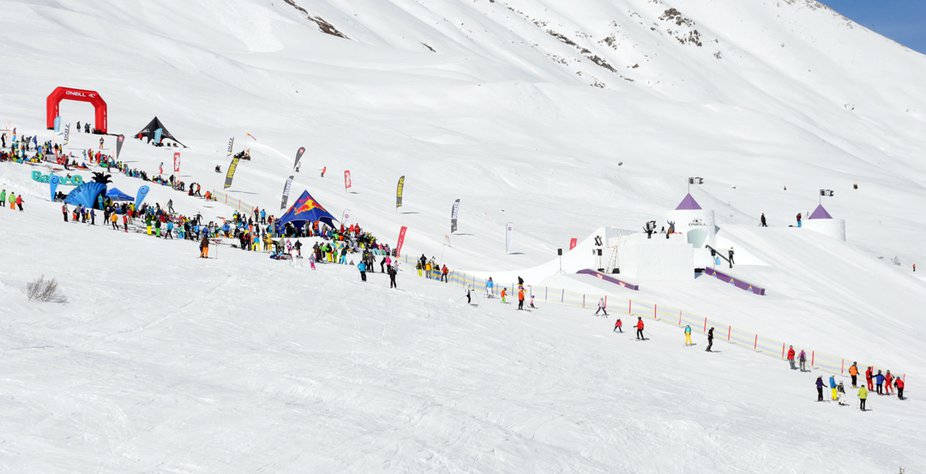 Competition day.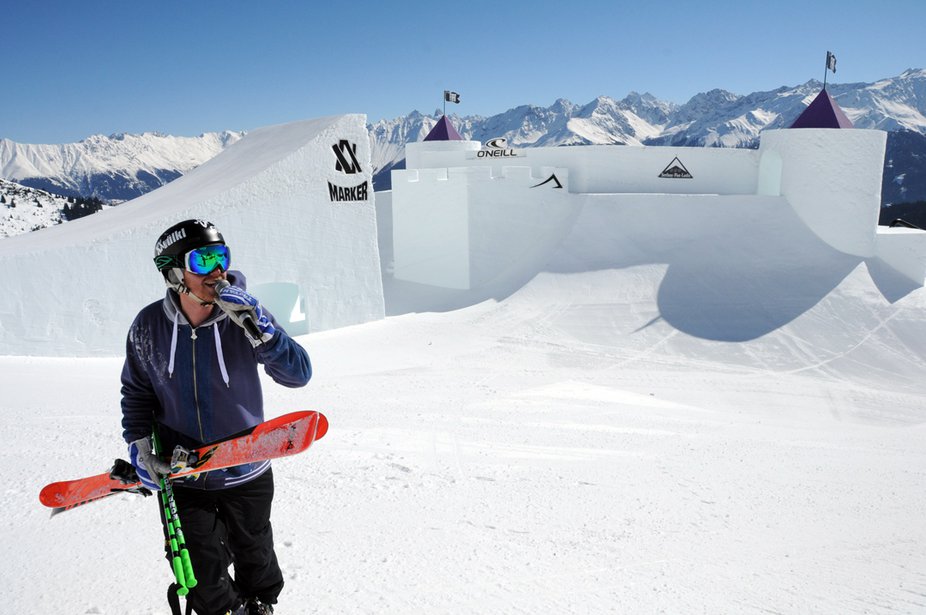 Nico Zacek gets the crowd hyped up.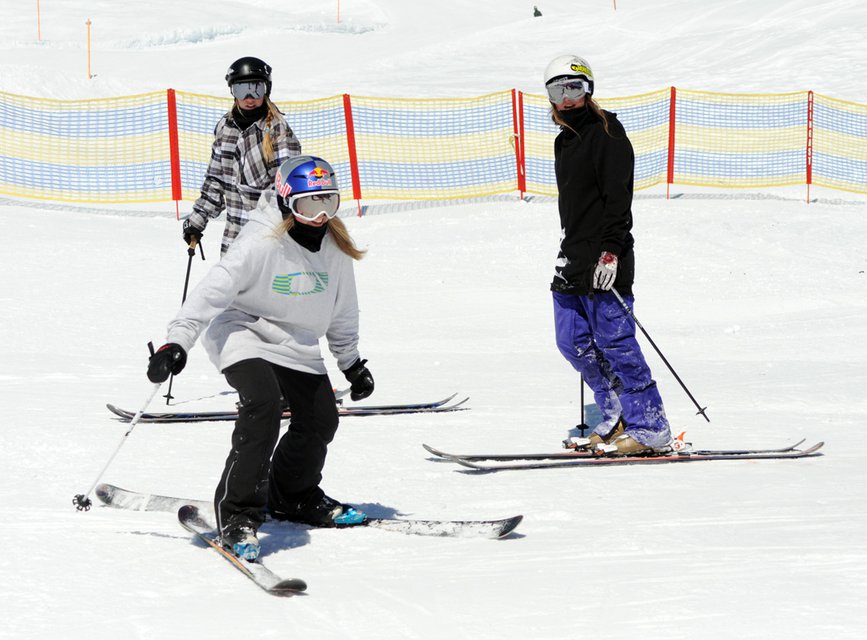 Katie Summerhayes drops in as Lisa Zimmermann and Philo Bair watch on.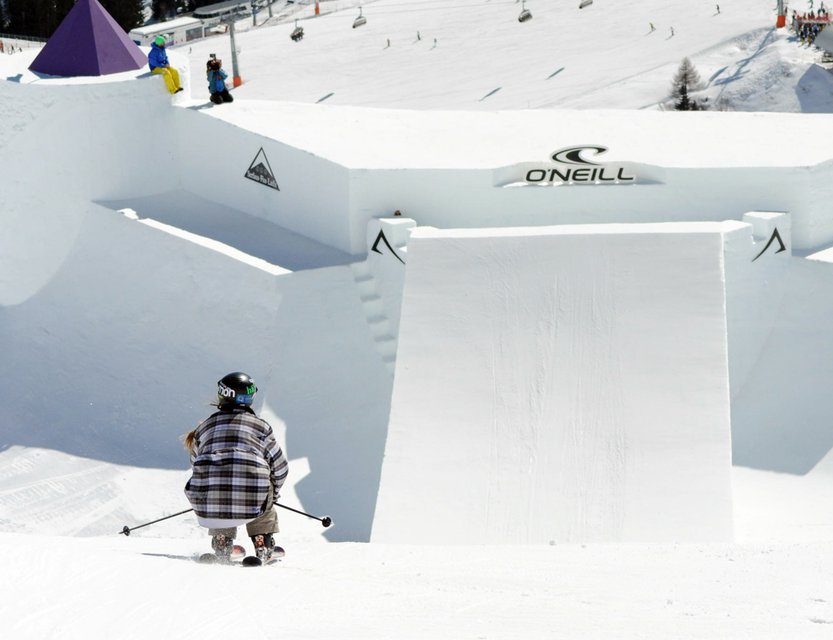 Lisa dropping in...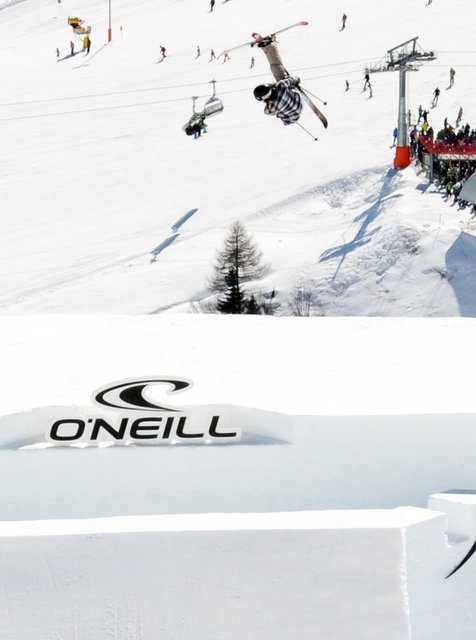 ...to a thug-life misty 7 japan.
Philo Bair 540s for the crowd.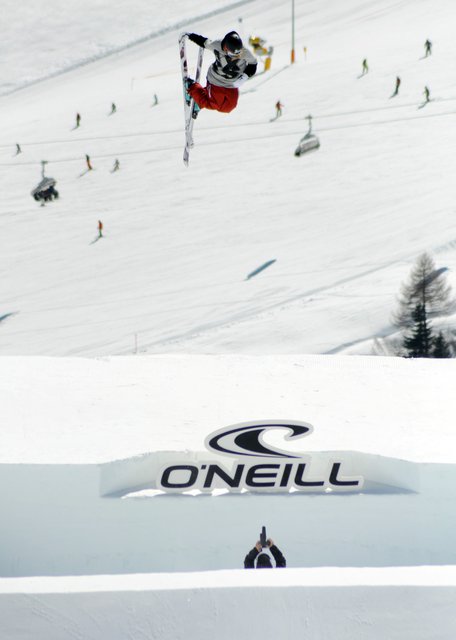 Meanwhile, Maude Raymond keeps it real with a smooth switch 720 blunt.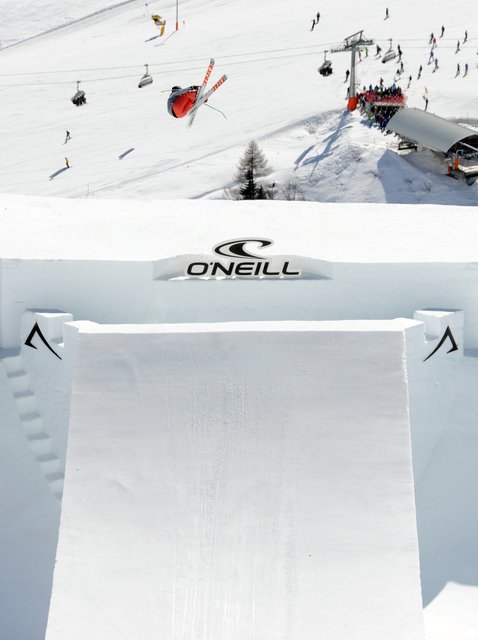 Slovakian sweetheart Zuzi Stromkova and her stylin' rodeo 7.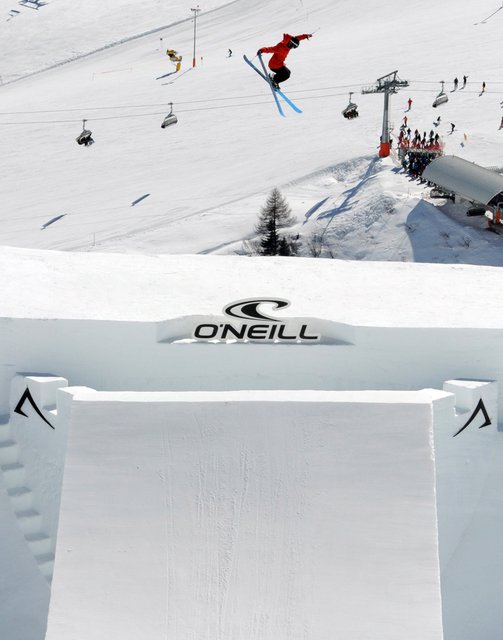 Anais Caradeux with a clean 360 blunt.
In the big air finals, the girls were given five jumps to show their stuff, with the best two scores counting. Lisa Zimmermann stomped cork 9 truck her first hit, then went back up and blasted a huge, stomped tweaked-safety double cork 1260 that would have scored highly in any men's competition. The other girls stepped it up a notch, too: Maude Raymond landed her first switch 900, Zuzi Stromkova took her rodeo 7 to 900, Camillia Berra landed a rodeo 7 and a double front flip, and Katie Summerhayes put down a switch 10, and then a switch 12 just after the comp had wrapped up. When the smoke cleared, Lisa Z. stood victorious atop the Chateau, flanked by Stromkova in second and Berra in third.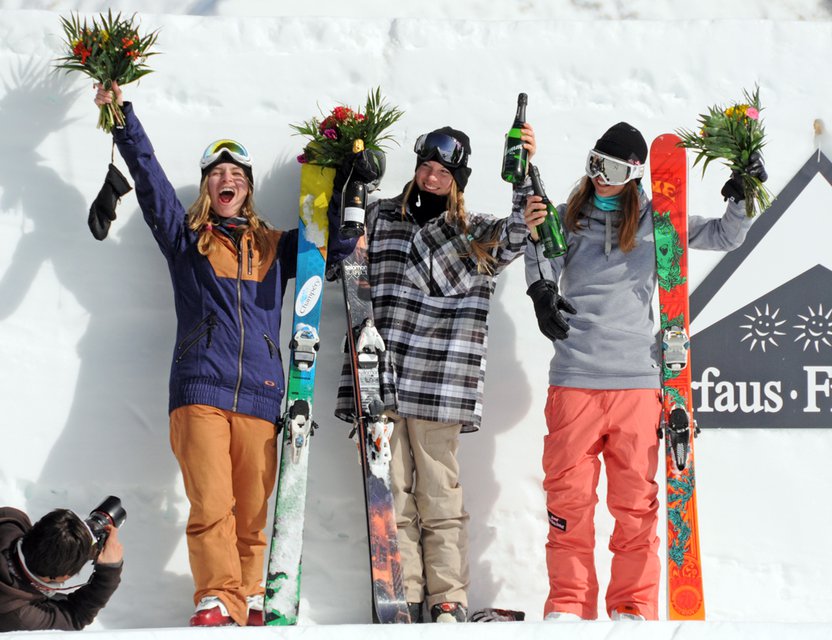 Big air winners (L-R): Camillia Berra (3rd), Lisa Zimmermann (1st), Zuzi Stromkova (2nd)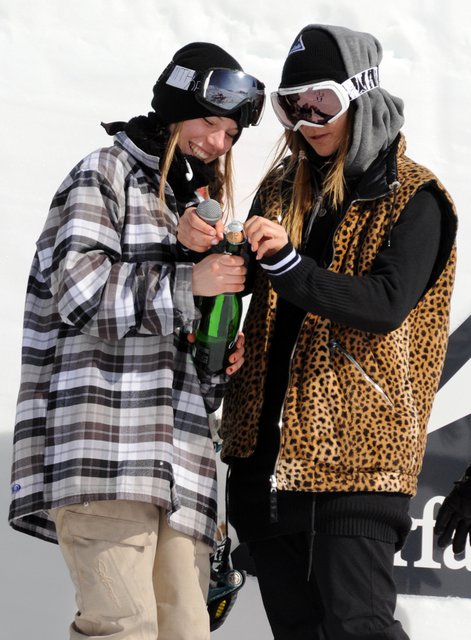 Lisa, who doesn't have much experience poppin' bottles yet, got some help from Eva Patscheider.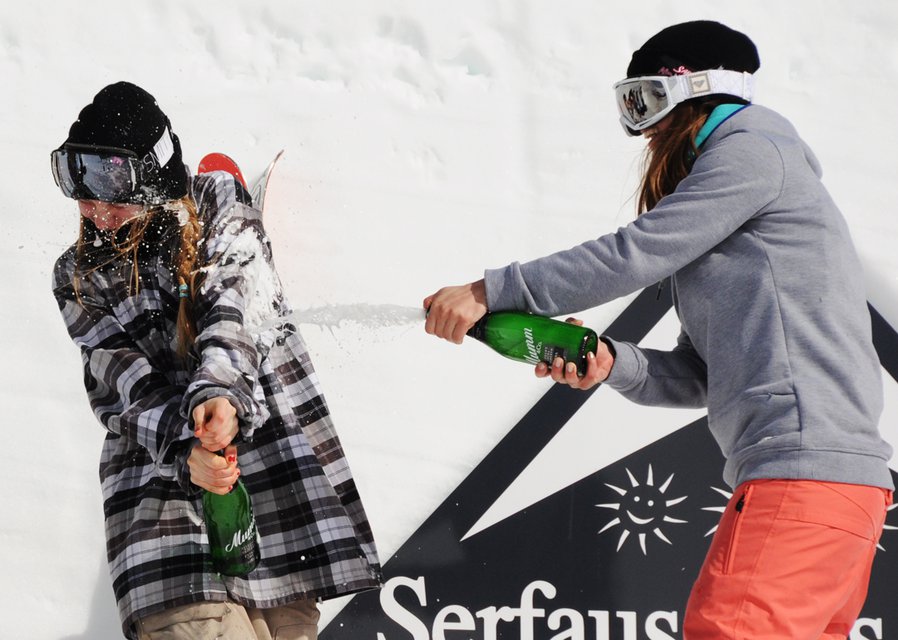 But she still wasn't fast enough for Zuzi, who gave her a good dousing.
Big Air Results
1. Lisa Zimmermann (Germany)
2. Zuzi Stromkova (Slovakia)
3. Camillia Berra (Switzerland)
4. Maude Raymond (Canada)
5. Silvia Bertagna (Italy)
6. Katie Summerhayes (Great Britain)
7. Dania Assaly (Canada)
8. Philo Bair (Austria)
The 2013 Nine Queens concluded on Saturday night with a closing ceremony. Dania Assaly brought her guitar and performed a beautiful song in honor of Sarah Burke. The four invited photographers Eleonora Raggi, Christoph Schöch, Ananda van Welij and Jeremy Bernard exhibited their amazing shots in the photo competition (you can see the full photo submissions over on the Nine Queens website), and the four invited filmers - Mathieu Mazuel, Iona Fulton, Sepp Morrison and Seb Schwertl, displayed their awesome team edits from the week. Jeremy won Best Action Shot and a surf trip, and Mathieu won the video contest with his amazing edit, which should hopefully be online soon!
The Queens also voted on awards among themselves: Maude Raymond got "Best Style", Lisa Z. naturally picked up "Best Trick," and Coline Ballet-Baz was honored as "Ruler of the Week" for her impressive performance on all the features and her infectious enthusiasm.
Finally it was time to lay aside the cameras and laptops and head out to Patschi for a rousing afterparty. That's a wrap on the 2013 Nine Queens - thanks for reading!
A big thanks to everyone involved in creating such a fantastic event: Nico, Stefan, Martl, Lucas & the rest of the org. team; Dirk, the whole shape crew, and our awesome machine support from Baumi and Simon; Mark and Sean for "making me famous;" and the Queens and media types for slaying it all week!
https://www.newschoolers.com/videos/watch/622463/Nine-Queens-Highlight-Video