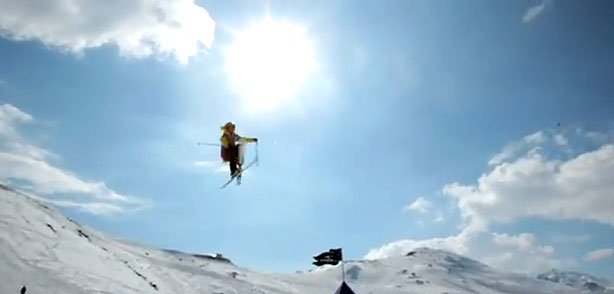 The Big Air comp for Nine Queens is decided by the competitors and they decided that there would be an hour and a half jam session with the finalists going through based on overall impression. The 8 finalists would then have 5 jumps to impress the judges with their 2 best tricks.
Ashley Battersby managed to take top spot with her first ever switch 1080 with Eveline Bhend coming in a close second. She stomped the first ever misty flip 900 landed by a female freeskier, grabbing a mute grab to cement her silver. Kaya Turski, Miss Consistency, came in third place with a huge switch 1080 safety grab.
1. Ashley Battersby
2. Eveline Bhend
3. Kaya Turski
4. Keri Herman
5. Devin Logan
6. Emilia Wint
7. Emma Dahlstrom
8. Anna Segal
If you haven't seen it already then here are the highlights of the Big Air final from the Suzuki Nine Queens.
Related posts:Nine Queens 2012 Nine Knights? What's Nine Knights when you've got Nine Queens!...
Nine Queens 2012 | Action Day 1&2 Nine Queens is officially underway and the girls are stomping...
Wanna be a Queen: Nine Queens 2012 – more vids! Nine Knights is hotting up but nothing is hotter than...