The best freeskiers from all around the globe have descended upon Livigno, the skiing and mountain biking capital of Italy, for a weeklong session on, in and around the most spectacular snow castle ever constructed. With jib sessions, halfpipe jams, helicopters filming and two magical sunset sessions, the first two days of the FIAT Nine Knights couldn't have gone better.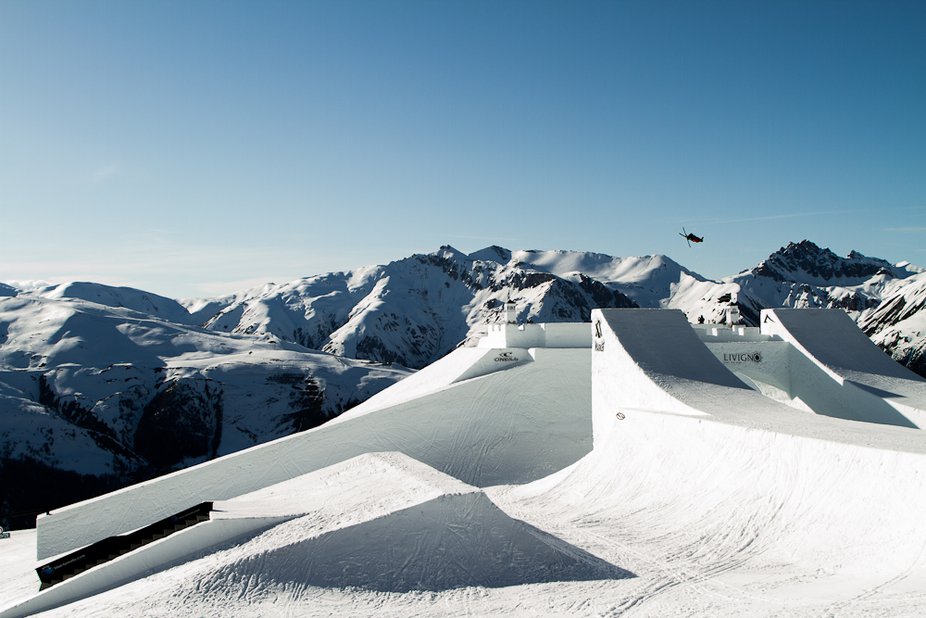 Christoph Schenk. Photo by David Malacrida
A huge variety of freeskiers have arrived in Livigno, Italy for the legendary FIAT Nine Knights, which has established itself as one of the most unique freeski events of the year. With skiers like Nicky Keefer, Marker Völkl athletes Matt Margetts and Paddy Graham as well as legends like Tanner Hall, Lolo Favre and Kevin Rolland in attendance, the riders list, their various styles and strengths couldn't be more eclectic. And that's exactly what you want for a feature as unfathomably creative and massive as the fabled "Il Castello" perched atop the picturesque slopes of the Mottolino Fun Mountain.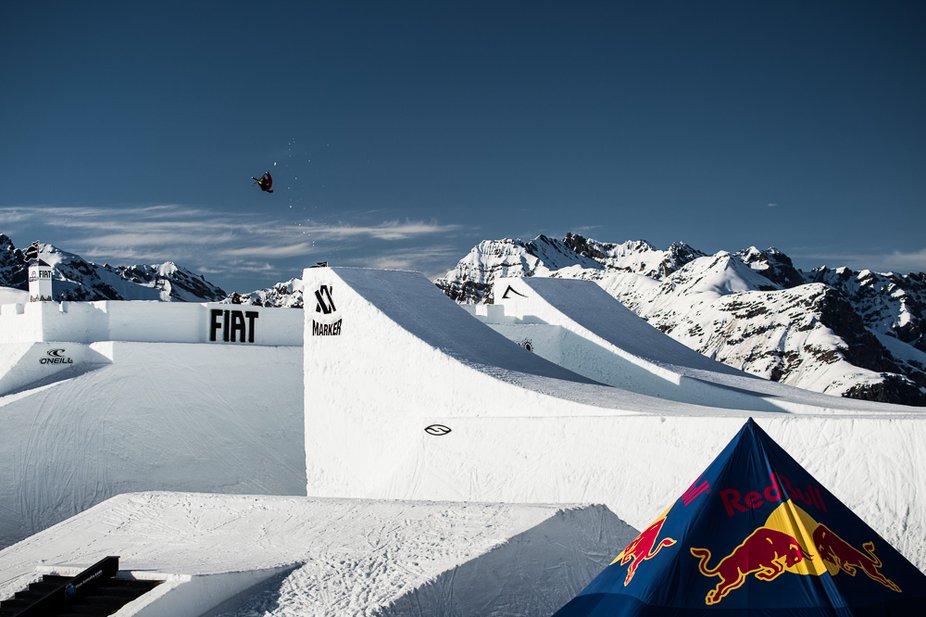 Tanner Hall. Photo by Klaus Polzer
Every year the castle feature of the FIAT Nine Knights increases in size, this year however, it increased exponentially – with over 150,000 cubic meters of snow used in its construction, 90,000 cubic meters more than last year! Let us show you just how big this behemoth is with the Contour course check video...
http://www.youtube.com/watch?v=zEHa5XGFkPA
Yes, the scale of "Il Castello" is quite unfathomable and already on the first day the riders explored every corner of the epic feature. It all started with a super fun jib session, as a beaming sun and blue skies smiled upon beautiful Livigno, the riders discovered numerous lines in and out of the four pipes and onto the many jibs. Synchronised airs, handplants, rail trickery and plenty of laughs, all while getting a sweet tan; the vibe couldn't have been better. The session concluded with everyone's first hits on the twin kickers of the castle as the setting sun swept golden rays across the castle. Everyone laid down their smoothest tricks as dusk set in, silhouetting their styled out grabs; an exceptional way to end the day.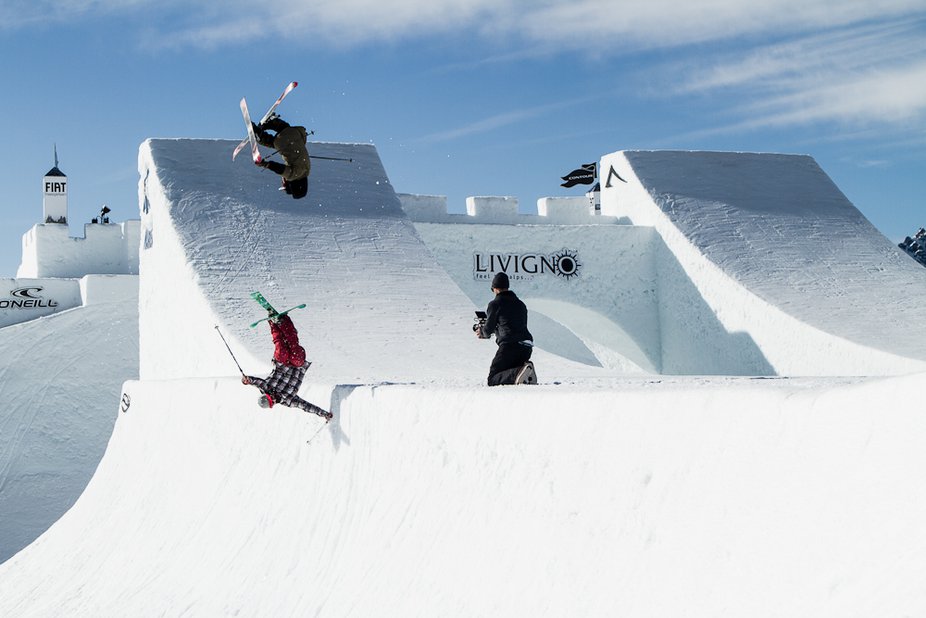 Laurent Favre & Nicky Keefer. Photo by David Malacrida
A taste of the excellent cuisine of Livigno for dinner that evening prepared the riders perfectly for more awesome shredding the following day. They warmed up with another jib session in the afternoon, slowly pushing the level and finding even more lines through the pipes. As the familiar sound of rotors pulsed through the air everyone moved to the twin jumps, as a chopper of The Flying Bulls arrived to film during sunset. A double misty 1080 mute grab by O'Neill team rider David Wise, a lazy boy double backflip and an insane nine-person train were some of the many highlights this evening. After only two day of shooting the photographers and filmers have innumerable bangers in the bag and everyone is eagerly awaiting the Big Air Competition on Saturday. If the first few sessions of the FIAT Nine Knights are anything to go by, the contest is going to be one hell of a spectacle, so if you are in the area definitely come to Livigno and check it out. Heck, even if you live on the other side of the globe it would still be worth it!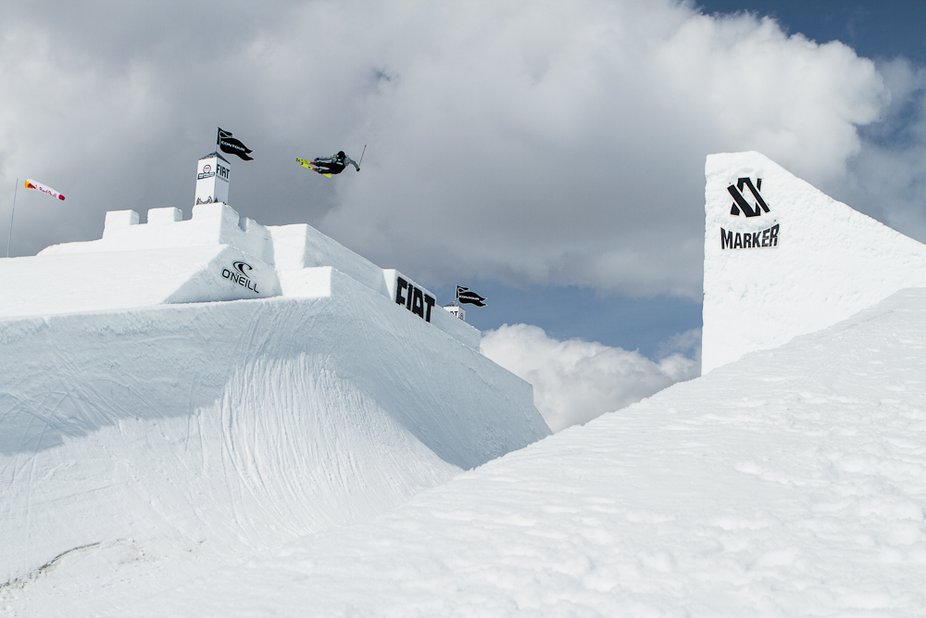 Joffrey Pollet-Villard. Photo by David Malacrida
For a full schedule of the event as well as great special offers to stay and ski at Mottolino Fun Mountain check all the details below. We hope to see you there!
Schedule
Monday, April 15th - Friday, April 19th – Photo and Video Sessions Closed to the Public
Saturday, April 20th
10am – 3pm Big Air Competition Open to the Public
3pm – Prize Giving
9pm – Afterparty at Cielo Music Club by Sweet Protection & downdays.eu
Special Offers
Two nights in Livigno from € 99
April 19th – 21st
www.livigno.eu/en/winter/packages/knights2
• Hotel room for two nights
• Free chairlift and lunch on final contest day, Saturday 20th
• Entry, one drink and wardrobe for the after party @ Cielo Music Club
• Visit to the castle post contest session
Four nights in Livigno from € 208
April 17th – 21st
www.livigno.eu/en/winter/packages/knights4
• Hotel room for four nights
• Three day lift ticket
• Lunch on final contest day, Saturday 20th
• Entry, one drink and wardrobe for the after party @ Cielo Music Club
• Visit to the castle post contest session
Prices per person in double room, breakfast included, option of half or full board
For further info: +39 0342 0522 240 | Booking@livigno.eu | www.livigno.eu.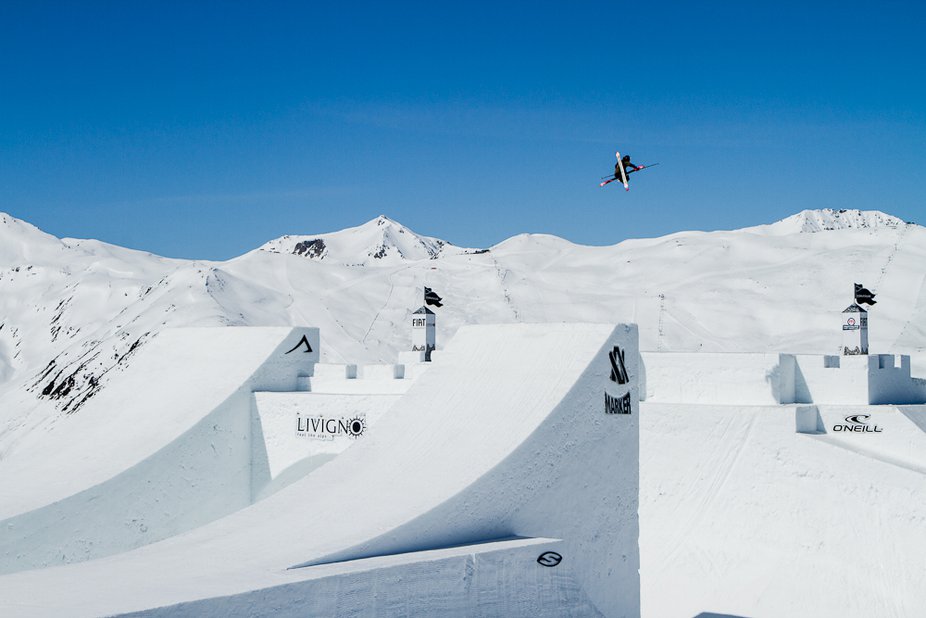 Nicky Keefer. Photo by David Malacrida
For more information on Nine Knights, check out www.nineknightsski.com.