Thank you so much for all of your entries! We wish we could give all of you a pair of skis!
We were blown away with the amount of talent you all have! It was so hard to choose, we have decided to pick a 1st, 2nd, and 3rd place for the grand prize. Each getting a pair of K2 skis!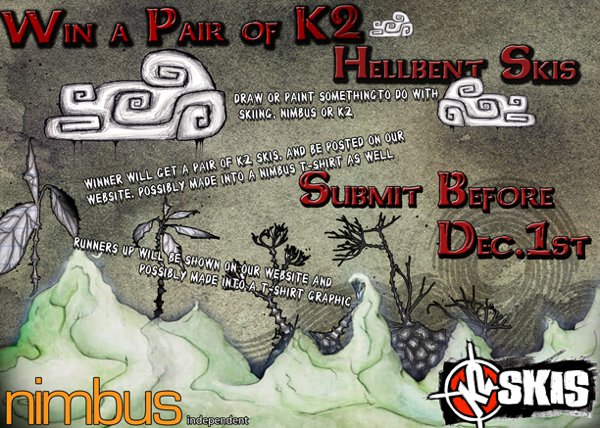 We have also chosen two more categories of winners.
A 1st, 2nd, and 3rd for t-shirt graphics, and also a 1st, 2nd and 3rd for the youths under 17 years old. These categories will get Nimbus stickers, signed posters and a Nimbus t-shirt (when we get them made).
So thank you for the amazing art and ideas!
Sincerely,
Nimbus Independent
Category 1: 1st, 2nd, 3rd place all get a free pair of K2 Skis!
First Place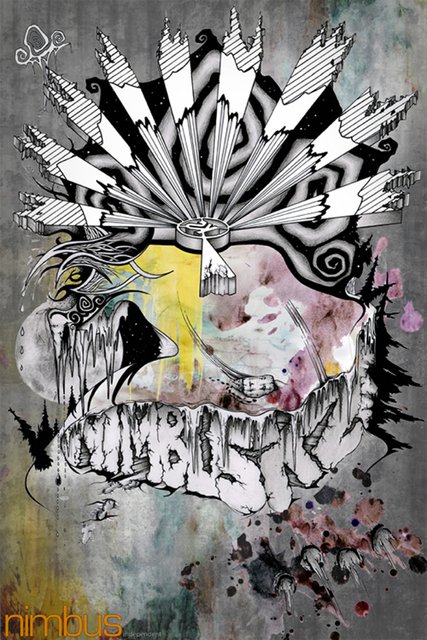 I'm Andy Harris, 30, and a washed-up ski bum. Nimbus has always been a favorite provider of ski porn of mine; I think partly due to your ability to fuse skiing with an artistic vision as well as plainly representing who you are with no personas or false pretense. Basically keepin' it real, and thanks for that. Keep it up!
Second Place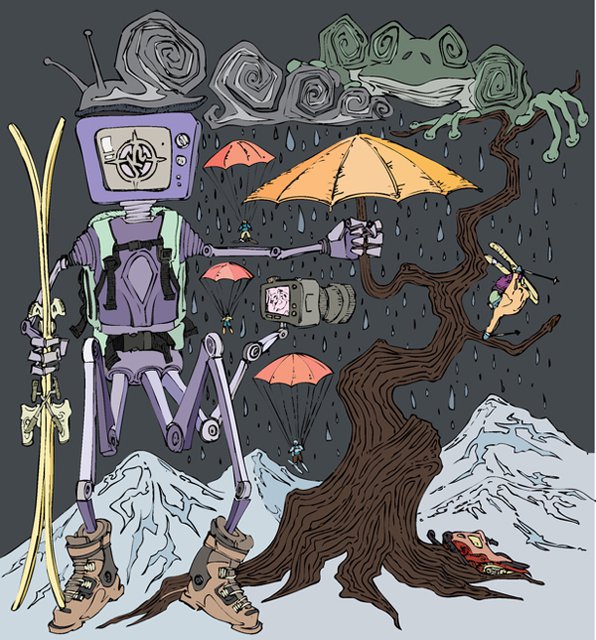 Geoff Balkman, 26. I like Nimbus because it's all about skiing for fun with your crew!
Third Place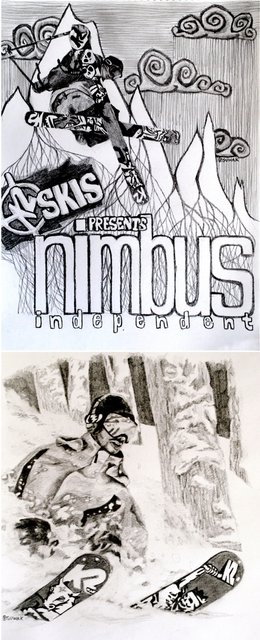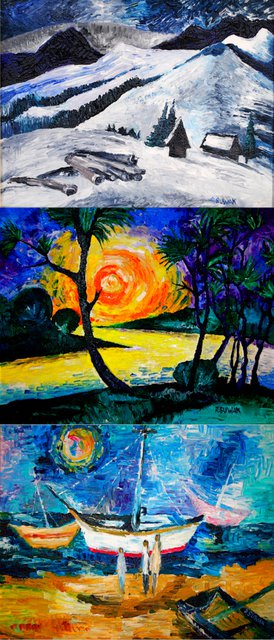 Patrik Suwak. I'm a 21 year old student at The University of Pittsburgh. I've been skiing since I was young, but only started realizing how fun the backcountry can be since I started watching you guys a couple years ago. There's a lot of different ways to approach the sport and I think you guys are pushing it in the right direction. I was super excited on your shots from Slovakia because I actually lived there before I moved to the States. I'm planning on moving west when I graduate this year and could definitely use some rockered skis for slashing around in the deep stuff. K2 does it right with the Hellbents.
Category 2: 1st, 2nd and 3rd place for t-shirt graphics. Winners get signed posters and a t-shirt.
First Place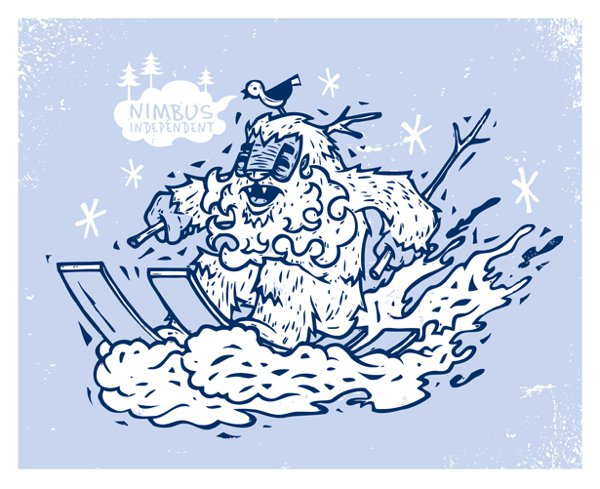 My Name is John Fellows and I'm 36. Yep. That's right, 36. The thing I love about Nimbus and the whole gang is they offer glimpses into their life and I can live vicariously through their travels around the world. For my entry, I carved a linoleum print of the elusive Yeti the Nimbus crew has been hunting for a while.
Second Place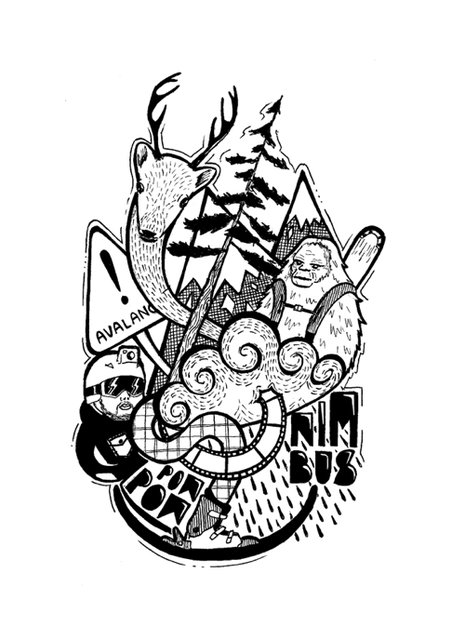 I am Adam Ketszeri  (22 years old) from Hungary. I am a landscape architect, a street artist and a freeskier as well. I love Nimbus Independent cause they are the best skiers in the world and they love the nature and arts! God bless the NIMBUS!!!
Third Place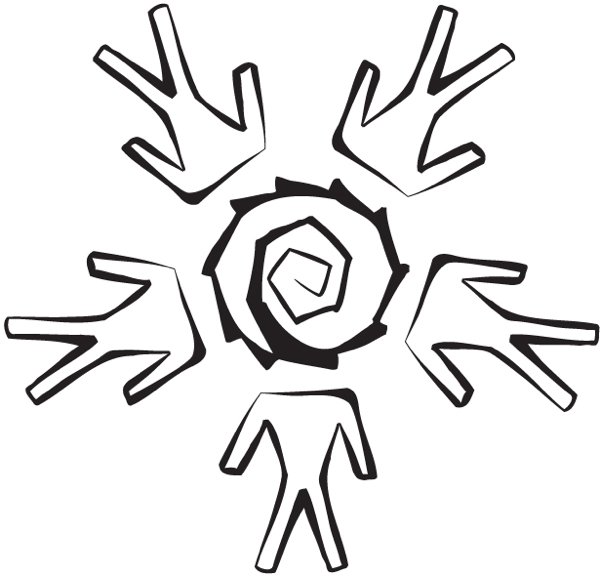 My name is Alex Chalhoub, I'm 18 years old, and I love everything about Nimbus Independent. From a young age I always knew I wanted to ski for the rest of my life but I didn't truly know what type of skiing I wanted to pursue. When I saw the first webisode of Hunting Yeti (I missed Idea) my life was forever changed. I knew right then exactly how I wanted to ski. I wanted to ski powder and cliffs from that day on. Something about Nimbus's films resonate within me. I'm not sure if it's the awe inspiring locales, the charming cast, the refreshing soundtracks, the seemingly bottomless powder, or all of those combined that makes it so enjoyable to watch, but I can't get enough! I modeled my project with the constraints of t-shirt printing in mind. I opted for a rather simple snowflake-esque design because it can be rotated, re-sized, or tiled into any sort of pattern. Such versatility makes it ideal for a t-shirt or even a series of different t-shirts bearing variations on the theme. While it is supposed to be a snowflake, it has other design elements that lend a bit more depth to it. For example, there are five man shaped dendrites, each representing a full time skier on the Nimbus crew. They are all circling the center object which is supposed to be their head. Nimbus, to me, has always been about multiple skiers all with one shared mindset which is why all five skiers share the one head. In the center of the head is a spiral which is an allusion to some of Eric's work. Thank you guys for being an inspiration! My goal in life is to do what you guys do: travel, film, ski, and enjoy every step along the way.
Category 3: 1st, 2nd, and 3rd place in youths under 17 years old. Winners get signed posters of the Nimbus K2 athletes and stickers!
First Place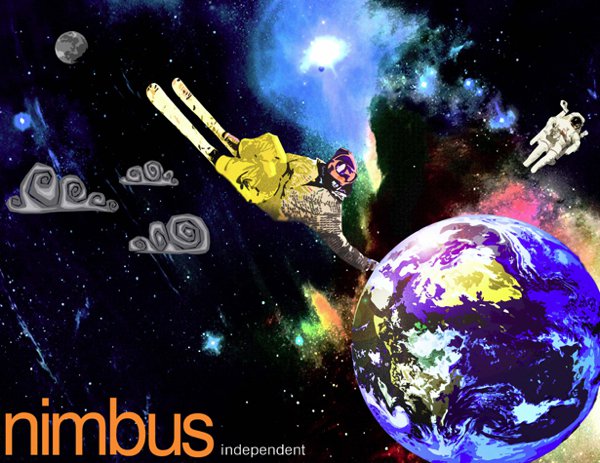 Hello, my name is Ryan Connolly and I am 17 from California. I like Nimbus because every time I watch one of their videos, I can't stay inside; I have to go out and do something fun whether it's skiing, or just enjoying the outdoors.
Second Place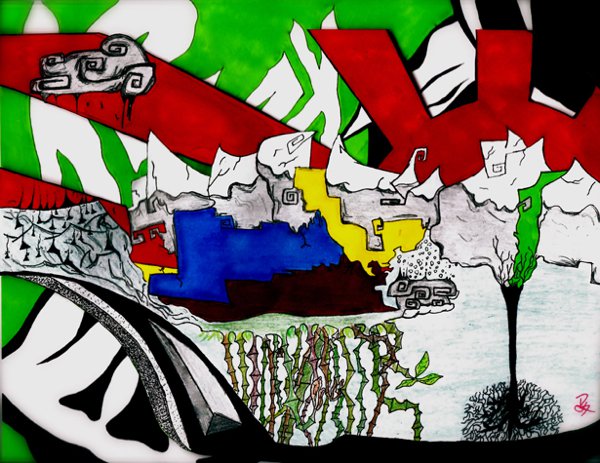 My name is Daniel Harmon. I am 16 years old from Washington. I love Nimbus because the shots in the movies not only have an impressive subject, but the scenery to go along with each shot is insane. this picture incorporates Nimbus, K2 and skiing. It is two drawings that I glued together with foam core tape to make it look 3D but you can't tell by the scan.
Third Place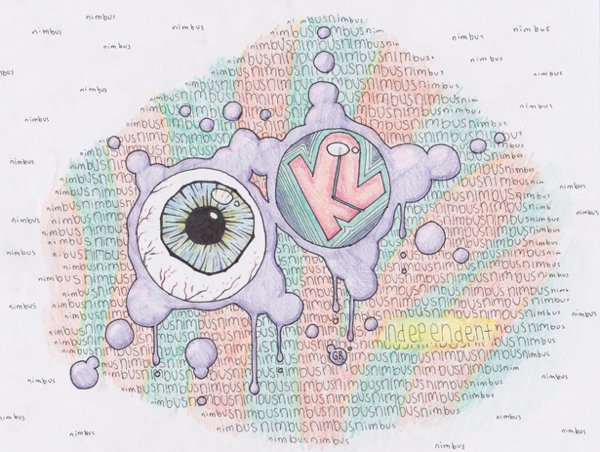 Hi I'm Gavin Rudy and I'm 15 years old from Evergreen, Colorado. I like Nimbus Independent because they are a unique crew that loves skiing.
Congratulations to all the winners! Be sure to check out all of the other contest entries at http://www.nimbusindependent.com/contests, and stay tuned for En Route: Plan B, dropping December 12th!