Interview by Jeff Schmuck
Photos by Alex O'Brien, Erin Valverde Pollard, Justin Wiegand & Ike Smith
Hey Eric, how's it going?
Very well, thank-you.
How was your summer?
It was good. It wasn't the most normal summer for me but it was good. Got some Nimbus stuff done and did a lot of design work, but not a ton of skiing. I kind of injured my knee in late April so I've been taking some time off to keep it strong. Pretty much editing and the gym has been my life.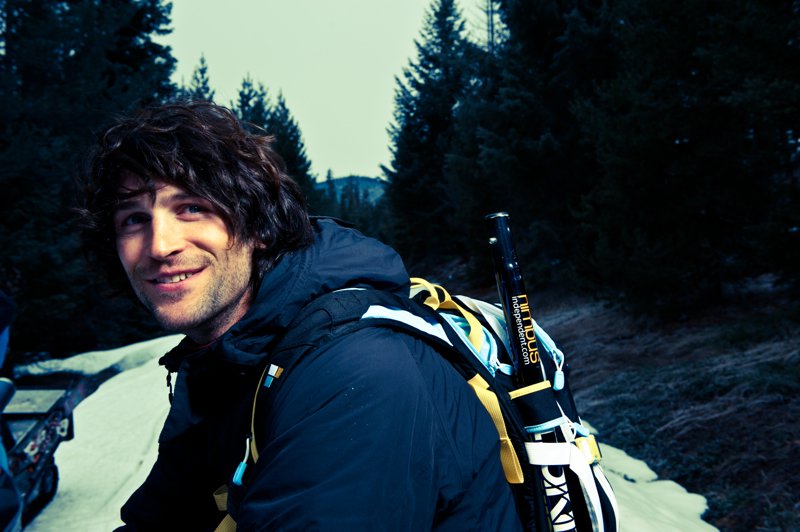 You're dropping your second webisode of the year right now with En Route Nomads as the follow-up to En Route Departure. Tell us about it.
It's actually our favorite webisode yet. I spoke with Pep and Benchetler, who both have super strong parts, and they said it was their favorite edit that we've done so far. So we're super excited to see how people react to it. It's basically the normal format of what we do, where we travel for two months and document what happens along the way, and it was definitely a fun-filled couple of months.
En Route Departure from NIMBUS INDEPENDENT on Vimeo.
How will Nomads differ from Departure?
Departure started out with some early season shredding at Mammoth and then we took off to ride that military base, which was all of kind sled-based, and then the last part of it was really travel-oriented. Us traveling to Italy and not really knowing where we were going, because we really wanted it to be more travel driven like last year's En Route's were. But Nomads is more about us traveling to each other's backyards out of our cars for two months of the year, which for the last six or seven years of our lives has kind of been our existence. So we really wanted to do something that was based off of that idea and so forth. So it's different in the sense that it's centered more around what we're use to doing in our normal activities as skiers, as opposed to going out on a limb and traveling somewhere far off.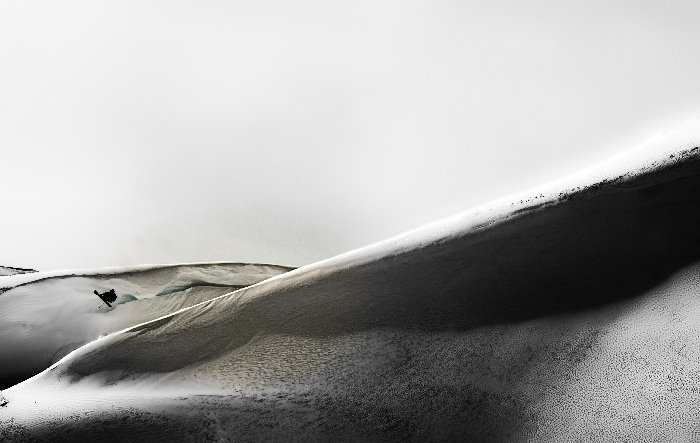 Anthony Boronowski
Since you guys came together to make Idea you've been a fairly tightly knit crew consisting of Pep Fujas, Andy Mahre, Chris Benchetler and yourself, but I know this year you added a few new riders. Who can we expect to see in the mix in Nomads?
We hooked with Sean Logan just for a minute, which was really cool, because he's an amazing skier with a super good head on his shoulders. Anthony Boronowski and Blake Nyman also put on quite a good show, and Andy Mahre is back in the mix after doing his thing with Warren Miller for a while. And of course there's our regular crew of myself, Benchetler and Pep.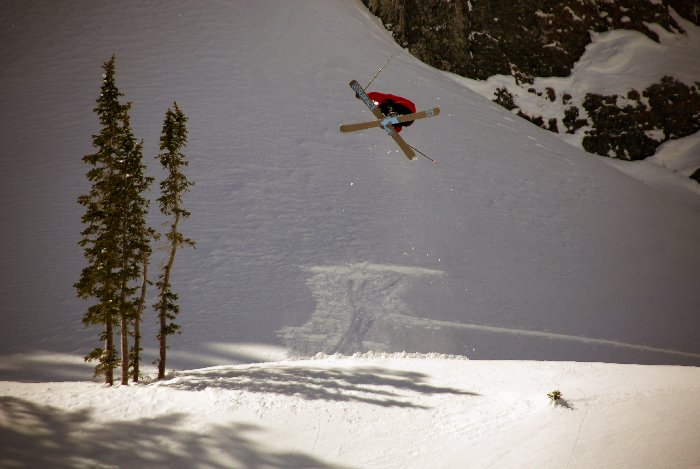 Blake Nyman
You're in your third year of operation now, and you were the first company to make full-length webisodes, which to a lot of people seemed like a bit of a gamble at the time but has since paved the way for so many others. Over the past few years, has it been easier to stick to that trend or become more challenging?
No it's been good for us. When we first started doing webisodes there wasn't really anything to base it off of, except for some influences from other sports, like surfing. There's a series called Drive Thru that we were all big fans of, so when we started Nimbus we decided to try doing something similar to that. And over the years we've toyed around with different formats, so it's definitely been a learning process for us in terms of seeing how the audience reacts to each webisode and which parts they like. But it can be difficult when you only film for a short period of time and you do something travel-based where you think, 'oh we're going to score for sure,' but you know you're going to have base x amount of the webisode off of that trip, because it's taking up half of your filming time. But we've been really lucky over the years, because we've pretty much scored wherever we've went at some point. Even if we just got two days of sun, we always seem to make it work, and have a ton of fun doing it.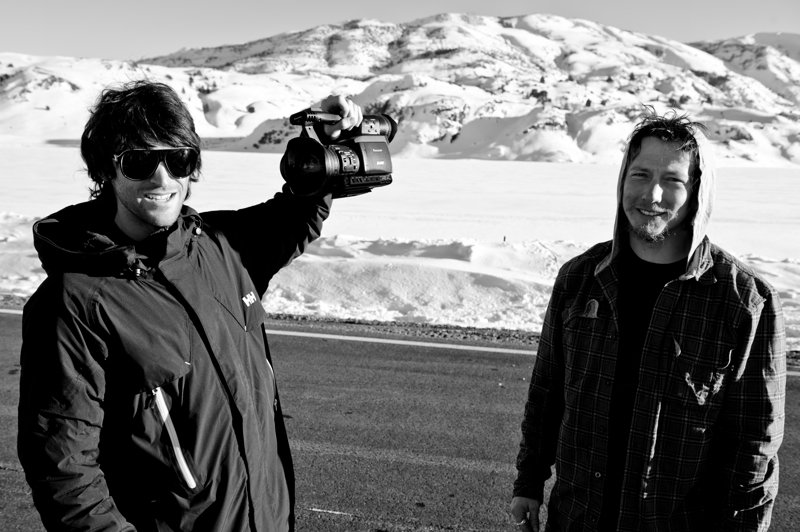 Eric Pollard & Pep Fujas
Speaking of formats, this year you switched up your formula in a pretty significant way by filming for two months per webisode as opposed to two weeks, and are therefore releasing less webisodes than when you first came out of the gate with the Hunting Yeti series. What prompted that change?
I think what really prompted it was that when we finished Hunting Yeti we wanted to revive our general approach to doing webisodes. We've gone from making five webisodes to three, which was a ton of work. I would edit five full-length webisodes and then one movie, so it was like six projects. So I was pretty exhausted. So I think first off we wanted to make my workload a little bit easier to handle, while at the same time improving the webisodes so they were a little bit more consumable for everybody to watch. Because when we did En Route last year, there were trips where we got a lot of footage, like when went to Japan, and it was hard to fit everything we wanted into one little thing, or not enough, like when went to Austria, where the weather was bad and it became a struggle for us to put something together. So I think the change to us filming for two months versus two weeks came from us feeling like we were spreading ourselves too thin. There were moments last year when we were feeling like it was difficult to generate the footage we wanted in order to put out the webisode we wanted, and the goal of Nimbus has always been for the riders involved to have a way to build their story and document skiing the way they see it.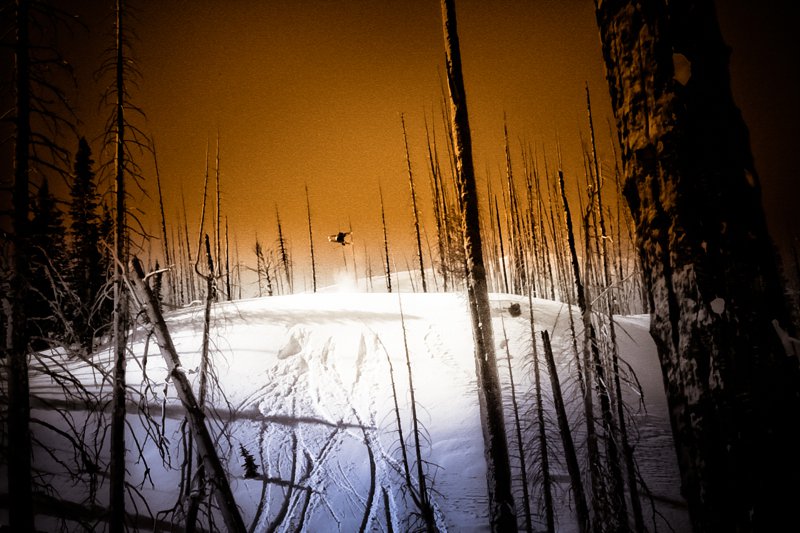 Andy Mahre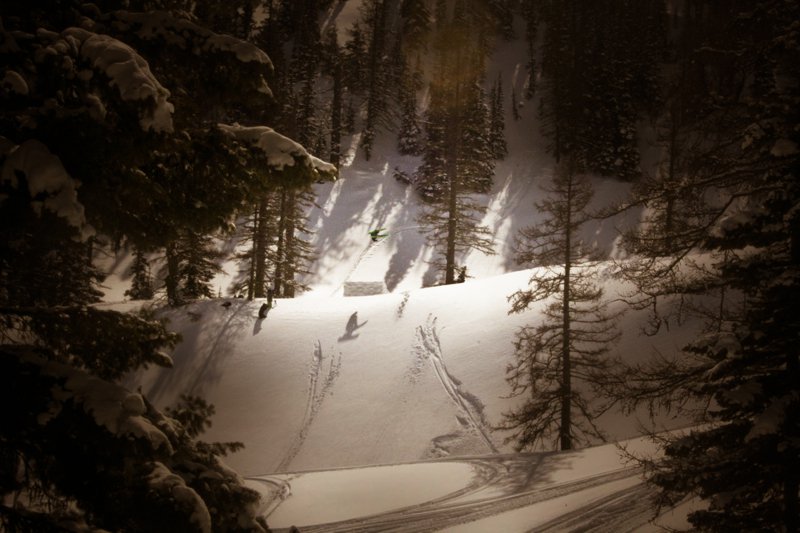 On the heels of that, in addition to En Route, you guys have also released a series of shorter webisodes throughout the past year called Point and Shoot. For anyone who hasn't already checked them out, give us the scoop and the concept behind those.
It started with a brainstorming session with Pep and Benchetler and the whole crew. Andy, Pep, Chris, Blake and Anthony all have pretty solid filming and editing skills, so we decided to make a series that was rider-filmed, rider-edited and rider-perspective based where each individual who's involved with Nimbus could film whatever they wanted to film, and put together edits that showcase their perspective on the filming process and how they see things. We also wanted to involve people like Garrett Russell and others, who we don't really have the chance to film with that much, because the crews can get so large sometimes and we're always traveling so it can be tough to cross paths. So the goal was basically to have more edits throughout the winter, and it was a lot of fun. You can definitely see everyone's individual style in each, so it's been a great way for each rider to get more involved in the project.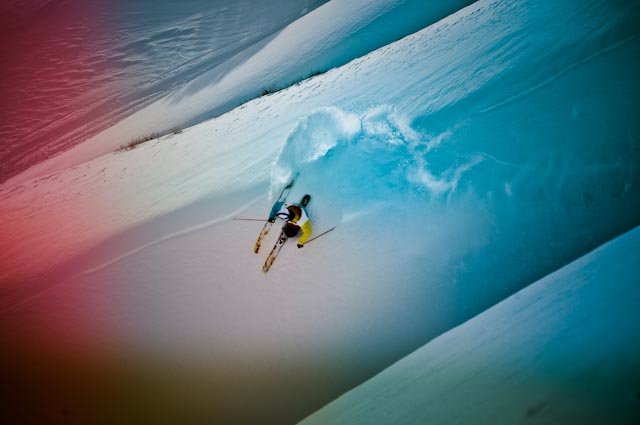 Chris Benchetler
You've also released separate full-length DVD's for the last two years with Hunting Yeti and Contrast, but I know this year you won't be doing that. What was the reasoning behind that?
We killed the DVD's because we just didn't feel like we were able to continue using footage we'd already edited or save footage that we wanted or needed to use for the webisodes for a final movie. In addition to wanting to voice our own opinion, the reason Nimbus exists is because we want to create something different in the ski industry. When we started we felt there was a bit of a void in that area, but over the years everyone in the ski film world has matured, which has been great to see. Level 1 has matured, Poor Boyz has matured, and we've always loved their and everyone else's movies every year, but we want to be different. And for us to do that we want to continue to tell the story of how we're documenting the footage and where we're at with things. I think a lot of ski movies are based on the principle of trying to wow the crowd, where we're trying more to relate to the audience as opposed to just impressing them.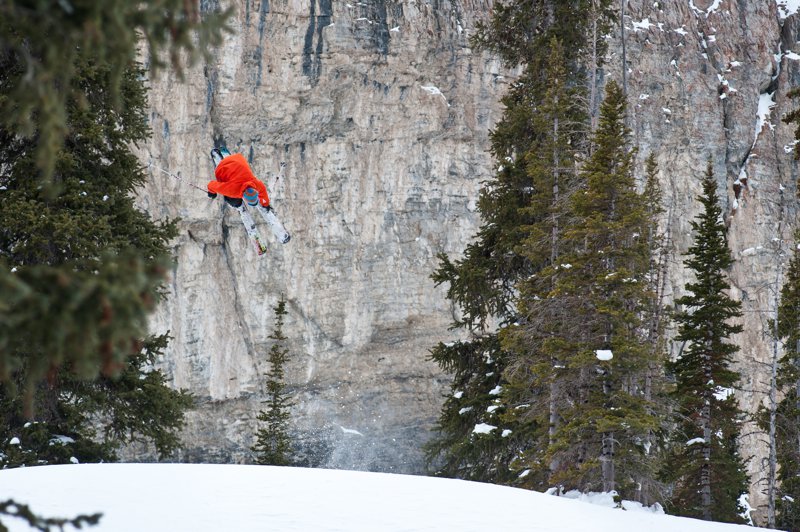 Pep Fujas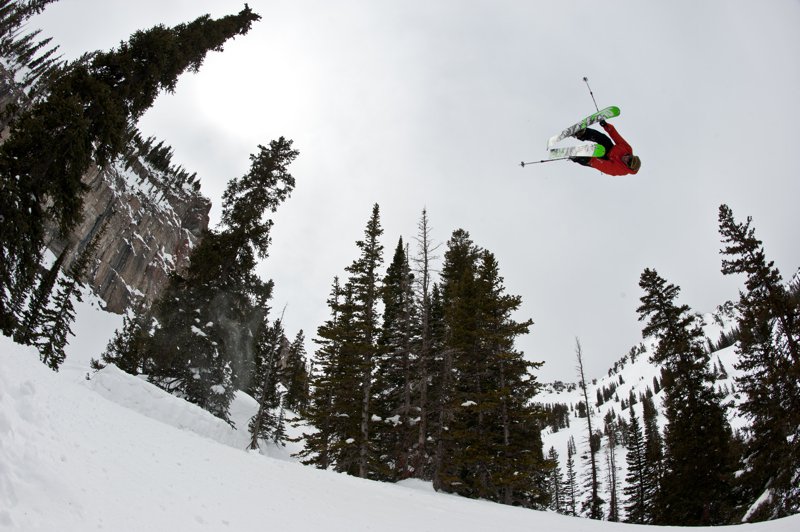 I know that you were charging a small fee for Departure when it first came out, but Nomads is available for free right?
Yeah that's correct. It's a bit difficult, because when we decided not to do a DVD anymore our budget dropped significantly, so we had to figure out some sort of way to cover the production costs. We're always looking for a way for to pay for our filmers to travel with us and film us, because that's the bulk of the cost of our production. So the idea behind paying for the downloads was so that we could try to recuperate some of those costs. We did it for Departure, but after we tried it out we decided that we probably shouldn't do that anymore, and instead just give away the stream for free. We're actually still going to offer the HD download for a fee eventually, but we're still in the process of setting that up.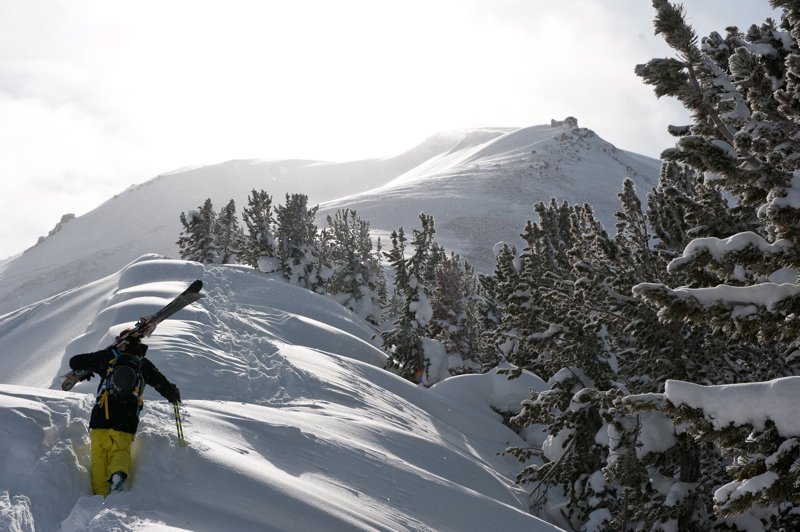 Eric Pollard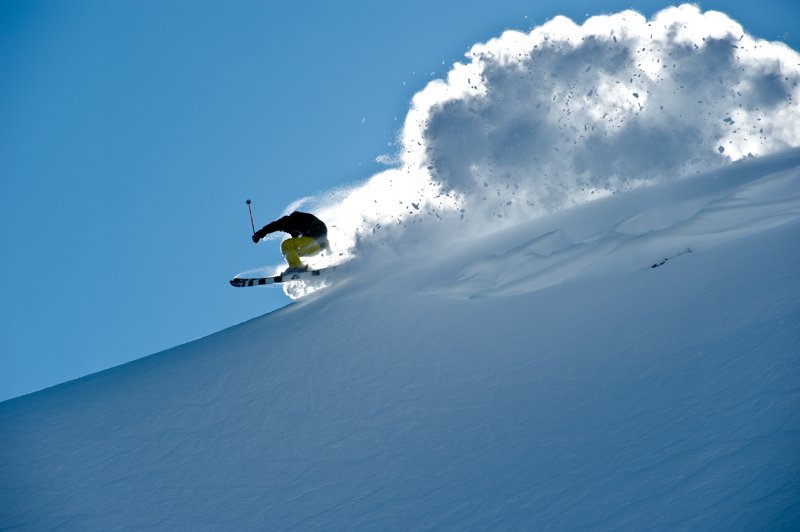 Following Nomads, when can we expect to see the third webisode of this year's En Route series?
It's going to come out on December 12th right as winter begins, and it's going to be called En Route Plan B. It's a lot of Sammy, because he absolutely killed it for that webisode. Bene Mayr is in it as well, along with Blake Nyman, Andy Mahre, and I'll only have a little part because I was injured. It documents the last few months of the season during the late spring, and I think it's going to be really good.
And it will be the last one of the year correct?
That's right, and then the following one will come out next March.
In addition to everything else you constantly seem to have on the go with skiing, filming and editing for Nimbus and your design work for Line and your other sponsors, you guys also just a launched a new and much more simplified website for Nimbus. What can everyone find on there?
It's basically just based around the two series of webisodes. We'll have a lot more Point and Shoots coming out, and everything we've done you can easily find on there, so it's just a cool way to check out everything we're doing. See for yourself at nimbusindependent.com.
And now for the million dollar question. What are Nimbus' plans moving forward into next season and beyond?
We're always trying to evolve, so we're probably going to try out some new formats, so expect some changes, and a lot more webisodes. Our motivation to ski different kinds of terrain is definitely changing, so I think that's one thing that going's to be drastically changing in the future, along with the kinds of movies we're making. It will be the biggest change for Nimbus to come.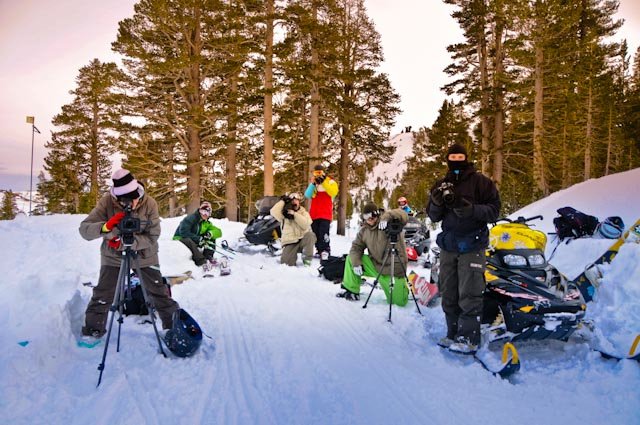 Any last things you want to say about Nomads?
I just hope everybody enjoys it. Pep, Blake, Anthony, Sean, Chris, Andy and our entire crew all put in a ton of work for this, which I'm really happy about, and I'm so stoked for everyone to watch it. Because we do it for you guys.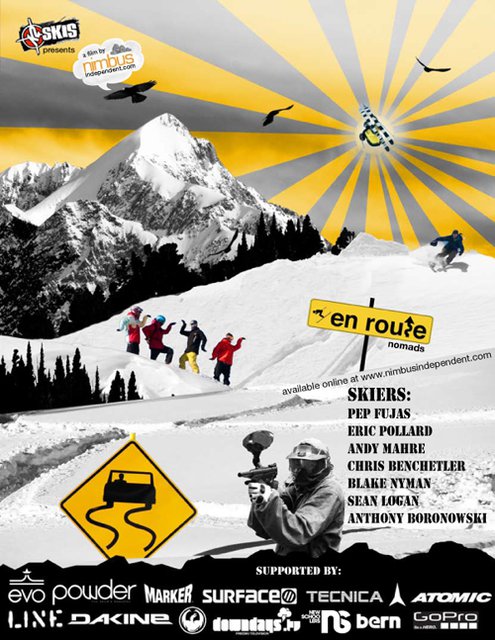 En Route Nomads from NIMBUS INDEPENDENT on Vimeo.