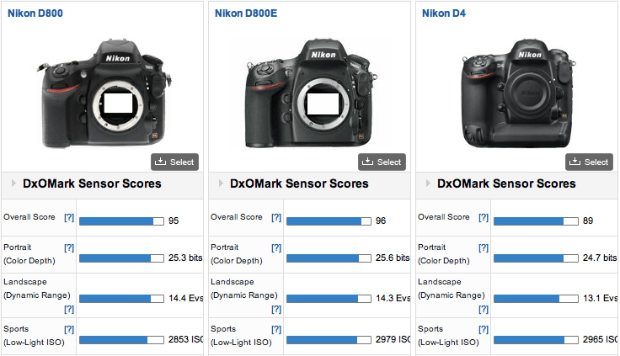 It's been almost three months to the day since the well-respected camera equipment rating service DxOMark crowned the Nikon D800 as its new king, giving the camera's 36.3MP sensor an incredible overall score of 95 — but now its reign is over. The Nikon D800 has been officially beaten out, and appropriately enough it has happened at the hands of its nearly identical twin brother, the Nikon D800E.
As you can see from the image above, the lack of a low-pass optical filter in the D800E has allowed it to beat out the D800 in every category except dynamic range (and even there they only differed by .1Evs), giving it the push it needed to get an overall score of 96 — one point higher than the now-deposed king.
Of course, as the charts and graphs in the DxOMark's comparison of the two cameras show, the differences are minuscule and probably nearly unnoticeable to the naked eye in most situations. But if you want to own the reigning king, you'll have to dig up that extra $300 to add the "E" to the end of your D800′s name. For more info and a full comparison between the D800 and the D800E, check out DxOMark's full review.
Nikon D800E nabs top ranking from D800 (via Nikon Rumors)