On Saturday, January 14th from 5-9pm, Camelback Mountain Resort will be playing in the big leagues with the likes of Breckenridge, Heavenly and Mammoth by hosting the only Eastern stop for the Nike Chosen Rail Jam Series. The event, named Nike Chosen, is a grass roots freeski and snowboarding rail jam that is hitting seven stops in the United States; Camelback is the third stop on the three-month tour, but the only stop on the East Coast. There is a $3,000 purse for the top competitors as well as Nike swag.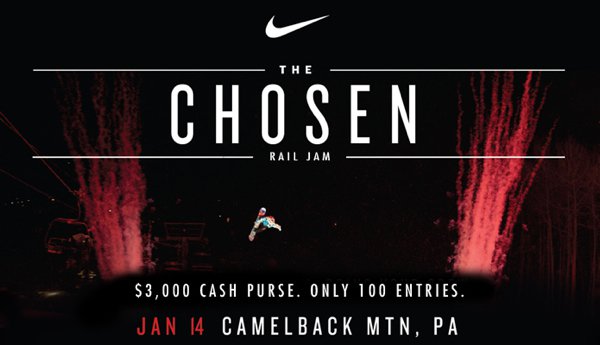 "There will be a professional lighting crew flying in from California and professional snowboarders on the judging panel coming in for the event. This event is going to give the everyday rider the chance to live like a pro" said Brian Czarnecki, Vice President of Sales and Marketing at Camelback Mountain Resort. Czarnecki continued, "Since we are the only Eastern stop, we expect to see riders and skiers from resorts as far away as Vermont and New Hampshire calling and asking us for an invitation."
 
The $3000 purse, along with the $20k spent in lighting and smoke machines will attract riders from the entire East Coast. This amazing, night time event with lights under the snow and in the air over the features, along with live music and amazing riders is going to be a spectacular show. This is a link to show the magnitude of past events.
 
"Martin Luther King weekend is normally a busy weekend for us, but this year with the huge Nike Chosen Event, we expect an even bigger crowd," said Megan McHugh, Director of Public Relations at Camelback Mountain Resort. McHugh continued, "This national event is going to attract the best of the best in terms of freeskiers and snowboarders,as well as spectators from New York and Philadelphia. As the X Games become more and more popular the competitive field is growing and we are thrilled to be able to host this awesome Nike event for our local riders to showcase their skills. We're ready for a blowout weekend."
 
SnowEast Magazine Readers' Survey voted Camelback Mountain Resort the favorite resort in Pennsylvania. There are 34 trails, ranging from beginners to double black diamonds with 100% of the trails open for night skiing. Camelback is continuing on the cutting edge by adding a 50' x 50' airbag that tops out at 12 feet tall….just like stunt persons use in Hollywood films. Guests of all abilities can ski and board downhill, hit a jump and try any trick seen at the X Games and land safely and softly! Always true to its name and mission, Camelback Mountain Resort, ensures action, adventure and excitement 365 days a year.