Words by Jeff Schmuck
Photos by Audric Gagnon, Will Gignac, Simon Lebrun & Renaud Robert
Now that the madness has subsided on both the biggest ski party of the year along with a tireless amount of hard work and late nights in the Newschoolers office launching our new video and photo sections during the Festival, the time has come for our first of two in-depth and extensive updates on everything that went down this past weekend in Montreal, Quebec, Canada at the fifth annual Nike 6.0 International Freeski Film Festival.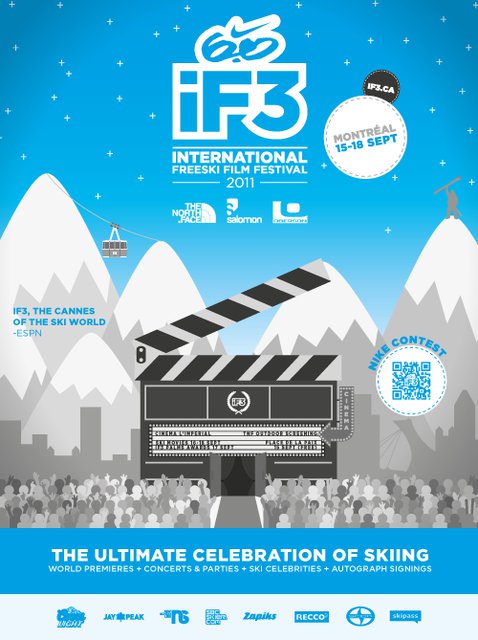 First up, a look at the movies, and boy oh boy was there a lot of them. Over the course of the four days of the Festival, a whopping 26 films and 13 webisodes were unearthed to over a thousand die-hard skiers who made the annual pilgrimage from all over the world to the beautiful and party-hardy city of Montreal for IF3.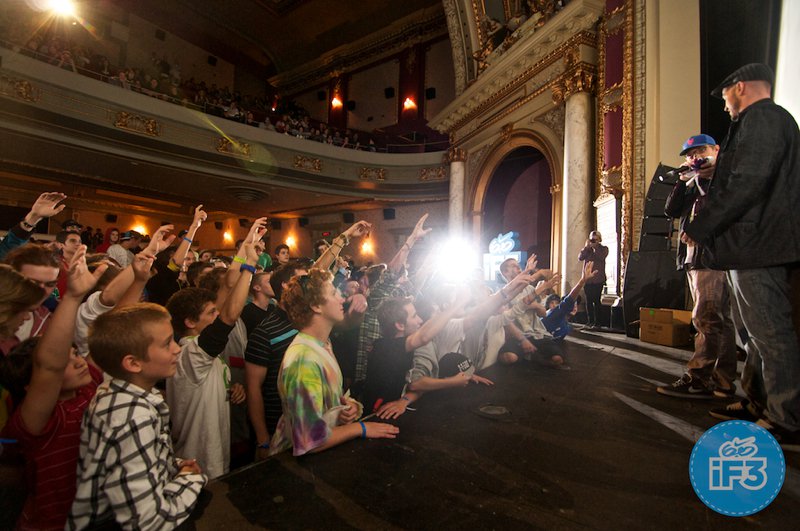 Welcome to the Nike 6.0 IF3!
The biggest and best ski film festival in the world kicked off its celebrated fifth anniversary on Thursday with an autograph signing at Oberson (a super cool shop in Montreal who was one of the main sponsors of this year's IF3), where a large contingent of the best freeskiers in the world congregated to put down their signatures on posters, clothing and laptops and smiles on many a kids' faces.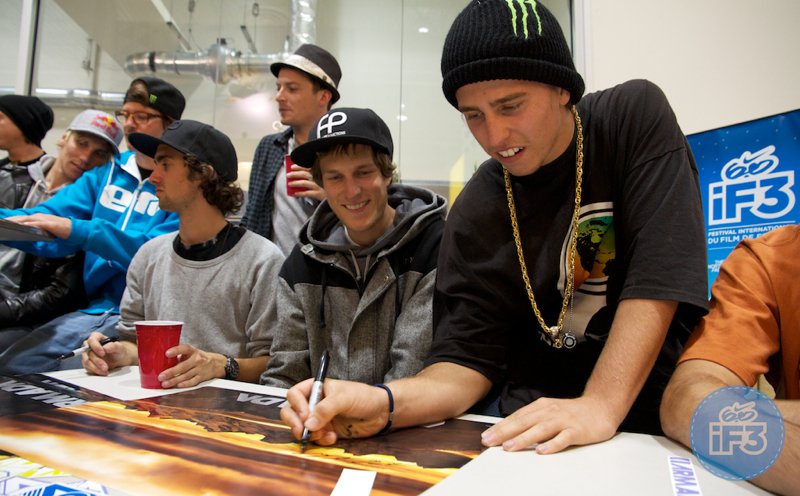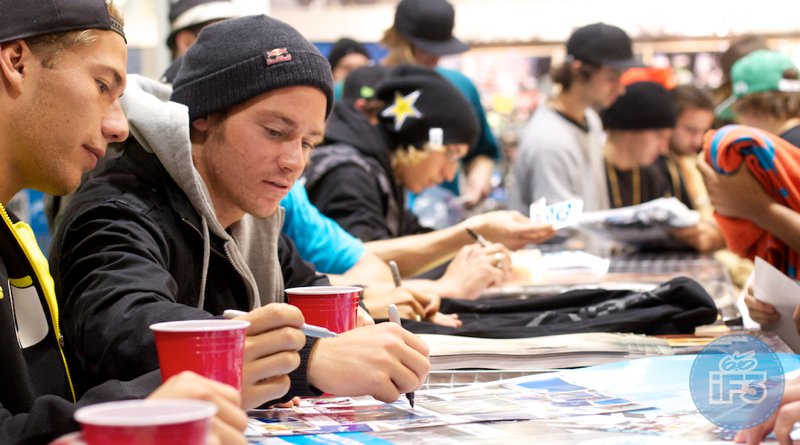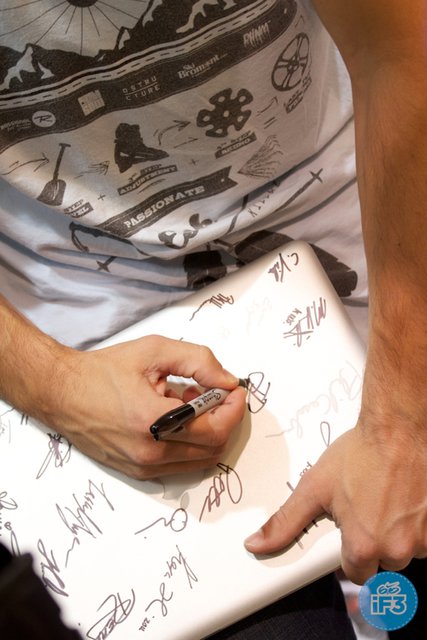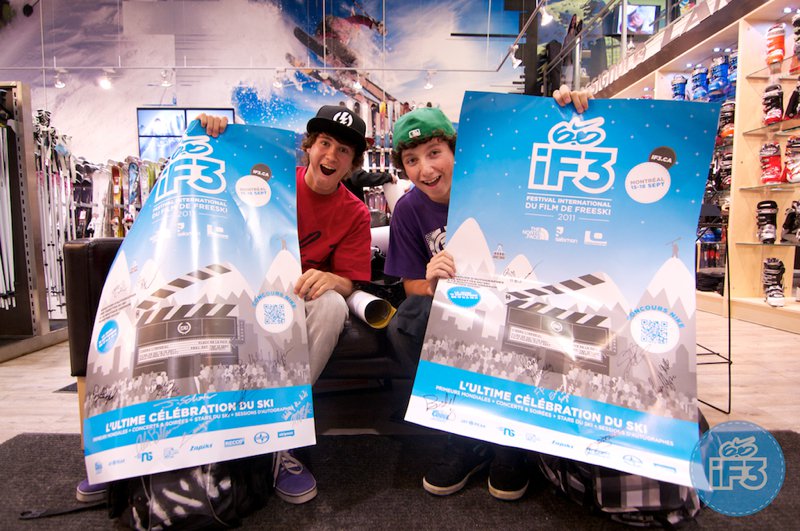 Following the signing, the premieres officially began with the third annual North Face Outdoor Screening, where in stark contrast to last year's torrential downpour, clear skies were as abundant as the high fives being traded amongst friends, who in some cases hadn't seen each other since the chairlifts stopped turning in the spring.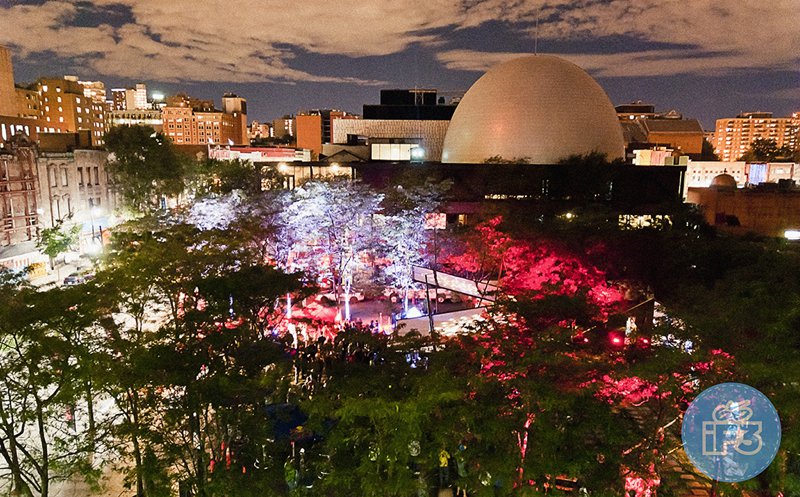 The North Face Outdoor Screening...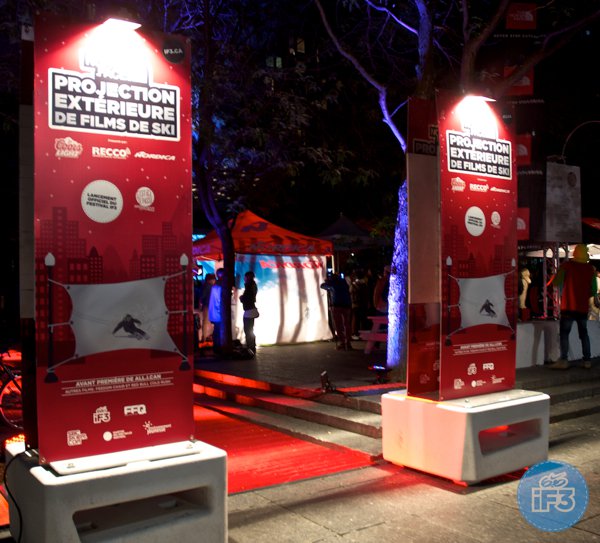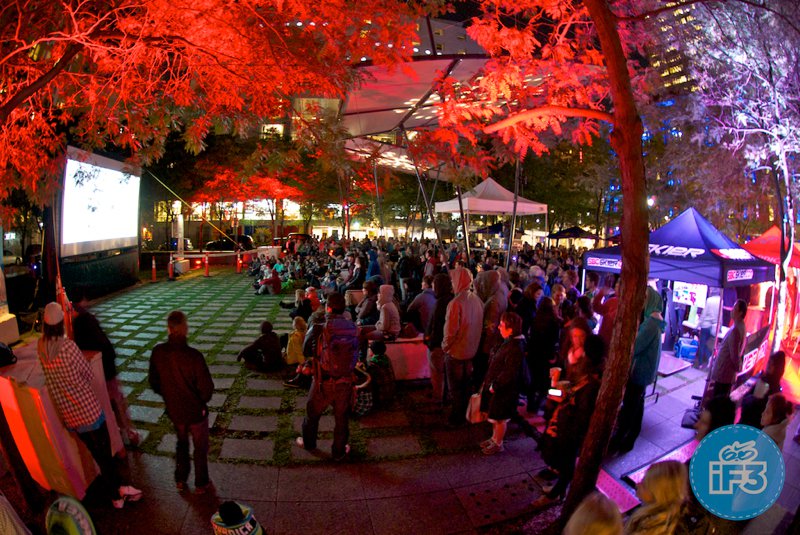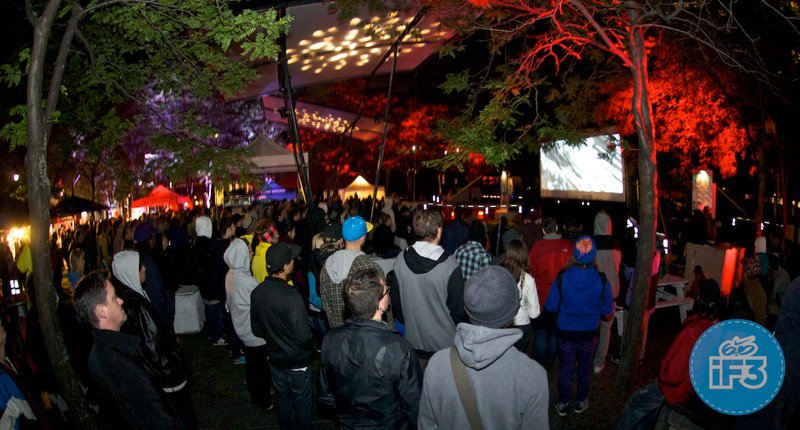 First up was a half-hour offering from the exceptionally talented crew at Freeride Entertainment packed with crystal-clear and eye-popping footage of this past winter's Red Bull Cold Rush, followed by what is fittingly being hailed as the most inspirational ski film ever made, The Freedom Chair. The Freedom Chair, produced by Switchback Entertainment's Mike Douglas and Jeff Thomas (producers of Salomon Freeski TV), documents the trials, tribulations and triumphs of Josh Dueck, the former head coach of the Silver Star Freestyle Club (which helped kick start the careers of TJ Schiller, Justin Dorey, Riley Leboe, Josh Bibby, Joe Schuster and so many others) who was paralyzed from the waist down in a skiing accident in 2004. Rather than give up, Dueck stayed positive and motivated, and began sit-skiing the winter after his accident to work towards his goal of competing in the 2010 Paralympics in Whistler, where he won a silver medal in slalom along with a gold medal in this year's Winter X Games. The heart-wrenching and incredibly motivating short film (which will be available online soon as an episode of Salomon Freeski TV) tells Dueck's story the way he wanted it be told, from a chilling recount of the accident that left him unable to walk for the rest of his life, to his inspirational journey towards the 2010 Paralympic Games, and is capped off by a cat-skiing segment that you'll have to see to believe and will surely leave you with tears in your eyes and a smile on your face.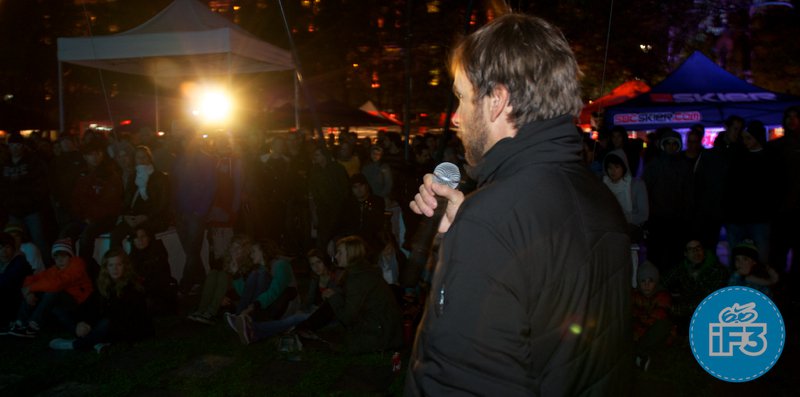 Switchback Entertainment's Mike Douglas (aka The Godfather of Freeskiing) introduces The Freedom Chair.
Following The Freedom Chair was the long-awaited and highly anticipated two-year project from Rocky Mountain Sherpas, All.I.Can. As the big mountain-focused film began to play, a winter-like chill in the air took over the proceedings, creating an appropriate aura amongst the spectators that screamed winter is coming. Even before the first segment of All.I.Can was over, it was safe to call it one of the most visually stimulating ski films ever made, with Planet Earth-style imagery, wild trips to Greenland and Morocco, and some absolutely ridiculous skiing from Kye Petersen, Callum Pettit, Rory Bushfield, Eric Hjorleifson, Dana Flahr, James Heim and so many others that call the Whistler area (where a good portion of the film was shot) home. But it was JP Auclair who really got the crowd going with a killer segment of gnarly urban lines throughout the streets of Trail and Rossland, BC, before he and other athletes eloquently discussed the perils our environment is facing as a result of global warming, our sport's affect on it, and what we can do to help.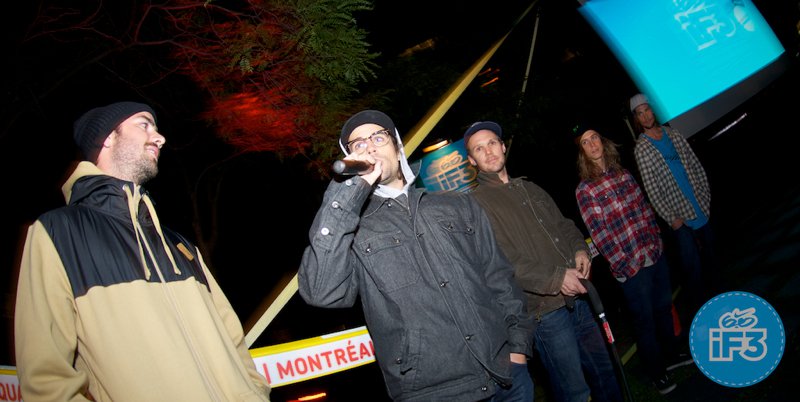 JP Auclair introduces Sherpas Cinema's All.I.Can.
After The North Face Outdoor Screening wrapped up, the throng of athletes, filmmakers, photographers and other ski industry types in attendance in Montreal returned to their home base for the weekend, the plush, boutique-style Opus Hotel, where following numerous hilarious encounters with The Situation from Jersey Shore (who was also staying at the hotel, but thankfully not in attendance at IF3), kicked off the other major aspect of the Festival, the parties, at the IF3 VIP Party presented by the Festival's title sponsor, Nike 6.0. Stay tuned for a look at what went down in tomorrow's party-filled update.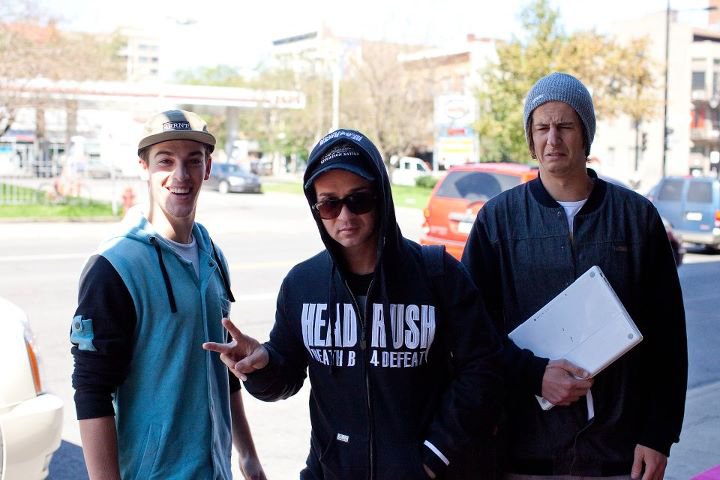 Mack Jones and Voleurz' Darren Rayner with Jersey Shore's The Situation. Darren is not impressed. Photo by Dan Brown
The first of three lengthy days of premieres at IF3's center of operations for the past five years, the iconic and gorgeous Cinema Imperial, then began on Friday morning. Up first was the initial three offerings in the Webisode category from Follow Us, Garchoix Films and Switchback Entertainment, followed by the first two films in the Amateur category, One Love from Freeski Crew and Broken Record from Chaoz Productions, who have been making a lot of noise over the past few years with their top notch and high quality films, and will surely continue to do the same with their latest visual masterpiece.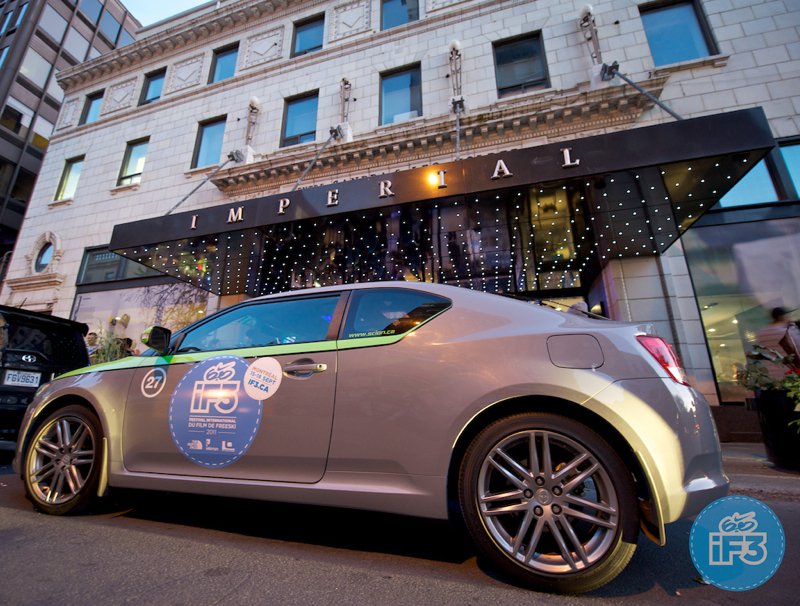 Cinema Imperial, home of the Nike 6.0 IF3.
Sammy Carlson and Nimbus Independent's On Top of The Hood was shown next (which I'm sure you've all seen by now, and if not, stop everything you're doing and click here to check it out), along with Inspired Media Concepts' Retallack: The Movie, which was released earlier this summer and proved that Tanner Hall is back on the backcountry murder mission in a big, big way. Following that was PVS Company's Animus, which amidst some formidable antics from some of Europe's most talented freeskiers (most notably Laurent 'Lolo' Favre and the unbelievable 11-year-old wonder woman Kelly Sidaru) was a creepy nightmare-style story line of a boy being terrorized by lunatics, ghouls and other disturbing images while trapped inside an abandoned house in the woods. Kudos to PVS Company for once again breaking the mold with a unique offering in their highly entertaining film.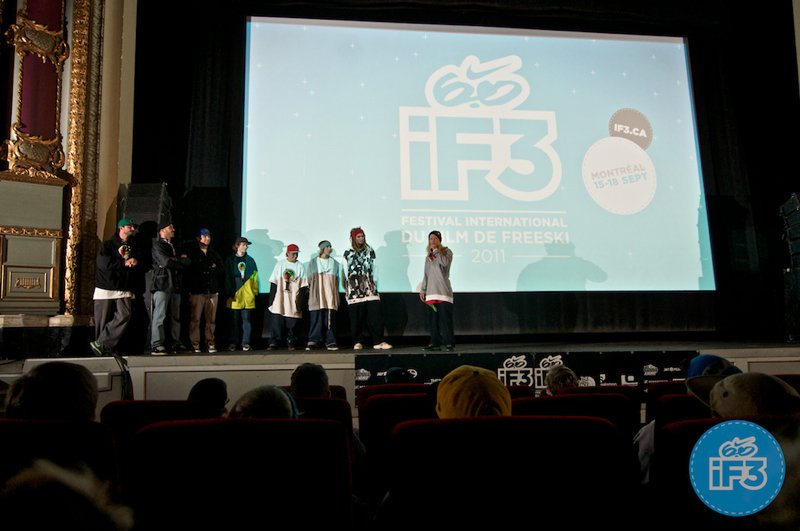 Tanner Hall introduces Retallack: The Movie with (right to left) John Spriggs, Phil Casabon, Henrik Harlaut, Ben Moxham, IF3 hosts Mike Rogge and Philou Poirier and Inspired Media Concepts' Eric Iberg.
It was then time for the main event of the day, Meathead Films' Prime Cut and Level 1 Productions' After Dark. The Meatheads (as always) didn't disappoint, as their 10th anniversary film highlighted the history of the company while showcasing some of the most balls-out big mountain skiing the east coast has to offer, along with urban segments from Andy Parry, Will Wesson, LJ Strenio and others that are simply too creative and insane to describe. Level 1 then capped Friday's screenings off with yet another home run from Josh Berman, Freedle Coty, Kyler Decker and their disciples via one of the most well-rounded segments of the year from Parker White (who opens the film), another ridiculous jump segment in Sun Valley, Idaho, a far-out urban trip to Moscow, Russia with Tom Wallisch, Mike Hornbeck and Ahmet Dadali, and the latter closing the film in a way that only he can.
And that was only on Friday! Following The Tanner Hall Inspired Reggae Party that featured a blistering performance by Cali P (which we'll tell you all about in tomorrow's update), Saturday morning dawned bright and sunny as a stampede of Level 1 tall tees and flat-brimmed New Era hats once again herded themselves back to Cinema Imperial for another jam-packed day of ski porn. Up first was a duo of webisodes from Real Skifi and Traveling Circus, along with the next three films in the Amateur category, Brotherhood Films' Groundwork, PYP's Amateur Hour (which you can watch online for free by clicking here) and NSF Productions' Frozen Yogurt, which would later clean up at the IF3 Palms by winning both awards in the Amateur category, Best Cinematography and Best AM Movie.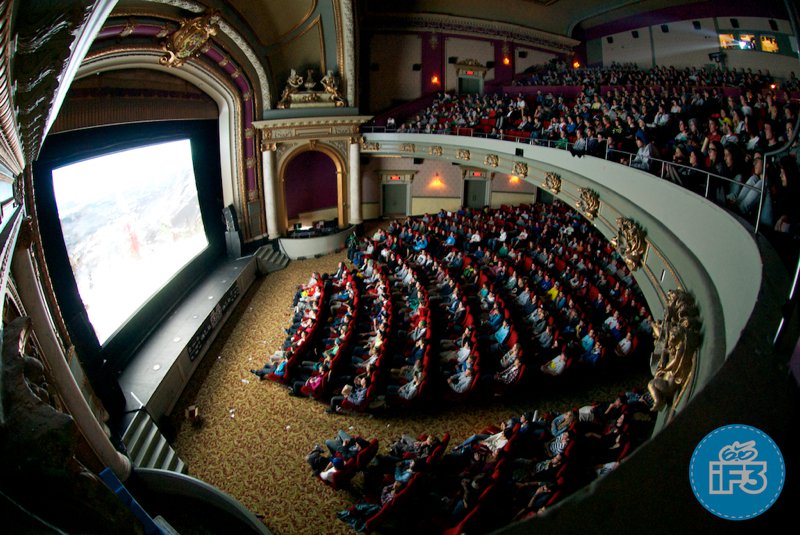 A webisode from Legs of Steel was up next, followed by two of the most looked forward to films by the jib-loving east coast crowd, 4bi9 Media's Begging For Change and Stept Productions' Weight. As expected, both movies featured some of the most impressive urban skiing ever captured on film (along with some spectacular soundtracks), most of all from Stept, who were rewarded for their aforementioned efforts later that night at the IF3 Awards by dethroning Level 1 in the Best Jib Flick category, who had won the award every year since its inception.
Perhaps the most impressive trio of films came next, beginning with Legs of Steel's Nothing Else Matters, who's closing park segment (which features slow motion footage from Red and Phantom cameras of 13 skiers hitting a multiple take-off tabletop at the same time) received the loudest cheers of the entire weekend, and was personally the coolest ski segment I've ever seen. Voleurz then once again unwrapped the gift of the feel good movie of the year with That's Fine, highlighted by the hilarious Max Hill vs The Intern Part 2 and Winter Volympic segments, a diverse and enjoyable soundtrack, and some of the wildest skiing and snowboarding caught on film in the last year.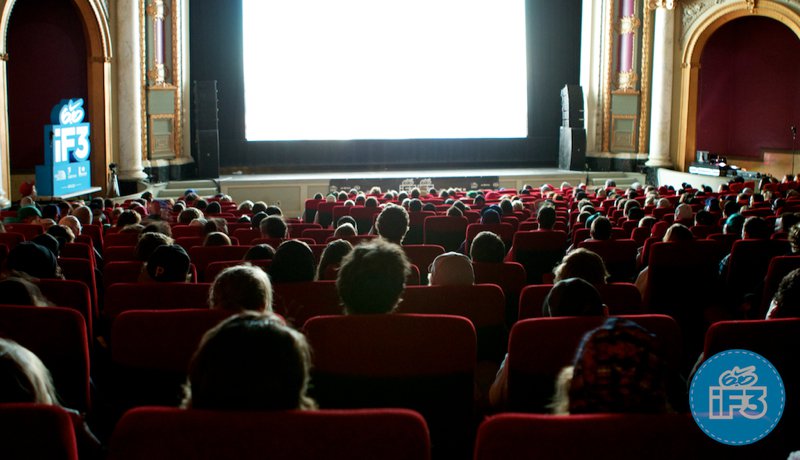 Following Voleurz was Poor Boyz Productions' The Grand Bizarre, who as you've probably heard by now, deservingly won Best Film a few hours later at the IF3 Awards. As planned, PBP's new film is a nod to their classic ski films of old like Propaganda and Happy Dayz, with a unique intro (where the athletes, in costume, take over a circus in the desert) followed by a high-energy and crash-filled opening segment and stand out parts from Bobby Brown, Dane Tudor and Sammy Carlson, while LJ Strenio, Leigh Powis, Nick Martini and the Stept crew did their part to ensure that Poor Boyz had their best urban skiing in years. Combine all that with a hard rocking soundtrack and the crew's shortest movie in the last five years, and PBP successfully brewed the recipe for the biggest honor of the year in ski filmmaking.
MSP then helped capped off an incredible day of screenings with Attack of La Nina, where amongst too many other highlights to count, Sean Pettit killed it harder than any other skier on the planet last winter, Richard Permin proved why he's one of the craziest and most underrated big mountain skiers in the game, and Colby James West had everyone's guts busting with laughter via his 80's metal-themed comedy ski segment set to an exclusive song made for him called The Ultimate Run. And last but not least, Field Productions then closed the show for the first time ever with their extremely well-rounded new movie, Being There, which contained some of the most eye-pleasing urban, park, backcountry and big mountain skiing (set in the jagged Norwegian Alps amidst the country's breathtaking fjords) of the year.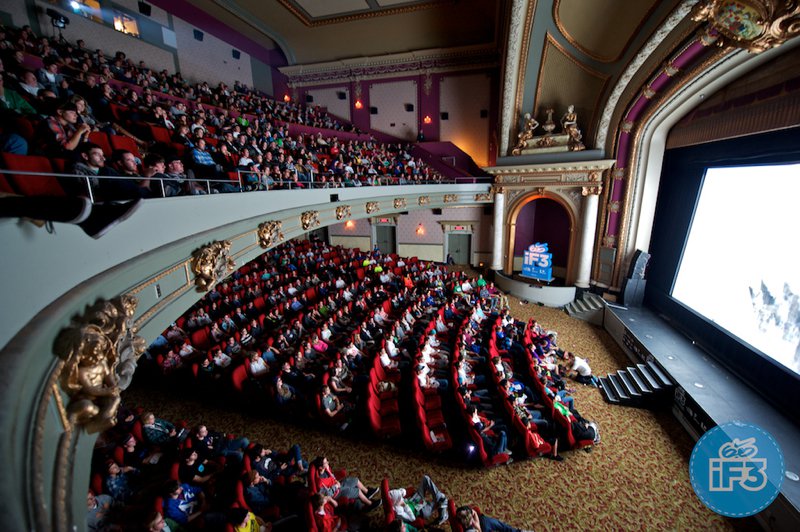 Also for the first time ever at IF3, a third day of screenings took place on Sunday, where webisodes from Salomon Freeski TV, Nipwitz, Dendrite Studios (who were unfortunately unable to make a feature-length film this winter due to sponsor difficulties but plan on being back next year) and Papet Productions were shown, along with the winner of our NSTV Pilot Project, Family Vacation, who we'd like to take the time to congratulate and express how excited we are to be working with you!
Also shown on Sunday was Toy Solider Productions' beautifully crafted Set Your Sights, Les Films 2 Grenouilles' 2 Frogs In The West, powder-filled offerings from V-Shaw Productions (the aptly named Powder Highway) and a two-year project set in South America from Sweetgrass Productions (Solitaire, which deservingly won Best Cinematography the night before), and two films that had the jib-friendly crowd drooling all over the theatre floor, ESK Media's Interlude and the highly anticipated Blackout Project from Phil Casabon and Henrik Harlaut of the B&E Show.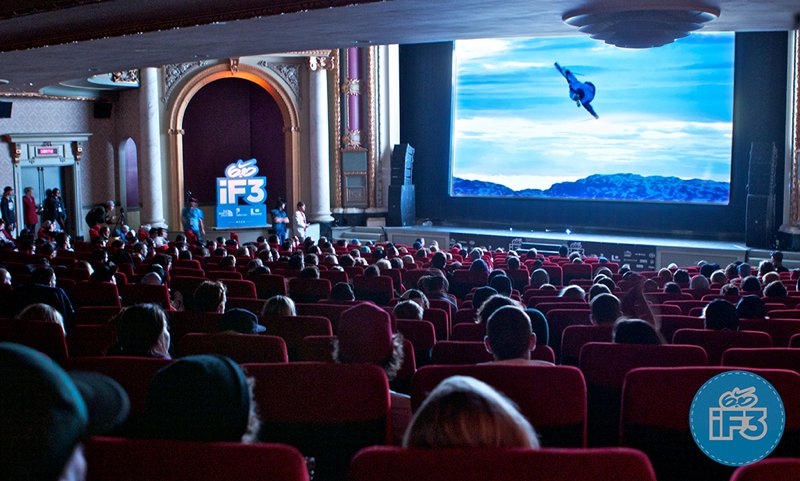 But all of the talk on Sunday was about what went down the night before at the IF3 Awards, where 12 IF3 Palms (which as always, were designed by Cresus Design and produced by Moment Skis) were handed out over three categories (Web, AM and Open/Pro), and were determined by an esteemed panel of judges that included legendary pro skiers JF Cusson and David Crichton, Skipass.com's Guillaume Lahure, and renowned ski filmmaker Neil Sotirakopolous. The awards (which were also held at Cinema Imperial for the first time) were a little different than in years' past, as some of the accolades (including Best Male, People's Choice, Best Big Mountain Movie and others) were reserved for the awards show at the second annual IF3 Europe, which takes place next weekend in Annecy, France.

The IF3 Palms Awards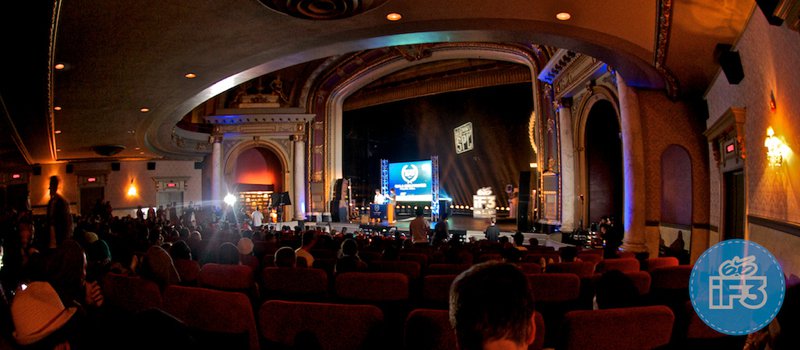 IF3 hosts Philou Poirier and Powder Magazine's Mike Rogge got the crowd going following some antics from Ian 'Chug' Cosco (who decided to cross-dress for the evening as 'Ann Cosco') and kicked off the show by introducing the Newschoolers staff to present the two awards in the Web category. The first, Best Webisode, went to The Line Traveling Circus, while the second, the NSTV Pilot Project, went to Family Vacation, all while our fearless leader Doug Bishop preached about the power of the Internet like a crazed minister and had Andy Parry drink from the Holy Grail of Webisodes (a ski boot with a tap on the end) while doing the same as he accepted Family Vacation's award on their behalf.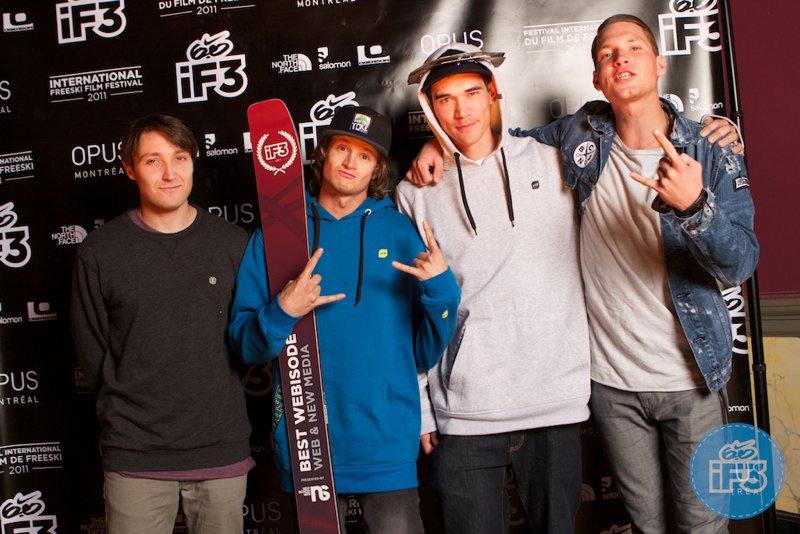 The Line Traveling Circus accepts the award for Best Webisode.
After cleaning up in the Amateur division last year, the Stept Productions crew then dished out the two awards in this year's category (The Eric Simard Best AM Cinematography Award and Best AM Movie, which was presented by Jay Peak), both of which were won by the very happy gentlemen at NSF Productions for Frozen Yogurt, much to the delight of the Quebec-based crowd.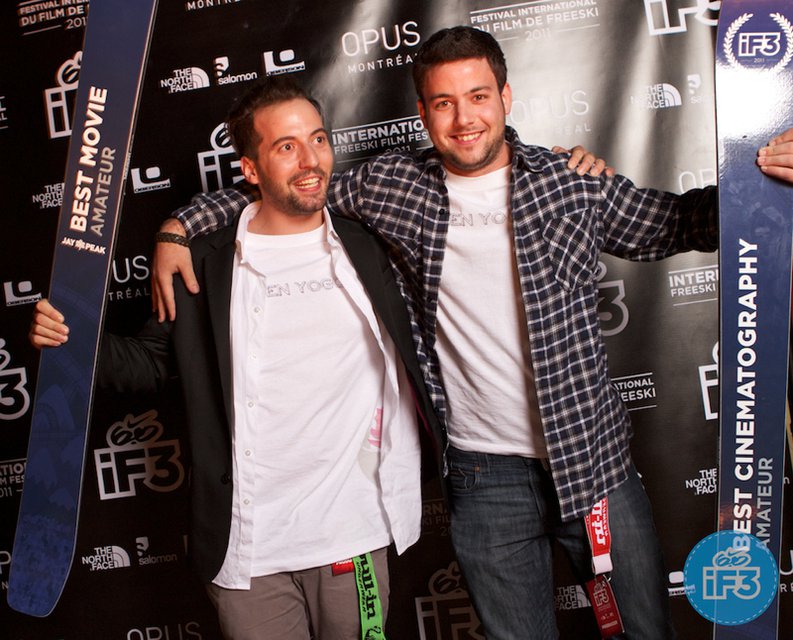 NSF Productions accepts Best AM Film and The Eric Simard Best AM Cinematography Award.
Oblique's Charles Boileau then kicked off the Open/Pro category by handing the award for Most Innovative Visual FX (presented by Oblique) to Sherpas Cinema's All.I.Can, followed by Tanner Hall and Eric Iberg presenting the award they won last year, Best Documentary, to the Sherpas as well.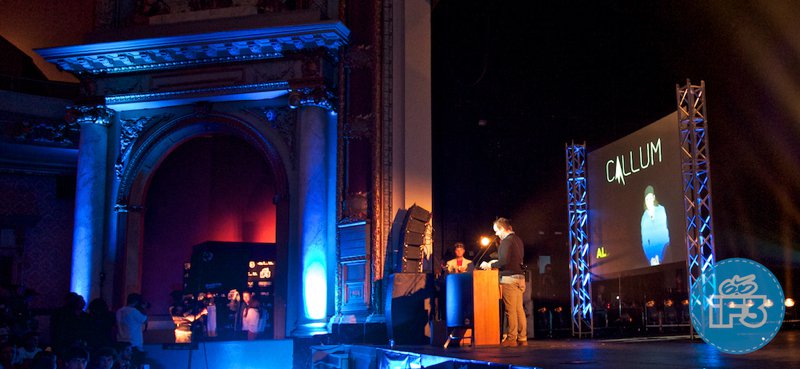 Oblique's Charles Boileau presents the award for Most Innovative Visual FX.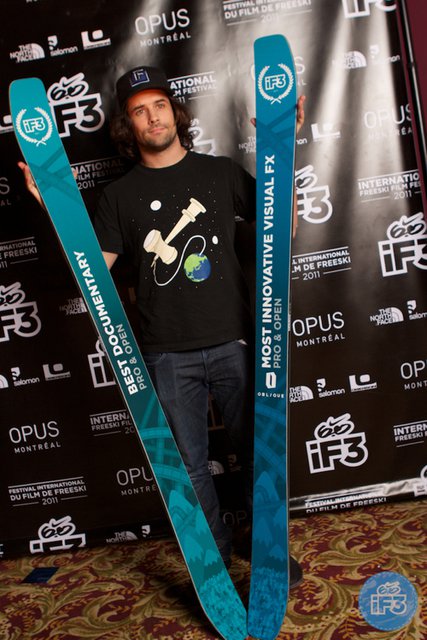 JP Auclair accepts the awards for Best Documentary and Most Innovative Visual FX for Sherpas Cinema's All.I.Can.
As previously mentioned, Stept Productions' Weight then scored the award for Best Jib Flick (which was presented by JF Houle), while Tom Wallisch happily gave the award for Best Editing to his friends at Level 1 Productions for After Dark.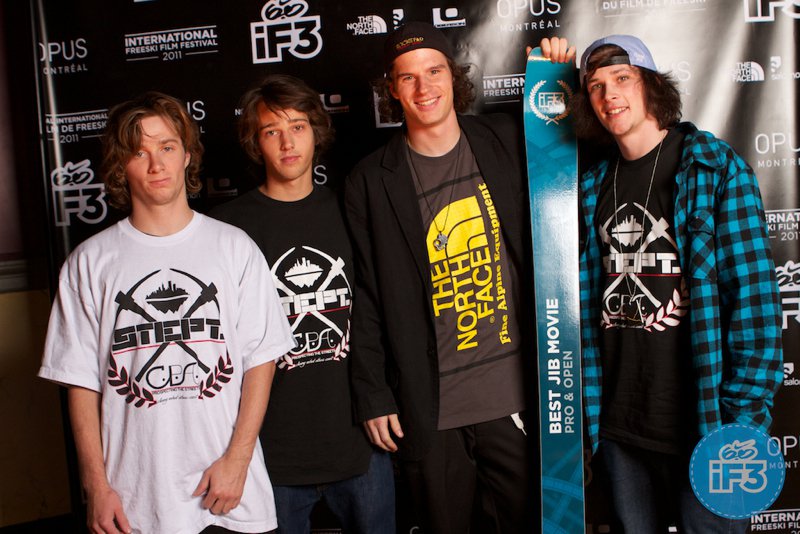 Cam Riley, Clayton Vila, Nick Martini and Sean Jordan of Stept Productions accept the award for Best Jib Flick.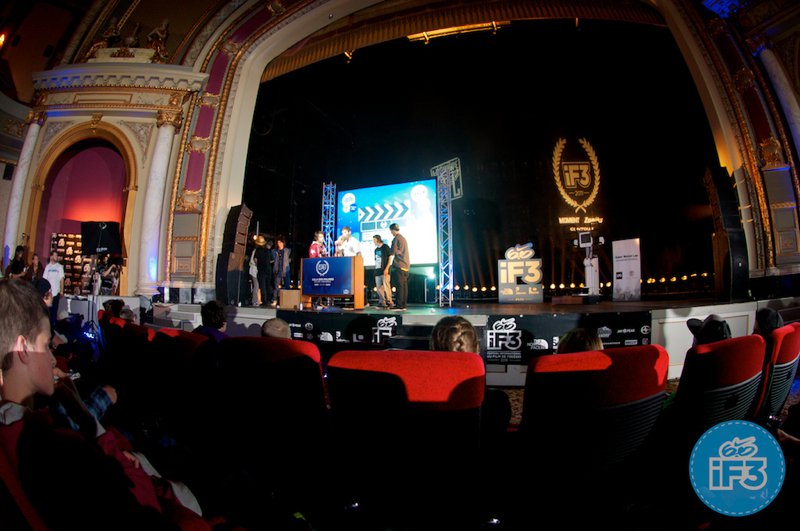 Level 1 Productions accepts the award for Best Editing.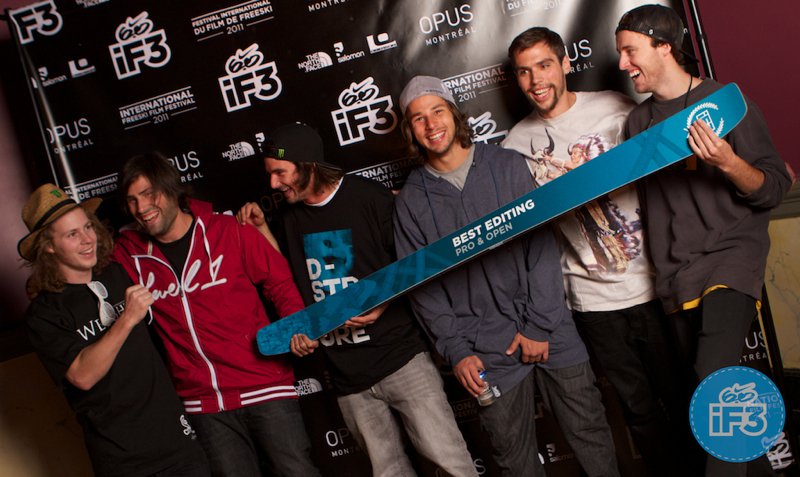 Left to right: Parker White, Kyle Decker, JF Houle, Chris Logan, Freedle Coty and Tom Wallisch.
Parker White, winner of last year's Rookie of the Year award, then passed the torch to Jesper Tjader with this year's award (which was presented by Downdays), which was accepted by Field Productions' Filip Christensen on his behalf, followed by Mike Douglas giving the award for Best Female to Ingrid Backstrom, who was also unfortunately unable to attend the event.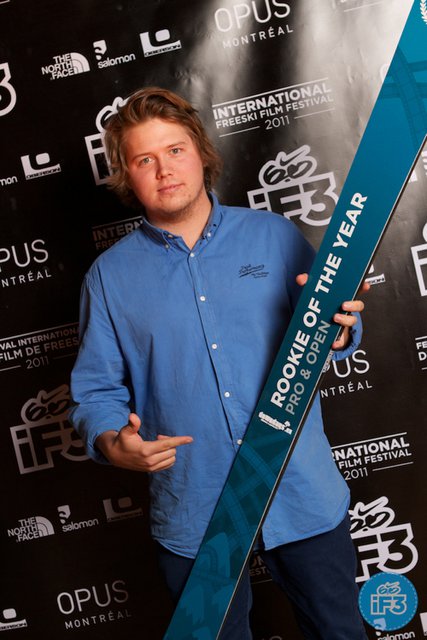 Field Productions' Filip Christensen accepts the award for Rookie of the Year on behalf of the winner, Jesper Tjader.
Presenting the next two awards were some of the stars of a new movie that will be coming out next year, The Kids (Sean Pettit, Justin Dorey, Ian Cosco, Riley Leboe, Mike Henitiuk, Joe Schuster and Rory Bushfield). Before presenting the award, The Kids unveiled a short trailer for their forthcoming film (and be sure to stay tuned for a video interview with them on the project), before dishing out Best Soundtrack to TGR's One For The Road (which wasn't shown at IF3 but will be shown at IF3 Europe and therefore was judged before the Festival took place) and Best Cinematography to Sweetgrass Productions' Solitaire.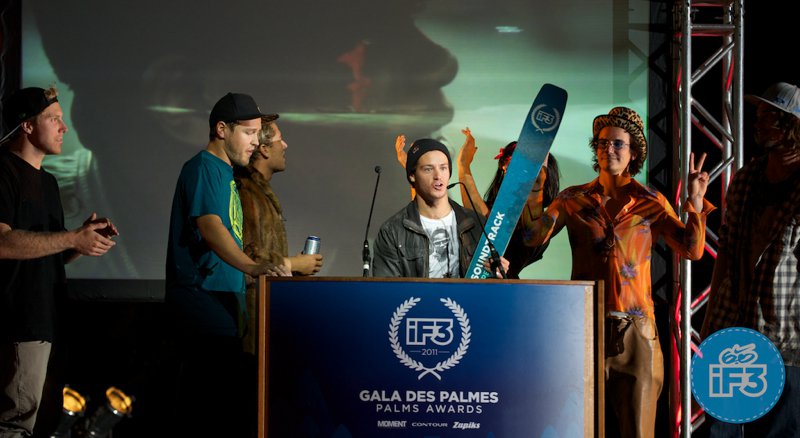 The Kids (left to right: Justin Dorey, Riley Leboe, Joe Schuster, Sean Pettit, Ian Cosco, Mike Henitiuk and Rory Bushfield) present the awards for Best Soundtrack and Best Cinematography.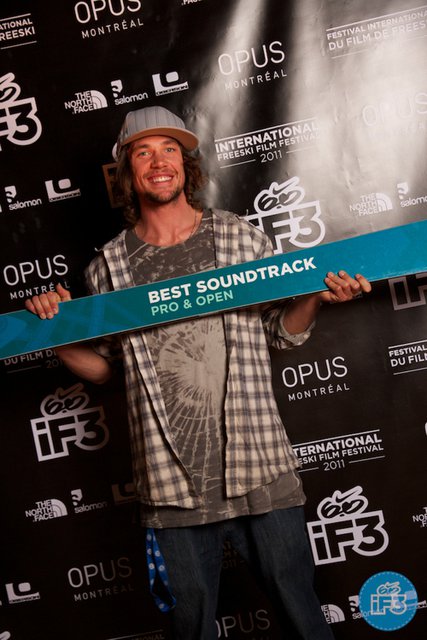 Rory Bushfield accepts the award for Best Soundtrack on behalf of Teton Gravity Research.
Sweetgrass Productions accepts the award for Best Cinematography along with a Contour HD camera and a Wellbox.
And last but not least, members of the recently announced Canadian Slopestyle Ski Team (JF Houle, Alexis Godbout, Phil Casabon, Ian 'Chug' Cosco, Charles Gagnier, Kaya Turski, Maude Raymond and Jess Warll), along with their even more recently announced technical coach, JF Cusson (who was also IF3's head judge), took the stage to present the award for Best Film (which was presented by SBC Skier and Oblique) to a very excited Charlie 'Chunk' Grinnell and Dylan Malone from Poor Boyz Productions for The Grand Bizarre. Grinnell, flanked by athletes Cam Riley, Sean Jordan, Nick Martini, Clayton Vila, Riley Leboe and Mike Henitiuk, thanked IF3 for the honor and those from PBP who weren't able to be there (Johnny Decsare, Tyler Hamlet and the film's main editor, Cody Carter), before everyone emptied the theatre to head towards The Sean Pettit Rocker Party presented by K2 and Red Bull at Club Soda.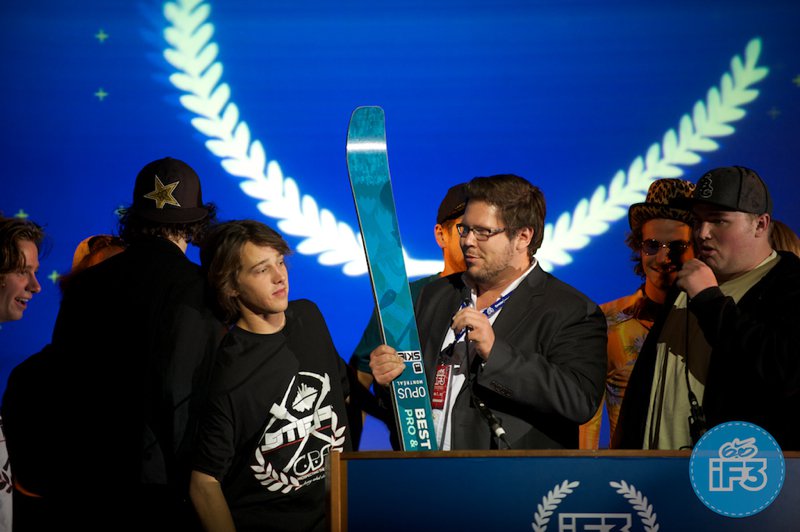 Poor Boyz Productions wins Best Film for The Grand Bizarre!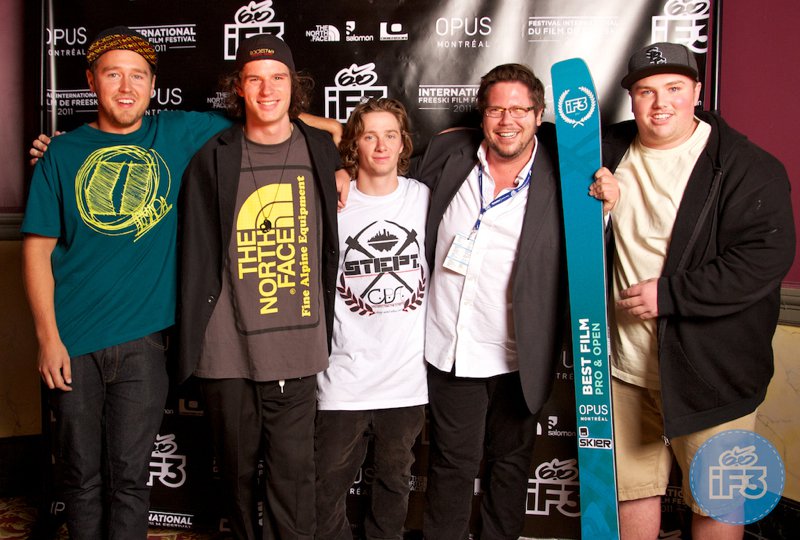 Left to right: Riley Leboe, Nick Martini, Cam Riley and Poor Boyz Productions' Dylan Malone and Charlie 'Chunk' Grinnell.
In an effort to split things up a bit for you, stay tuned for another extensive update on what went down during the other major part of the Nike 6.0 International Freeski Film Festival, the parties, along with a look at the overall essence of IF3 and videos from the event. Until then, thanks to all of the producers of this year's ski films for making winter feel a little bit closer, and congratulations to all of the winners of the IF3 Palms!
IF3 Palms Nominees & Winners
Web Category
Best Webisode (presented by Newschoolers)
1) Line Traveling Circus - Winner
2) Real Skifi
3) Nipwitz
NSTV Pilot Project (presented by Newschoolers)
1) Family Vacation - Winner
2) B9 Chronicles
3) Recreational Season
AM Category
The Eric Simard Best Cinematography Award
1) NSF Productions' Frozen Yogurt - Winner
2) PYP's Amateur Hour
3) Gypsy Feeling's Gonzo
Best Movie (presented by Jay Peak)
1) NSF Productions' Frozen Yogurt - Winner
2) PYP's Amateur Hour
3) Toy Soldier Productions' Set Your Sights
Open/Pro Category
Most Innovative Visual FX (presented by Oblique)
1) Sherpas Cinema's All.I.Can - Winner
2) Level 1 Productions' - After Dark
3) MSP Films' Attack of La Nina
Best Documentary
1) Sherpas Cinema's All.I.Can - Winner
2) Switchback Entertainment's The Freedom Chair
3) Sweetgrass Productions' Solitaire
Best Jib Flick
1) Stept Productions' Weight - Winner
2) Level 1 Productions' After Dark
3) Poor Boyz Productions' The Grand Bizarre
Best Editing
1) Level 1 Productions' After Dark - Winner
2) PVS Company's Animus
3) Stept Productions' Weight
Rookie of the Year (presented by Downdays)
1) Jesper Tjader - Winner
2) Alex Bellmare
3) Nick McNutt
Best Female Performance
1) Ingrid Backstrom - Winner
2) Kelly Sidaru
3) Kaya Turski
Best Soundtrack
1) Teton Gravity Research's One For The Road - Winner
2) Stept Productions' Weight
3) Field Productions' Being There
Best Cinematography
1) Sweetgrass Productions' Solitaire - Winner
2) Field Productions' Being There
3) Sherpas Cinema's All.I.Can
Best Film (presented by SBC Skier & Opus Hotel)
1) Poor Boyz Productions' The Grand Bizarre - Winner
2) Level 1 Productions' After Dark
3) Field Productions' Being There
IF3 - Day 1
IF3 - Day 2