Words: Dave Pires
Photos: Pavel Benda
After the warmest January and early February on record, the international media camped out in Vancouver have had a field day talking about the weather and the problems it's causing during the Olympics. Fortunately, not one person at Saturday's Nike 6.0 Greatest Hits Jam had any reason to complain. Brilliant sunshine and perfect spring conditions welcomed local riders escaping the madness of the city, and with the most snow and best park on the North Shore, there was no doubt that Mount Seymour was the place to be. As early arrivals filtered up the hill and started to scope the park, the message board beside the lift captured the attitude of the day perfectly, mocking, "Did you know the Olympics are happening?"
Brian Choi enjoying the sunshine.
Seymour's main chair presented a bird's eye view of the park, located directly below, and the course consisted of one jump, a down bar leading into a double-kink box and rail, and a picnic table. The 'Greatest Hits' were set up farther down, featuring an actual electrical box hittable from two sides, Quebec's Red Ledge, and beside it the impressive Burlington High School double-kink. With the barbeque fired up, the DJ spinning old-school hip-hop and breaks, TJ Schiller in attendance, and Nike 6.0 ready to give away 20 pairs of shoes and a mountain of shirts and hats, riders began hiking uphill to set things off on the jump.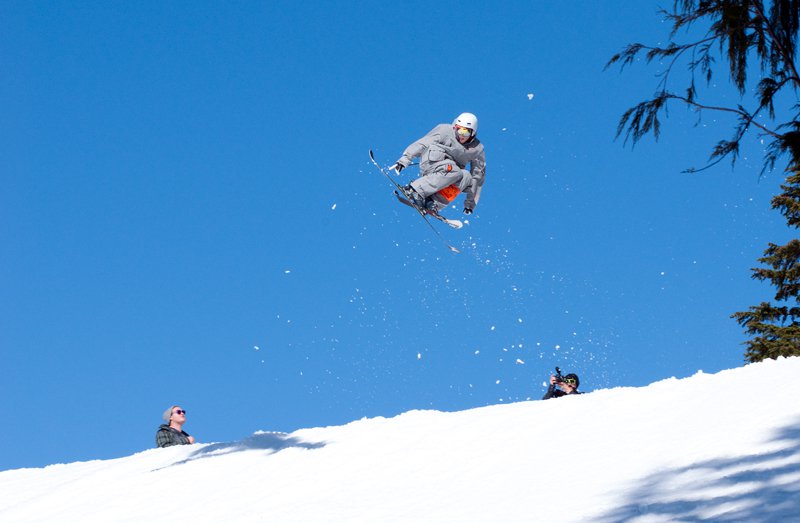 Andrew Pires reppin' that gang Peter Olenick was in a few years ago.
With both skiers and snowboarders warmed up and ready to go, it didn't take long for everyone to launch into a variety of flips and spins. It was James Anderson, once widely known as Pencil Steeze Jimmy (He's actually really sick now and his style is anything but penciled.) throwing down the hammer with a solid 7 leading into a dope 180 nose slide over the electrical box the hard way.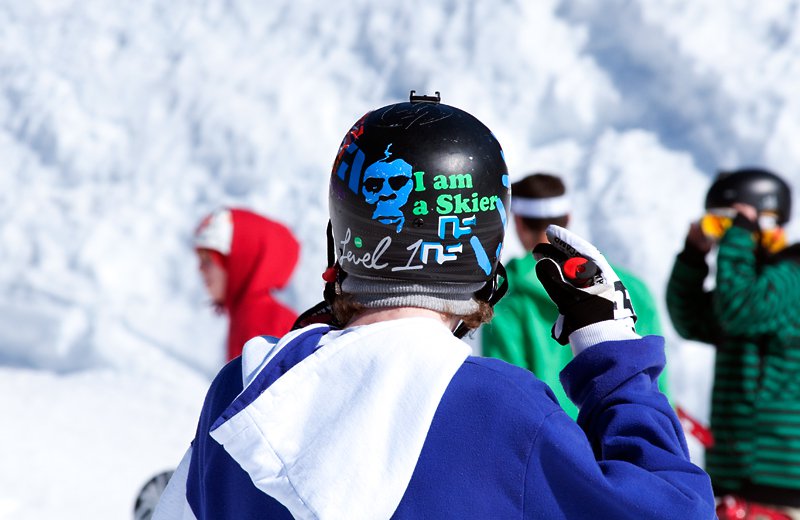 This combination of letters and symbols communicates the same thing at any mountain on earth.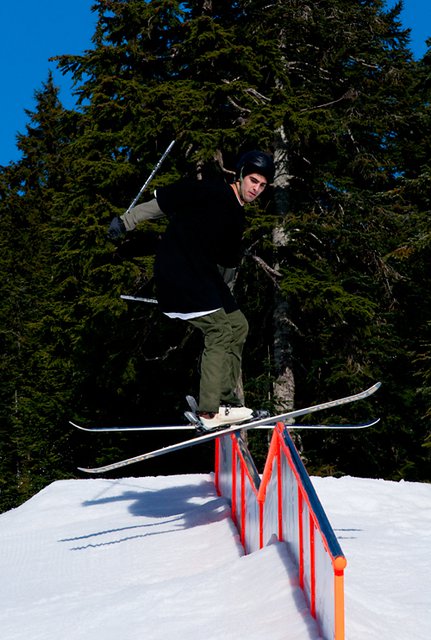 Spencer "Brown Spy" Watson showing off his ability to camouflage himself at will.
Keeping things moving, the jam moved over to the rails, where Anderson threw down again with a lip 270 and frontside and backside switch-ups. Meanwhile, locals Spencer "Brown Spy" Watson, Pete Hunter and Andrew Nelson were also holding it down with a variety of disasters and switch-ups.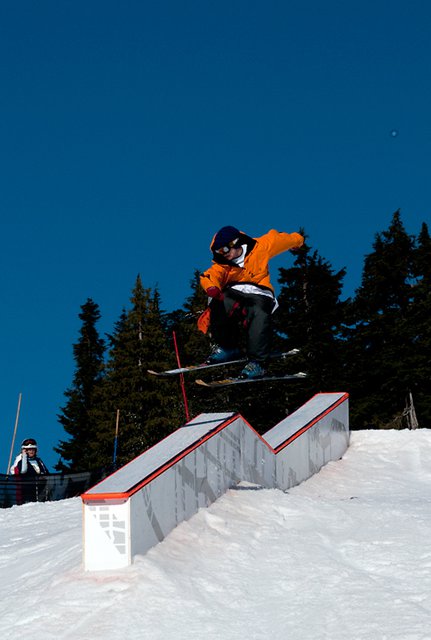 Andrew Nelson wonders if anyone noticed that he matched his Olympic mittens to his crotch vents.
Once the rails had been worked over, it was time for the first Greatest Hits feature, the Red Ledge. In the past, freeskiing pioneers JP Auclair and Vincent Dorion spent time each year filming at Mount Seymour, and to see an iconic feature from their native Quebec on the hill completed a historic circle. The top-notch Mount Seymour park crew also did Quebec's detail-oriented urban riders proud by sticking to Frank Raymond's essential one-stair rule when setting up both features.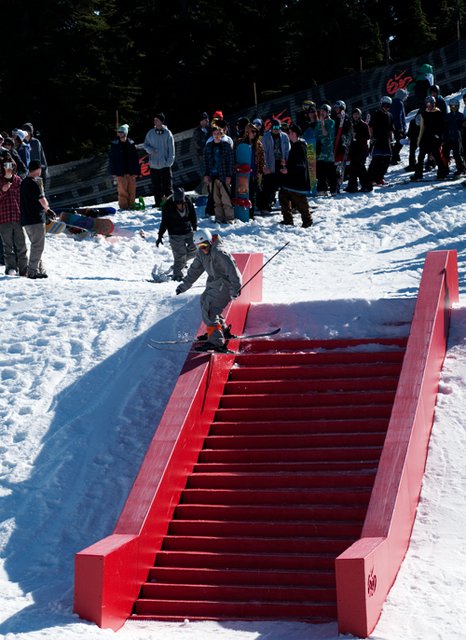 French curses are a lot fun, but not as much fun as Andrew Pires is having.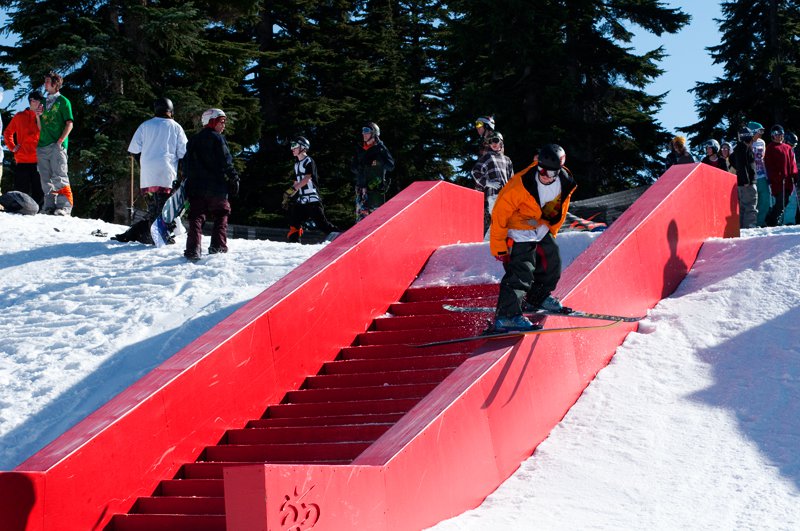 Andrew Nelson shows you how to look right proper without poles.
Once things got going, James Anderson was on point again, locking down another lip 270, with Spencer Watson nailing a switch lipslide and a switch-up to switch. Rossland, BC's own Todd Loukras was also in attendance and killing it all day, consistently nailing a 270-on to switch, but couldn't quite lock down the 270-on 270-out.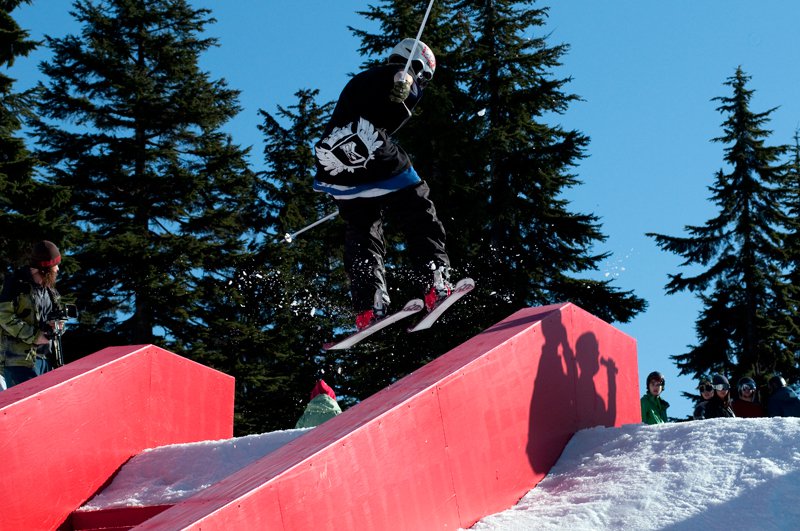 Todd Loukras, 270-on Rossvegas style.
While the Burlington High School feature was raked and prepared, a quick picnic table session was started to pass the time, with most riders doing the standard spin-until-you-run-out-of-table. Ryan Choi, another local rider, got extra creative with a one-foot 50-50 to 450-out.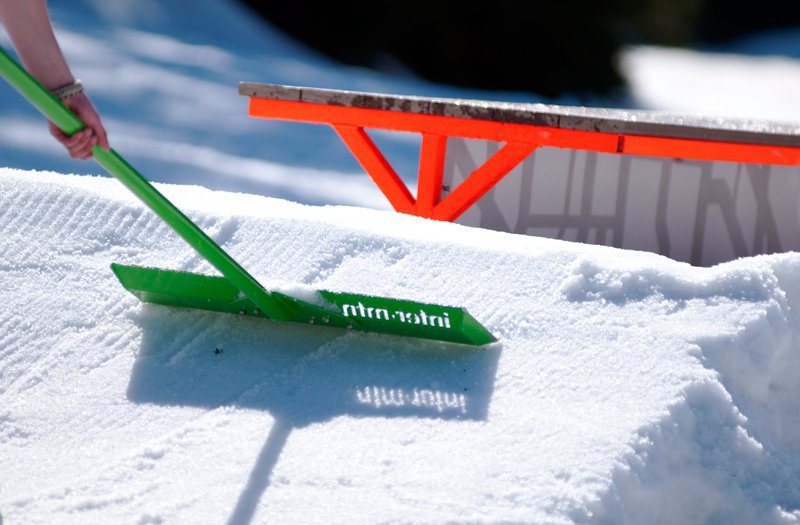 Mount Seymour's crew does this better than your favorite park.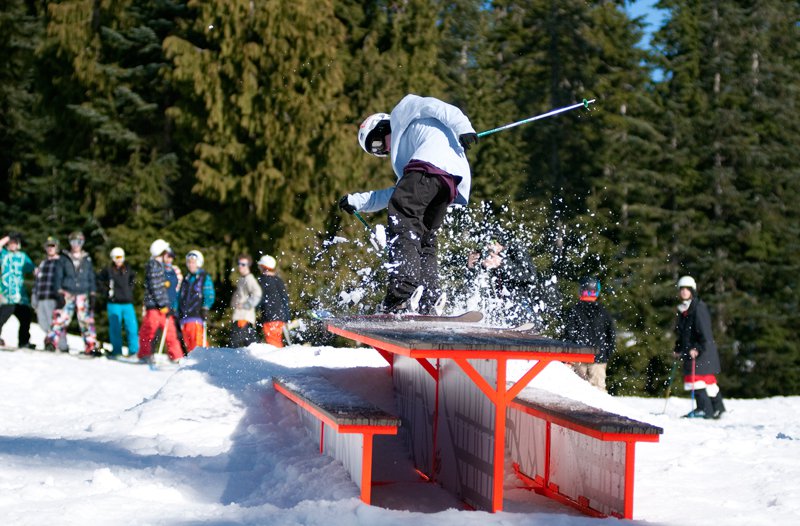 James Anderson, passing some time.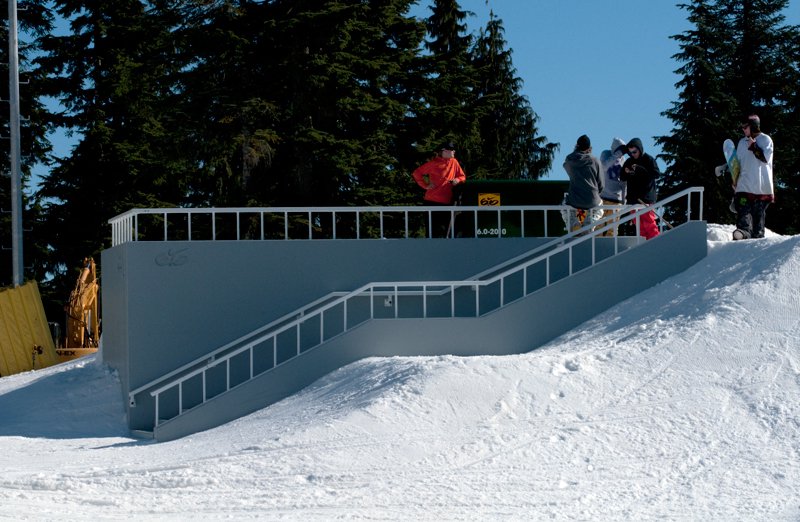 The final touches are put on BHS.
Finally, it was time to session the second "Greatest Hit," referred to mostly as BHS. Reconstructed identically to the inch, the Burlington High School feature looked amazing, and the only difference between it and the real thing out East is that the rails in Vermont are aluminum. BHS isn't your standard half-baked urban-like feature (Drake) you find in most terrain parks, it is straight-up street (Project Pat), and the general consensus was that it is one of the sickest park features anyone has ever seen.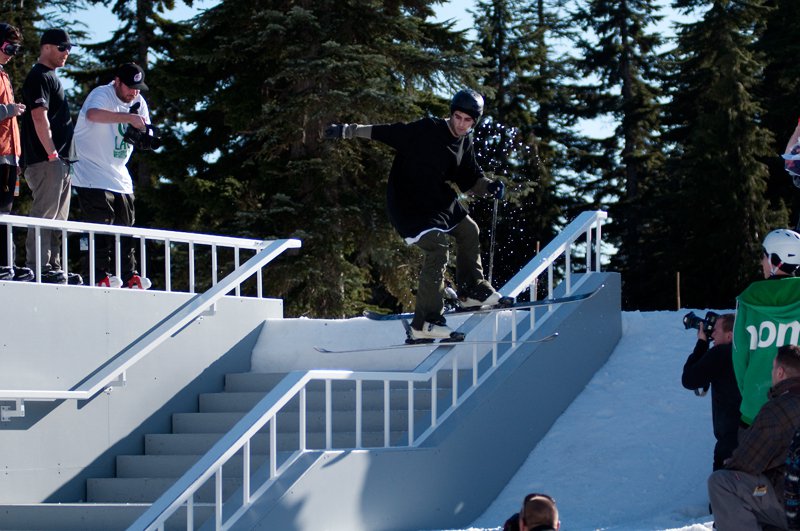 Standing out while blending in. Spencer Watson.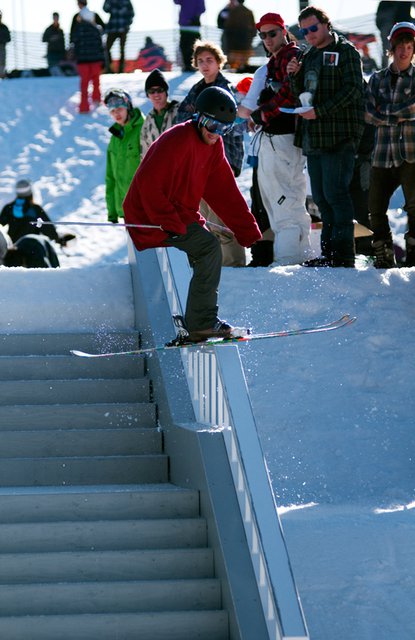 Do it right, do it tight. Pete Hunter.
Before long, the difficult double-kink rail was greased by Loukras, Hunter, Watson, Anderson and TJ Schiller's nuts. It didn't take long for Loukras, one of the day's most consistent skiers, to lock down a 270-out and a backside switch-up. The knee-high perpendicular rail in front of the bomb drop also had all the skiers contemplating whether a flat ground ollie-over was possible, but the most anyone was able to get out of it on the first day was a stall to 180-out. Later on, a session on the top rail was led by unique New Hampshire/Mount Seymour ambassador Andrew Heneghan.
I didn't catch this young man's name, but he came out to play in double-layered tall tees, and I think we can all respect that.
With banks and fast food chains blowing millions of dollars a few mountains over to associate themselves with "freestyle" athletes competing in constipated disciplines on life support because no average young skier participates in them, the Greatest Hits Jam truly was an anti-comp. It was refreshing to see Nike 6.0 support skiers and snowboarders organically, using their considerable resources to leave a tangible and lasting impact on the community here. Like Sean Keating, the day's master of ceremonies said, "They didn't just show up and build an over-vert hip, they listened to us and built what we wanted."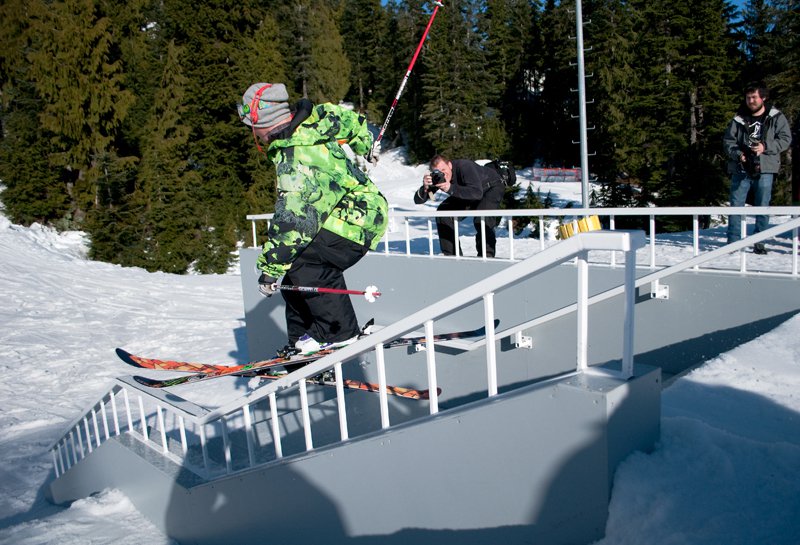 There has got to be some way to blame that guy bending over in the background for what is about to happen to TJ.