The dream of getting paid to slide around on atmospheric water vapour frozen into ice crystals seems to be getting more and more distant from the everyday skier; climate change, rising prices of skiing, and unattainable standards for talent. However, not all of us are deterred; this next generation of skiers is coming and seeing where they can continue evolving freeskiing by giving back to skiing's roots and beating the competition circuit at its own game.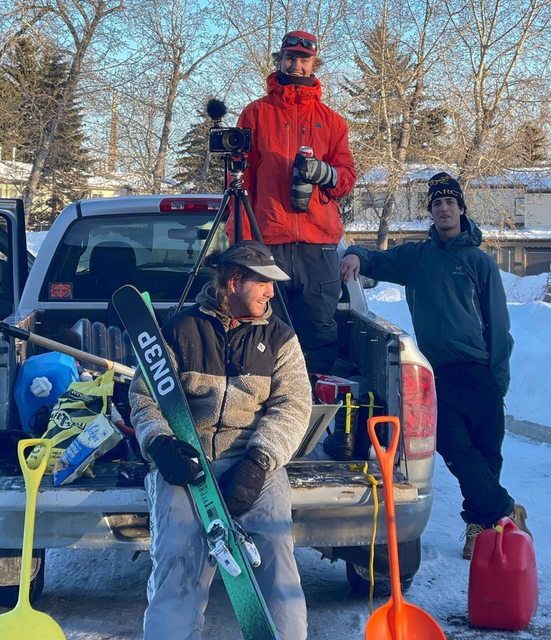 Suchy and Co filming for "Better Now". Calgary, AB
Meet Nicholas Suchy, a 21-year-old skier who's already done tricks almost none of the field has thought of yet, but you've probably never even heard of him. Our conversation covered enough ground to be considered, "an interview", a quick glance about his upbringing, an upcoming film project titled "Better Now", and being a potential Olympic hopeful for Germany.
Suchy was originally born in Kazakhstan, skiing for the first time at 1 in the former Soviet republic. Then, at the age of 2, his parents packed their bags and headed to Canada. They settled in a little ski town that we all now know as Revelstoke. Suchy says that the move to Revy pretty much solidified his future as a skier. Spending all of his free time outdoors, skiing in the winter, biking and skateboarding in the summer, growing up in a small town where everybody knew each other and friends were always nearby.
"It was Powder Springs at the time, but I would ski as much as possible, always making videos with my friends at the time."
The resort never had anything remotely resembling a modern-day park. A fact that Suchy used to get creative from a young age. If he wanted to get into the air, he would start having to find booters all around the mountain. "I remember skiing moguls around the age of 7 and immediately not digging it; the next day, my friends and I started building jumps into pow." A familiar story in our sport, Suchy wasn't into the restrictions of a single zipper line and instead wanted to explore what the entire mountain had to offer. In doing so, he built solid foundations for himself as a skier, which he says has helped him hugely in the long run.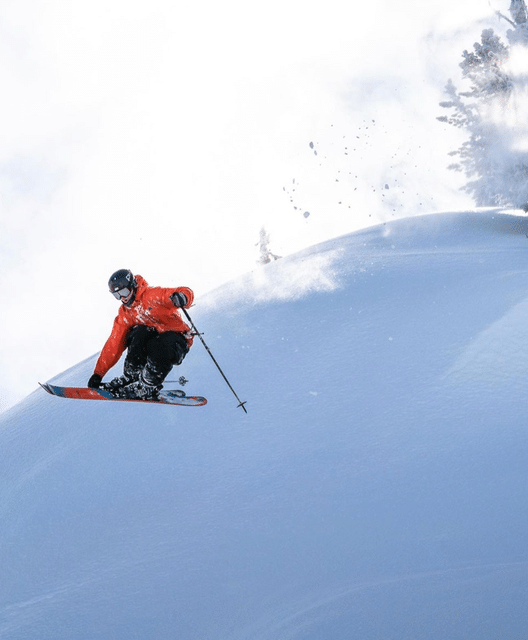 I think it's paying off. Photo: Sébastien Berthaiume
"My first time skiing park, I was 14, and it was a totally new experience for me." Suchy made a weekend trip up to a nearby mountain that had a decent jump line, and he was immediately hooked. Young Nick begging his mom to drive him to go ski park every weekend got stale real quick, so his parents found an opportunity for him that changed the course of his life. "I started living with the president of the Silverstar freestyle club at 15. I was skiing 3 days a week; they had a rail set up in the backyard during the winter and 2 tramps set up during the summer. I started shredding 24/7."
Suchy laughs as he mentions he definitely put his online school on the back burner. Although he had never experienced having such a sense of direction. "It was all a new experience for me. I really liked the switch and the sense of purpose. I was trying to figure out a way to make a career, but at the same time, I was still learning what the standard of skiing was at the time. That gave me an idea of the kind of benchmarks I needed to set myself." Suchy started attending local comps, which fueled his progression and as he matured, his skiing followed suit, quickly gaining competition results and adding to a growing arsenal of tricks while making the move out to the Whistler.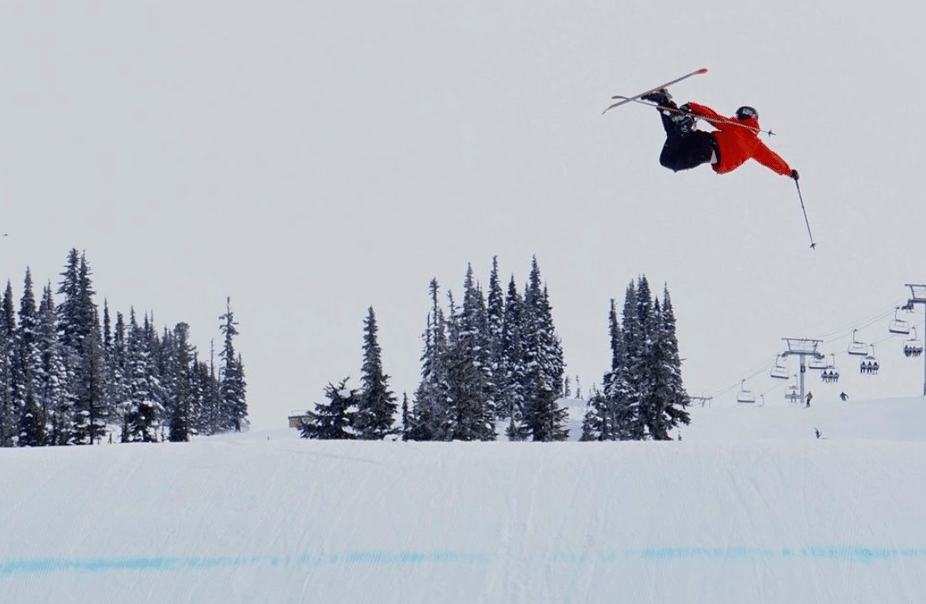 Whistler corks. Photo: Oscar Blyth
At 6'2, 195 pounds and with an "I like to go big mentality," Suchy was riding the warranty train for 3.5 years, constantly breaking skis. He noticed that Liberty Skis was running a video contest for a sponsorship spot. Suchy won the competition last spring and couldn't have been more stoked. "It came at such a good time; having a sponsor that makes really sick park and pow skis had opened my eyes to filming in the streets and then into pow."
With Covid season in full swing, Suchy's typically hectic winter season opened up. "Covid enabled me to switch my stuff up; it was super nice to relax, I didn't have to scare myself [at comps]. Then I realized that I really love to scare myself, so I would just take it to the streets and the backcountry." Suchy sees little comparison between hitting urban/backcountry and his regularly scheduled corks in a bib, "it's cliché. But, there are so many more variables out of the park, and it was a huge learning curve for me. I usually know what's coming my way in a slope course, but when coming to a new spot or zone, it's all-new".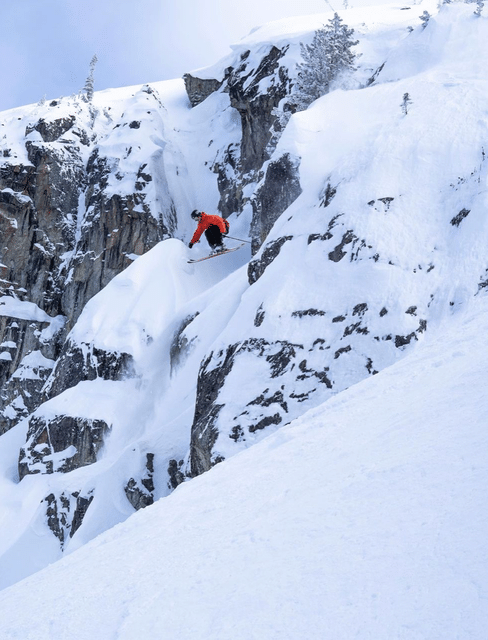 Decently sized variables. Photo: Sébastien Berthaiume
Suchy grew up being inspired heavily by other ski crews, Traveling circus, B&E, SIMPLE. "The entire SIMPLE crew with what they were putting out at the time had a huge effect on me and the way I wanted to ride." After spending his childhood watching video parts, Suchy decided to make a short film of his own this winter. "We wanted to have pow, urban, and park with all of our best buddies." The main guys involved are Ty Urlich, Ryland Grimm, Kai Smart, Shey Townley, Kyle Coxworth, and Nicholas Suchy.
Although Suchy loved the change, he admits that he'll be back in the start gates for next season. When I asked him how he plans to distinguish himself amongst a sea of mute grabs, he laughs, "it's one of my goals, but I want to do stuff people haven't really thought about, like the pretzel dub 9 but set like a 10" (shouts to Teal Harle). "After I got that, I wanted to do it switch, so switch dub 10 set like a 12. I've gotten one so far but want to get them more consistent for comps." Suchy is also currently waiting to get a German passport through his dad to ride for Germany in the Olympics. "I would love to be able to compete with the German homies and maybe one day go to the Olympics for them." To which I say, viel glück Mr. Suchy.
"Better Now" dropping this fall.
Be sure to check out the trailer for the crew's film "Better Now", and Suchy continuing his push in the comp circuit. He would like to thank Liberty Skis, Eagle pass, Beneath underwear, Surefoot boots, and 4westCO.