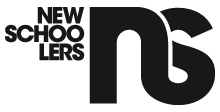 Welcome to latest edition of newschoolers.com. We hope you enjoy it, because Paul Stanisci and JP Fortier (our techs) have been working like slaves to get this into your hands, and we're extremely excited about how it turned out. There's definitely some changes, but take a deep breath and give it a chance because this is the best version of newschoolers that has ever existed. We didn't try to re-invent the wheel, we just wanted to make everything better. So please browse around, and as always, feel free to get into site discussion and let us know what you think!
Note that this is the first round of updates coming for this winter. We've addressed a lot of stuff, but there is still more to come. Here's some of the highlights of today's relaunch...
Layout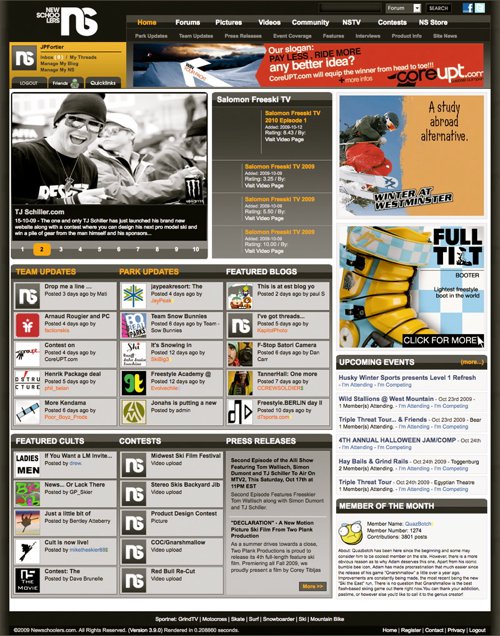 First and foremost, you'll notice that we changed the layout and navigation of the site. Basically, over the last few years newschoolers turned into a jumbled mess, and we wanted to untangle that mess. So the new layout was built to address this issue, give the site a cleaner look, and make it easier on the eyes and brain.
Navigation

There were many useless pages, redundant pages, and navigation items that were confusing. We moved around a ton of stuff, and tried to put things in places where they should be. For instance, all account management is done through your profile. So you just click on your username in the upper left corner, and blammo you've got everything to do with your account. Want to change the icon? Click it. Easy as pie.
You'll notice top level navigation too. Want photos? Click photos. Want video? Click videos. We put items at the top for the most popular sections, and then made getting to the places within those sections the second level of navigation. So those of you who want top rated photos, you'll be there in one simple click.
You'll also notice the absence of the online list on the homepage and other content-related pages. Don't freak out! It's still present on all the forum pages, and there's a nifty drop down menu under your username once you log in that shows which of your friends are online, along with quicklinks. Oh, and we ditched the Google search bar. See...we listen :)
Cults/Updates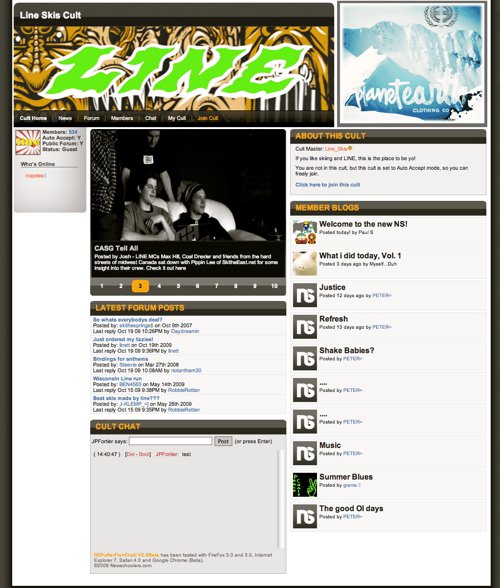 This is the biggest change. We performed a massive upgrade on cults, and there's a few cool new features in there. You've got a homepage, cult news, lists of blogs from cult members, the forums are better integrated, an online list specific to the cult...and you've got a live chat room! Photo and Video galleries will be included in our second round of updates, which will come out closer to winter. But play around in here...it's going to be a really neat place for you and your friends to chat. Every Team and Park Update also has the same system behind it, so you can chat with others who are stoked on your favorite brand or resort right in there. Cult leaders and contributors will be able to control their news slider, adding items into it and posting them. We hope that some of you will get into the idea of blogging as a group...take a lead from the ladies men, they've had some awesome posts go up.
NSTV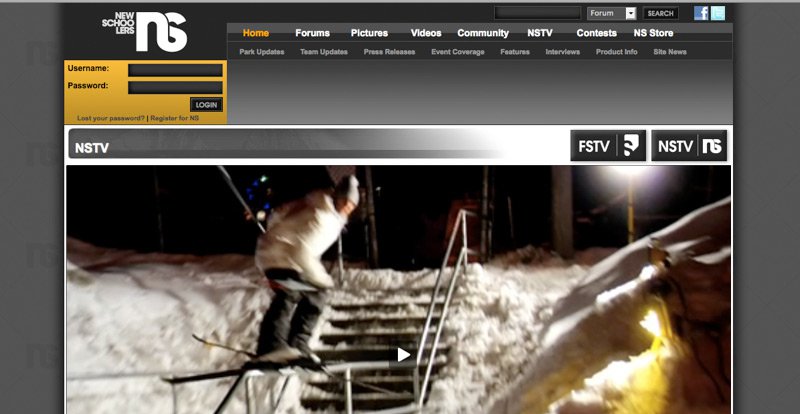 Some of you might think we're insane, but we wanted to have the biggest and most awesome player out there. No ads around it, nothing...just sit back and enjoy. We're still in the process of upgrading the video process to include HD, better uploads, and channels on NSTV. But this is a start and it's going to be huge. All you webisode series guys out there, please get in contact with us so we can dial you in on an NSTV channel for launch (like Salomon Freeski TV above). And in addition to the massiveness of NSTV, the standard player in the video section is a bit larger now as well.
Contest
One thing that hasn't changed about the site is how much we love contests, and we're kicking off our site relaunch with a pretty ridiculous one. Somewhere hidden on the site is a llama. That's right, a llama. The first person to find it (which shouldn't take too long) and post a thread in site discussion announcing its whereabouts will win themselves a sticker pack from the newschoolers store.
And that's not all that's new, so again, have a look around at your new home on newschoolers.com. Actually it's not a new home, it's the same old one that you love and feel comfortable in, we just tidyed things up a bit. If you have any questions or comments you want to make about the new site, head on over to the site discussion forum and give'er. Also be sure to become a fan of us on Facebook and follow us on Twitter, as we'll be regularly updating those to keep you up-to-date on all things newschoolers.
Thanks for all your continous and undying love and support NS'ers. We did this for you! So enjoy!