Photos: John Everett
Newschoolers Tell A Friend Tour competitions are back for their sophomore season but there's no slump in sight. The first two days of TAFT went off at Killington this weekend, right in the middle of the 'cyclone bomb'. It was duly cold as fuck, meaning the younger skiers were confined to lodge activities on the Saturday. But when it came to competition time the next day, the sun came out and took a very slight edge off the chill.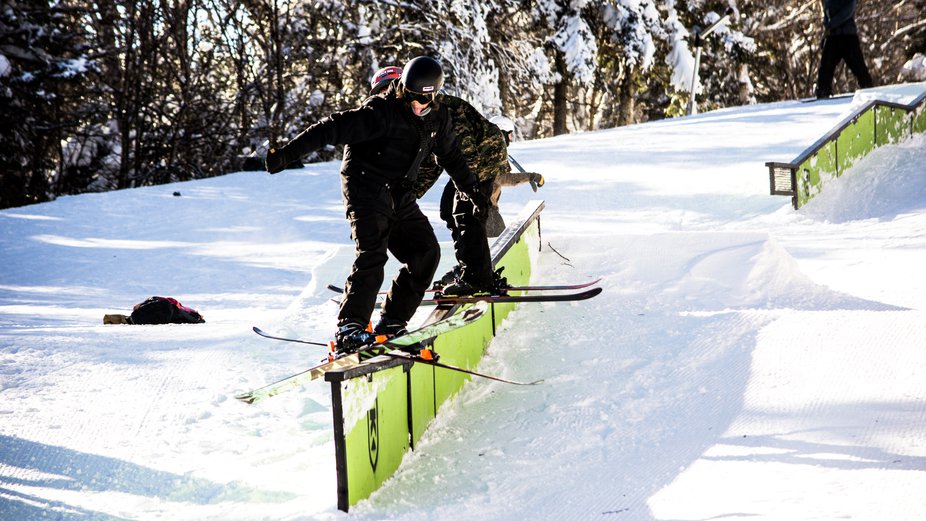 What friends are for...
Despite the almost laughably cold temperatures the turnout was great with 32 riders entering the comp. Between them, they took home a share of $3000 dollars. The TAFT pros were in great spirits, despite having driven over 4,000 miles for the tour already and the stoke was infectious. With Khai Krepela and Andy Parry holding it down on judging duty, calling tricks and forking out the cash. Mike Brewer was on a rampage all day long and ended up taking home the biggest haul of the weekend, with a tips down 270 to switch for $100 being one highlight.
https://www.newschoolers.com/videos/watch/888940/Tell-A-Friend-Tour---Killington-2018
Recap video from Killington
In finals, Charlie Dayton did a bonkers switch 2 to the flat of the down flat rail, also taking home $100 for his efforts but didn't make the eventual top three. There was a dope mixture of styles on show, and at the end of the day, our top three earners were:
1st Mike Brewer
2nd Sawyer Sellingham
3rd Isaac Emery
Everyone at the event took home something and the feedback was that despite the best efforts of mother nature, it promises to be a highlight of pretty much everyone involved's season. The next competition is at Trollhaugen and that is sure to be completely insane. If you have a chance, definitely check it out, it's a good time for all.
For a full list of stops, click here. Massive thanks to The Ski Monster, Line, Phunkshun, Bonx, Snocru, Windells and Ski The East for making the tour possible.