Intro by Mr.Bishop:
If you've been to a summer camp before, then you know how absolutely incredible an experience it is. If you haven't, then trust me my friend - you are missing out. My journey started in this industry when my eye was caught at a Pharmacy in London, Ontario by a skier doing a Lincon Loop on the cover of this magazine I had never seen before titled "Freeze". Picking it up, I was enamored with what I saw, and instantly knew that my future was going to be about nothing but this. At that time I was a ski racer, smashing gates in spandex 24/7 and just wishing I didn't suck so bad at snowboarding.
Within the pages of that Freeze Magazine, I saw an ad for High North Ski Camp up in the Whistler Glacier. I knew that I was going straight to the terrain park to start, and would work as many odd jobs as necessary to get myself out to a session of camp.
Though at the time I was a 19 year old massive park gaper, the coaches welcomed me with open arms... they were all the guys I had read about in the mags that year and the movies I had purchased - they were my new heroes that hung around my room in posters staring at me... inspiring me. I really credit summer camp for being the place that started it all for me, as during the years of my progression from three years as a camper, to digger and finally on to head digger I formed all the relationships that have made my path through this industry possible.
Not only that, but the improvement in your skiing that can happen when you spend even a few days skiing in hot, slushy conditions is incredible. In those few days with all the best coaches, amazing facilities and soft jumps will leave your buddies amazed when the season starts at how far you've progressed.
These days there are a ton of different options for camp - everything from the glacier experience to piles of snow stashed away at resorts to Snowflex without any snow at all. Depending on your budget and what you want - there is a camp for you to attend. Any age, any skill level and any type of person can have an amazing time at one of these camps, so we wanted to do our best to help guide you through what is out there.
Thus, we present to you the updated 2018 Newschoolers Summer Camp Guide, where we've gone through the work of compiling as much information as we can. Time is definitely running out to sign up - and if you're still doubting whether dumping your hard-earned lawn mowing money or promising your parents straight A's for a year - stop that and just get it done.
Trust me, nothing I have ever done in my life has been as fun as my years at Ski Camp.
_
Mount Hood
MHSSC
https://www.newschoolers.com/videos/watch/726923/Nolan-Willard
Dates: May 27th-August 25th (13 Sessions)
Price (USD): First session is $1345, second is $1410, 3-12 are $1495/week & week 13 is $1325.
Notable Coaches: Jonah Elston
Off hill activities: White water rafting, rockclimbing, trampoline, paintball, mountain biking, field sports, zip-line/log-walk, cliff jumping, hiking etc.
The basics from them:
JUMPS, BOXES, & RAILS...WE HAVE IT ALL! Can't do a 360? Having trouble landing that 720? Our coaches can help! MHSSC operates it's own private park for freeskiers and snowboarders. The terrain park is shaped every day by our diggers to accommodate the campers' individual learning goals. There are features for every level to provide a steady progression through to the week's end. We have 3 large jumps of 20', 40' and 50' as well as a progression of small ones to help get the beginning freeskier into the air. We have a total of 13 rails, boxes and jib features to pick from; starting with the smallest ones early in the session and progressing to the bigger twisted ones later in the week. If you want to learn how to do rails and challenge yourself on a progression of rails and jumps, then our park on "Lower Cuervo" is the spot to be.
Every day we Videotape your terrain park training. Then you and your coaches get together and figure out what you can work on. Video analysis is one of the most powerful learning tools available to you and will help you achieve your goals faster. At the end of the week, you can purchase a copy of your video.
Trampoline training: Not sure about trying a new aerial trick? You can first try it out on our campus trampoline. You can first learn a new trick off snow before giving it a try on the mountain the next day.
11,235 foot Mt. Hood is the only 12 month ski area in North America. Training takes place on the Palmer Snowfield as well as on the Magic Mile chairlift runs in the early summer. With two express quad chairs and 2500' vertical, you have the opportunity to get in a lot of quality training in a short period of time. Mt. Hood weather is highly variable with mid-winter conditions likely at any time, so be prepared. Winter clothing, rain gear, and racing equipment should be brought as well as summer clothing. Layers work best at Mt. Hood. As it warms during the day, you'll take the layers off and stow them in your backpack. Sun protection is very important, Skiing at the 8,500 foot level is hazardous to the skin and eyes if not well protected. You must bring a good pair of sun glasses, dark lens goggles and #15 (or higher) sunscreen. We also recommend that you train wearing a helmet.
Pros: Cheapest US on snow camp, Chill Vibe, On mountain video feedback, Known for great coaching, Racer girls
Cons: Less pros to suck up to, smaller private park
"mhssc was sick. Bomb ass food especially the breakfast. Park is great and campers and coaches are chill" PsychedelicMoose
_
Windells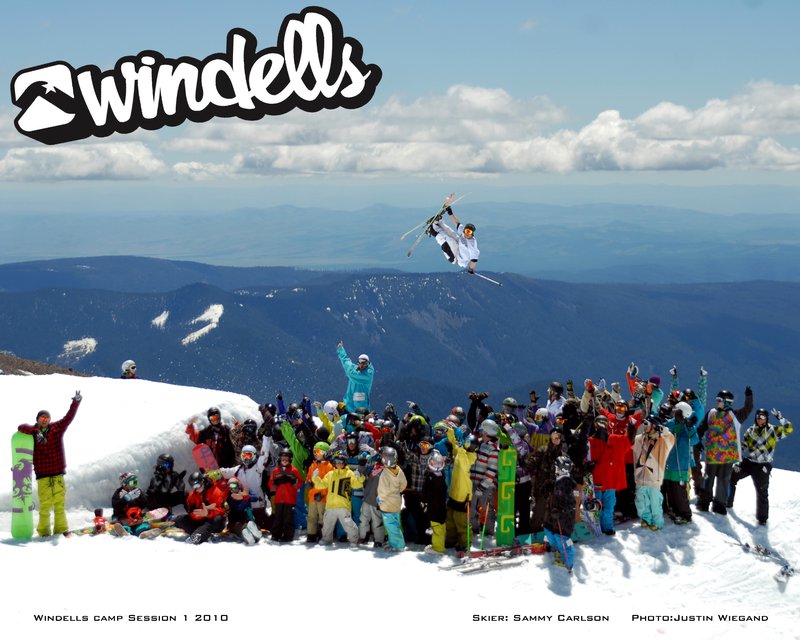 Dates: 17th June - July 31 (5 Sessions)
Price (USD): $2250
Notable Coaches: Magnus Graner, LSM, Par Hagglund, Karl Fostvedt, Lucas Wachs, Tim McChesney, Khai Krepela, Alex Hall, Maggie Voisin, Torin Yater-Wallace, Aaron Blunck, Devin Logan, Mcrae Williams, Andy Parry, Ethan Swadburg, Jonah Williams, Keegan Kilbride
Activities: Skatepark, Mountain Bike/BMX, Autograph Signing, Slip&Slide, Human Bowling, Mountain Boarding
The basics from them:
For 25 years, Windells has aimed to deliver a fun, safe learning environment for ski campers to unlock full potential regardless of age, gender and ability. With the guidance of the very best ski coaches and counselors, campers test ambitions in a positive, progressive atmosphere.
The Windells Private Park, a 1.5 mile-long freestyle terrain facility for skiers and snowboarders, sits on Palmer Glacier, a year-round natural snowfield. Windells campers now have access to more snow than any other snowboard or ski summer camp in the world! Dozens of Olympic athletes and X Games medalists have been through the Windells program. The biggest and best athletes from around the world come to Windells to hang out with campers, participate in fun camp activities, skate Windells' impressive campus, and enjoy the beautiful Northwest. Campers of all ages have the time of their life at Windells!
https://www.newschoolers.com/videos/watch/769753/Session-5-Skiing--2014
Pros: Huge park, skatepark on campus, Newschoolers Week: Session 2, Pro Skiers for days
Cons: Less interesting off-snow activities, Long/unpleasant bus ride to hill, Bad food
_
Whistler
Momentum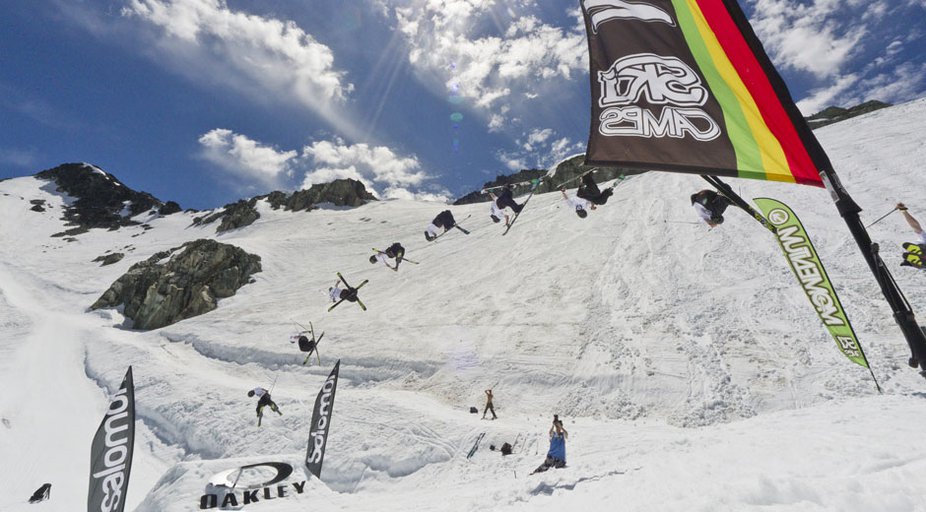 Dates: June 19th-July 77th (5 sessions)
Price (USD): $2023.37 Full Package (8 days)
Group Size: 4-7
Notable Coaches: Joss Christensen, Tom Wallisch, James Woods, Torin Yater-Wallace, Bobby Brown, Vinnie Cash, Evan McEachran, Cassie Sharpe, Phil Casabon, Dean Bercovitch, ABM
Activities: Water ramps, Trampolines, Skatepark, Stand Up Paddleboard, Kayaking, Climbing, Paintball and more.
The basics from them:
Our crew is made up of the most talented skiers in the world. Their names and results speak for themselves. Our coaches don't just 'post-up' or ride the lanes, they teach, motivate, inspire and ski with you all day! Their ability to demonstrate any trick or technique you are working on allows for the fastest learning possible. You also get to ski with a different coach each day to benefit from all of their unique knowledge, experience and coaching styles. The coaches work in small groups of 4 – 7 skiers of a similar ability so you learn at the right pace.
Momentum offers the largest park on the glacier with the greatest variety of terrain from park to pipe to bumps, rails, jumps and airbags. The Momentum terrain park is built for skiers only and last year offered 6-7 lanes of space, including a full mogul course,half pipe and 2 giant air bags. With so much terrain our park can cater to all levels of skiers and our volume of skiers per lane is lower than most camps, therefore less crowded and safer. For a safer learning progression our park has a variety of jumps and rails from small to large and we utilize the Whistler Water Ramp extensively along with multiple trampolines and a foam pit, with certified instructors to teach you how to learn to jump safely. The camp is sanctioned by the Canadian Freestyle Ski Association.
Our location on the glacier dominates the Showcase T-bar. The T-bar has the shortest lift lines on the glacier ensuring the fastest turnaround times and most runs per day of any camp.
Enjoy breakfast as soon as you wake up at the base of the mountain at the Wizard Grill, juice-break and snack on hill, all-you-can-eat lunch at the top of the mountain at the Horstman Hut. Dinners consist of a dine-around meal plan located at a different restaurant each night, allowing you to see and experience more of what Whistler has to offer.
https://www.newschoolers.com/videos/watch/769754/Slopestyle-2012
Pros: 6 Line park, Private T-Bar, Banger Food at different restaurant every night, Nice Hotel rooms
Cons: Long walk on day 1, Different coach every day
"Momentum is so sick. The hotel is so nice, the food is amazing since you go to a different restaurant every night and the park is unreal." thatparkskiier
_
Other
Woodward @ Copper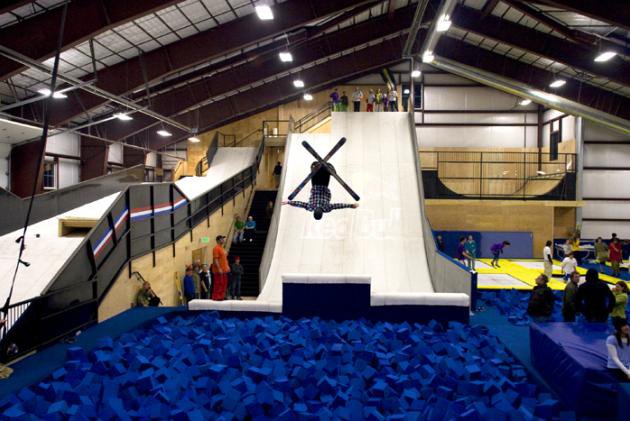 Dates: 3rd June - 4th August
Price: $1799 - $1849
Notable Coaches: Guest coaches from Line, Planks, Lib Tech, & more
Activities: skate tours, go-carts, create-a-skate, music, rock climbing, hiking and more
The basics from them:
This summer is going to be the best summer yet! Don't let the end of winter mark the end of your progression! We offer ON-SNOW PARKS for all levels, as well as an INDOOR TRAINING facility built with progression as our number one priority. Learn all of your tricks in the Barn first where we have 3 huge foam pits, 5 fly-bed trampolines, Skatelite jumps and jibs, a super tramp, and a highly experienced coaching staff.
https://www.newschoolers.com/videos/watch/769755/The-Woodward-at-Copper-Barn
Pros: Best off snow (The Barn), great coaching, good food
Cons: 3 hours a day on snow, Long lift lines, lots of 11-14y/os, 10pm curfew
_
Woodward @ Tahoe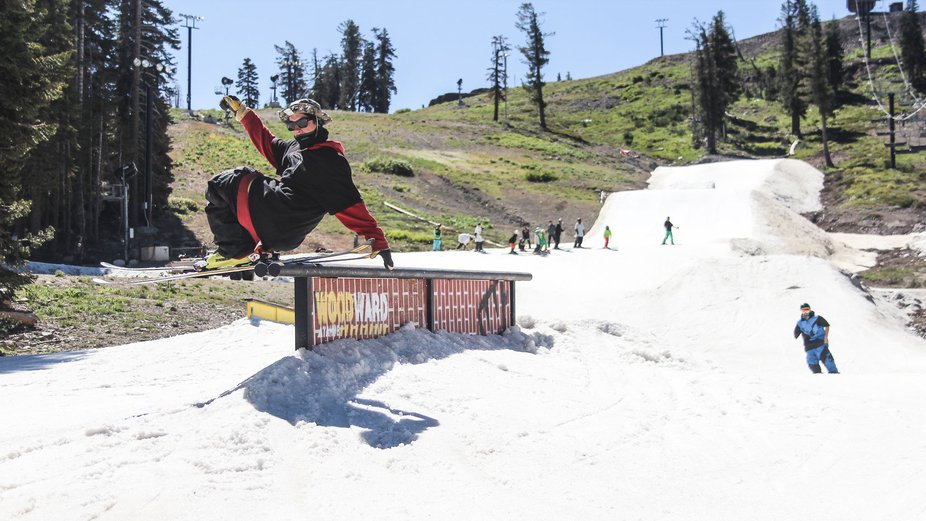 Dates: 3rd June - 30th June
Prices: $1699 (Week 1) $1749 (Weeks 2-4)
Notable Coaches: Guest coaches from Armada, Line, Planks and more
Activities: skate tours, go-carts, create-a-skate, music, rock climbing, hiking and more
Our freeski program will help you be shred ready for the next season. Whether you are out on the hill riding one of the best summer terrain parks around or inside The Bunker you will be sure to leave camp with new tricks and more confidence. Our indoor facility is designed to help you learn your next flip or spin into the foam pit on our Parkskis™. The foam pits are a forgiving place to get all the kinks worked out before taking your trick to snow. We focus teaching you aerial awareness and simple progressions that will give you the confidence you need to style out any trick. Join us this summer, our jump-line and multiple jibs await.
https://www.newschoolers.com/videos/watch/718722/Armada-Week-Woodward-Tahoe-Session--1-2014
Pros: Great coaching, not too busy, Quad chairlift
Cons: not great food, not great rooms
_
Liberty Snowflex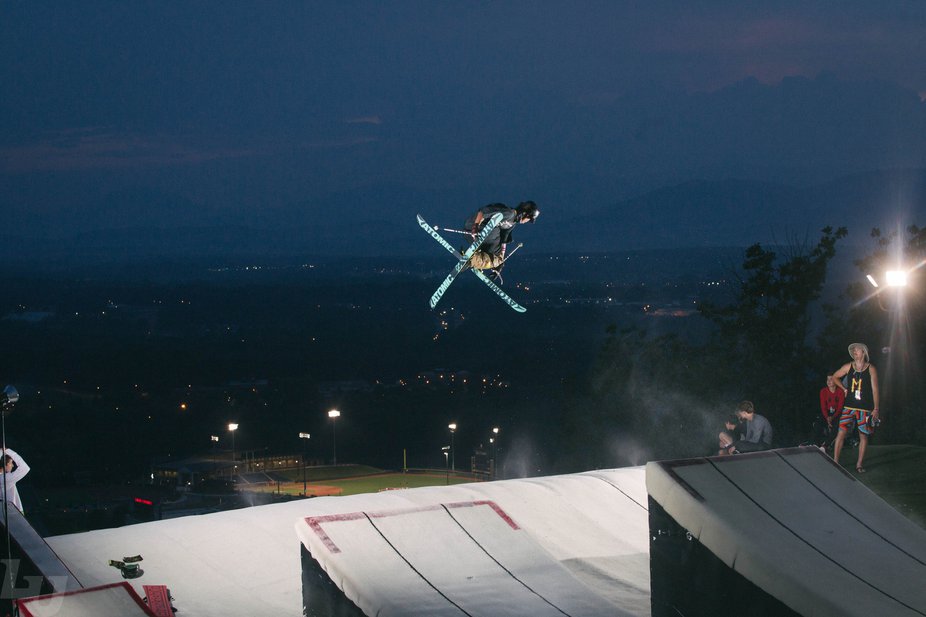 Dates: June 17th - June 29th (2 Sessions)
Price: $799 (6 days)
Notable Coaches: Nick Goepper, Jonathan Seltzer
Activities: Skatepark, more skiing (2 sessions a day).
The basics from them:
Our camps may not have snow, but we make up for what we lack by actually coaching. We pull some of the best coaches we can find from all over the country and bring them to our facility to assist in coaching the high level of shredders that attend our camps. Tricks learned at Snowflex convert wonderfully to snow and progression has never been easier with the addition of our BagJump, which is open to campers all of camps. Our two main selling points are coaching and price, our camp is so cheap!
http://www.newschoolers.com/watch/723461.0/Project-Flex----2-0?c=11#fz19QzcgPsKUCip0.97
Pros: snowflex is rad to learn on, nice dorms, 2 sessions a day, cheap, lots of prizes
Cons: not snow, snowflex burn.
"jumps are rad, you can send it as far as you want basically. the dorms are air conditioned and pretty big. They're actually super nice. Coaching was rad" Mingg
_
D-Splash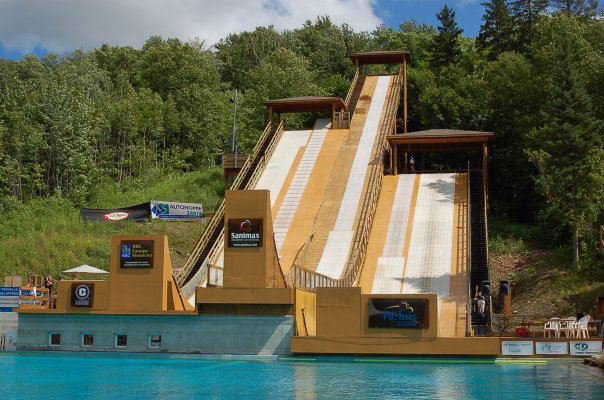 Dates: 10-14th July (1 Session)
Price: $870 CAD
Notable Coaches: ABM, JF Houle, BMile, Phil Belanger
Activities: Water ramps, trampolines, skate/blading
The basics from them:
5 days all inclusive freeskiing camp | Unique training facilities | Exclusive water ramps, trampolines & rail setup
Best day everyday with pro athletes ABM, Emile Bergeron, JF Houle and top coaches from Eastern Canada
#TIMEOFYOURLIFE
Welcome to D-Splash! For the 9th edition, the D-Splash Camp will be improved once again. In addition to have some of the best Pro skiers as coaches you will also be supervised by the best Canadian coaches as well as the next Olympic head judge. The D-splash Camp it's a great experience to learn new tricks into a safe environment.
With the D-Splash, the proper foundation can be laid in order to progress to these new levels safely through building air sense with the water ramps and trampolines. Air sense is something that is vital to a freestyle skier. Not only to advance one's self in the sport, but also to prevent injury and help prolong an active involvement in the sport you love. Water ramps and trampolines help build air awareness without the dangers of landing on snow the first time you attempt a new trick or maneuver. And as we have seen in the progression of this sport over the winter, air awareness has been pushed to the highest levels.
Our overall goal at D-Splash is to give a fun and safe environment for freestyle skiers to successfully grow their skills. We also want to infuse our campers with the best professional skiers in the world. At D-Splash, these professionals will be training for their upcoming season as well, which will help show the campers what drive, skill and motivation it takes to be the best at the sport we all love.
http://www.newschoolers.com/watch/520043.0/D-Splash-2012---Session-1?t=6
Pros: Inspiyad coaches, fun relaxed vibe, great for progression
Cons: No on snow
_
Ohio Dreams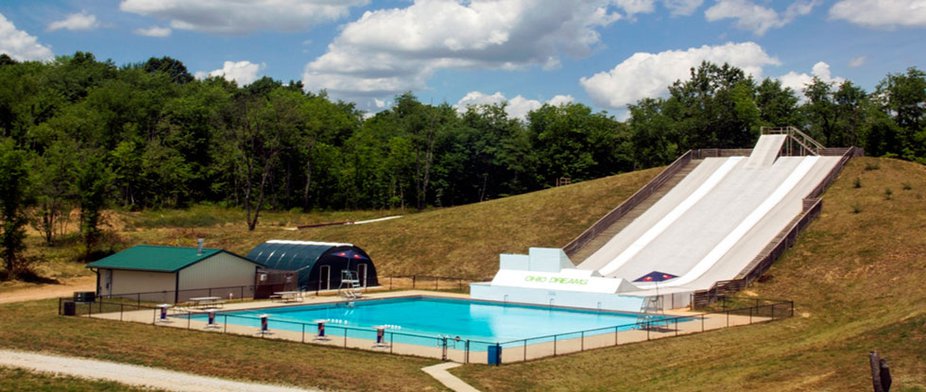 Dates: June 10th-July 21st (4 sessions)
Price: $1049
Notable Coaches: Nick Goepper, Chris Laker
Activities: Water ramps, trampolines, jib setup, slip and slide, dirt jumps, skatepark
The basics from them:
The Ohio Dreams Freeski camp has the ability to work with any level skier to help them achieve their goals of winter time fun during the summer. Whether you want to work on arials or rails we have you covered. Our coaches are trained in arial trampoline progression that you can take to the water ramps and then onto the snow.
We are the only dedicated Freeski Water Ramp summer camp in the Country. With our Exclusive Program the amount of time you spend on ski's is only limited by the amount of energy you have to keep going. At Ohio Dreams you never have to wait in long lines and our instructors are there for you. They will spend more time with you and give you more one on one instruction than any other camp out there.
https://www.newschoolers.com/videos/watch/704626/Ski-Camp-at-Ohio-Dreams
Pros: 'Best slip and slide in the world', great for progression, only US based water ramp camp
Cons: No on snow, 10pm lights out, Scooter kids
"Always have had a great time at Ohio dreams. Met a lot of friends there, and progressed a ton." Chupa_Chups