Newschoolers Awards 2022
-----------
December 17th, 2021 at 7pm MST
Copper Grand Hall, just above JJ's Tavern
Want to attend? Reserve your free entry and RSVP HERE
-----------
2021 was an exceptional year for ski content and this is the night to recognize all the hard work and incredible talent that was showcased. Join us at Copper Mountain during Dew Tour for a helluva ceremony. The Newschoolers Awards are brought to you by Toyota, Woodward Copper, Bulleit, Smirnoff, Don Julio, and Gilson Skis.
@GilsonSkis is the official trophy sponsor. As such, each winner will walk away with a custom ski trophy by Gilson Skis.
The following awards will be given out on the night of the 17th, and we'll be announcing nominations for all the categories in the coming weeks. Can you guess the nominees? Pop them in the comments!
---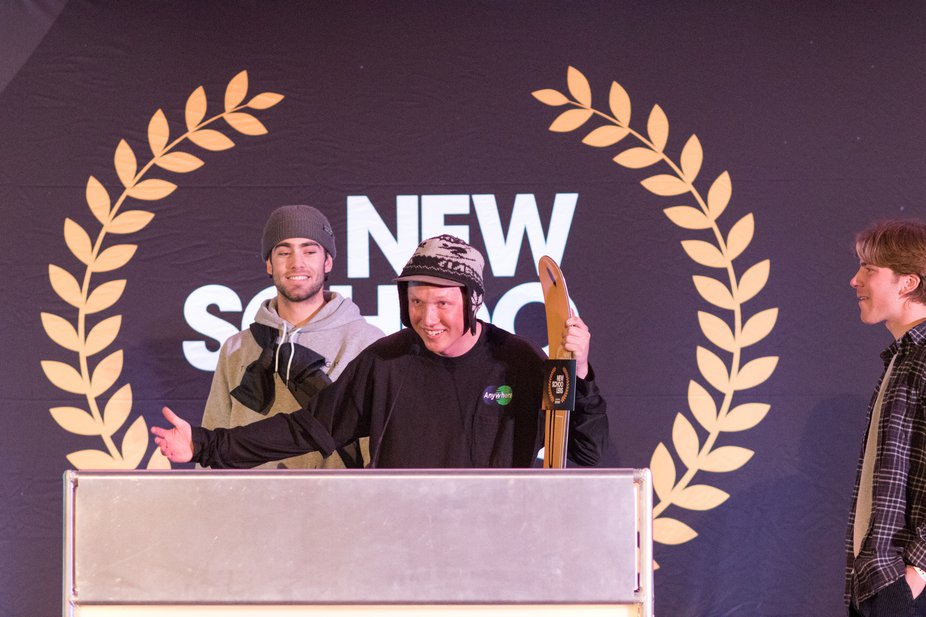 Judged awards:
Newschoolers Skier of the Year - Presented by Toyota
Presented to the outstanding male and female skiers of the year, the Newschoolers Skier of the Year awards recognize the two individuals who have made the biggest impact on the ski scene in 2021. From the streets to contests to backcountry stunts, it's been such a crazy year. Who should take the crown? (5 nominees)
---
Breakthrough Skier of the Year
The breakthrough awards go out to two skiers who absolutely killed it during their first year in the mainstream spotlight. How you define who counts as a breakthrough act is ultimately subjective, but we see them as someone who has taken a step up and has had a major impact in the skiing community via a movie segment, edit, contest run, or any other medium. (5 nominees)
---
Comp MVP
Love them or hate them, competitions are a huge part of the freeski world. We watch and cover all the major events, and there are some guys out there who make the whole process more enjoyable, courtesy of unique style or interesting trick selection. We wanted to recognize the fact that even though they often don't come out on top of the podium, their skiing is often the most inspiring to us and the core ski audience. (5 nominees)
---
Crew of the Year
One of the most important parts of skiing is being out on the mountain or in the streets with your friends. Crews have always been a backbone of the freeski content industry and the Newschoolers community. This award goes to the crew that has had the most impressive 2021, judged by their media output, most often a movie, from that time period. (5 nominees)
---
Best Short
Since the beginning, the ski edit has been the blood pumping through the veins of Newschoolers. We couldn't have an awards ceremony without recognizing perhaps the most important part of ski media in our eyes. Best Short will include all projects under 10 minutes from 2021. (5 nominees)
---
Member of the Year
This one goes out to our community and those who make it what it is. We'll be rewarding the member who has had the best input on the site over the past year. (no nominees, just a winner)
---
Outstanding Video Project of the Year
We are considering all longer video projects that have been posted to Newschoolers as eligible for this award, which essentially comes down to everything except for the few major ski movies that still release on paid platforms. 2021 was a particularly strong year for content and even narrowing down a shortlist of nominations is bound to prove a challenge to the judges for this award. (5 nominees)
---
Newschoolers Hall Of Fame
Following legends Tom Wallisch, Andy Parry and Will Wesson, who will take home the most prestigious award of the night? Consider this award recognition for a standout contribution to skiing and to Newschoolers that has to be highlighted. (no nominees, just a winner)
---
Community awards:
Trick of the year
Trick of the year is nigh on impossible to judge. There is so much out there and so difficult to objectively compare that we're turning this choice over to you guys. We want you to tell us what was the best trick of 2021, so keep an eye out for our poll towards early December. (10 nominees)
---