Got lunch plans today? If not, treat yourself and eat your sandwich alongside Santa Rosa Avenue in southern Santa Rosa while you take it the city's soaring, gorgeous new piece of public art.
Rising from a sliver of bare land just north of the new Santa Rosa Nissan building is a stunning obelisk ? a 65-foot-tall mini-Washington Monument ? constructed of old bicycle parts.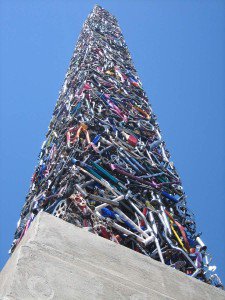 Petaluma artists Mark Grieve and Ilana Spector built it after their concept won a Santa Rosa Art in Public Places competition. Funding for the project came from the 1-percent-for-public-art fee that Santa Rosa Nissan paid of the permit process for its new showroom.
A a crane lifted ?Cyclisk? into place last weekend and the dealership's co-owner, Jim Bone, was among the first viewers wowed by what Grieve and Spector created.
?I was pleased to see how much color they put into it,? Bone said Monday.
Sculptor Grieve said the all of the bicycle parts he and Spector put into the piece were beyond being re-used in safe, functional bikes, and none were repainted. The artists simply put a clear, protective coating on the parts to keep them looking good for a good long time.
Grieve, 45, said ?Cyclisk? was a community effort that wouldn't have come together without help from his artist neighbors, Mary Fuller and longtime Burning Man sculptor David Best, and ZFA Engineering.
Grieve and partner Spector made no money on ?Cyclisk? because they decided after submitting their concept that the piece had to be taller and more imposing than they'd first conceived it to be.
?We wanted to give the city a landmark,? Grieve said.
I would say he's succeeded. Go have your lunch alongside the obelisk and see if you agree.
By CHRIS SMITH
THE PRESS DEMOCRAT Published: Tuesday, August 24, 2010 at 7:33 a.m.