Words: Tania Pilkinton
Photos: Camilla Stoddart
Video: Jase Hancox
Once again this year, the Volkl NZ Freeski Open earned its reputation as one of freeskiing's most progressive events as both the men and the women unveiled new tricks and combinations never before seen in competition.
Australia's Russ Henshaw captured the men's slopestyle title with clean, back-to-back double corks, the first a left-side double cork 1080 followed by a right-side double cork 12 in a dramatic final at Cardrona Alpine Resort Friday.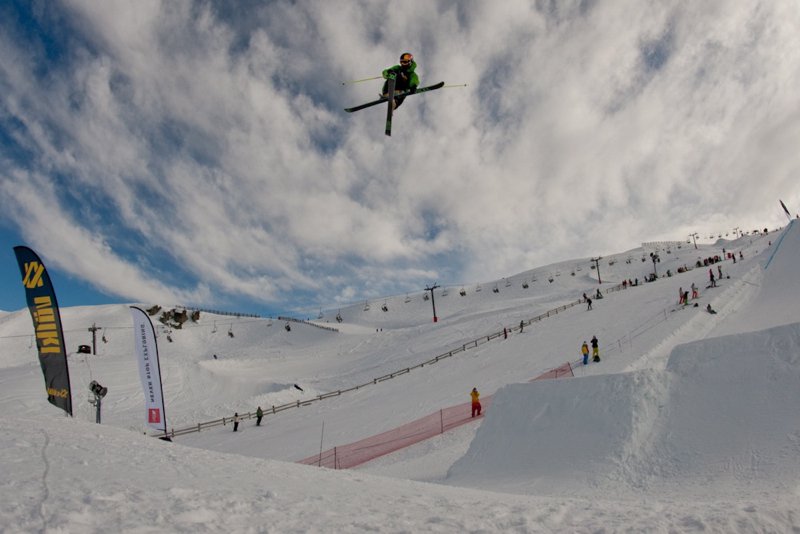 Russ Henshaw, back-to-back double corking his way to first place.
"This is the first time in a slopestyle competition that we've seen back-to-back double corks," said Kiwi judge Dion Newport. "The level of riding was higher than at the X Games and just keeps progressing."
Henshaw narrowly defeated runner-up Bobby Brown of the US, the defending Volkl Freeski Open slopestyle champion and X Games Gold medallist, even though Brown was the only rider in the competition to throw a switch double misty 1260.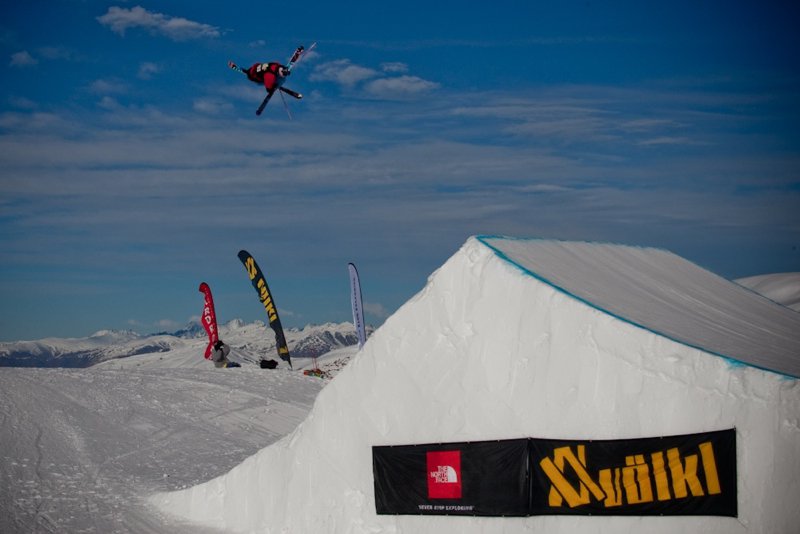 Bobby Brown...always on point.
Third place went to Gus Kenworthy of Telluride in the US. Kenworthy combined a double cork 1260 and a switch double cork 1080.
On the women's side, the judges were wowed by the performance of Canada's Kim Lamarre, who despite earlier crashes nailed her final run, executing a difficult switch zero spin off the big 75-foot kicker.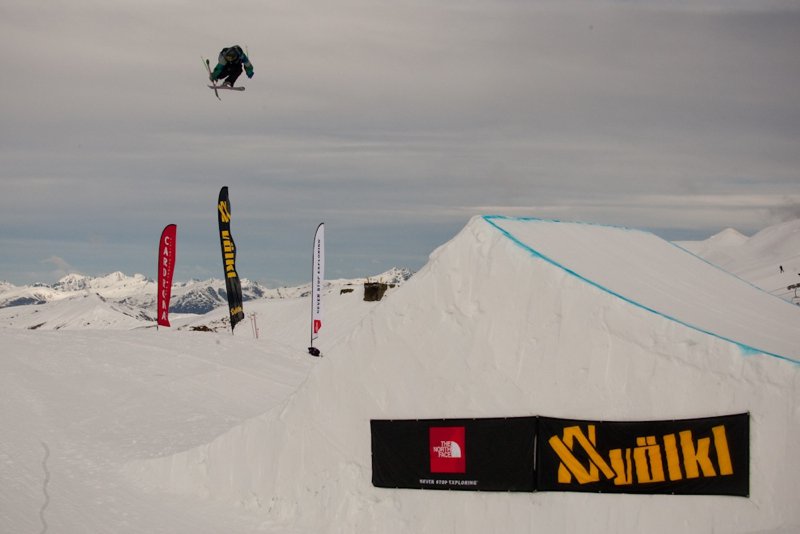 Kim Lamarre picks up her first big of the year.
"We knew Kim was a great skier, but she pulled out an incredibly difficult trick by going off the main kicker switch with no spin and landing it perfectly," said Newport. "She separated herself from the rest of the field today."
Lamarre was followed by Australia's Anna Segal in second. Segal's run featured a switch 540, a flare and 720. One of the youngest of the top women riders, Canada's Megan Gunning, placed third.
The top Kiwi on the men's side was Taylor King, who finished 14th. Byron Wells did not progress past the semis but is more focused on his specialty event, the halfpipe, scheduled for Saturday (tomorrow).
The top Kiwi women were Mikey Austin, who finished fifth and Kate Hartley, who was sixth.
Tomorrow's Volkl NZ Freeski Open halfpipe competition is scheduled to get underway at 9:30 a.m. at Cardrona with the men's qualifications.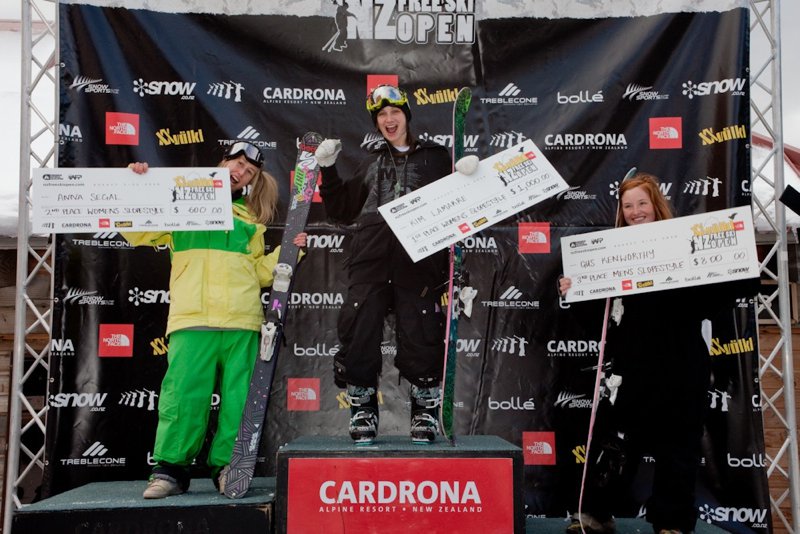 Anna Segal (2nd), Kim Lamarre (1st), Megan Gunning (3rd)
Women's Results
1) Kim Lamarre
2) Anna Segal
3) Megan Gunning
4) Jamie Crane-Mauzy
5) Mikey Austin
6) Kate Hartley
7) Nina Ragettli
8) Sarah Martinais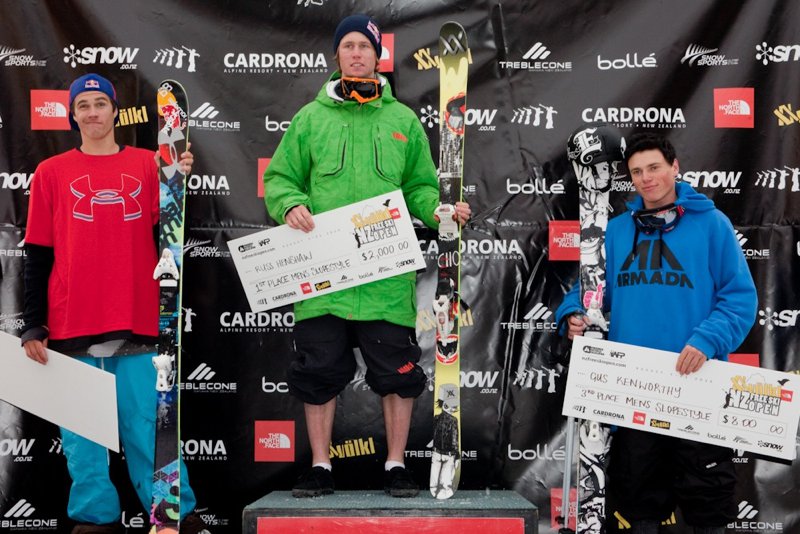 Bobby Brown (2nd), Russ Henshaw (1st), Gus Kenworthy (3rd)
Men's Results
1) Russ Henshaw
2) Bobby Brown
3) Gus Kenworthy
4) Chris Laker
5) Vincent Gagnier
6) Alex Schlopy
7) AJ Kemppainen
8) Nick Goepper
9) Henrik Harlaut
10) Patrick Baskins
11) Erik Hughes
12) Elias Ambühl
13) Toni Höllwart
14) Taylor King
15) Byron Wells
16) Jonas Hunziker
17) Charles Gagnier
18) Taylor Seaton
19) Maks Gorha
20) David Ortlieb
21 Kai Mahler Kai
22) Matt Soundy
23) Beau-James Wells
24) Cyrill Hunziker
25) Trent Francis
26) Marlon Johnson
27) Alex Gorham
28) Matt Johnson
29) Frederick Iliano
30) Hamish McDougall
31) Alec Savery
32) Manuel Eder
33) Maxence Gisin
34) Wing Tai Barrymore
35) Manuel Manca
36) Ryan Read
37) Olly Allan
38) Hugo Miller
NZ Open Slopestyle 2010 from Jase Hancox BASKET PRODUCTIONS on Vimeo.