Words & photos by Dan Carr
Every August an increasing proportion of the skiing community makes the migration south of the Equator to Wanaka, New Zealand. With so many of the top pros in town, the competition scene here has been heating up over the last couple of years and the word about town was that this year's New Zealand Freeski Open could very well play host to the most impressive slopestyle competition ever witnessed. The vibe amongst the competitors was unique, everybody was stoked to be skiing with each other again, and stoked on the course that Cardona had laid down for them.
Starting off with a couple of flat-down rails, into a pair of parallel up rails, followed by three jumps of increasing size; it wasn't the longest course but it was beautifully prepared.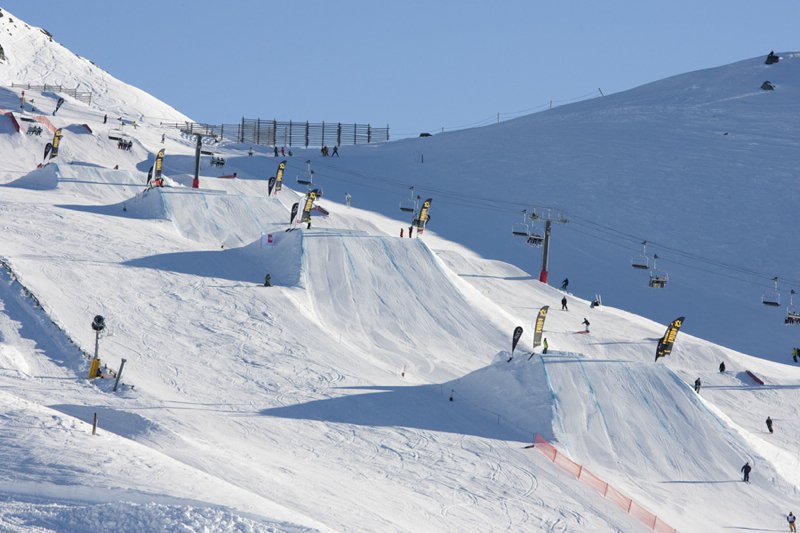 This was the first year that Cardrona had hosted the New Zealand open but the course was perfect.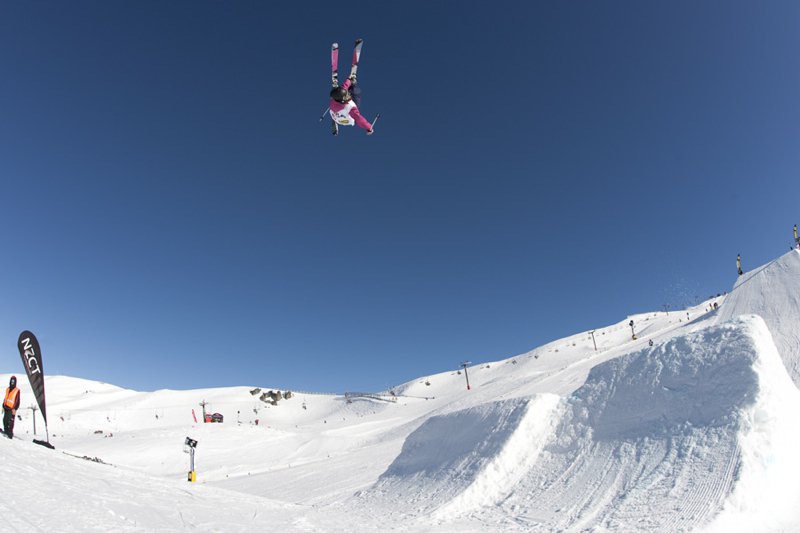 Anna Segal sending the flatspin 3 on the final jump.
The women's competition went down first on day ine and Dania Assaly took home first with a solid run ending with a 900 on the money booter at the bottom of the course. This years X Games slope winner, Anna Segal, came in second with her 180, switch 5 and flat 3 combo on the bottom three jumps. Third place went to Eva-Maria Patscheider from Austria who added the podium finish to her third place at this year's European Open.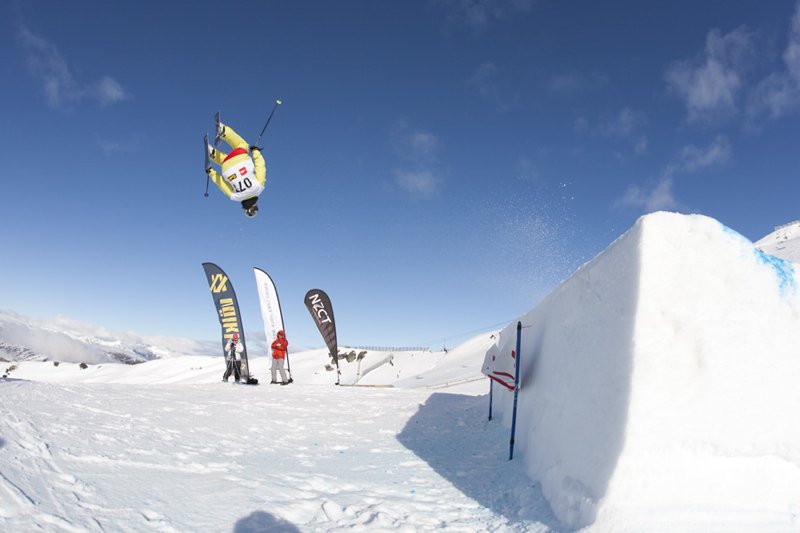 Eva-Maria Patscheider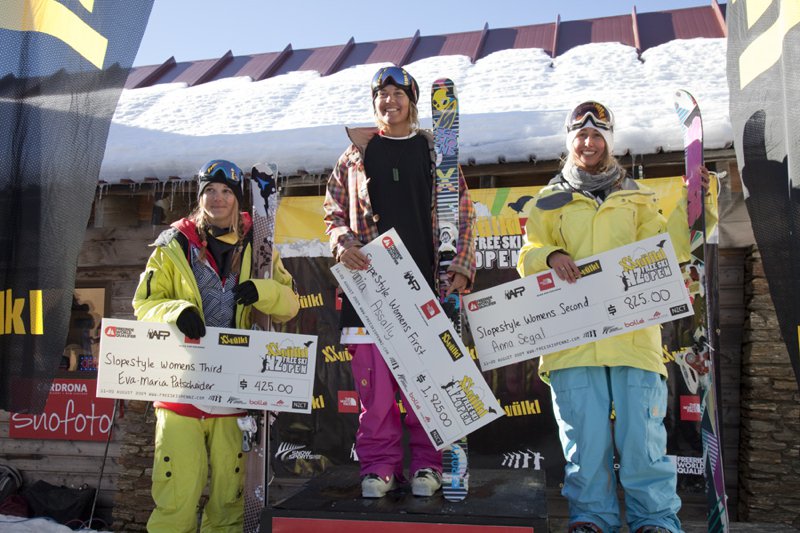 Eva-Maria Patscheider (3rd), Dania Assaly (1st), Anna Segal (2nd)
Women's Results
1) Dania Assally - 89.4
2) Anna Segal - 85.8
3) Eva-Maria Patscheider - 82.8
4) Chiho Takao - 63.0
5) Arianna Tricomi - 56.6
6) Shuri Terada - 51.6
7) Sofie Windstedt - 17.6
8) Julie Benard - 17.4
Twelve riders were pre-qualified for the men's finals but a further eight would need to be selected from the 51 strong field in the qualifiers. Unfortunately the weather had other plans though and notorious "Cardrona fog" came in quick and thick. All 50 riders successfully completed their first runs but following this the judges had a tough time seeing the whole course...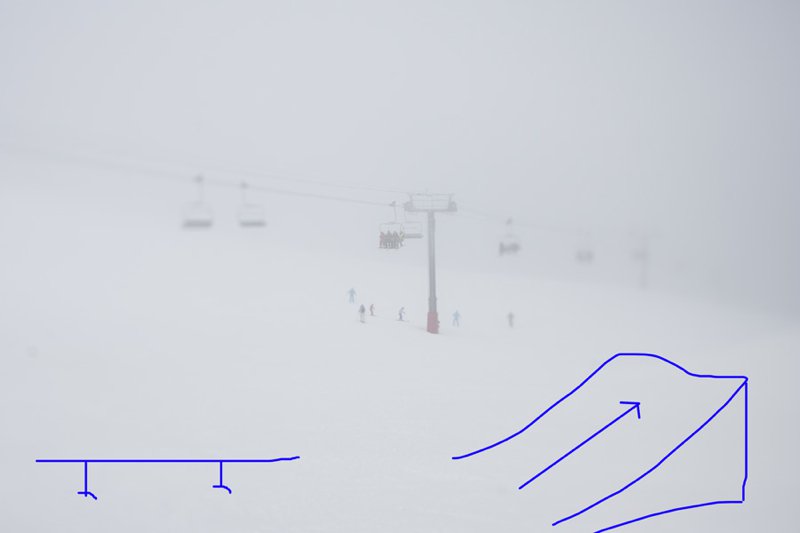 Weather caused a few problems for some of the riders...
Riders and judges persevered with the conditions, sending someone every time a gap in the clouds appeared. At the end of the day though, not every rider managed to complete both qualifying runs so the decision was made to bump the finals to the next day and to give all riders a rebate on their second qualifying run the next morning.
Wanaka woke to a cloudless sky the next morning and the delay to the finals had only served to heighten people's expectations. When training began in the morning it was obvious that the crowd wouldn't be disappointed as a continuous train of double variations was sent over the final jump. Today, spinning both ways and throwing a dub was not going to guarantee you anything. In fact, 19 of the 22 finalists threw some sort of double variation on the final jump and only a couple of guys were not ambidextrously spinning in every direction. A little time away from the competition scene seemed to have done the world of good and it was great to see everyone having such a good time in a relaxed atmosphere.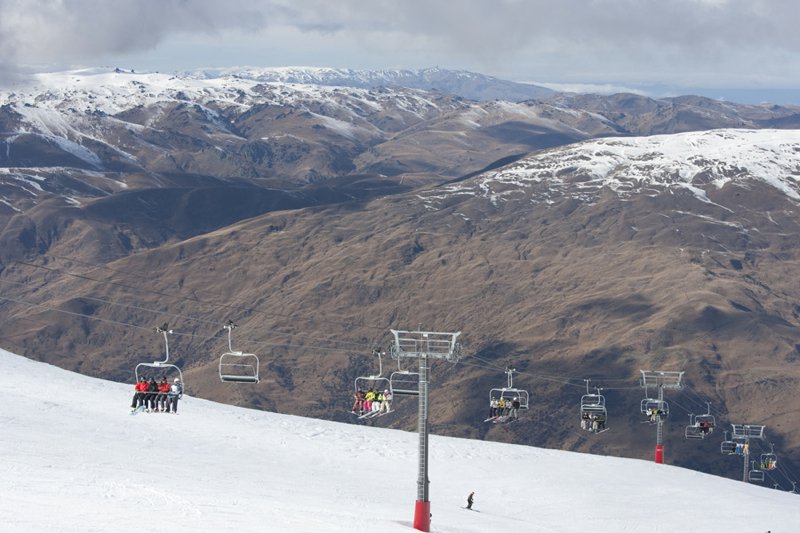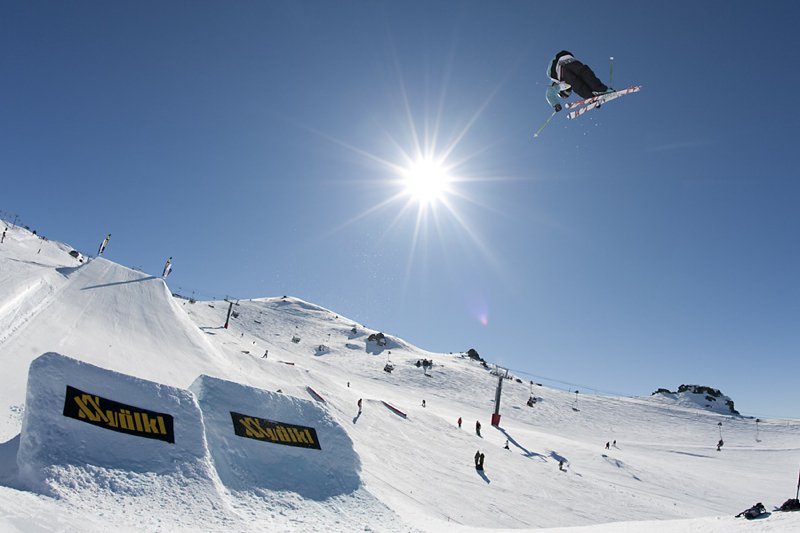 Tom Wallisch – There's a new Hood House in Wanaka this week.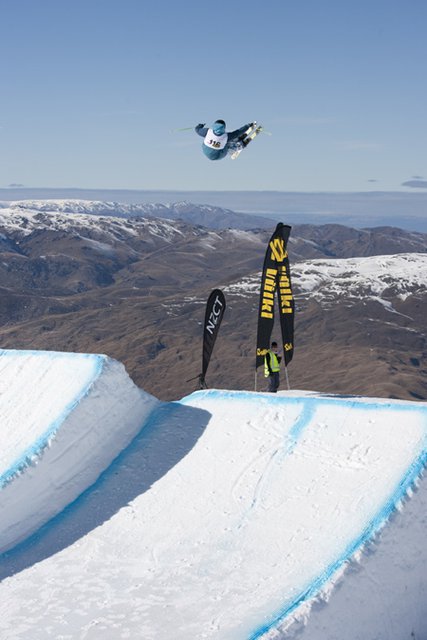 Henrik Harlaut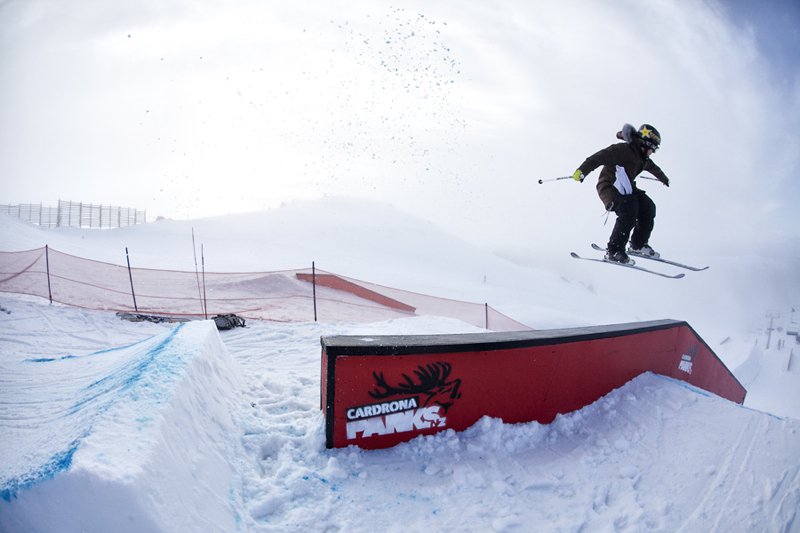 AJ Kemppainen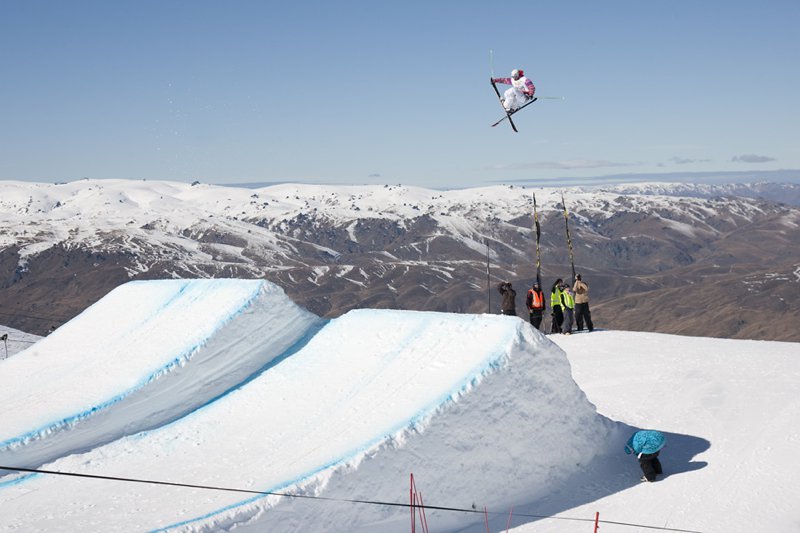 Bobby Brown held this grab all day long in his dub 10's.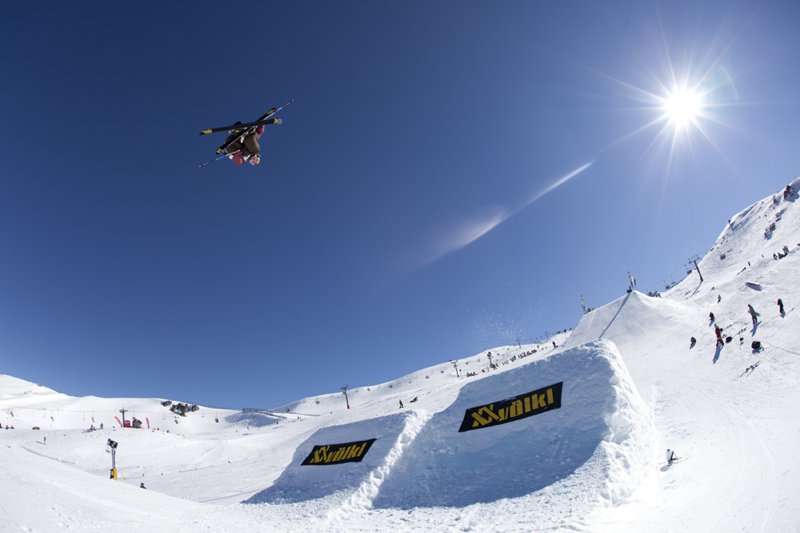 Russ Henshaw would be doing a different grab in the next frame if there was one. Mute/Japan dub 10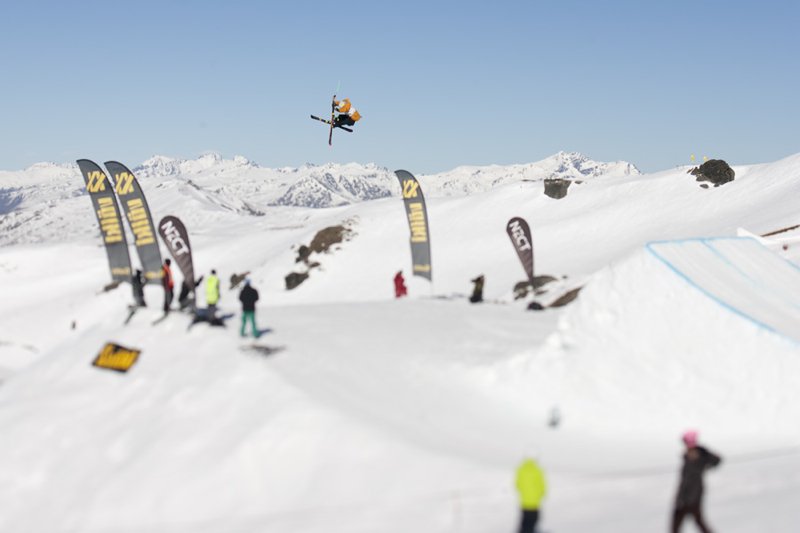 John Spriggs is taller than you.
Relaxed as it felt though, the guys were there to do business and I didn't envy the judges job at all. Check the video embedded below to see the top three runs.
Benny Mayr proving you don't need all your teeth to do switch misty 9's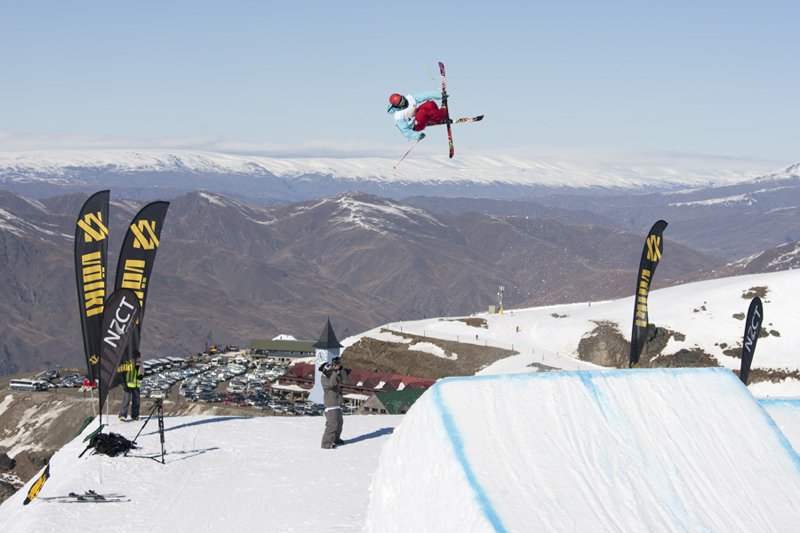 Chug life Down Under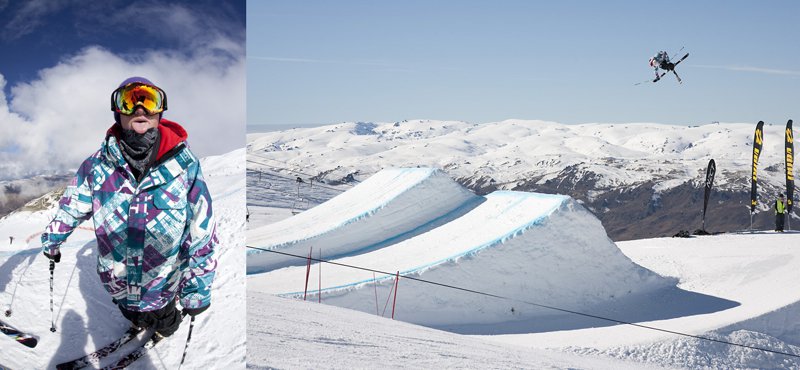 Byron Wells welcomes you to New Zealand
When the scores were tallied up Bobby Brown came out on top closely followed by Wallish who put down an almost identical run apart from the top rail feature. Bobby went with the switch 450 disaster and Wallisch went for the blind swap, pretzl. The top 3 all finished off their runs with perfect double cork 12's.
Henrik Harlaut (3rd), Bobby Brown (1st), Tom Wallisch (2nd)
Men's Results
1) Bobby Brown - 93.0
2) Tom Wallish - 90.0
3) Henrik Harlaut - 86.6
4) Matt Margetts - 83.0
5) Russ Henshaw - 81.0
6) Jossi Wells - 78.2
7) Per Christian Fosse - 75.4
8) AJ Kemppainen - 74.4
9) Elias Ambühl - 70.6
10) Mike Hornbeck - 67.4
11) Jaime Puigdengoles - 62.2
12) Ian Cosco - 55.0
13) Bene Mayr - 53.2
14) John Spriggs - 50.8
15) Byron Wells - 49.4
16) Matt Soundy - 45.4
17) Andri Ambühl - 39.2
18) Gus Kenworthy - 25.0
19) Leigh Powis - 22.0
20) Kentaro Tsuda - 15.0
This really was one of the most impressive displays yet seen by the freeskiing community. "The slopestyle course was awesome. I loved it," said Brown. "It was the best competition I've been in for a long time, the event had a great feel to it." The evolution of slopestyle skiing continues then and whilst the podium finishers all used the double cork 12 as their weapon, it was also good to see some innovation amongst other riders, throwing in new grabs or even entirely new axis' into their doubles. Elias Ambuhl and Matt Margetts in particular brought something different to the final jump in the line. And a quick shout needs to go out to Matt Phillipi and Andri Ambuhl. Both guys skied super hard but had nasty falls. Heal fast my friends.
Stay tuned to NS for more coverage on the Volkl New Zealand Freeski Open, including the epic halfpipe competition that just wrapped up at Cardrona.