Words & photos by Kris Drummond
Bouncing up and down along the windy mountain road, the last thing on my mind is the epic lines I'm going to be skiing in a couple hours. Ahead of me, there is only more twisting rocky 'road,' and about two inches to my left is a 200-foot drop to the bottom of a narrow canyon. The fact that I'm trying to navigate all this in a less than ideal 1982 camper van that hardly runs just adds to the stress of simply making it to the parking lot. It's my first day of being a ski bum in New Zealand's Canterbury Region, and it has just hit me exactly how far away from home I really am.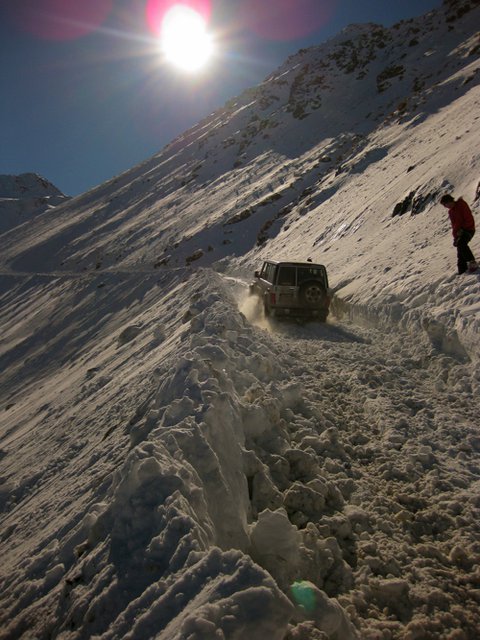 Imagine 15 miles of this, just to go skiing
After about an hour of white knuckle driving, I am dismayed to find that we are only at the access parking lot, and that my van will definitely not make it any further. Apparently it's time for the customary hitchhike. At first, I'm a little timid to stop a random stranger and ask for a ride to the top, but I soon learn that almost anyone is happy to oblige in exchange for helping them get some chains on.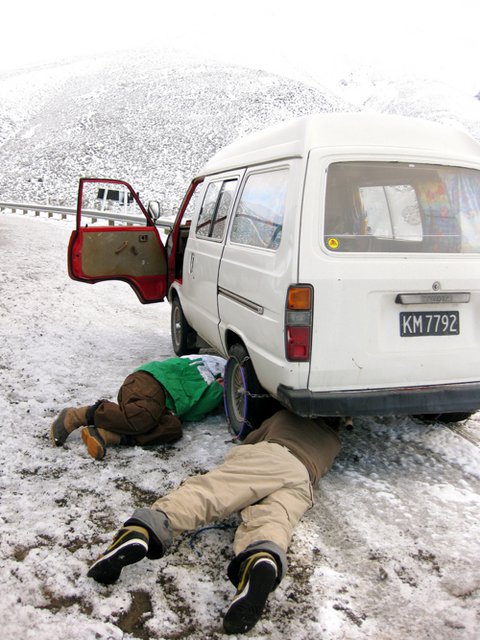 Gearing up the 1982 LiteAce
As we round the last corner, the hill pops into sight, and I can immediately tell that all the effort of just getting to the base was well worth it. Stepping around empty wine and whiskey bottles, we enter what can only be described as a 'base shack.' We grab our 'nutcrackers,' which are little more than glorified belts with a metal hook, and hop on the dauntingly fast tow rope. As we reach the top, all my doubts about dropping everything to come to New Zealand for a year evaporate. It's a powder day, and I can count maybe 30 people skiing the perfect cliffs and giant bowls of Mt. Olympus. Maybe.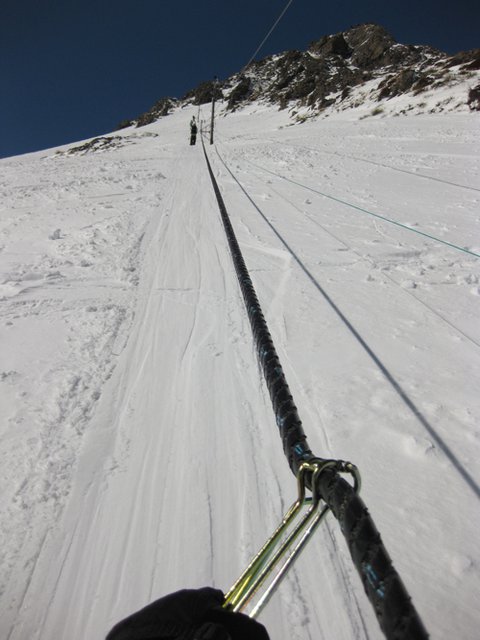 Exhibit A: Nutcracker and Rope Tow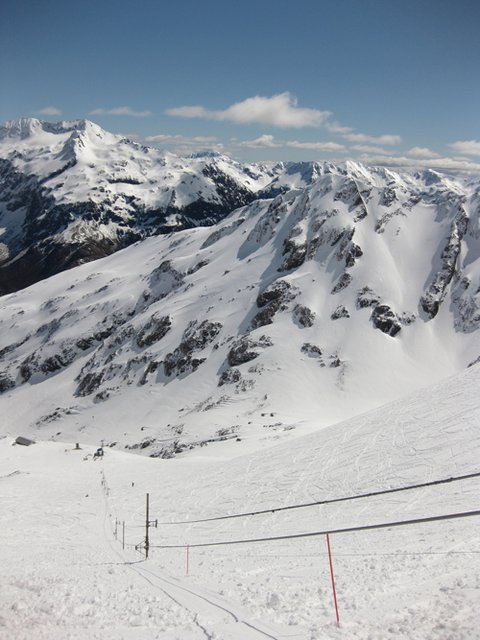 Nutcracker ascending Mt. Olympus
Far from the glamorous, upscale resorts of North America, the ski fields of New Zealand provide a refreshing reminder of what skiing is actually about. With rope tow access and a near honor system of payment, the 'clubbies' are a unique look at what skiing in the US and Canada must have been like before it was commercialized. You won't hear jeering insults from the chairlift if you fall, and kids will be dropping 50 footers into less than three inches without a single camera around to document it. At the bottom of each tow, it's all smiles and conversation, and no one has to cut in line, because there are no lines. The rope tow runs as long as people want to ski, and when it stops, everybody heads to the lodge to enjoy some beers. Initially, it's hard to put a finger on what it actually is about the ski fields that makes them so appealing. Most people, myself included, might at first be a little upset about the harrowing drive, the lack of adequate staffing, and the very real possibility of skiing over an unexploded charge. However, after a few runs it's clear that there is a certain vibe and culture that is not found anywhere else. Throw in the fact that students can get a 12-mountain season pass for about $500 NZD and you can start to get the picture.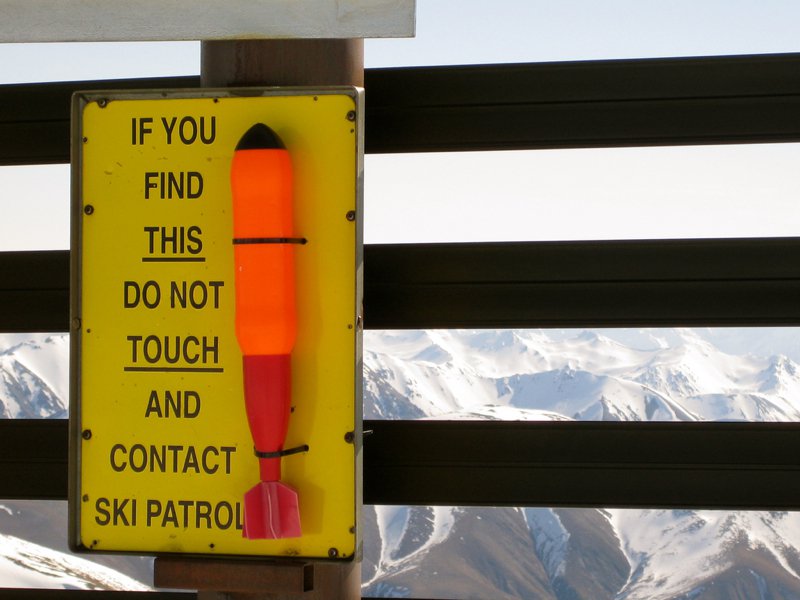 Self Explanatory
Despite the relatively 'underground' status skiing maintains here in the Canterbury Region, a surprisingly decent terrain park scene still exists. While most park skiers head directly to Queenstown to ski resorts like Snowpark and Cardrona, a small minority is still lucky enough to stumble upon the only commercial skiing in the region, Mt. Hutt.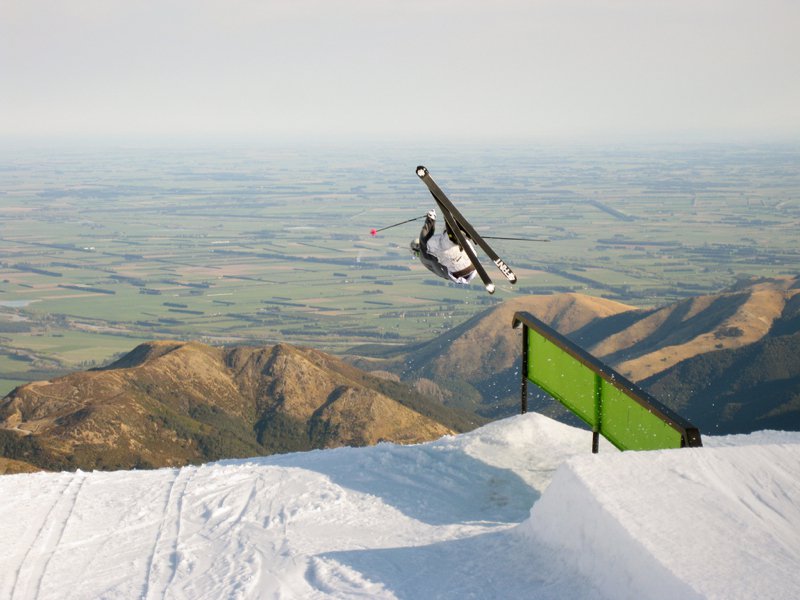 Tom Brownlee getting silly at Mt. Hutt
With a six person high-speed chair and full services including rentals, a cafeteria, bar, and mountain bus, Hutt is easily the premier ski area in all of Canterbury. Most importantly, Mt. Hutt boasts two terrain parks, which rival many of the major resorts in North America, complete with multiple jump/jib lines and a full size halfpipe. After clinging on to rope tows for two weeks straight, having a perfectly manicured 40-foot table accessed by a chairlift was a welcome change of pace.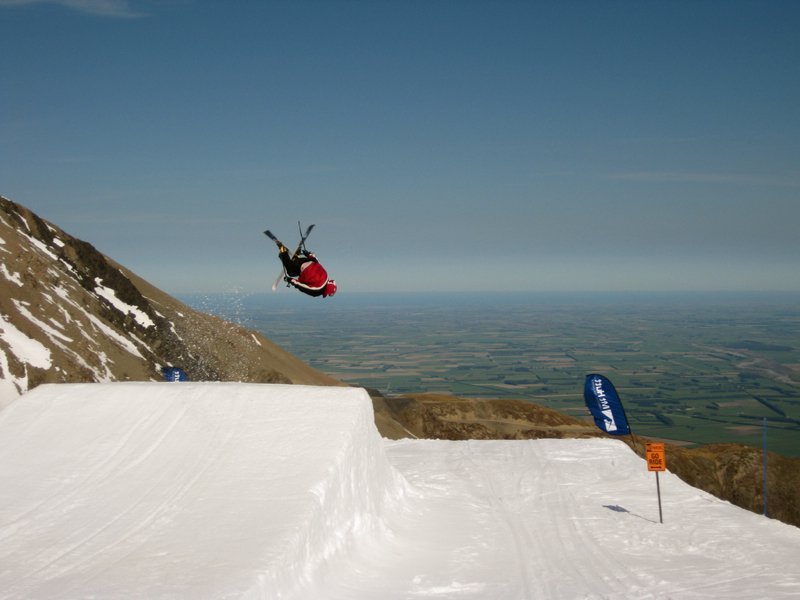 Andy Hutchins getting inverted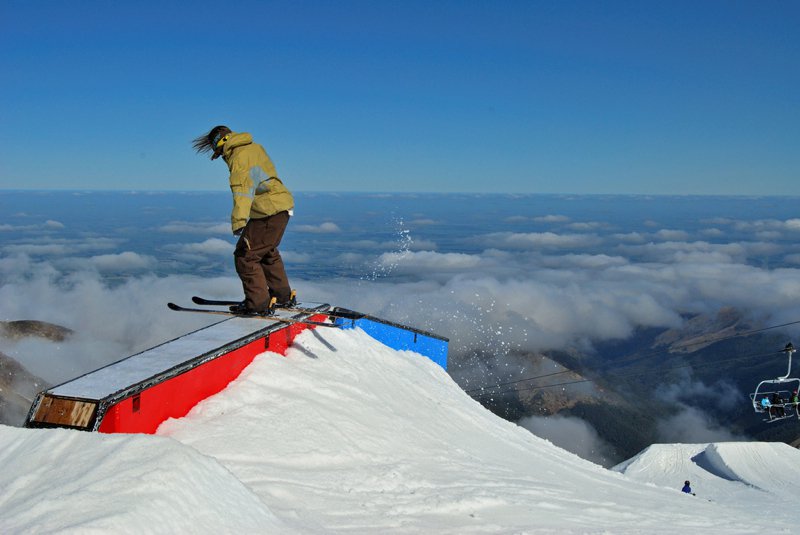 Steve Popovich getting steezy at Hutt
Just when I thought I had experienced all the skiing Canterbury had to offer, I was surprised yet again. I came to New Zealand for the full ski bum experience, and when the opportunity to do some cheap heli-skiing arose, I couldn't pass it up. After getting lost twice on the way to the HeliPark New Zealand headquarters, we finally skidded into the dirt parking lot just as the helicopter was arriving. We had a quick breakfast followed by a practice transceiver search, and then we hopped in the helicopter and flew directly to the top of some perfect lines, complete with an array of cliffs and fresh powder.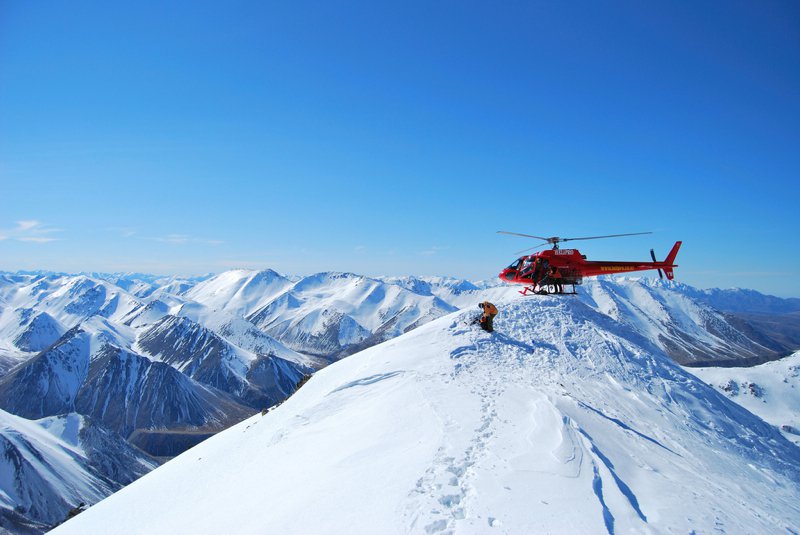 Top of Mt. Potts in the heart of the Southern Alps
As we flew, I frantically snapped some pictures of potential lines to study once we got to the top. As my group and I gathered around the camera to scope how gnarly we were all about to get, everyone murmured their approval and vaguely pointed to random sections of the LCD display. After about two minutes of this, we stopped fooling ourselves and realized that we had no idea where we were. Rather than tell us what to avoid and where we could ski, our guide put on his gear and skied out of sight. Although a bit confused, we embraced the freedom. After four runs of cliff-dropping and straight-lining epicness, we headed back to the lodge for a complimentary lunch and a free shot. The total cost of our day? About $350 USD.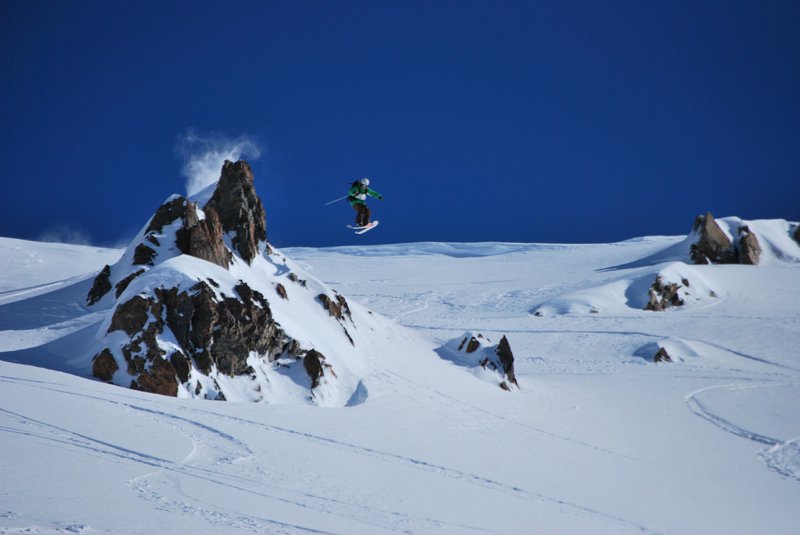 Steve Popovich going huge on the first run of helicopter access at Mt. Potts...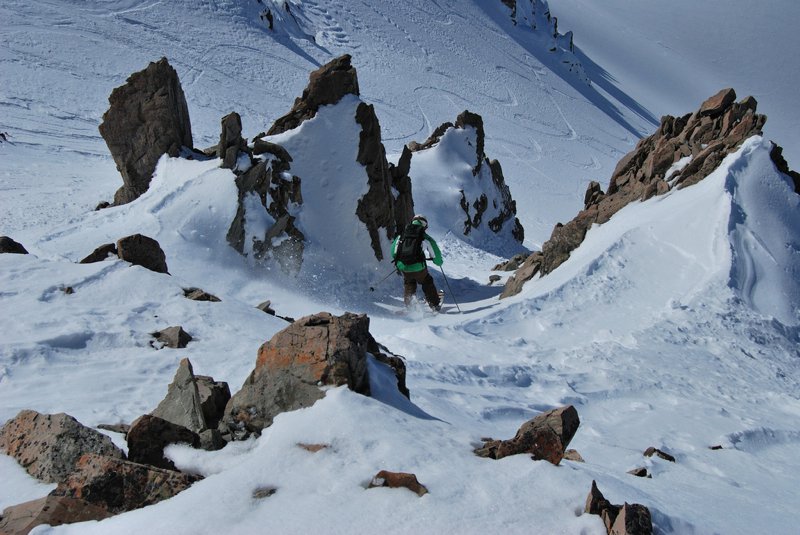 ...and straightlining a narrow zig-zag later in the day.
As spring begins to take a firm hold on the Southern Hemisphere and the ski fields shut down for the year, I can't help but feel a bit nostalgic. Despite only being in New Zealand for seven weeks of the season, I feel an unexpected attachment to the sketchy rope tows and friendly people hidden deep in the Southern Alps, as if I had been skiing here my whole life. I'd like to think that I will make it back to experience another season of pure, unimpeded skiing, but I don't know how long something this good can last. It's only a matter of time before the clubbies of Canterbury get discovered on a large scale. If you are ever lucky enough to find yourself in New Zealand for a ski season, don't go straight to Queenstown to ski the same type of terrain you could ski anywhere else. Take a couple weeks and discover the hidden side of skiing in Canterbury, because it may be the only chance you ever get.