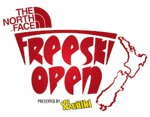 Words by Tania Pilkinton
Photos by Camilla Stoddart
Yesterday saw the world's top ranked freestyle skiers battle it out under picture perfect blue skies at Snow Park for the slopestyle finals of The North Face Freeski Open of NZ, presented by Volkl with New Zealand's own Jossi Wells and Canada's Kim Lamarre taking the top spots.
While the skies were blue the wind posed a bit of a challenge with many of the women pulling out of the competition and the men going a bit more conservative on their tricks.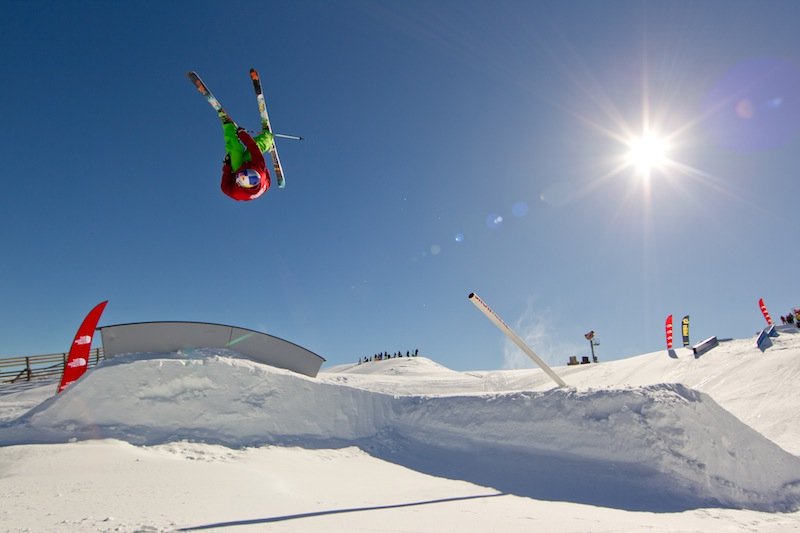 Markus Eder
A heavy weighted men's field of 12 skiers including New Zealand's own Jossi Wells, who was first through the semi-finals in yesterday's competition, took to the slopes and didn't disappoint.
In the end Wells kept the momentum going from the previous day's competition and grabbed the top spot on the podium with a winning run that included a lipslide disaster to switch, switch 270, switch right 900 tail grab and left double cork 1260 mute grab.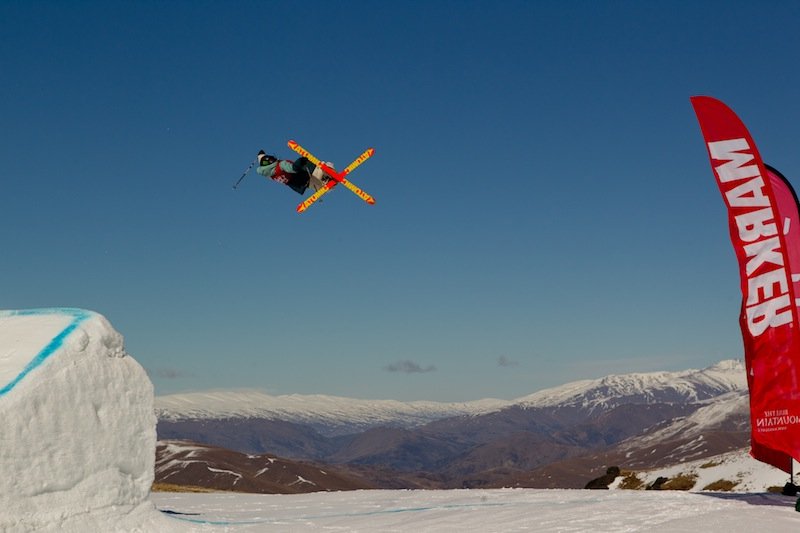 Jossi Wells
Named Overall World Champion Freeskier in 2010, Wells, who suffered a series of injuries was unable to out for the entire 2010 Southern Hemisphere season and much of the early Northern Hemisphere season, was elated to be back on top. "Today was the best ever," said Wells. "I haven't been at the top of a podium since the 2010 Austrian Open. I feel as if I'm on top of the world today. It's great to land on my feet again."
Wells went on to say that, "The conditions were a bit scary out there today with the wind and fresh snow. It was harder to clear the jumps. Still, there was a tough level of competition and I knew I had to put in a solid run to land on the podium."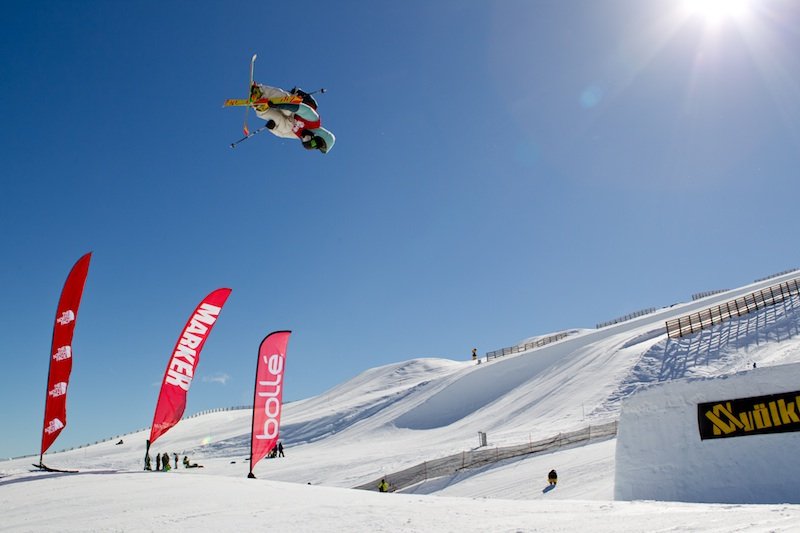 Jossi Wells
Wells joined Canada's Gagnier brothers on the podium with Charles Gagnier making a long overdue comeback and taking the second spot, just ahead of his brother Vincent.
"It was a big surprise to see Charles back on the podium," said head judge Rafael Regazzoni. "Having formerly been one of the top competitors, Charles comeback has been a long time in the making. The last time he was on a podium was about four years ago. It's fantastic to see him back in action."
Charles second place run included a right 270 to disaster, Gagnier slide to switch, switch left 1080 tail grab and switch right 1080 mute grab, while Vincent started off with a nosebutter 450 to 270 out, followed by a backside 450 out (rainbow), switch right corked 1080 tail grab and switch left 1080 mute grab to truck driver.
"Jossi was the clear winner today," said Regazzoni. "He was the most creative on the upper rail section and was the most consistent with the best executed tricks on the bottom of the course."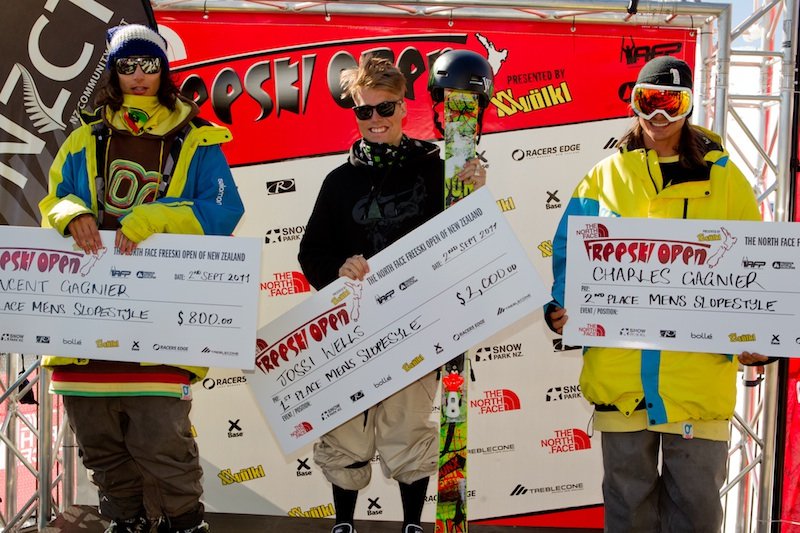 Vincent Gagnier (3rd), Jossi Wells (1st), Charles Gagnier (2nd)
The women's final showed world class performances today, with overall world champion Devin Logan hoping to capture her fourth win of the Southern Hemisphere season, having taken the top spot in slopestyle, halpipe and big air at the recent NZ Winter Games. It was not to be. This time around it was Lamarre's turn to stand atop the podium with a winning run that included a 270 on to the rail, straight to switch on the rainbow box, switch left 540 safety grab and left 540 mute grab, scoring 76.75 points.
"It feels great to be on top today," said Lamarre. "This is my last competition of the season and it's nice to end it this way."
Lamarre has her sights set on the 2014 Olympics in Sochi, Russia and has recently been named to the Canadian Slopestyle Team.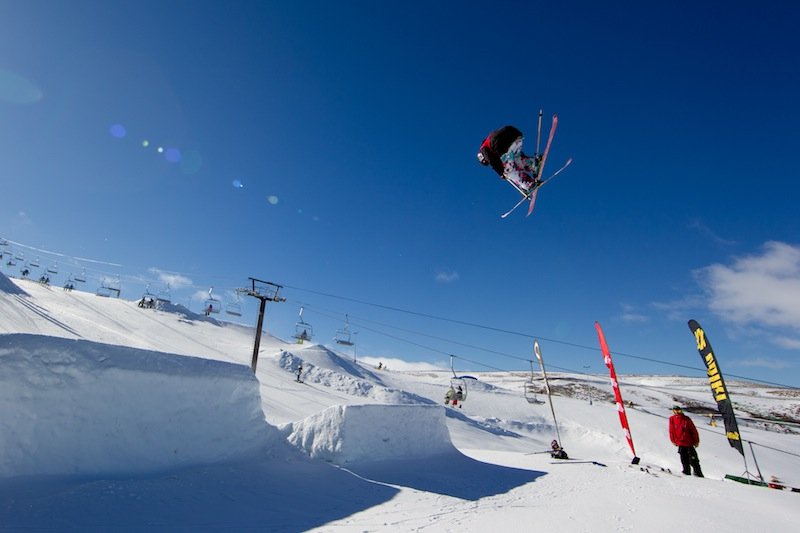 Kim Lamarre
Logan's run, which included a switch on to the rail, straight to switch out on the cannon, switch left 540 and left 540 tail grab, scored her 74.25 points for the second place spot on the podium.
Rounding out the women's podium was New Zealand's up and coming Rose Battersby who's shown she's a force to contend with.
"Rose has an awesome attitude and is taking the coaching she is getting from her coach Pete Legnavsky on board," said freeski coach Bruce Wells. "She's tracking well for a long term goal of competing in the 2014 Sochi Olympics."
"The conditions proved difficult for the women today with over half of the field scratching due to issues with the wind and clearing the jumps," said judge Victoria Beattie. "Speed was difficult on the course. In the end it was a battle between Kim and Devin. Kim's smooth, solid style won out on the day with only two points separating them."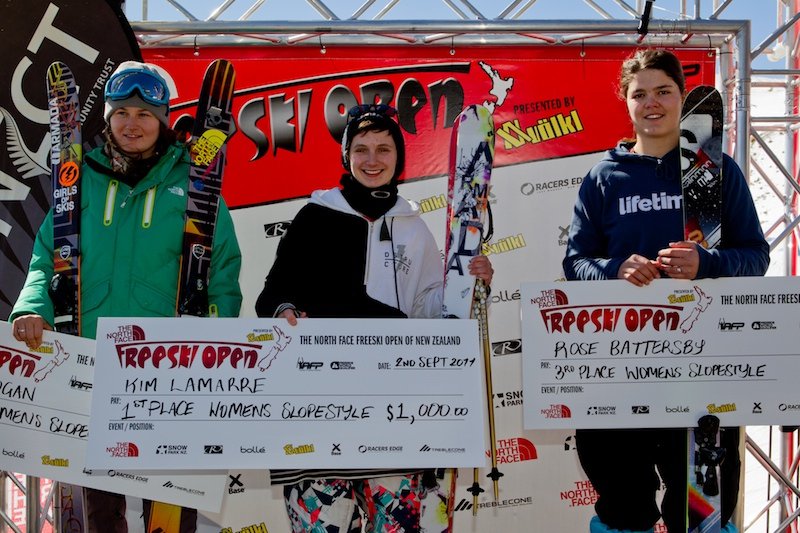 Devin Logan (2nd), Kim Lamarre (1st), Rose Battersby (3rd)
With seven countries represented today, the athletes in both the men's and women's fields will likely be the first ever to represent their countries when ski slopestyle makes its Olympic debut at the 2014 Sochi Winter Olympics.
The wind on course today led organisers to make the decision not to score the final jump. "It's a shame we couldn't have that final jump as a scoring jump but, due to the weather conditions, the safety issues were too high. After consultation with the riders we decided not to score it," said event director Cam Craighead.
The North Face Fresski Open of NZ, presented by Volkl continues today with the halfpipe competition at Snow Park beginning at 10am.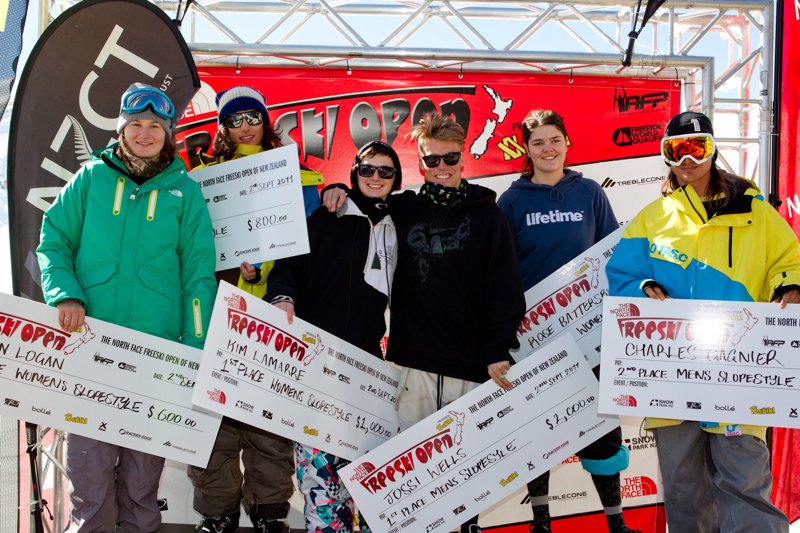 Results
Men
1) Jossi Wells
2) Charles Gagnier
3) Vincent Gagnier
4) Chris Laker
5) Joss Christensen
6) Klaus Finne
7) Cyrill Hunziker
8) Takumi Toyama
9) Elias Ambuhl
10) Erik Hughes
11) Markus Eder
12) AJ Kemppainen
Women
1) Kim Lamarre
2) Devin Logan
3) Rose Battersby
4) Chiho Takao
To see how this event affects the AFP rankings, go to http://www.afpworldtour.com.