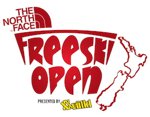 Words by Tania Pilkinton
Photos by Camilla Stoddart
Riders were treated to another crystal clear day yesterday at Snow Park for the halpipe competition of The North Face Freeski Open, presented by Volkl, where America's Taylor Seaton and Devin Logan took the top spots.
With wind early in the morning the decision was made to move straight to a men's semi-final where 20 competitors competed for the 12 available spots in finals. As the morning went on the winds died down and the tricks got progressively bigger.
America's David Wise was the top qualifier out of the semifinals scoring 82.75. Also making the cut were Nils Lauper, Gus Kenworthy, Peter Crook, Cyrill Hunziker, Wing Tai Barrymore, Taylor Seaton, Yannic Lerjen, Klaus Finne, Kentaro Tsuda, Kalle Hilden and Geoff Straight.
After winning yesterday's slopestyle, NZ's Jossi Wells pulled the pin on today's competition saying, "My knee is a bit sore today. I decided to be proactive and prevent possible injury so that I can keep charging hard for the rest of the season."
When it came to the finals, David Wise had to settle for second with Taylor Seaton stepping it up and defending his title. Seaton is no newcomer to the podium here in New Zealand, as he won the event last year and took second the year before.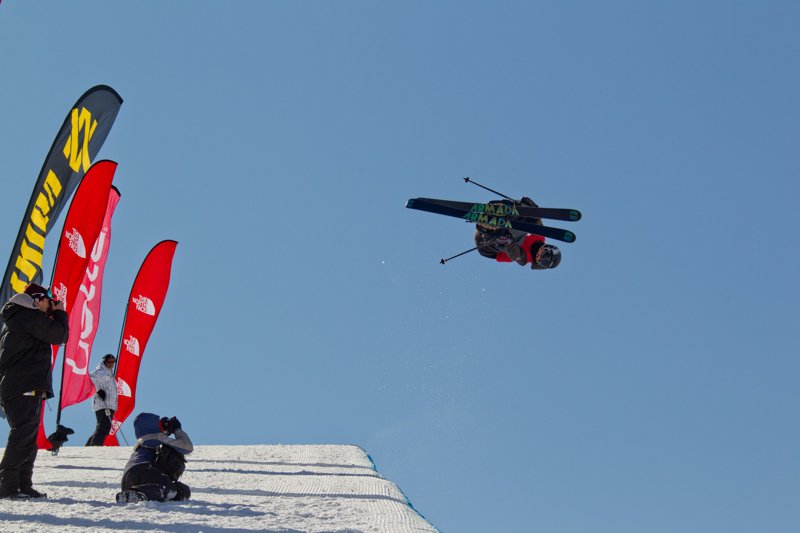 Taylor Seaton
"Amplitude and execution stood out for Seaton," said head judge Rafael Regazzoni. "He hit everything perfectly and building height as he went down the pipe. He rode really well given the wind and pipe conditions."
Seaton was thrilled with his win saying, "It's amazing, I couldn't ask for anything more. It was a challenge throughout the day for sure with the winds picking up in the qualifying rounds. Also, I broke my boot."
Seaton, who borrowed a boot for his second run in the semi-finals, was able to make the necessary adjustments and go on to win with a run that included a 270 into the pipe to switch 720 truck driver, right 900 mute, left 900 tail, alley-oop left 540 blunt and capped thing off with an alley-oop right 540 tail to score 84.25 points.
"This is my sixth season down here and it just keeps getting better and better. I'm having more fun every year," said Seaton. "My goal today was to make it to the podium so I'd could secure a spot in the X Games. Hopefully my win will also be a big push to making it to the USA Halfpipe A Team. I'm next in line for a spot." Today's second and third place winners Kenworthy and Wise are both currently on the US team.
Wise's second place run included a left 900 nose grab, alley-oop flat spin 360 mute, switch left 720 double japan, right 900 tail and left 1080 mute that scored him 81.25 points, while after placing first in slopestyle and halfpipe at the Winter Games NZ, the 2011 AFP Overall World Champion Gus Kenworthy had to settle for third. His run, which featured a left cork 900 tail, right 720 tail, switch 720 japan, alley-oop 540, left 1080 tail and switch alley-oop 720, scored him 77.5 points.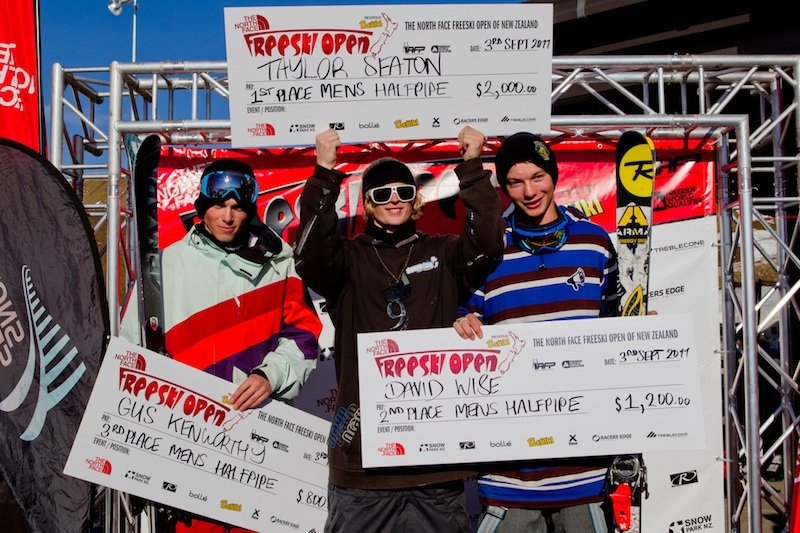 Gus Kenworthy (3rd), Taylor Seaton (1st), David Wise (2nd)
"The top three men all skied at a really high level," said Regazzoni. "It was great to see lots of the others pushing themselves to reach the level of the top riders."
Coming off three wins at the Winter Games NZ in slopestyle, halfpipe and big air, the current AFP Women's Overall World Champion Devin Logan was back on top yesterday with a winning run that scored her 85.25 points and included a japan air, left 540 tail, right flair, mute air, alley-oop rodeo 540 and left 540. This is Logan's final competition of the Southern Hemisphere season.
"This has been a great start to my season," said Logan. "I've podiumed in the past five competitions." After a great Southern Hemisphere season Logan is happy to be heading home. "It will be good to get home and spend time with the family before hitting the slopes again for the Northern Hemisphere season. Coming down to New Zealand has worked out really well for me over the past two seasons. I definitely plan to be back again. In fact, I may even be back this October for the Cardrona pipe camps."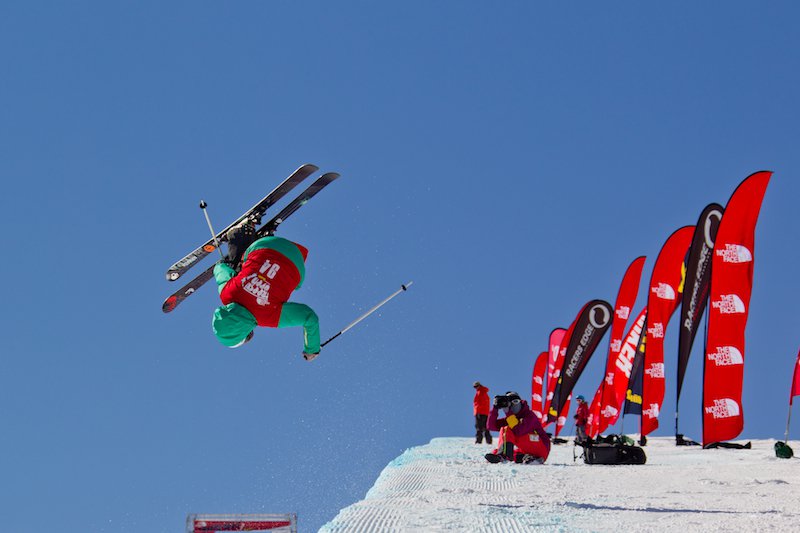 Devin Logan
"Devin threw down one of the best runs I've ever seen in the pipe," said Regazzoni. "She brought new tricks in including an alley-oop rodeo 540 with amazing amplitude. There are only two girls in the world pulling that trick."
Kiwis Amy Sheehan and Janina Kuzma battled it out for the next two spots on the podium with Sheehan taking second by one point. Sheehan's left 540, right 360, switch alley-oop 360, straight air and right 720 scored her 70.5 points.
"Amy was riding really strongly and really clean," said Regazzoni. "Her right 360 to switch right 360 is a technical combo to put high in her pipe run. The technicality of Janina's run was right up there as well but her amplitude and execution was just a bit shy of Amy's."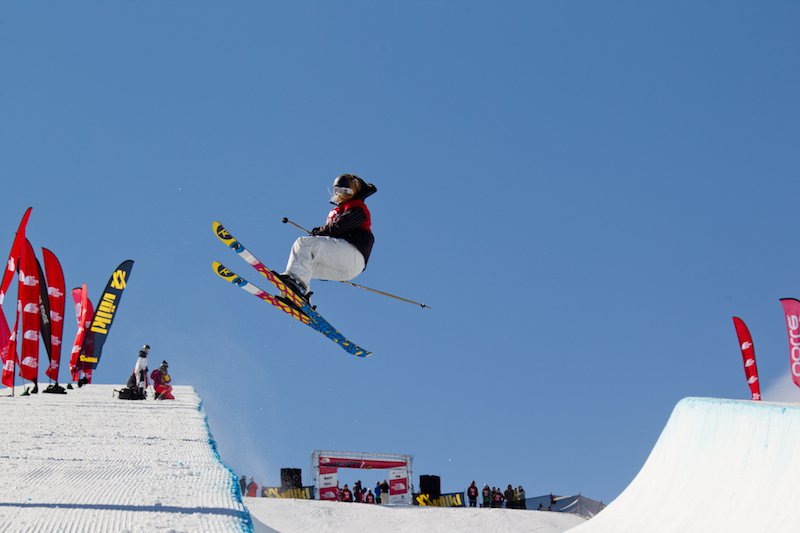 Amy Sheehan
Sheehan, who was out with an injury during the Northern Hemisphere season, has shown us she's back in action. She came back with her right side cork 720, the same trick that led to her injury. Yesterday it was a success.
"I'm stoked that the wind died down for us," said Sheehan. "It was great to ride with all my friends again. It's nice to be back up there, back into it and doing well."
Kuzma also showed that she can throw it down in the pipe, and is currently the world's third highest ranked big mountain skier and recently took top honours as the overall woman's skier at the World Heli Challenge. Kuzma's run today featured a straight air, right 540, left 540, safety grab, left 720 and switch alley-oop air.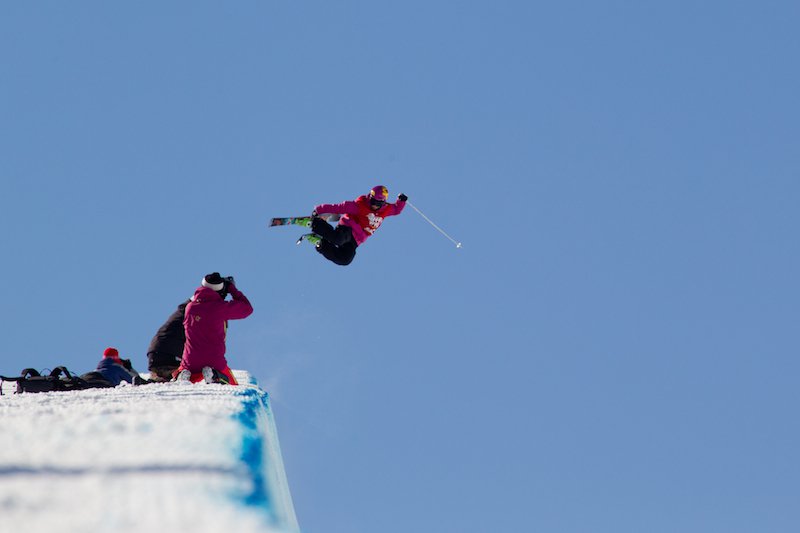 Janina Kuzma
With the slopestyle and halfpipe wrapped event director Cam Craighead expressed his gratitude to the host resort, Snow Park. "This is a transitional time for the sport and the event in New Zealand," said Craighead. "Snow Park has played a huge part in getting behind the event and helping to make it happen."
"We're happy to once again host this event in New Zealand," said Snow Sports NZ's acting general manager, Ross McRobie. "It's amazing to have athletes of this caliber competing here on our soil and even more exciting to think that many of the competitors will be our future Olympians when ski halfpipe and slopestyle debut at the 2014 Olympics in Sochi."
The spectators were also treated to a first in New Zealand with the appearance of the infamous banana bar, a tradition that was started at the European Freeski Open in Laax.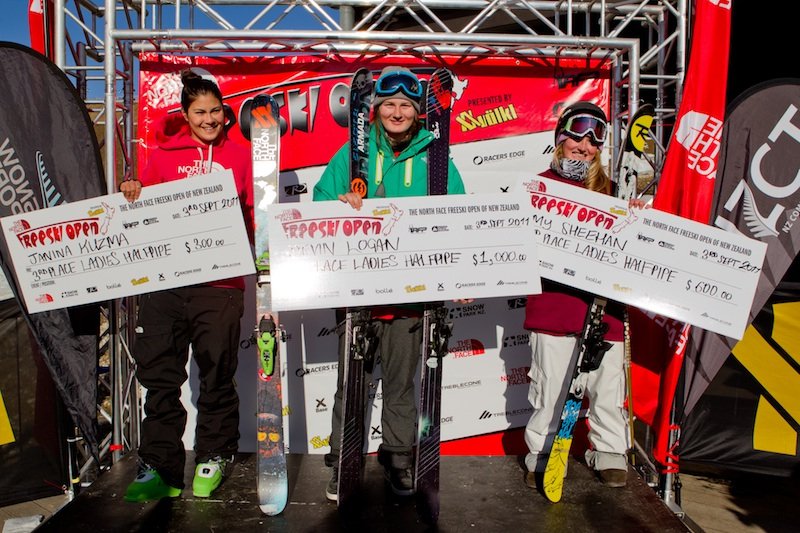 Janina Kuzma (3rd), Devin Logan (1st), Amy Sheehan (2nd)
Results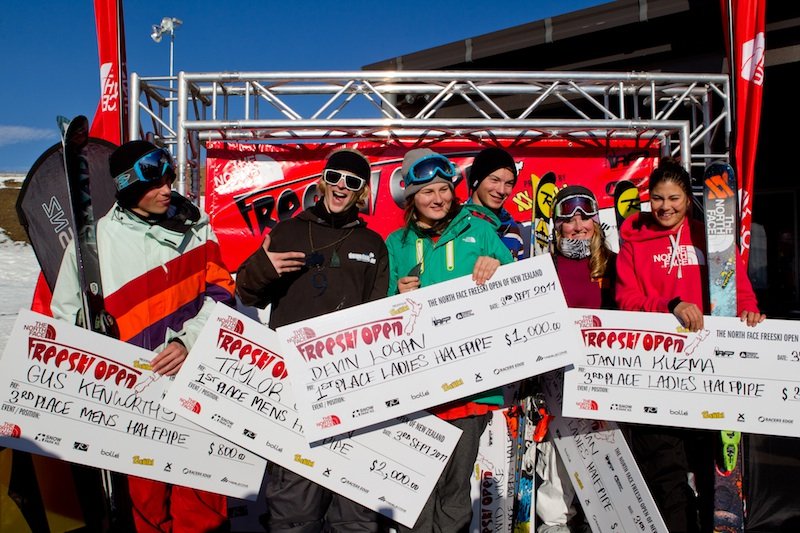 Men
1) Taylor Seaton
2) David Wise
3) Gus Kenworthy
4) Yannic Lerjen
5) Peter Crook
6) Cyrill Hunziker
7) Wing Tai Barrymore
8) Geoff Straight
9) Klaus Finne
10) Kentaro Tsuda
11) Nils Lauper
12) Kalle Hilden
Women
1) Devin Logan
2) Amy Sheehan
3) Janina Kuzma
4) Jen Hudak
5) Rose Battersby
6) Shuri Terada
7) Samantha Poots
8) Isabelle Hanssen
9) Jenna Anderson
10) Brita Sigourney
11) Kendall Deighan
12) Anais Caradeux
The North Face New Zealand Freeski Open is an AFP silver event, earning the top competitors valuable points in the first major competition of the 2011/12 season. To see how this event affects the AFP rankings, go to afpworldtour.com.