Words & photos by Darryl Hunt
So, I know I just put a TR up the other day and I was going to wait a bit before putting another one up, but yesterday was just too good to not share. As you know, I was down in Rossland last week (and if you don't know, check my previous article by clicking here) taking advantage of their snow pack and conditions - which are way too good for December if you ask me. While it was fun down there, home was calling... that and my lady needed me to pick her up in Kelowna and bring her home. With at least three days of high pressure in the forecast and unnaturally stable conditions, I was pretty excited to get back and bang off some lines at Rogers Pass to finish off the holidays. The only unfortunate part of the story is this hangover I am dealing with today due to last nights festivities which 'forced' more to take the day off and relax (life is tough, I know). Nonetheless, yesterday was an excellent day of skiing, meeting new people, and overall just having fun.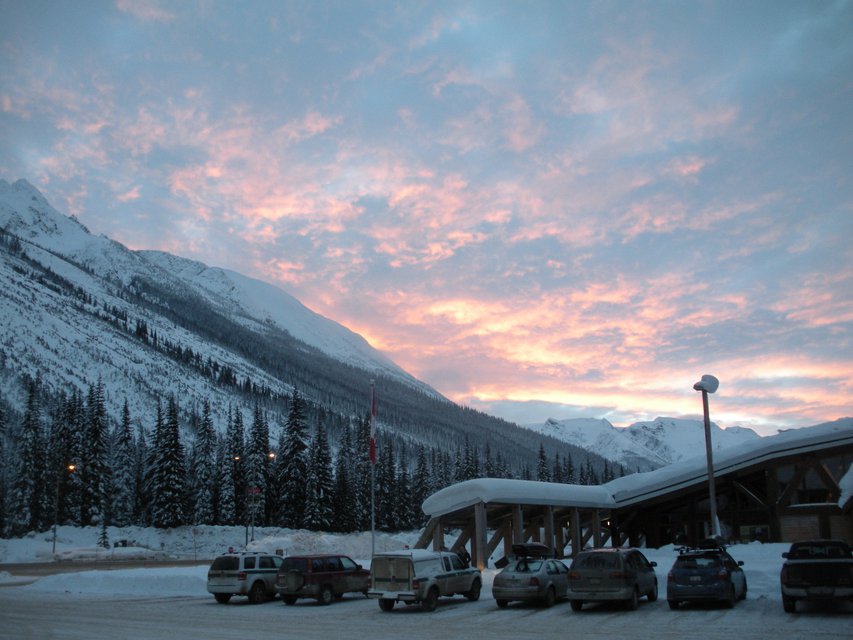 Waiting for the crew to show up at the top of the pass with a beautiful sunrise to start things off. Our crew today consisted of my friend Brace, his friend Kyle, and my new friend Luke who is a fellow NS'er and today was a bit of a blind date of sorts. Who doesn't love the community that is NS anyways?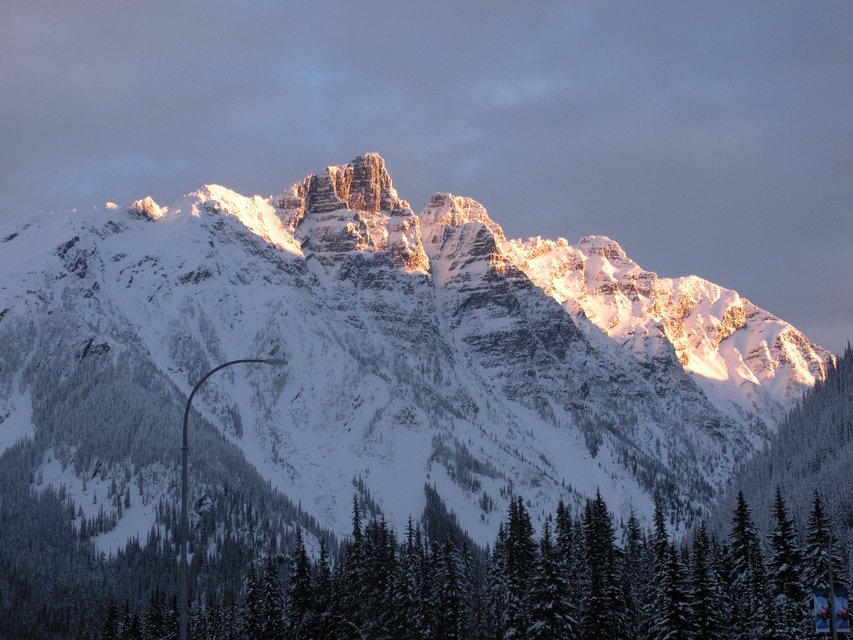 Early morning sun on the impressive face of Mount Tupper.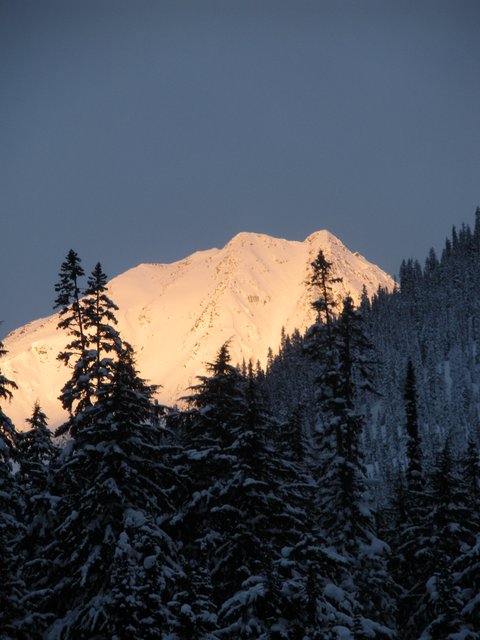 Our objective of the day. The main chute (lookers right) off the summit of Grizzly Mountain taken from the parking lot. Since the first time I saw this line it was on my bucket list and today was the day. All we had to do was climb up there.
After a quick trek up the main valley we get to the bottom of our accent. Our route up went through the trees on the left side of the picture and up the ridge to the summit. The area hasn't received much snow in the past week or so resulting in a old, well used skin trail that actually ended up sucking more than we would have thought. With a slick, beaten path with a thick layer of surface hoar on top, it made for some tough climbing to say the least. Once we made it above treeline things got a lot easier thankfully.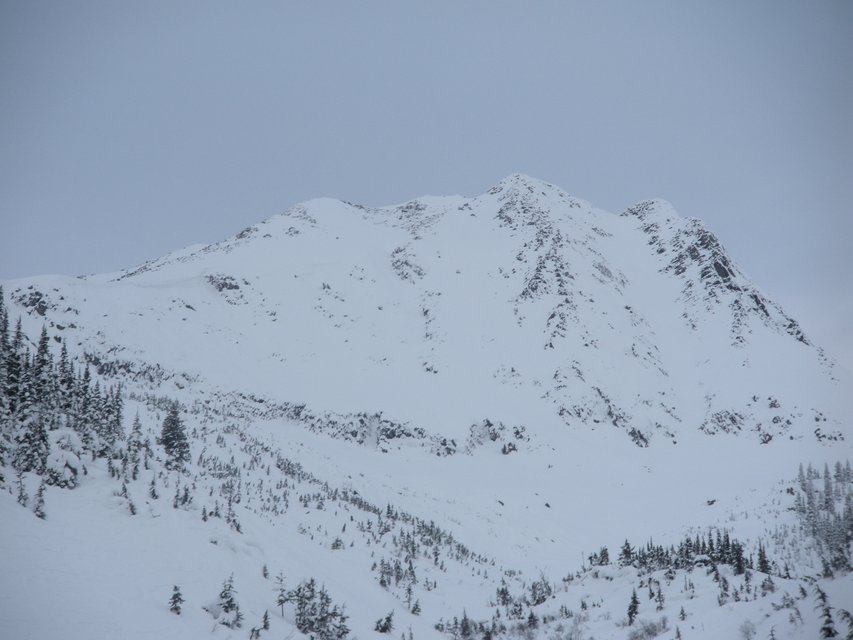 A closer look at our objective. (again, the lookers' right chute)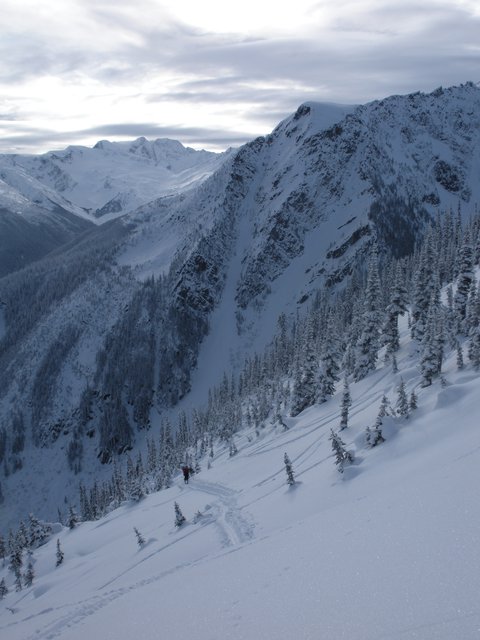 Luke skining up. Only a few more switch backs before we reach the ridge and break for lunch.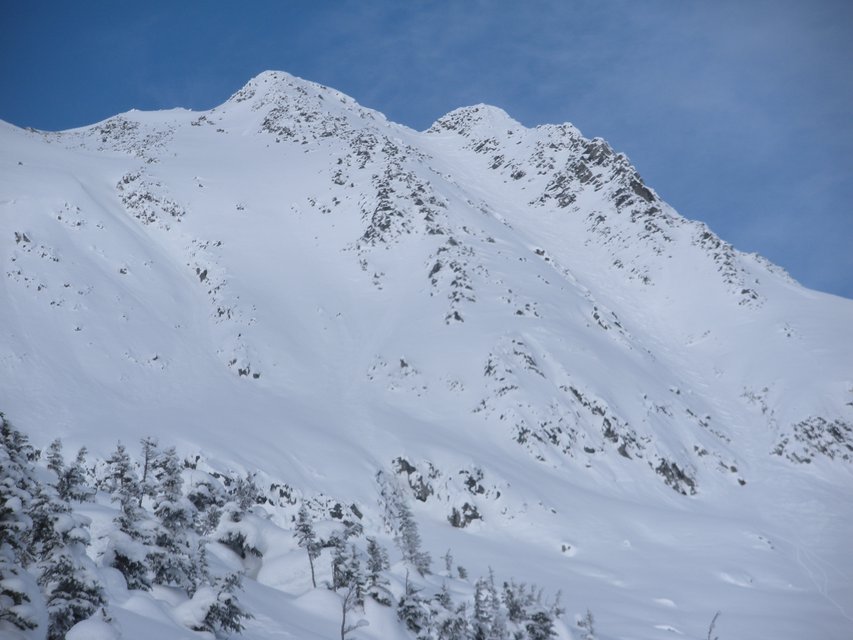 One last picture of the face (at least without people skiing it). When we reached the ridge and got a good look at our goal we see that 4 people have skied it the previous day, making us rethink our plans. At this point we figure the chute is going to be skied out and start looking at the face to the lookers left of the peak. Note the steep roll over and dogs leg at the bottom.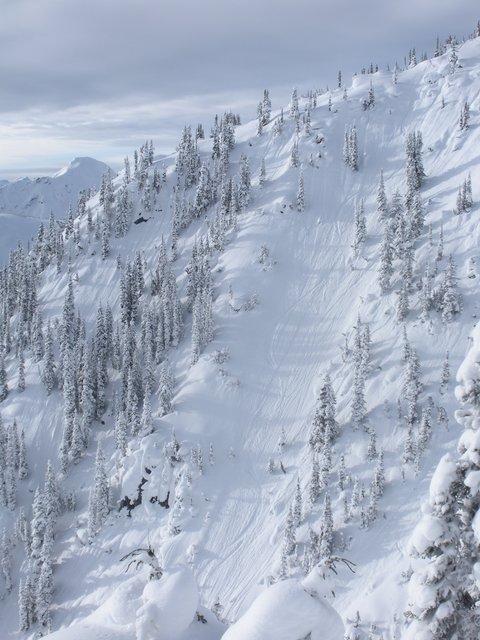 Scouting lines for the future. This fun little 'spine' is now on my 'to ski list'. It's going to have to wait for another day when the alpine isn't so inviting.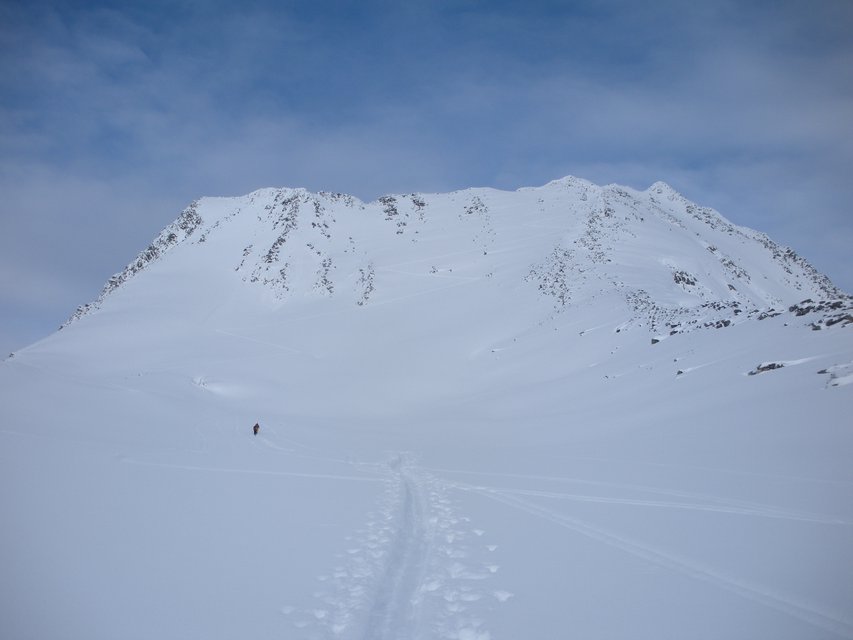 The final push to the summit. Our skiing options are now around the corner a bit to the right. It's only about 300 meters more to the top. 14 switchbacks to go!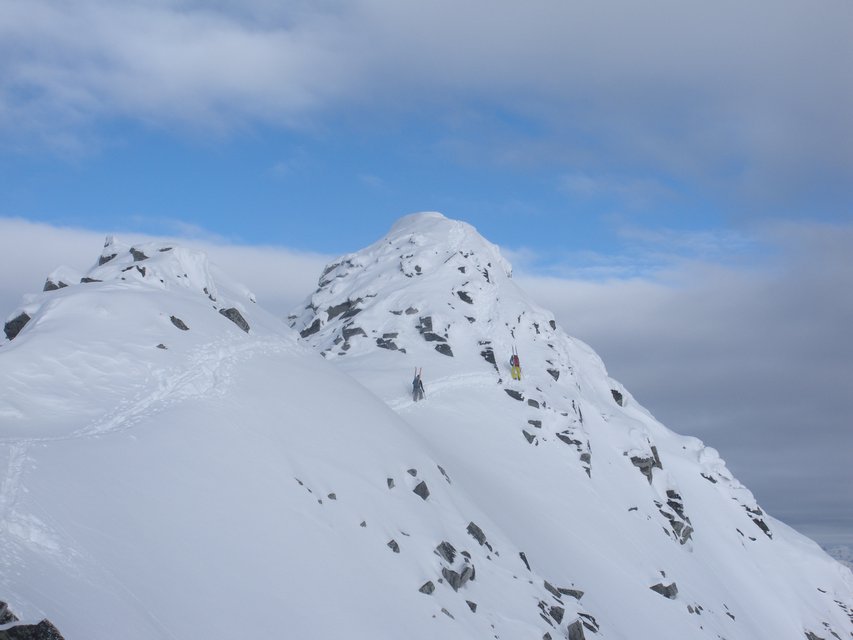 Brace and Kyle boot packing the final push to the top.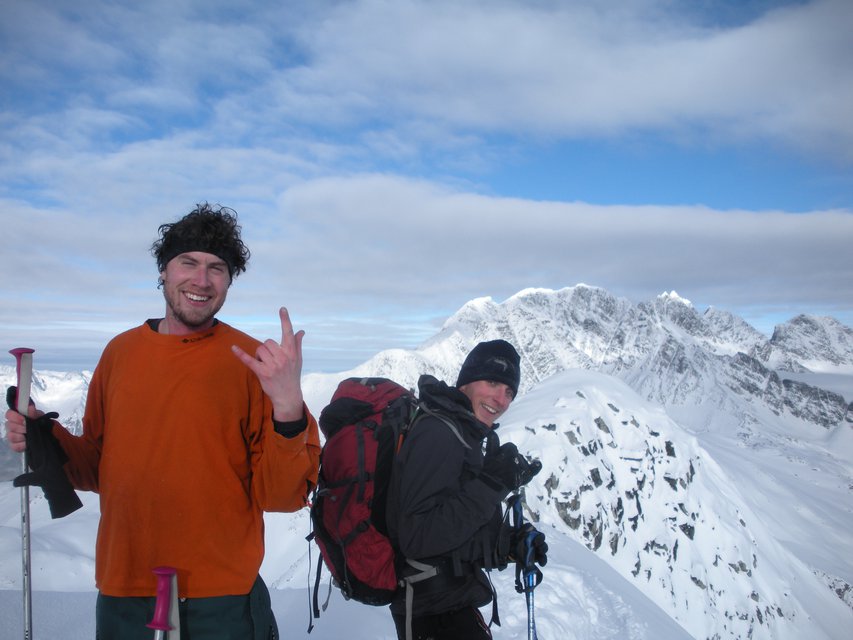 I made Brace take a picture of me at the summit. The top elevation of Grizzly is 2754 meters, and the parking lot sits at 1317 meters, which adds up to an elevation gain of 1437 meters. Not an entirely huge climb, but still big enough to feel it for sure. Beside me is Andrew, we met him on the summit and he had plans to ski the same face we were going to ski. While we were up top changing over two more people came to join us - who just happened to be some friends from Revelstoke. Seven people hanging out on a knife edge ridge enjoying life. At this point we had a look down both our line choices and decided the chute was still good to go (that and the steep roll over looked a little spooky to guinea pig so we left that for our friends that just showed up with the same mission).
http://www.newschoolers.com/watch/595819.0/DSCN1319-AVI
A quick panorama from the top. Mountains as far as the eye can see, and people getting in the way of my damn shot! Geez!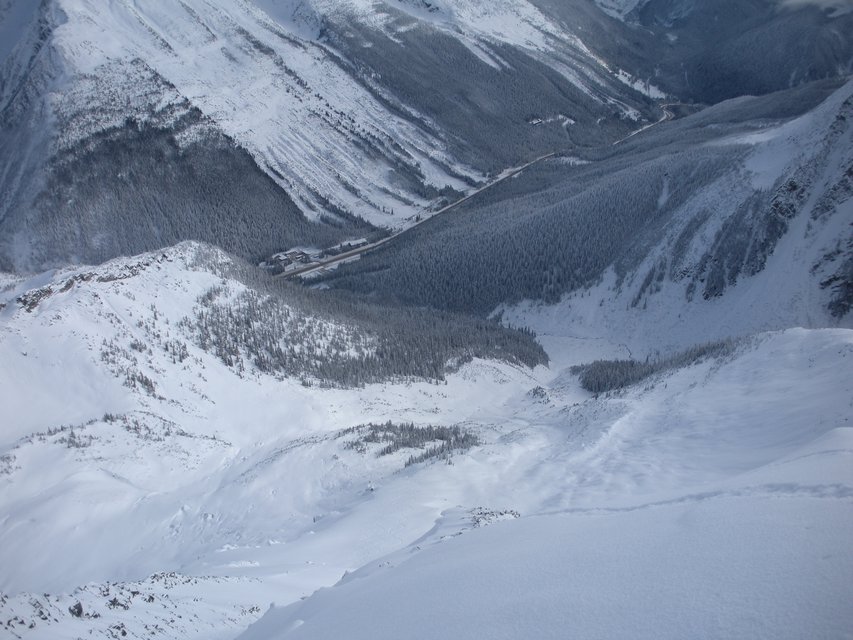 A look back down to where we started. A many handful of turns to be had to say the least.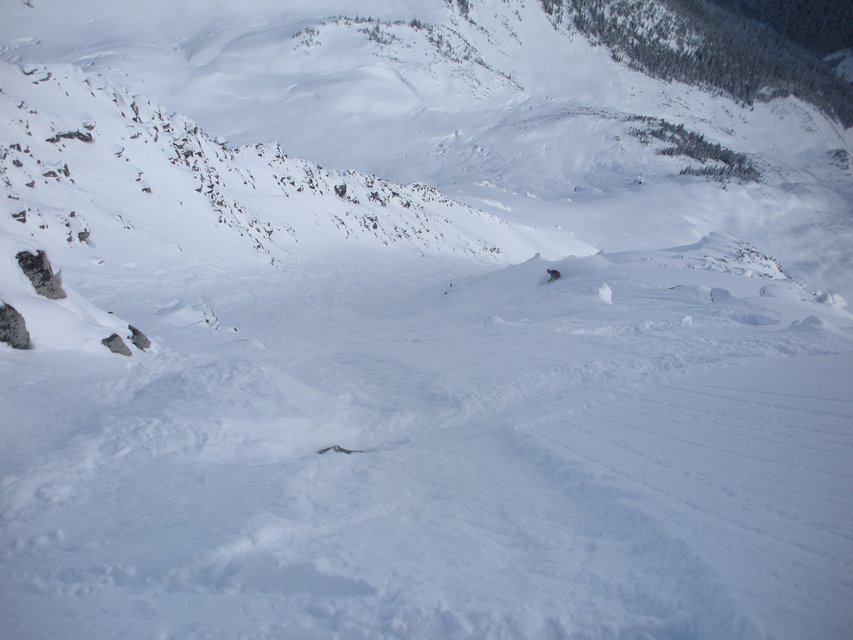 Brace dropping in first. The top bit had some heavy sluff, but once we were in the chute proper it was most excellent. Our friends who did the face beside us on the other hand had some pretty impressive sluffs for most of their run. Everyone skied smart and safe though and it was all smiles and high fives down below.
Luke in the chute - yeah, that little dot in the middle. Gives you a good perspective of how big this thing actually was; around 400M from the top to the choke at the bottom. Followed by close to 1000 meters of fall line skiing back down to the valley below. Gotta love Rogers!
I hope to get out tomorrow and bag another peak up at Rogers if the weather allows. The hoar is getting pretty substantial around these parts and I fear that when the next system comes in it will make avalanche conditions very sketchy.
I hope everyone is enjoying the last days of their holiday season. Now go out and ski!!!
Darryl Hunt.