Boulder Goes OFF!
On Thursday the
27th of September Poor Boyz Productions invaded Boulder with "Yeah Dude" and
"IDEA". The masses showed up to support the cause including
newcomers: Matt Walker and John Spriggs. As well as seasoned veteran
Peter Olenick and his whole entourage.  Check out the pictures and
expect to see this in your hometown soon!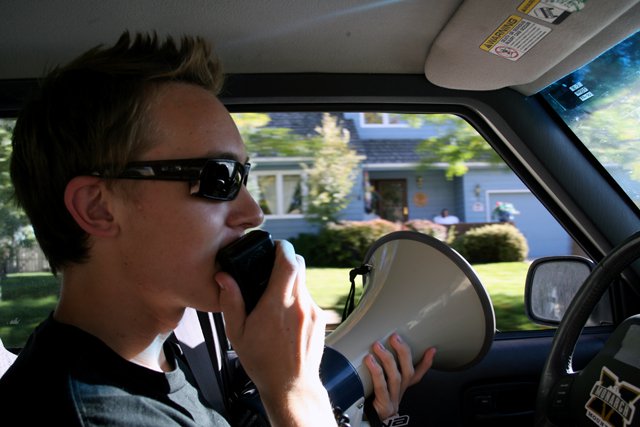 This is how we promote!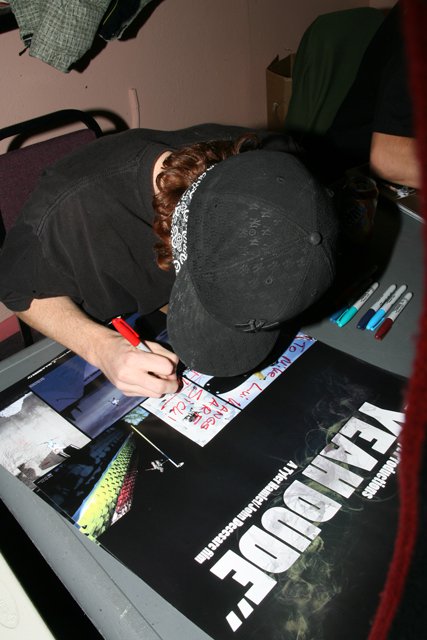 Walker signs it Up!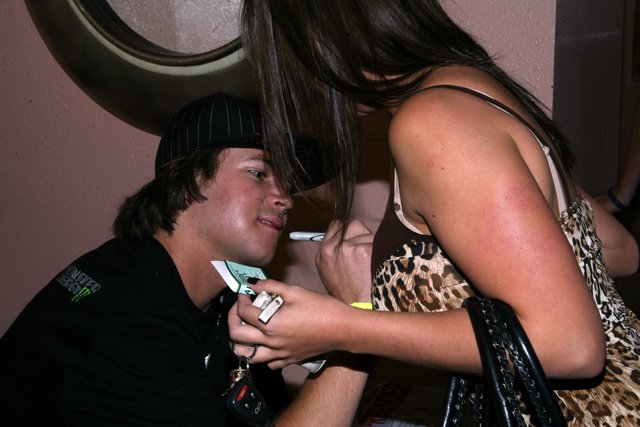 Peter.......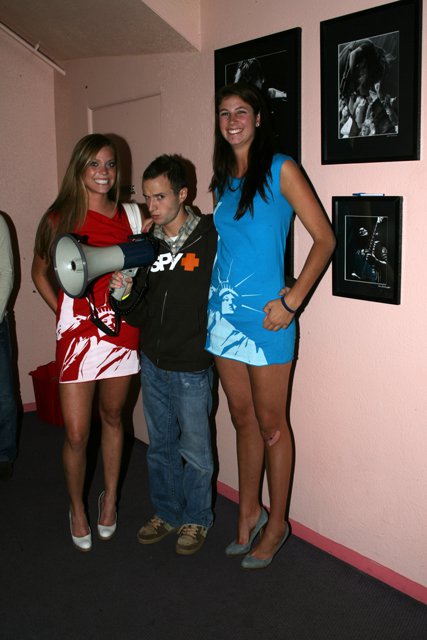 Boulder
Brings out the best in all of us!    
the ever so rowdy crowd!
Nike ACG Sweet Spot
A Sweetspot is a moment in time when effort and talent combine
perfectly. It's an experience of purity when
everything comes together and the spectacular is achieved.
Nike ACG athletes
have travelled across the globe to document their own Sweetspots with some of
the most respected film production teams in the world. They have returned with
tales of epic powder, tricks mastered, new experiences, unforgettable sessions
and memories that will live forever as their own Sweetspot.
- Andreas
Hatveit; on location with PoorBoyz Productions in Sandpoint (Idaho,
USA)
Click here to watch the high res version at the PBP site: http://poorboyz.com/node/130
or watch the low-res here!
Triple Threat!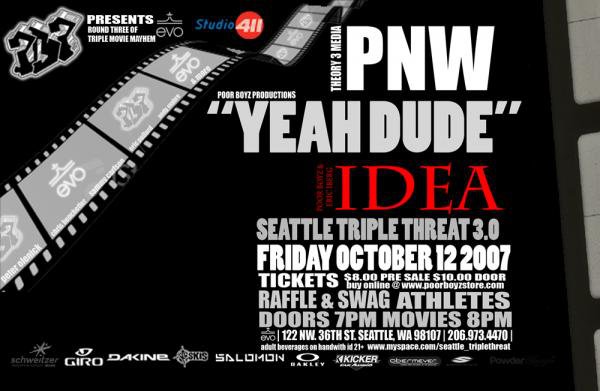 10/12/2007
PRESS RELEASE
The Triple Threat 3.0
Seattle,
Washington
It's time for round three of triple ski movie
mayhem!
Clear your Friday night day. October 12th is the date of this
year's Triple Threat 2.0 hosted by none other
than the center of cutting edge urban lifestyle and sports shop evo located in
the Fremont district of Seattle
You can expect to see, several familiar faces
this year from the movies including, Andy Mahre, Sammy Carlson, Chris
Benchetler, Zach Davison, Eric Pollard, Peter Olenick, Brandon "Sherpa" Kelly,
Erich Kunz, Charley Ager, along with Directors John DeCesare, Tyler Hamlet &
Jeff Thomas.
Buy your raffle tickets and get ready for the swag throw out
with product, passes, and gear from, Oakley, K2, Salomon, Smith Sport Optics,
Powder Magazine, evo, Dakine, Kicker Audio, Giro, Schweitzer Mountain Resort,
Obermeyer & More!
Pre-sale tickets are available at evo in Fremont
for $8.00, or you can buy them at the door the day of the show for $10.00For all
of you who are 21+, head down to the official after part the Triangle right down
the street. Every paid ticket comes with one raffle ticket.
EVO is located in
Fremont at 122 NW 36th Street, Seattle, WA 98103.
http://www.evoseattle.com or http://www.evogear.com
DOORS OPEN AT 7PM. MOVIES
AT 8PM, WITH RAFFLE AND SWAG TOSS OUT
Cost:
$8.00 Pre Sale at evo and poorboyzstore.com
$10.00 at the
Door.
Raffle Tickets: 1 for $1.00, 10 for $5.00, and 25 for $10.00
MORE RECENT NEWS UPDATED!
 
The time has come to release one of the grand raffle prizes up for
grabs.
(1) 5 DAY ALASKA HELI SKIING TRIP
PACKAGE
http://www.alaskaheliskiing.com/
ONE LUCKY WINNER WILL BE
DRAWN AND WIN THE TRIP OF A LIFETIME TO SKI SOME OF THE SAME LINES THAT HAVE
BEEN IN THE POOR BOYZ SHOWCASE FOR THE LAST FEW YEARS.
ALASKA HELI SKIING
IS OUR GUIDES OF CHOICE ANDTHEY HAVE BEEN KIND ENOUGH TO CO OP THIS GREAT PRIZE
FOR OUR GUESTS TOMORROW NIGHT!
BUY YOUR TICKETS NOW! AT EVO OR
The Triple threat on the web: http://www.myspace.com/seattle_triplethreat