Alec Willoughby disastering the battleship in Thredbo Park, AUS by Hugo Peckham
From what started as a question of "How difficult would it be to make a pair of skis yourself?", 5 years later, has progressed to having skis produced in a factory in the Czech Republic, with sales starting earlier this year on faunaskis.com and we couldn't have done it without Newschoolers.
Through the help we got in the Official Ski Pressing/Shaping/Building/Constructing Thread especially @NinetyFour , @RudyGarmisch & @loganimlach , we started building first pair of skis in my parents garage in 2014. Working from a basic knowledge of joinery, composites and a pretty comprehensive knowledge of what goes into skis, a concept for our first attempt at skis was born.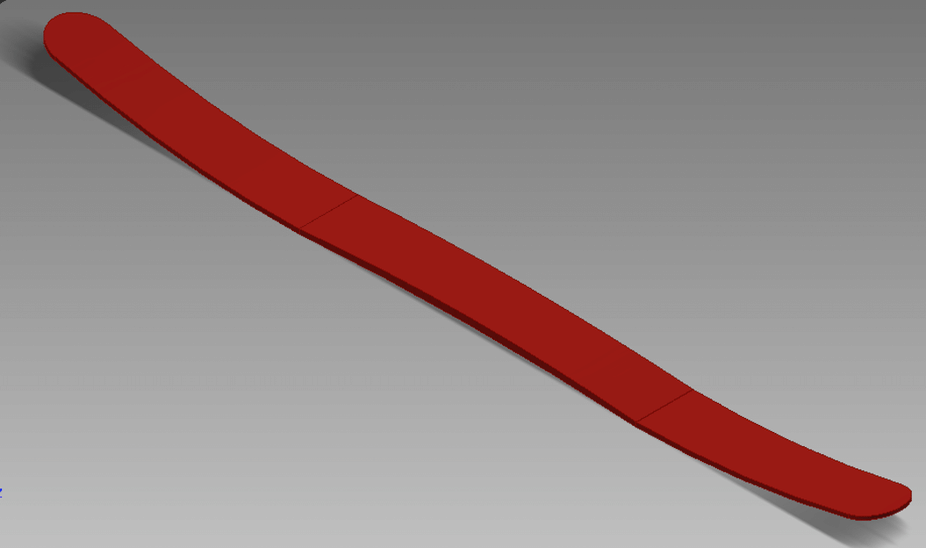 Early computer models of the concept
They were a powder ski concept of dreams, 126mm underfoot, more rocker than camber, and just enough sidecut to not look like a jerry on anything less than 2ft deep. As far as construction, they were to have no sidewalls, fibreglass top and bottom of an edge-to-edge ash core, on a standard base & edge, and a stained wood veneer topsheet.
The first pair of concept skis
Without the advice and experience building their own skis from NinetyFour and Logan, parts of the process like forming the mould would have taken far longer to work out, using ideas like using a mold formed of multiple rib sections to form the rocker profile and a metal sheet lining. After a leap into the unknown with trusting a small vacuum pump to put enough pressure on the glue sandwich of all the materials to make usable skis, they came out the press with a smooth, tight laminate and the rocker profile planned.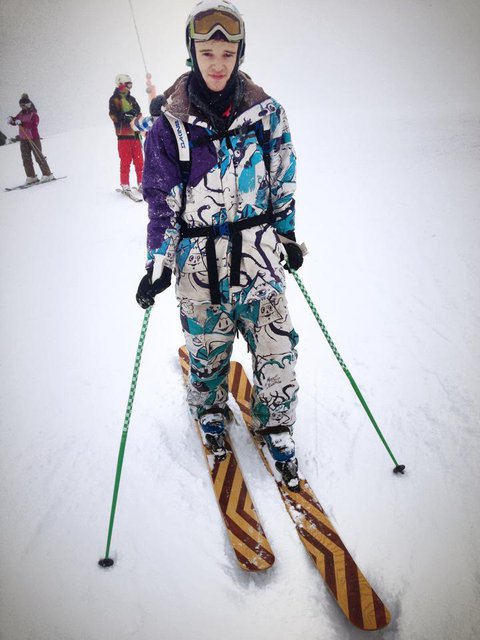 First day on the concepts (in the OG magic suit)
Despite their simple construction and low-tech vacuum pressing technique they performed amazingly. Running fast in fresh snow and turning in the surfy way dreamed of. This went on to inspire a future of building prototypes of a range of designs, taking advice from Logan and Rowen on how best to refine the finish of the wood veneers and get a more complete, consistent ski, something like what you could pick up, buy and ride yourself.
Our tiny prototype workshop ready for a layup
20 pairs later and seasons worth of extensive testing in resorts across the European Alps; British Columbia; New Zealand and Australia, these designs were refined to the point of looking to the future and scaling up.
After finding a factory who specialised in wood veneered skis, who were able to make skis to our spec, we had samples made and working through some finishing decisions, we put our first skis into production.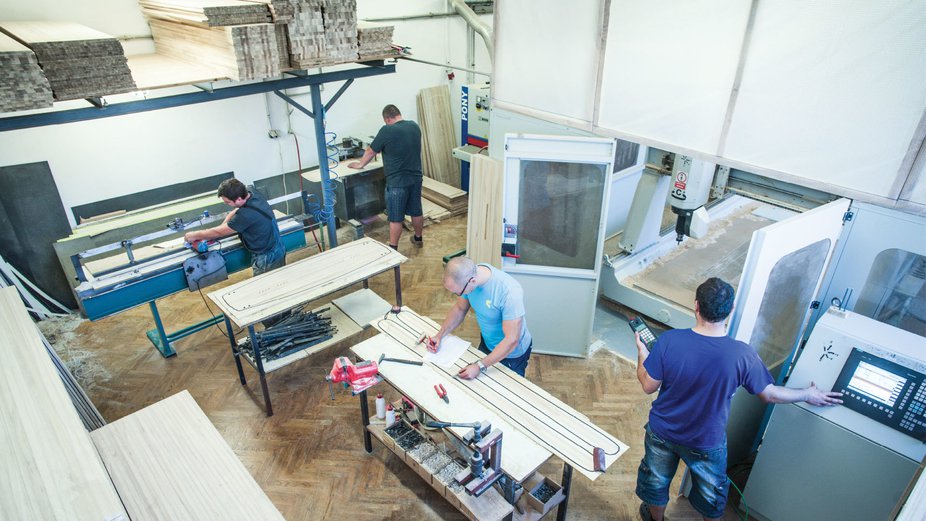 The view inside the Czech ski factory
Our first ski for factory production is of the Alparka, an 86mm underfoot, a full blooded, full symmetric park ski, 108-115-86-115-108 @ 178cm. Available in 170cm and 178cm (true length). Named so as a nod to its use and topsheet design of an alpaca, in recognition of Newschoolers long association with the Drama Llama. For our first production run of 80 pairs, we are selling them for the resonable sum €485/£420/$550/$730CAD at faunaskis.com.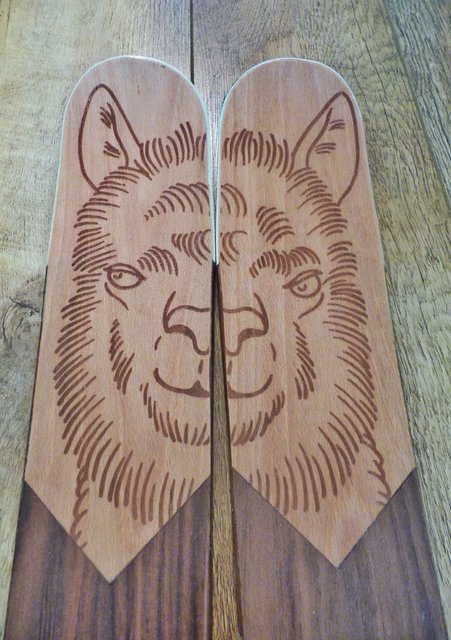 Alparka topsheet and alpaca detail
Coming at starting a ski company from the techy side, the ski details are the parts we're most proud of:
Starting from the bottom, taking cues from other bomber skis that are fan favourites on newschoolers, like ON3P, J Skis & Moment, we have selected an extra-thick 1.8mm sintered PTex 3000 base for speed going into park features and a thickness meaning you can forget worries of core shots from rocks or sharp edges on rails. To accompany the extra thick base we have a 2/3rds wrap of, park detuned, extra thick edges to match, a 2.2x2.5mm (WxH), extra thick in the good way, so you can worry less about edge cracks and focus on your riding. From there we've got an ash core, with ABS surrounding the tips, paired with triax fibreglass and carbon bands for a lively and responsive mid-stiff flex, giving you endless amounts of pop for hucking onto high rails and over kickers.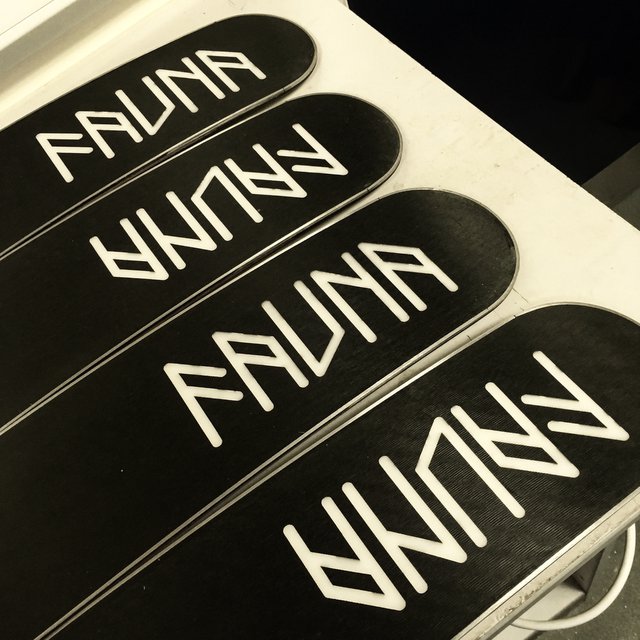 Fauna die-cut sintered bases
While the above has become almost standard for park skis, here's where we diverge from the crowd.
Our skis use Black American Walnut Hardwood sidewalls, a wood which is known for it's strength, durability and shock resistance and has been relied on in the harshest environments as a material for gunstocks. This is sealed & protected from moisture and strengthened with a coating of Teak Oil. Unlike ABS or UMWPE plastic sidewalls, the hardwood contributes to the flex of the ski rather than dampening, adding to the liveliness and energy of the ski.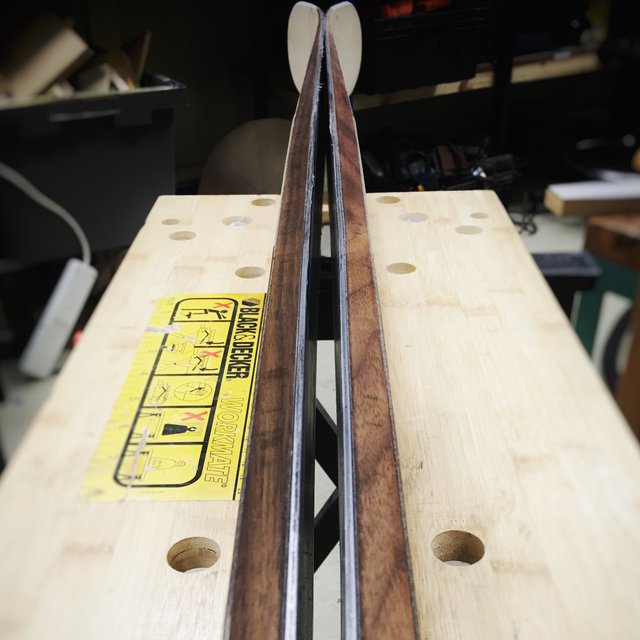 The grain on the sidewalls of a pair of park prototypes ready for a first base grind
Around the same time ON3P were starting to play around with their wood veneer topsheets, we started making skis and were inspired to bring it to newschoolers as standard on our skis, but with the inclusion of some pieces of different wood types and include some graphics. These graphics were hand-drawn by a friend, an amazing tattoo artist and an OG-style skier with far more talented than me with ink, Jack Peppiette.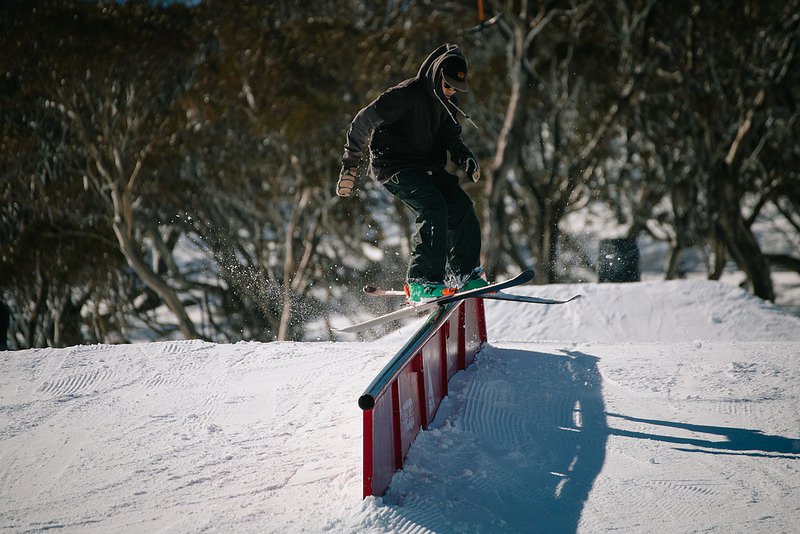 Jimmy testing prototype Alparka's in Thredbo Park, AUS by Hugo Peckham
We're starting with the Alparka in February and now for winter 19/20 we have our all-mountain freeride ski, the Pioneer. A light, mid-stiff, 105mm underfoot directional ski available for €690/£595/$760/$1000CAD at faunaskis.com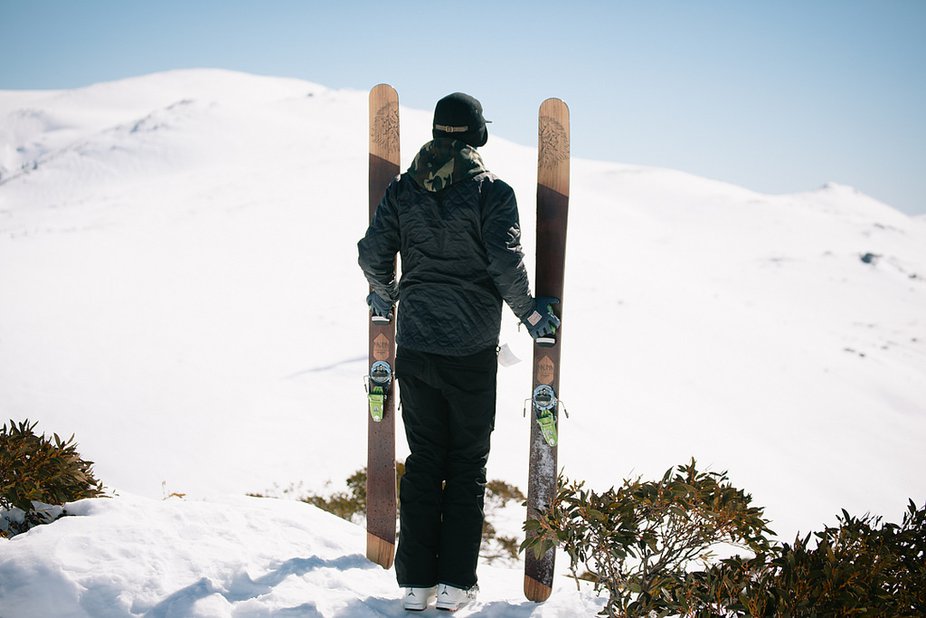 Hugo Peckham testing out Pioneer samples on Charlotte Pass, AUS
by Ashlee Hall
Along with getting our factory skis produced we're going to be continuing to developing our line of skis using hand built prototypes. We have a line of a few more skis to come and we want to share that process and the details with you as it progresses.
Check out our website faunaskis.com, ask any questions you've got on our AMA thread in Ski Gabber and look out for more from us here on Newschoolers, including a Roofbox Review, coming soon!