All photos: Jamie Walter
As a European who has seldom ventured across the pond, I have pretty limited experience of North American skiing. Rolling into this trip to SkiBig3, my preconceptions were based on a previous trip to Colorado and shots of Whistler, Mammoth, and other freeskiing landmarks. I expected deep snow and great parks, but as a resident of the Alps, I did not expect to be blown away by the mountains themselves. I was – Banff National Park is one of the most beautiful places I have ever been to. It turns out there's a reason this is Canada's oldest national park, predated only by Yellowstone and Mackinac in the US.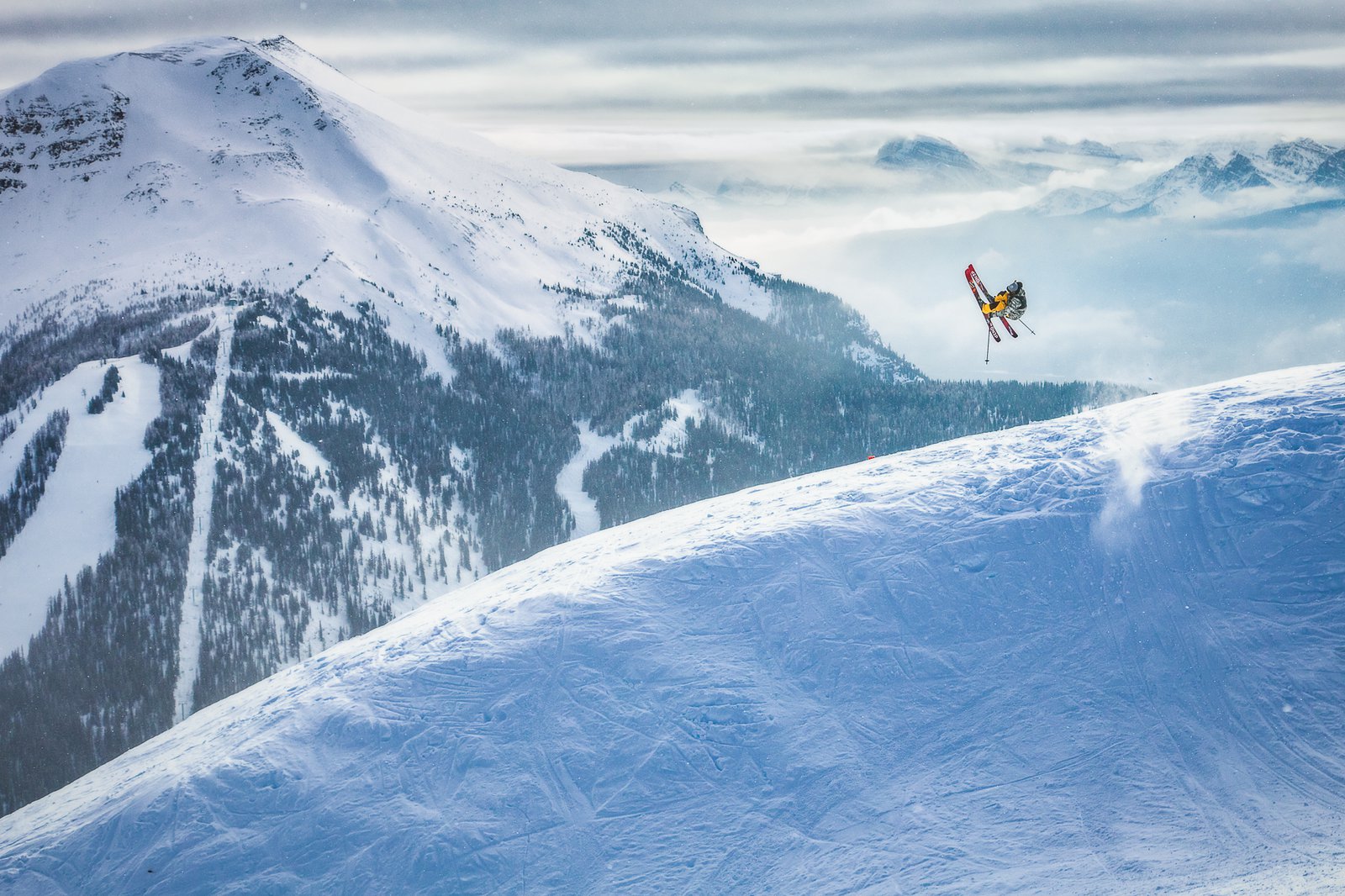 Karl stunting in front of one of the many, many unbelievable backdrops at Lake Louise.
_
We might not have got the pow I'd been dreaming of; it turns out January is a bit early season for that out here, but the views were something else. Nigh-on every photo we shot came out stunning, despite low tide conditions. The parks, the sidehits, even the groomers, no matter what we shot it came out perfectly. And the fact that all of SkiBig3 sits on National Park land really changes the flavor of the skiing. The resorts are businesses, sure, but the rampant development and consumerism seen in most has been tempered here. They may all be on the Ikon and Mountain Collective passes, but the three resorts are each privately owned, which gives each of them a genuinely unique feel.
Our seven-person crew, comprising Karl Fostvedt, Lucas Wachs, Taylor Lundquist, Jamie Walter, Gavin Rudy, Dad (David Zorko) and myself, convened in Banff from our respective start points. Despite me flying in from Europe, it was Karl who took the gnarliest journey honors, with a two-day mission from his home in Ketchum, Idaho… with his new trailer/home in tow. Lucas was in Revelstoke and had a mellow drive to meet us in Banff while the rest of the crew, flew into Calgary. Luckily, we were lavishly looked after all trip and daily hot tub sessions eased our aches from travel and the hard landings.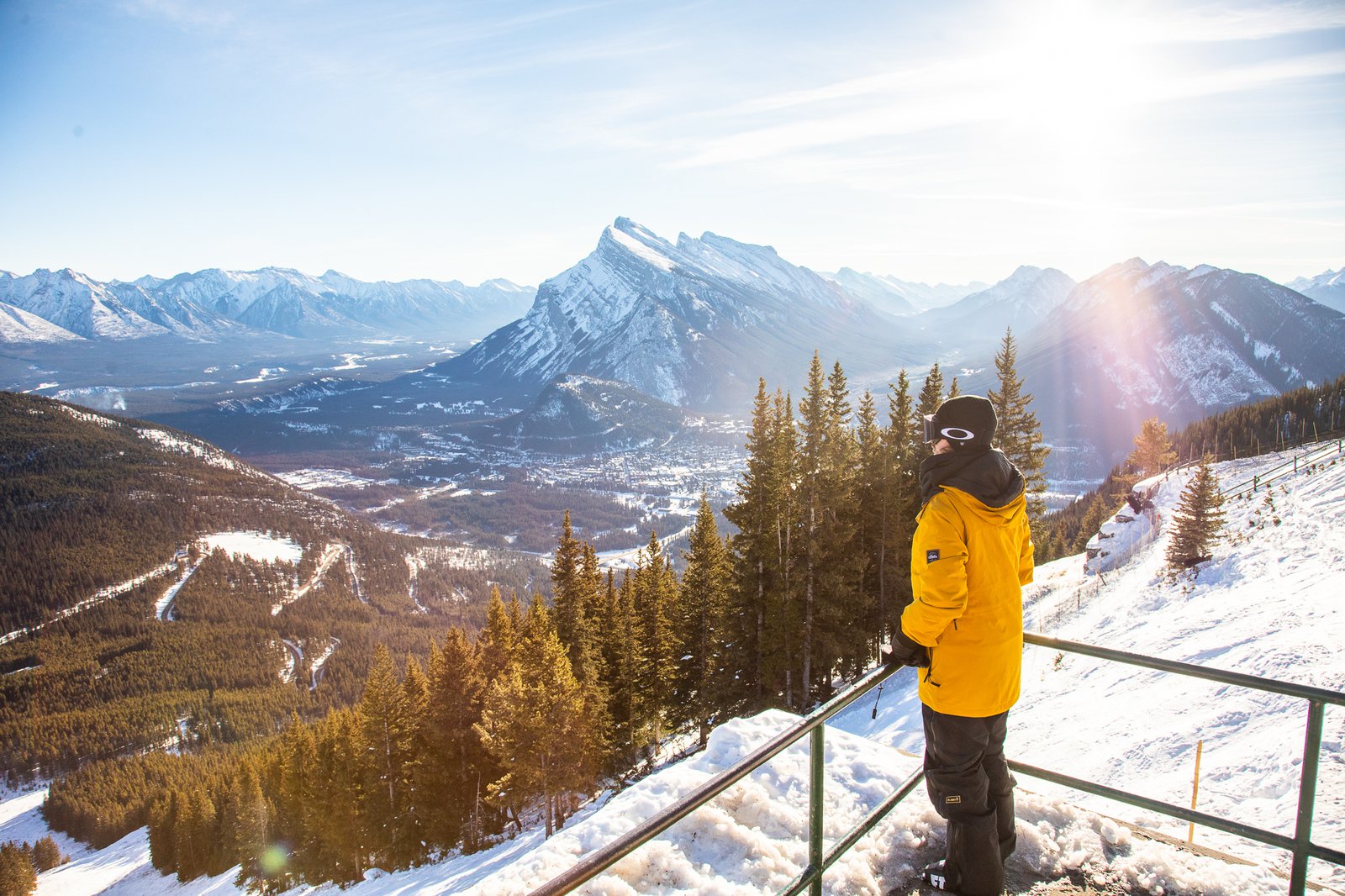 I highly recommend packing a photographer whenever you travel. The view from The Cliffhouse.
_
Day one saw us hit Mt Norquay sans Karl, who was still mid-drive. It's often overlooked in favor of Lake Louise and Sunshine Village but erroneously so. We had a blast checking out the history up at the Cliffhouse, the cafe which sits at the top of the North American Chair and first served customers back in the 1950s. What really caught our attention were photos of Ruedi Gertsch sending off the roof of the building back in the 60s. Sadly, on our visit, the landing was a mogul field but the crew did its best to pay homage. After that, we headed to the park to film alongside an insanely stoked crew of locals, mostly snowboarders, on a bunch of fun rail features. Man-made snow mounds that were yet to become the jump line also kept us entertained. And it all came with an insane view over Banff and the National Park. Even I was motivated to try and get some shots, despite the fact that I was doing my utmost to cough up a lung. My cough went on to form the soundtrack of the trip, with stiff competition from the monkey screeches that became a squad trademark.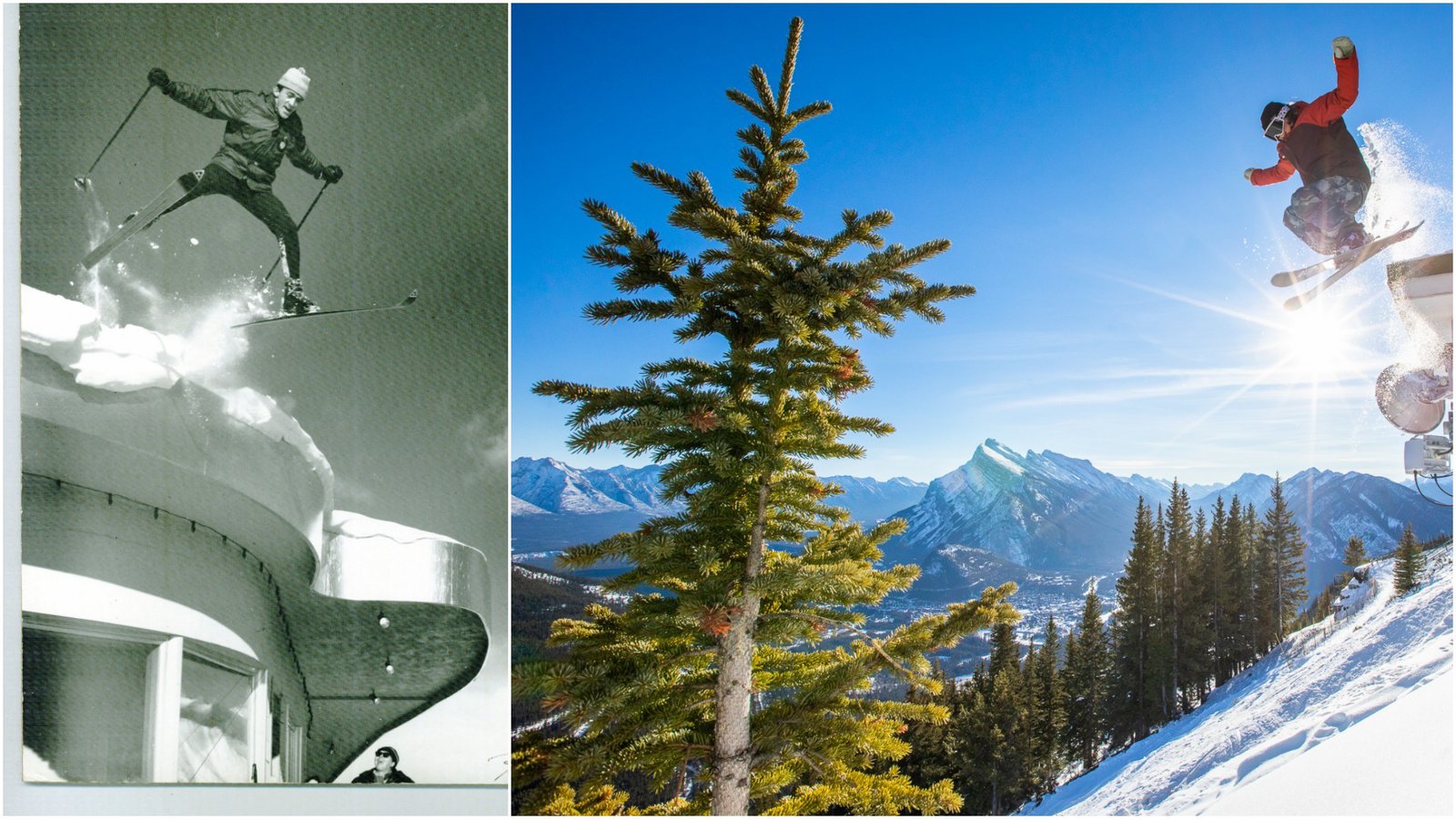 Rudi Gertsch in 1967 shot by Bruno Engler and Taylor with the best we could come up with 52 years later.
_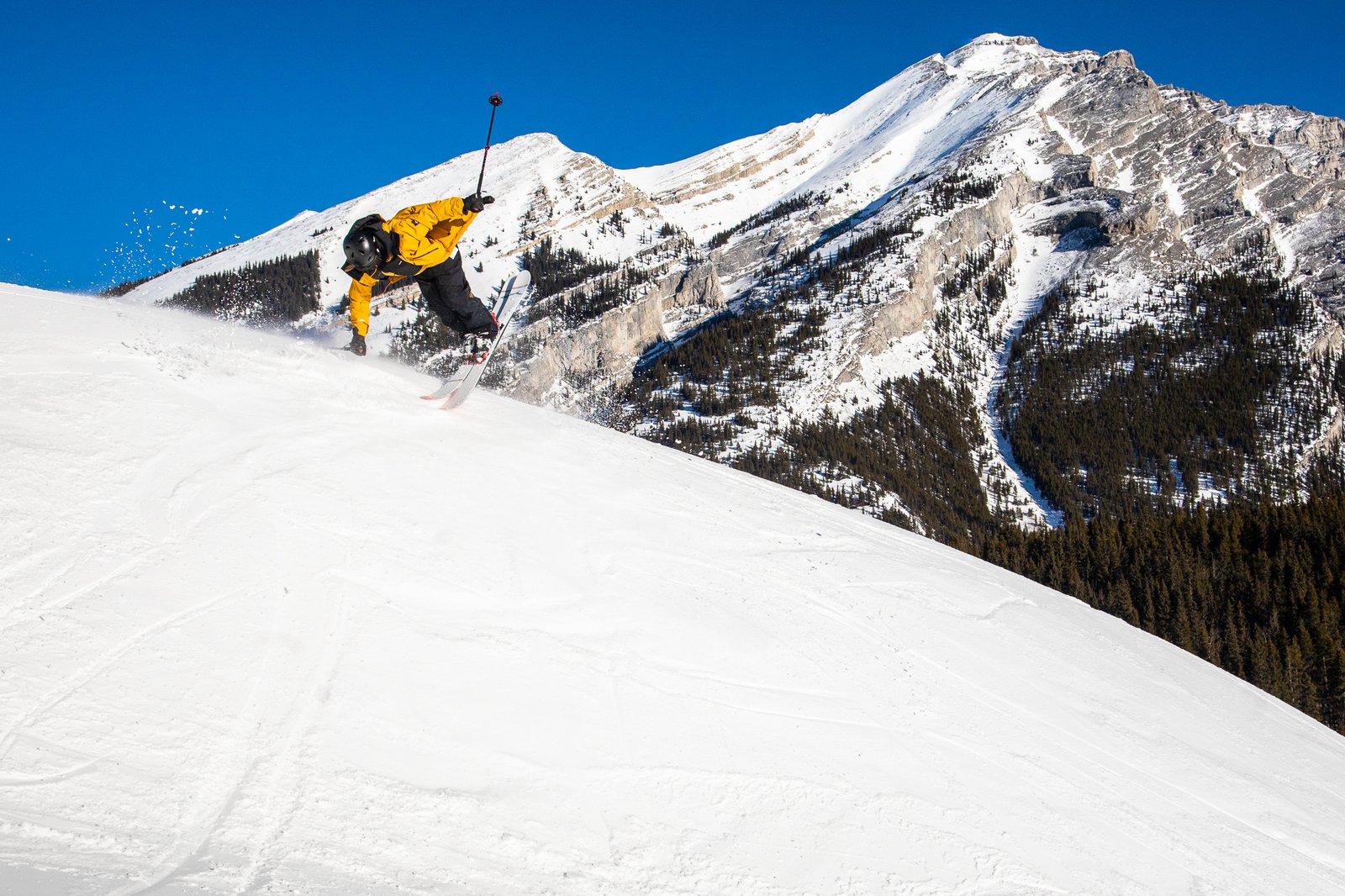 Fun on the snow mounds at Mt. Norquay.
_
We just had the one day at Norquay, so we made it a long one. None of us would have been disappointed to go back the following day but we were off to Sunshine for two days of, well, sunshine. That and park laps, intermixed with a sprinkling of sidecountry fun. Locals Kurt and Atley showed us around and joined the crew, stacking shots and showing us spots to make the most of the early season snow conditions. Two days was far from enough but we took on everything we could get to from the manicured parks with their mad unbow (and triple unbow) rails, to sidecountry booters and tight chutes.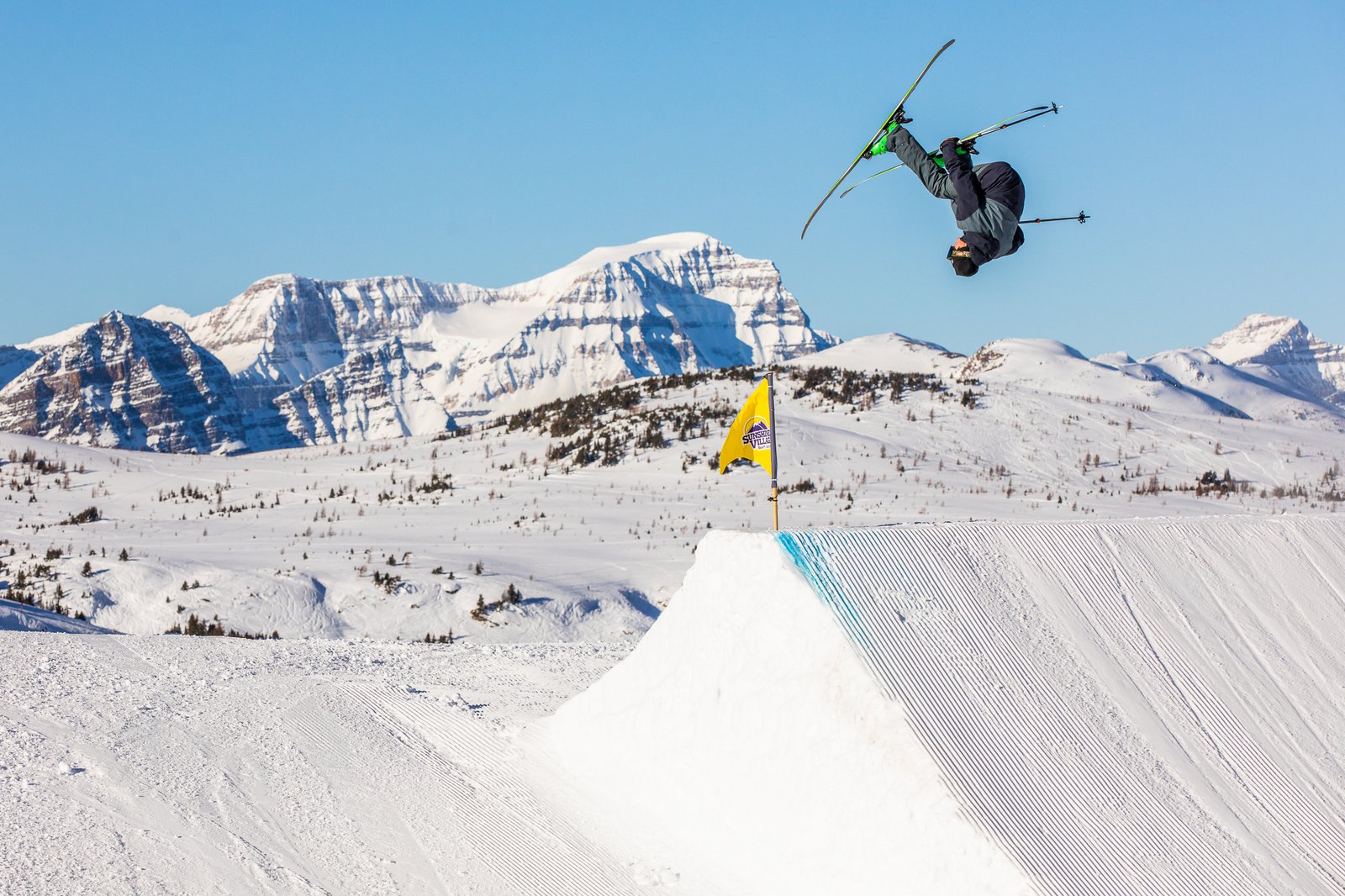 Lucas enjoying the view to one side of the main Sunshine Village Park upside down...
_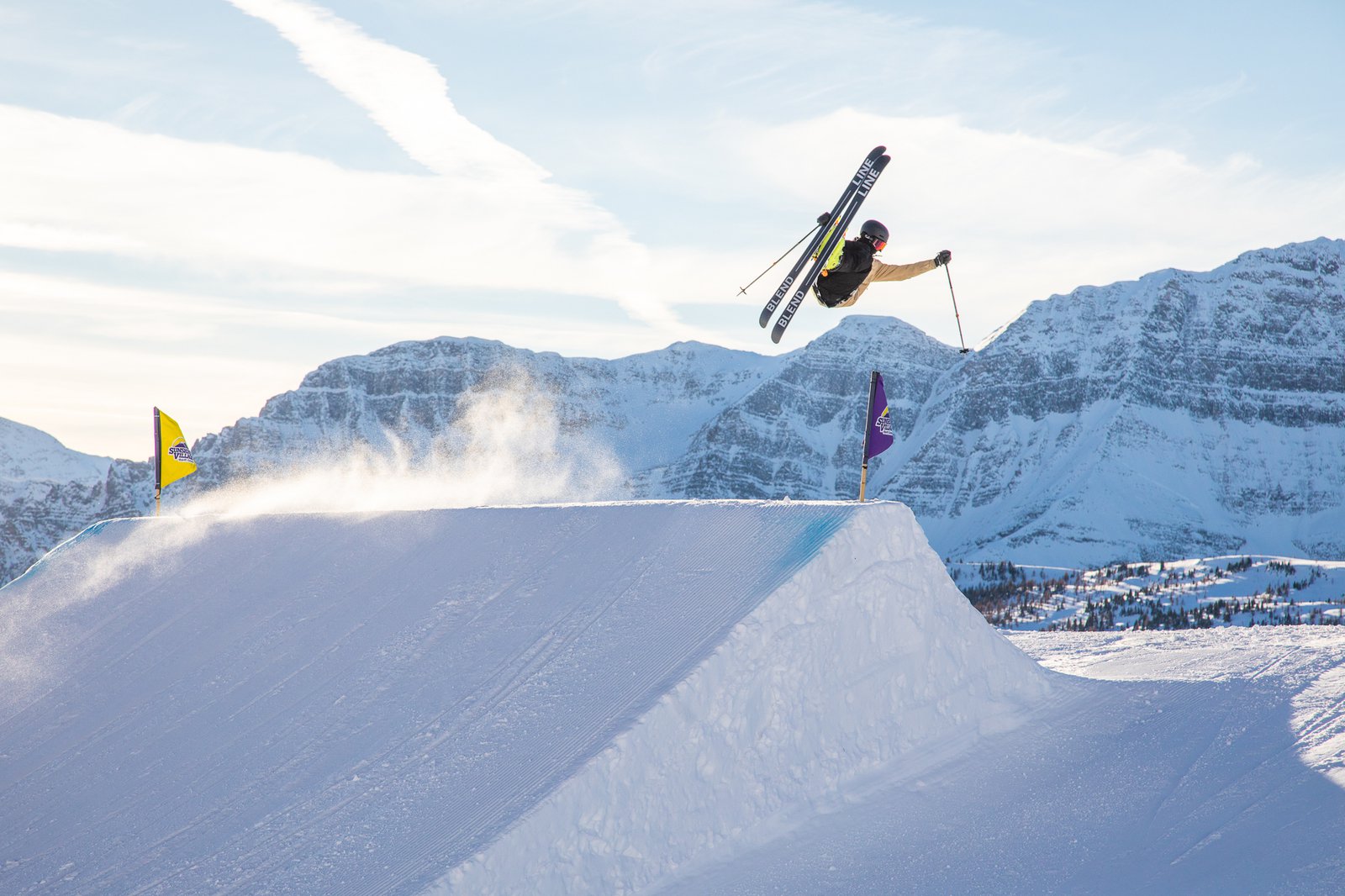 ...and local ripper Atley steezing in front of the other aspect.
_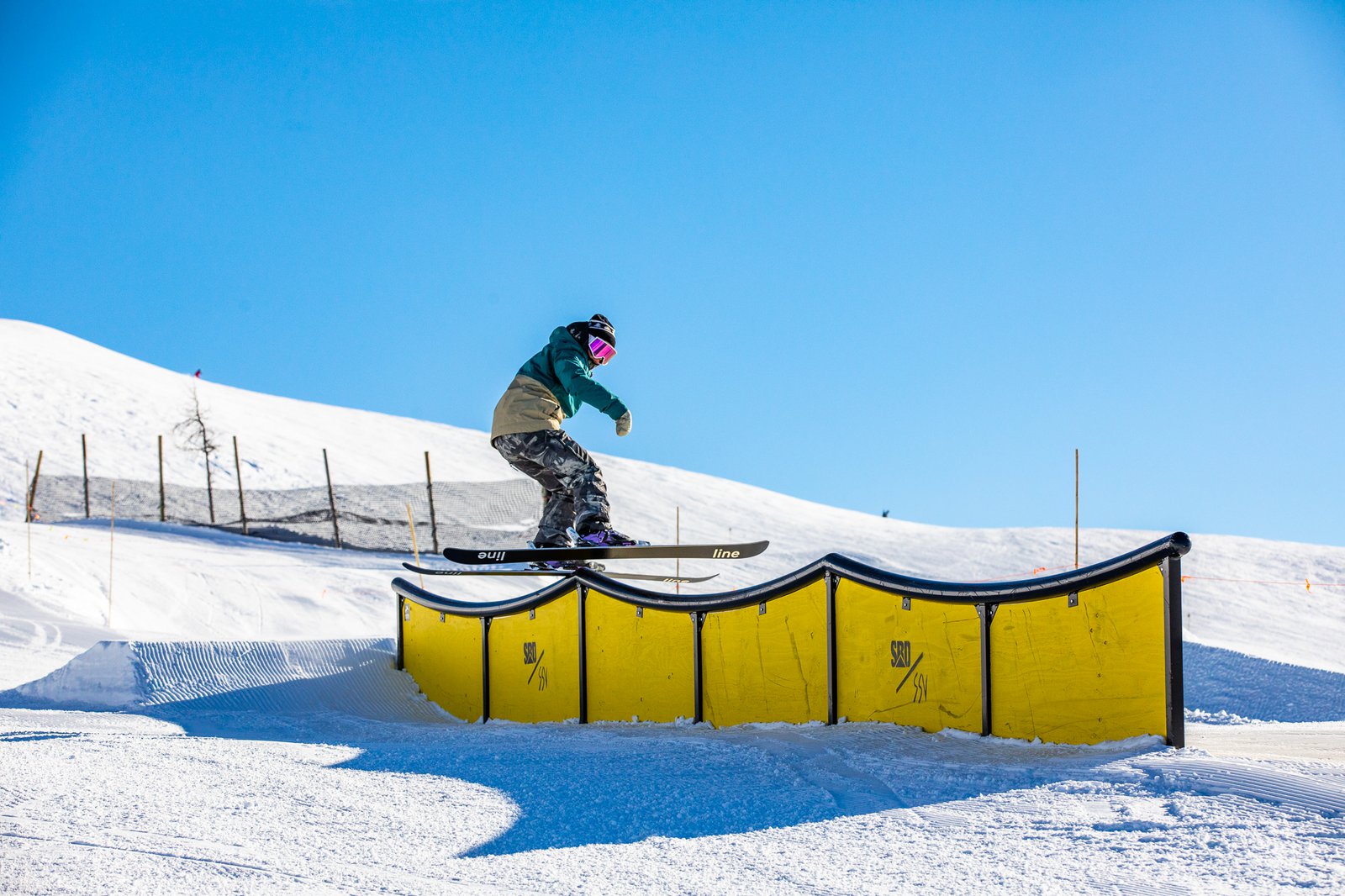 This rail. Swerve queen Taylor was stacking.
_
On the second day, ski patrol was kind enough to take us into a closed zone called 'The Wild West' where we found some fresh tracks, jib spots, and Peyto's Chute, a narrow chute with a right-hand dogleg around halfway down. Karl and Lucas made it look easy but skiing something so tight was a new experience for Taylor (as well as myself and Zorko on the media crew). Shoutout to Gavin for taking that thing on no poles, camera in hand.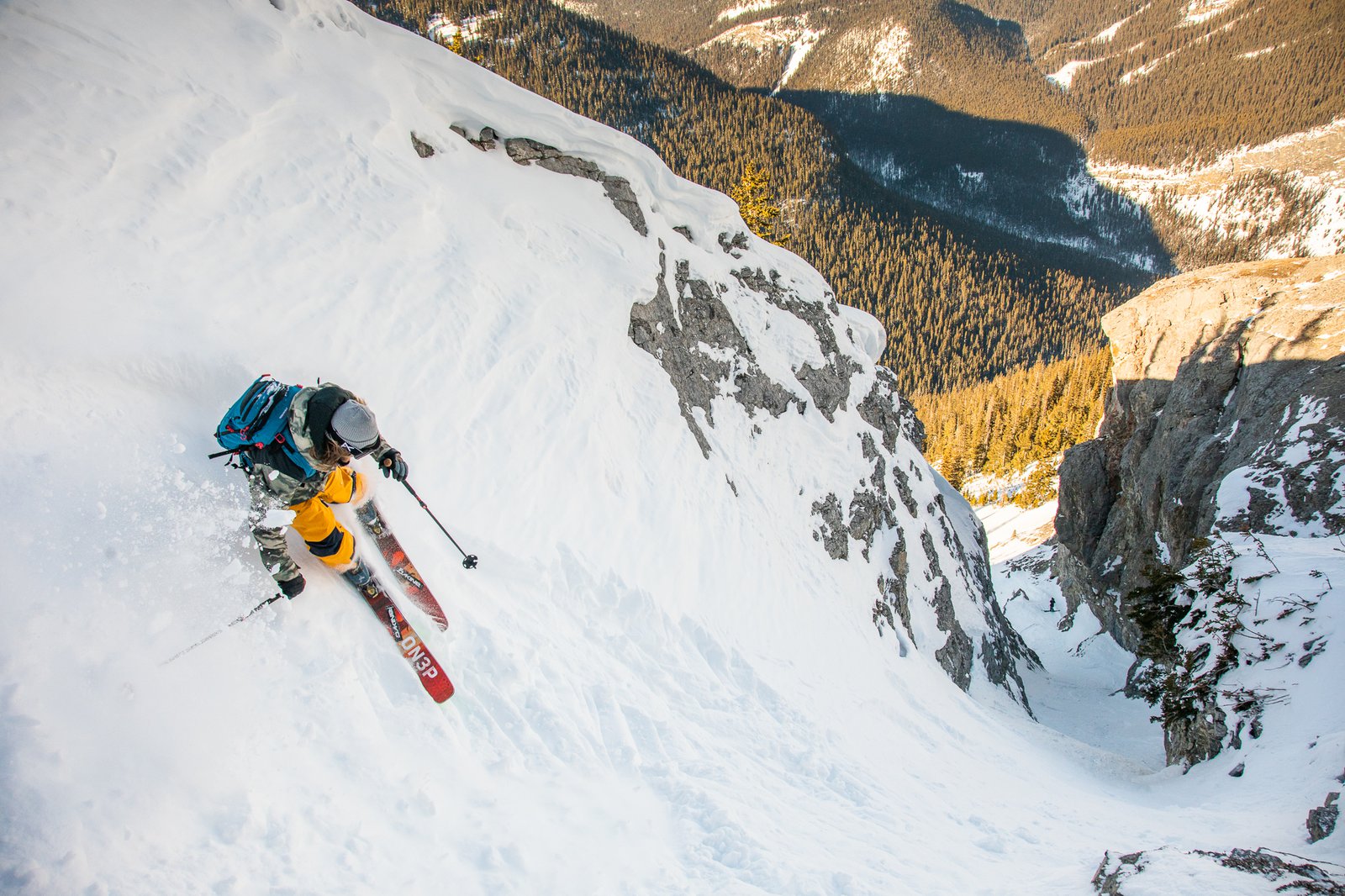 Karl dropping in to Peyto's Chute.
_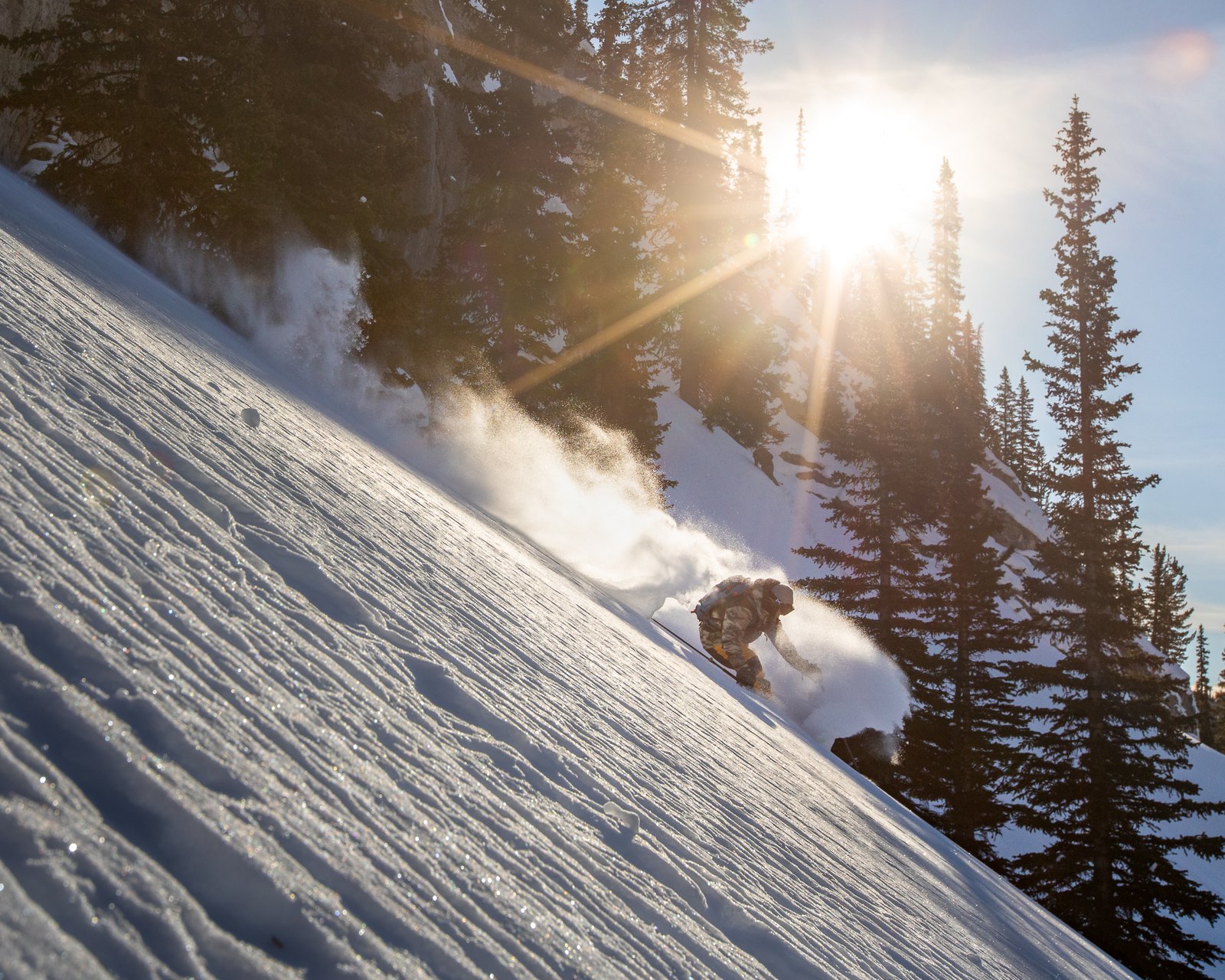 The reward after Peyto's, some perfect powder fields...
_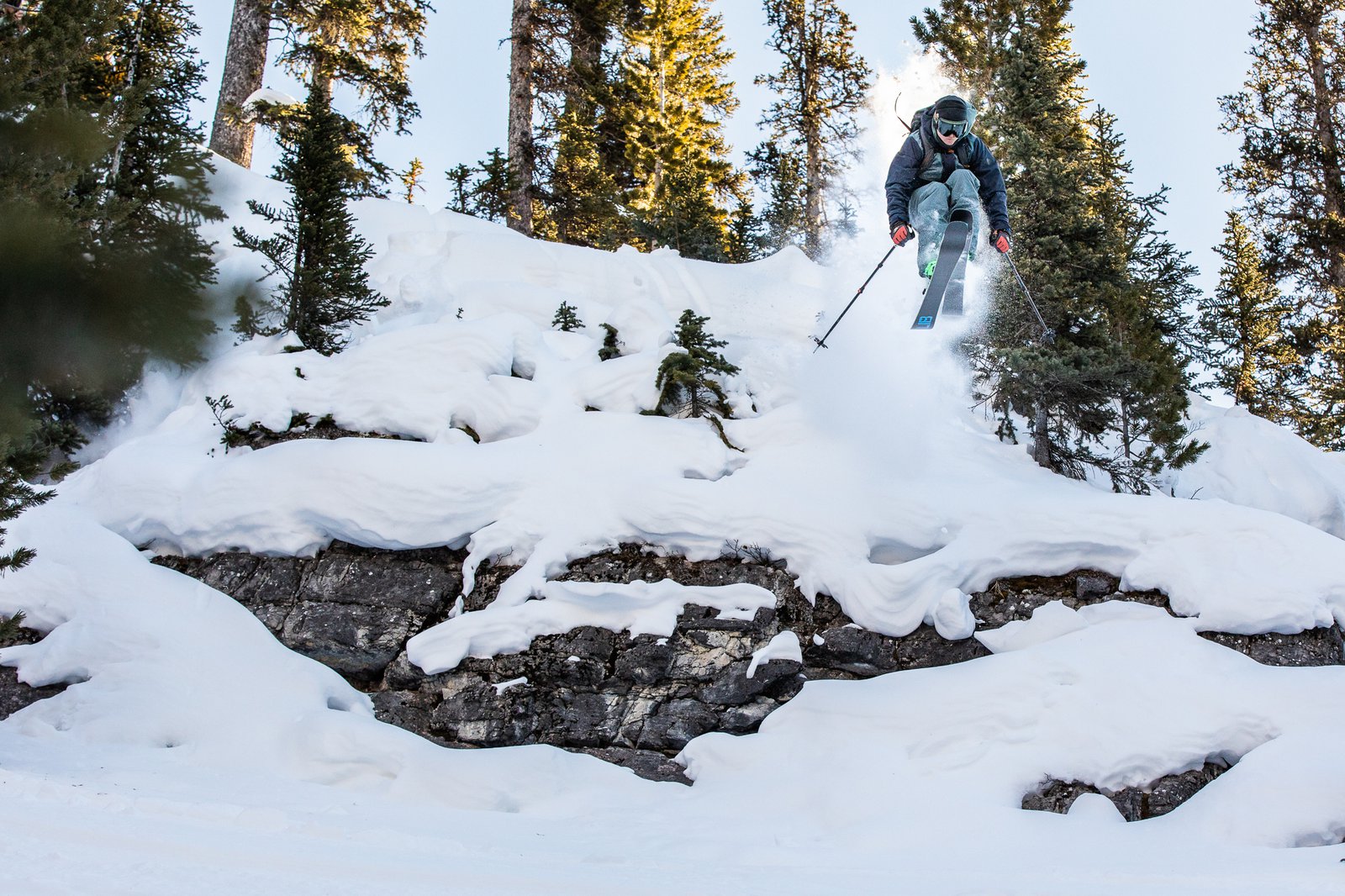 ...and even some mini-pillow lines, which Lucas slayed.
_
Sunshine had a truly unique character, tucked away as it is off the highway and with the only resort access via a gondola up to the base. I enjoyed it so much I went back for three more days after the rest of the crew went home (and once I had recovered enough to ski more than two features in a row without a coughing fit) and I loved it all over again.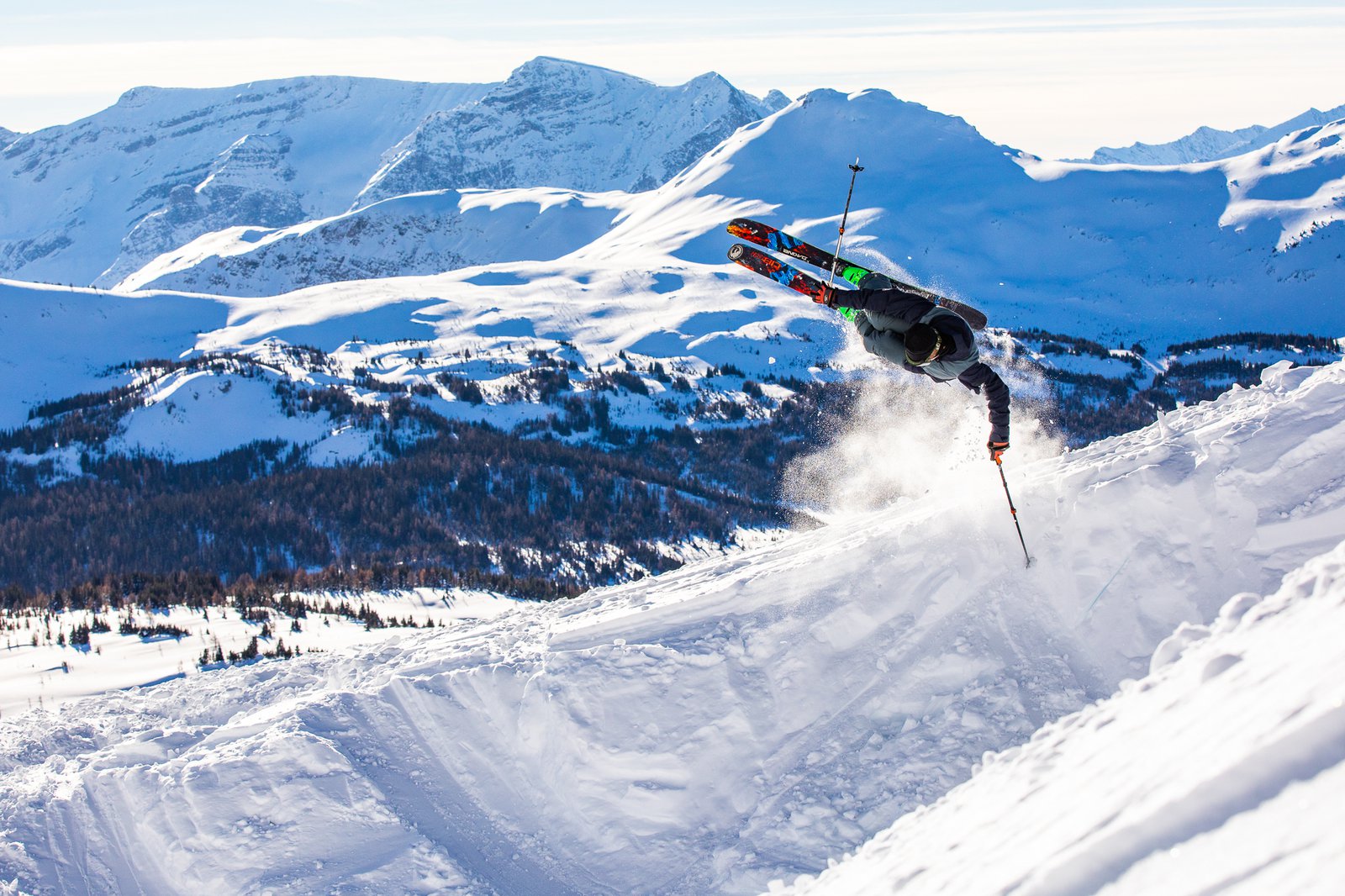 Sunshine also had more than its share of side hits. Lucas took advantage of this one with a perfect pole plant.
_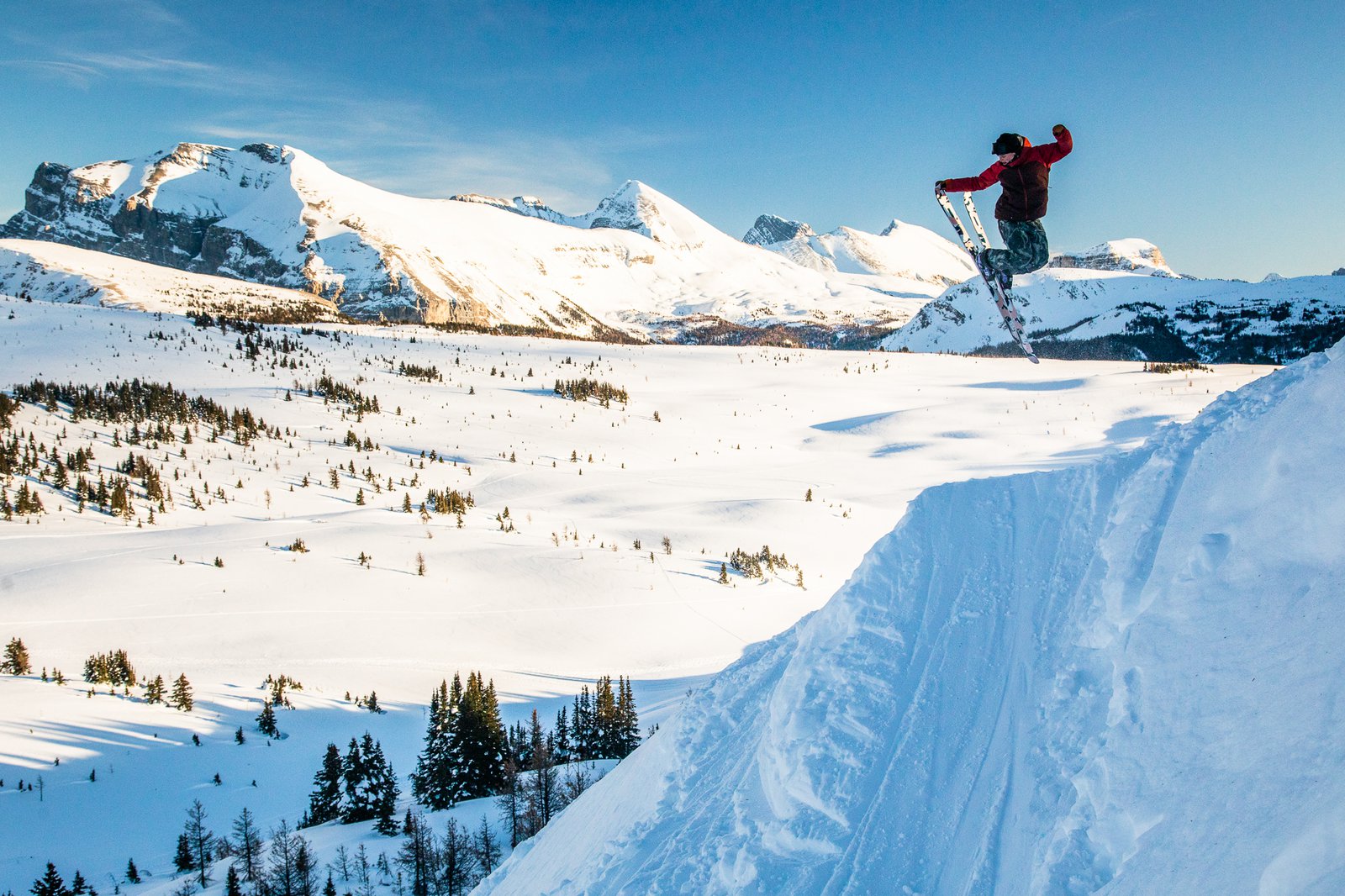 It also had plenty of backcountry booter spots. Turns out Taylor also has mad steeze on those too.
_
Next up, it was on to Lake Louise, the furthest of the three resorts from Calgary and home of the infamous FIS races. It was here that we had our first non-bluebird days but the clouds rolling in and out made for some epic layered shots... and the first sundog I'd ever seen in real life. Again, patrol took the crew into a closed zone to give us more of a taste of the terrain and then Karl, Lucas and local NSer Mason ripped in a zone called Brownshirt. Mason, in particular, deserves a shoutout for getting sendy in some pretty low tide conditions. The park rats among us (Taylor and I) skipped out in favor of more park laps (how else could I test the new spoon-tipped Line Sir Francis Bacons?).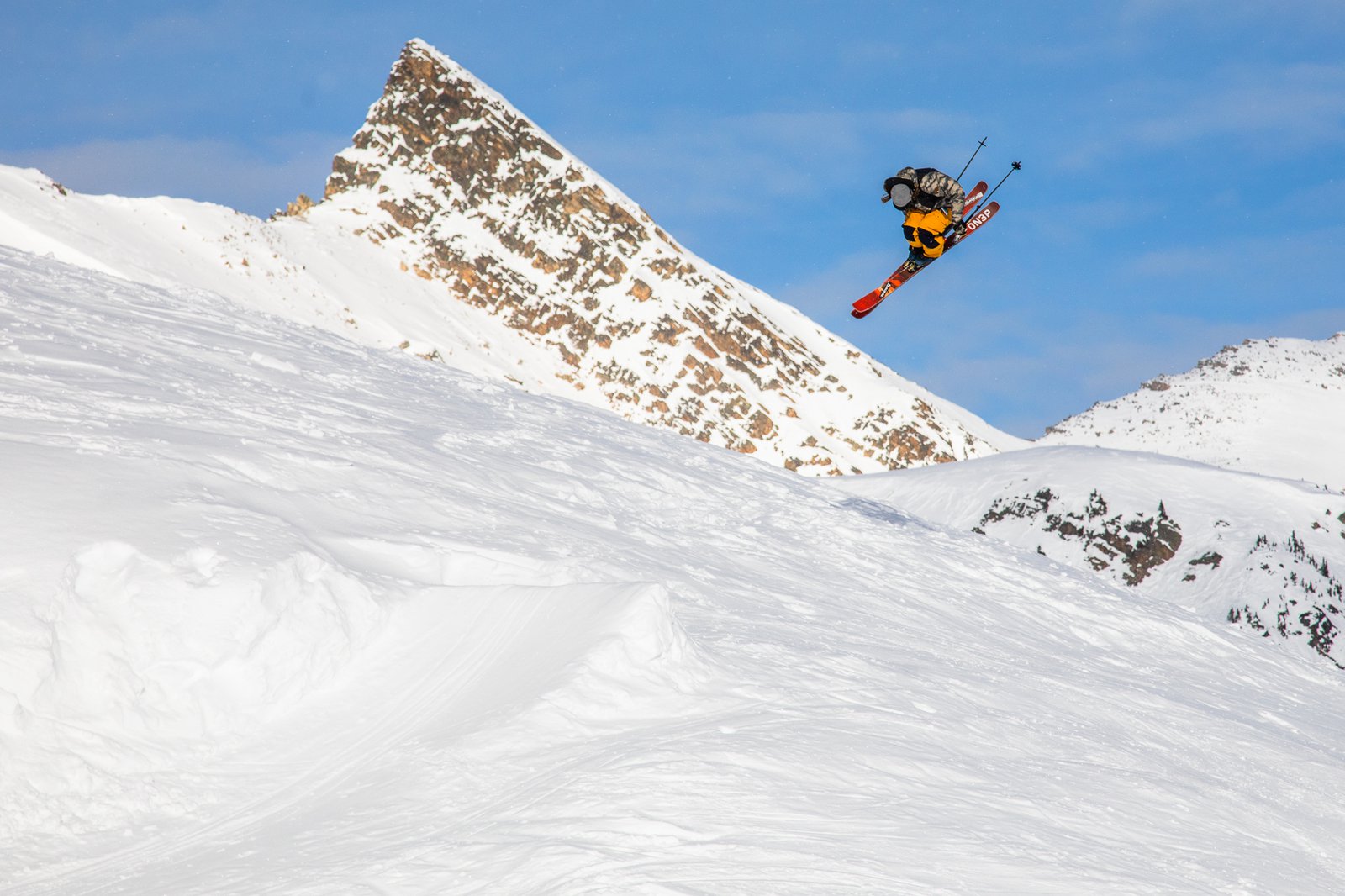 Karl boosting in front of yet another perfect backdrop at Louise.
_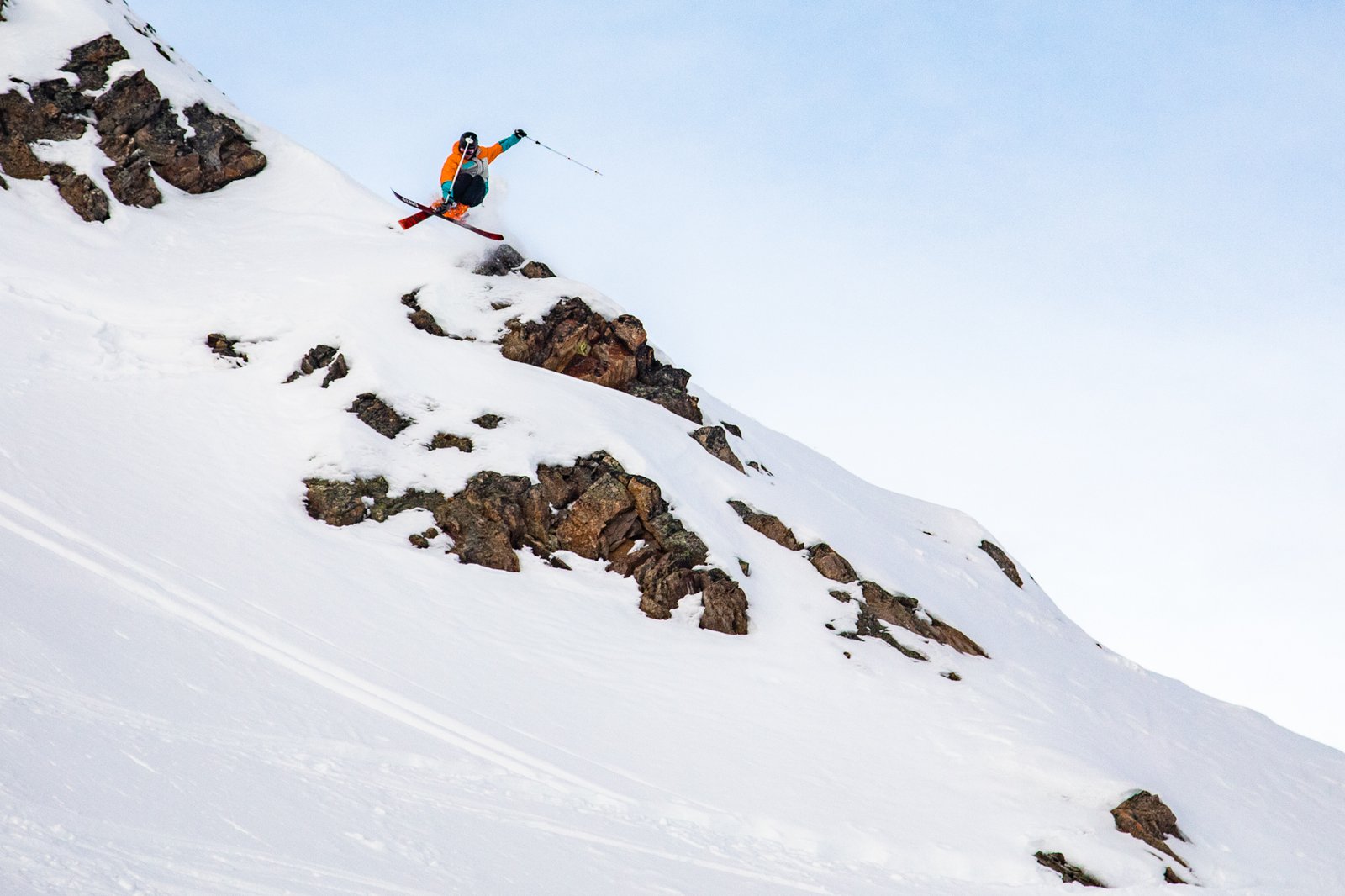 Mason, NSer (rudager) and Lake Louise local, sent it despite the shark-infested waters.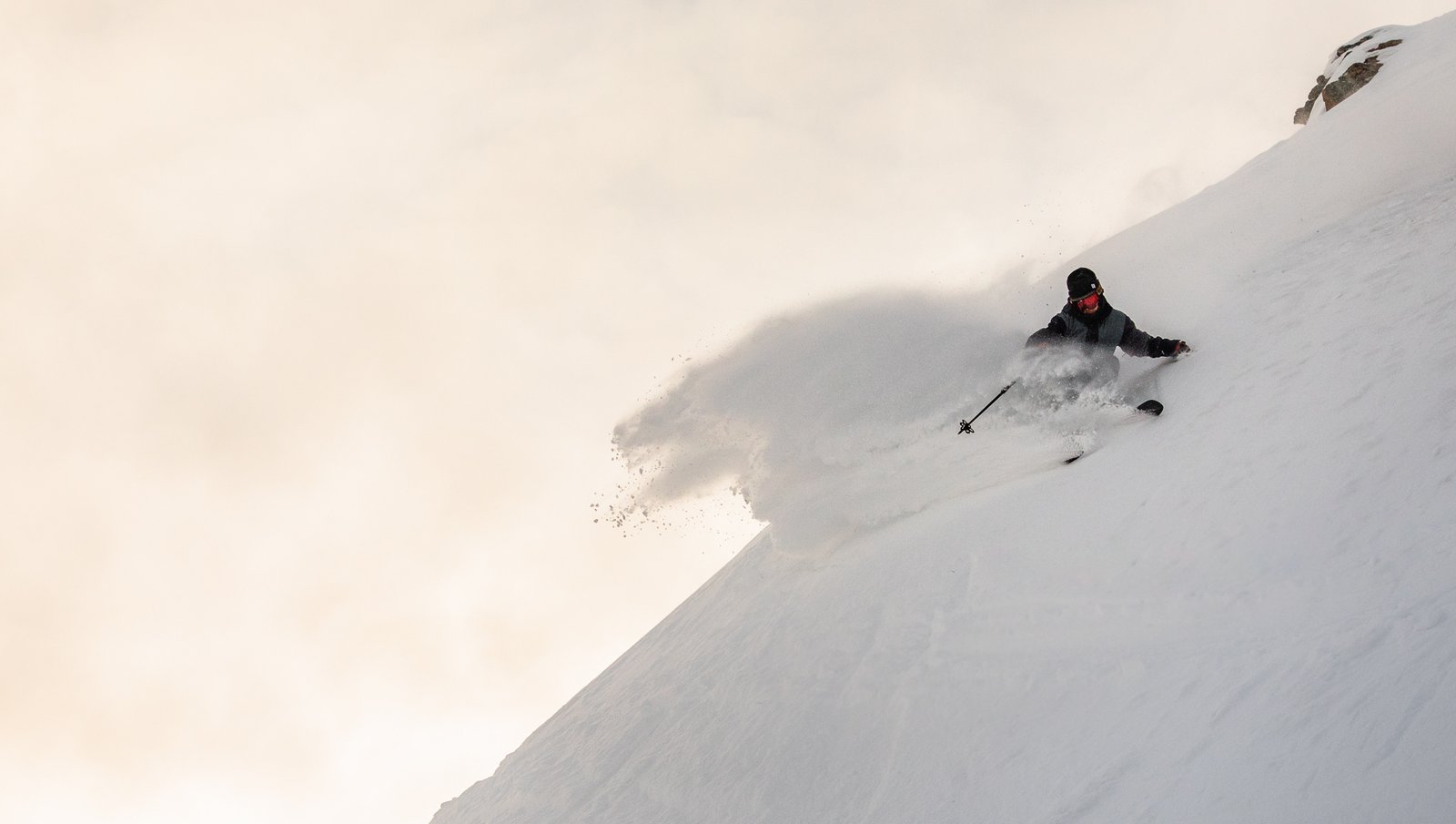 Lucas finding the goods up on Brownshirt.
_
At Louise, we were posted up at the luxurious (but slightly spooky if you've only seen the style of building in horror movies) Deer Lodge. It was in the restaurant here, set against a backdrop of 30 or so patrons sampling wines and enjoying a tasting menu, that one of our party had the questionable honor of becoming the first ever person to 'green out' at one of their dining tables. A fact confirmed by our hilarious server, who also provided coffee cups for us to drink on the sly in the tub that evening.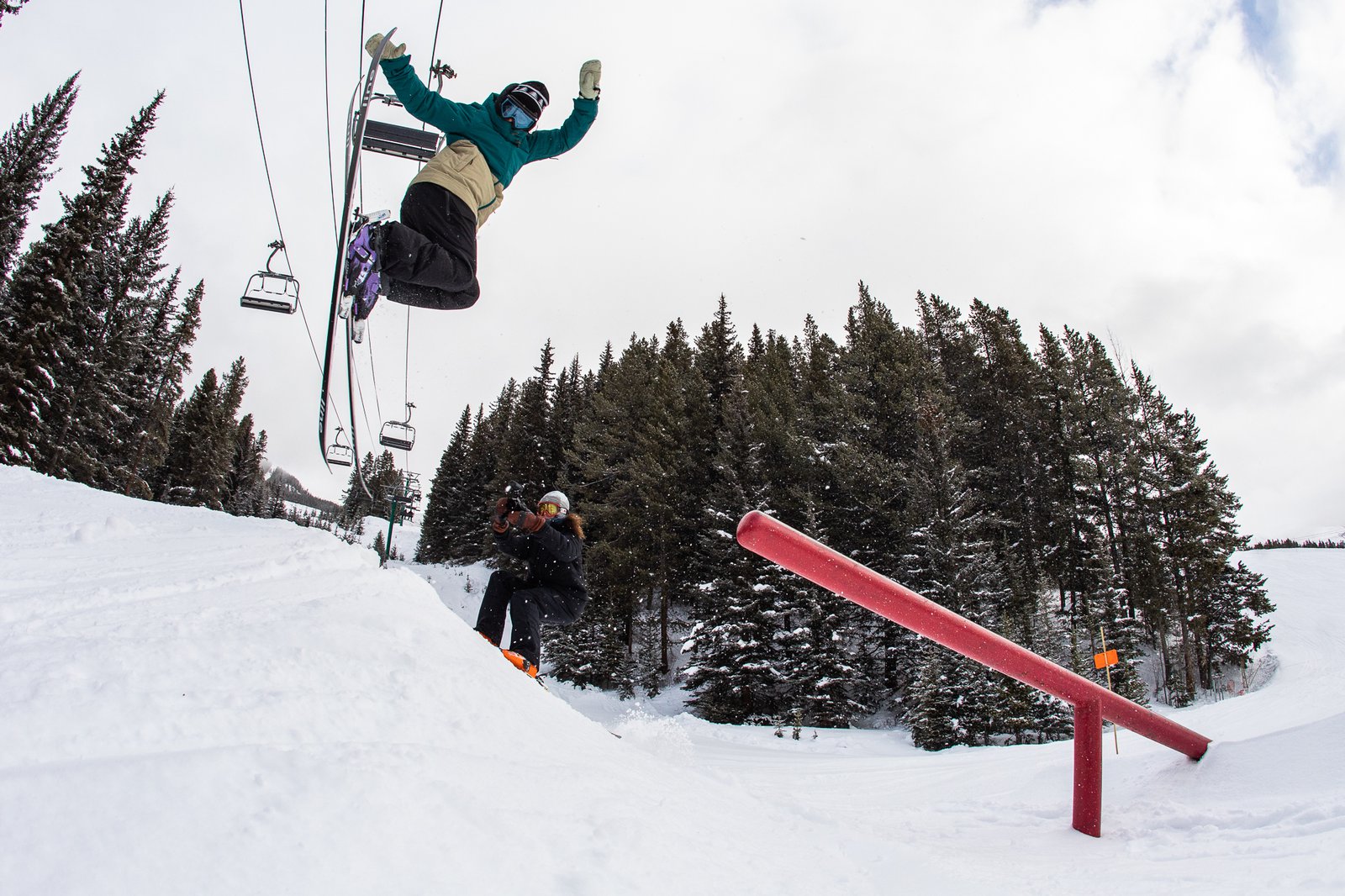 Taylor gts-ing with Gavin and stacking photos simultaneously in the Louise Park.
_
It was a fitting end to a trip that placed seven ski bums in atypically extravagant surroundings. We ate like kings (and swerve queens) but drank cans back in the rooms. We skied 'til we dropped, and hot tubbed to the point of fainting. We barely scratched the surface of SkiBig3 and I'm pretty sure I speak for the whole crew in saying we'd all go back in a heartbeat.