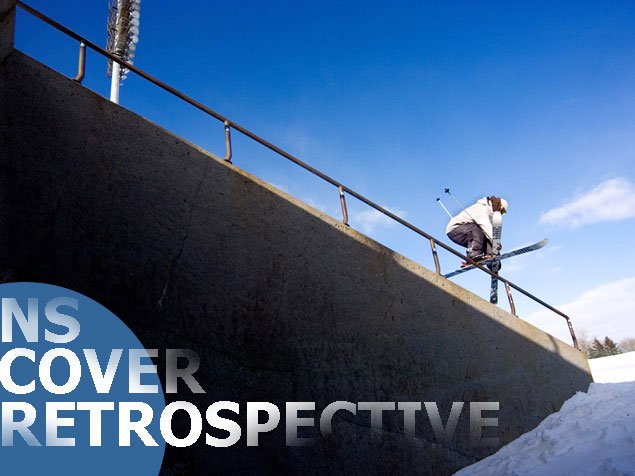 A few years ago, we decided to change the Newschoolers.com login page from a static graphic into a dynamic "cover," with a new shot every few weeks to keep things interesting and relevant, and add a magazine-like quality. The result is a tradition of NS covers showcasing some of the most progressive skiers out there, with photographs contributed from amateur and professional photographers around the world. Here's a quick glimpse at our covers from the past two years along with some of the stories behind the shots, and here's to yet another exciting winter for NS!You can download all of these shots as backgrounds on our Downloads page.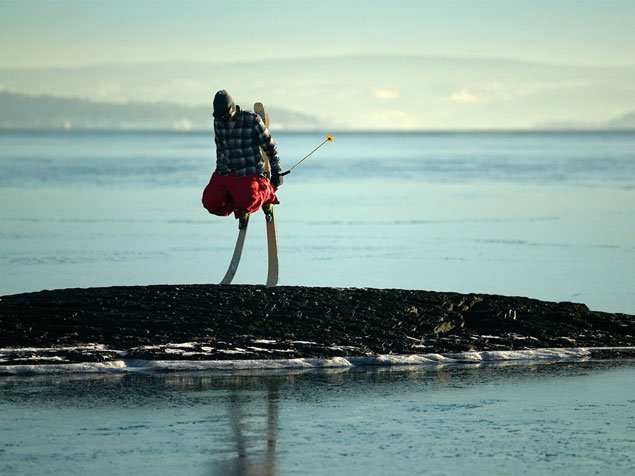 Fall 2006Photo: Marius SvensenRider: Martin RygnerOslo, Norway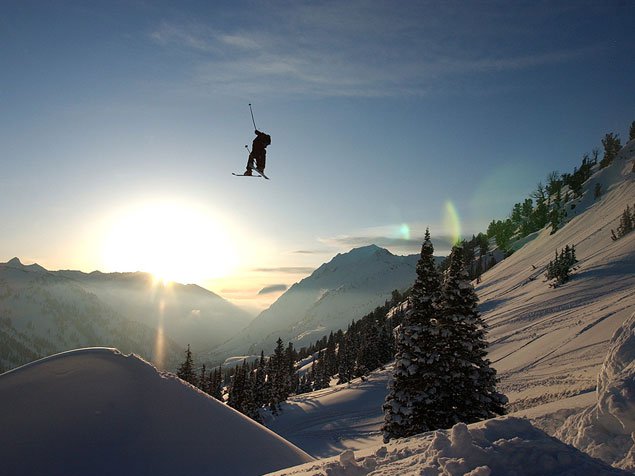 Fall 2006
Photo: Cody Ham
Rider: Jordan Seldin
Grizzly Gulch, Utah"My bro Roman and I were really wanting to start a production company —
we filmed a ton and decided to go to the trade show down in Vegas, but
hit up Grizzly Gulch on the way. We stayed there for a couple days with
my GF's brother, and I hooked up with Jordan over NS and we decided to
meet out there and set it up. We had heard that it just takes forever
to build a booter with like eight guys, but we got it decent in about
five hours with four guys. In hindsight the booter could have been much
larger, but that's beside the point.
We met up with Jordan and he seemed pretty chill and we just talked
about skiing and built all day in gnarly overcast snowy conditions.
After we finished carving it out and clearing the inrun, Jordan hit it
during a little opening in the clouds and just hit the top of the
landing. He ran around and hit it again and got over it the second time
just barely. By now the sun was gone and the weather was getting worse,
but Jordan was stoked on hitting it and I wanted at least one good shot
from my trip, so he hiked up again and boosted a 3 off of it. About
there the weather looked like it was just going to get worse and the
light was getting low, so we called it quits and started packing up.
Right then the clouds opened up again and it was like bam, PERFECT
backdrop. Jordan saw it too and just hiked up and went for it and it
came out rad. Super props to Jordan for hitting it again after he said
he was done. Made for a sweet trip." — Cody Ham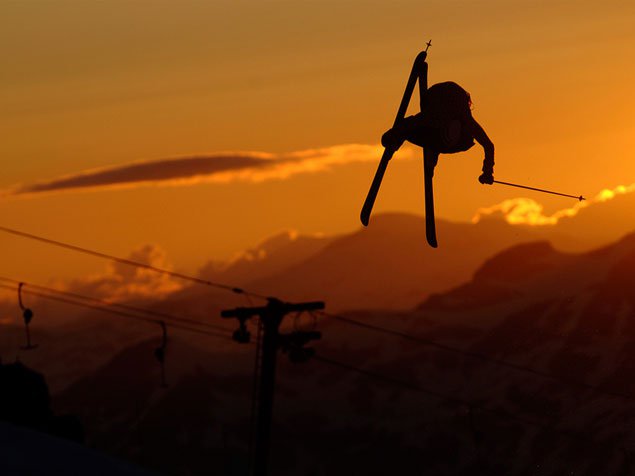 Summer 2006
Photo: Blake Jorgenson
Rider: Anthony Boronowski
Whistler, British Columbia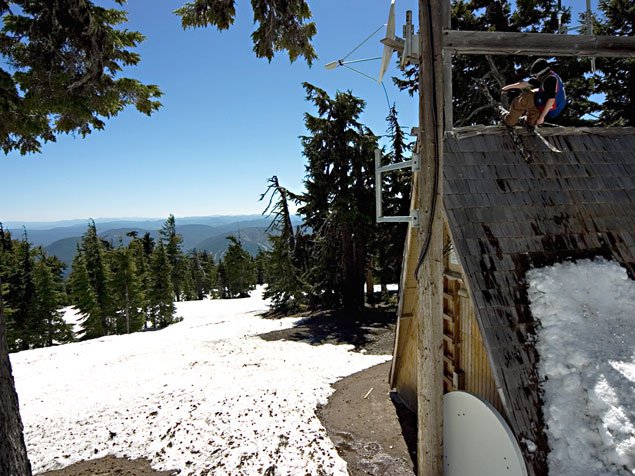 Summer 2006
Photo: Felix Rioux
Rider: Matt Walker
Mt. Hood, Oregon
"This shot was taken in June at Timberline, Oregon during the Line
Young Guns shoot. It's always tricky to take original photos in the
summer, there's mainly snow on top where the park is and it's melting
almost a foot a day. Someone spotted that little satellite cabin near
the bottom chairlift. We knew right away it was a good jib, we just had
to make it happen fast because two days later would be too late for
snow. We were like 6 or 7 people shoveling snow on this small cabin, I
was worried we would get kicked out before getting a shot but looks
like no one cared. Anyway, the guys had a little session and we got the
shot. Simple as that." — Felix Rioux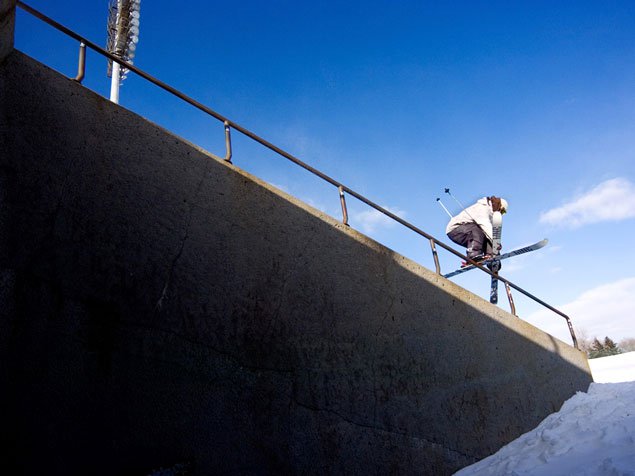 Summer 2006Photo: Felix RiouxRider: Antoine GagnierMontreal, Quebec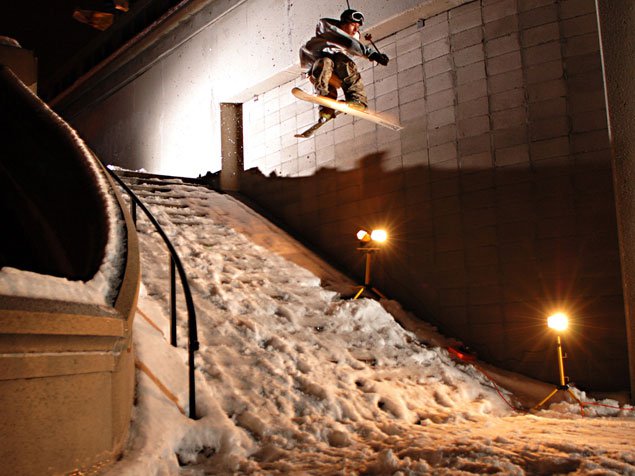 Spring 2006
Photo: Garrett Brittain
Rider: Dave Crichton Ottawa, Ontario"A bittersweet outcome following the evening we shot our NS.com cover:Joined by L1P guru Freedle Coty, we were finishing up a week-long urban stealth mission in our hometown of Ottawa. Despite an onslaught of hail, freezing rain and general ice storm during our nightly adventures, we had managed to get tons done - lots of rails in typical Crichtonian fashion. To cap off our quest, we set up at the National Arts Centre downtown where DC had been eyeing a nice stair drop. I managed to get this neat shot of Dave in mid-shifty action shortly before the night turned pretty much disastrous. A 180 attempt sent him backwards headfirst into a sign that stood near his landing and abruptly ended the night and the season that was shaping up so beautifully. A truly bittersweet token of what otherwise was another epic outing for a film guy, photo guy and ski guy." — Garrett Brittain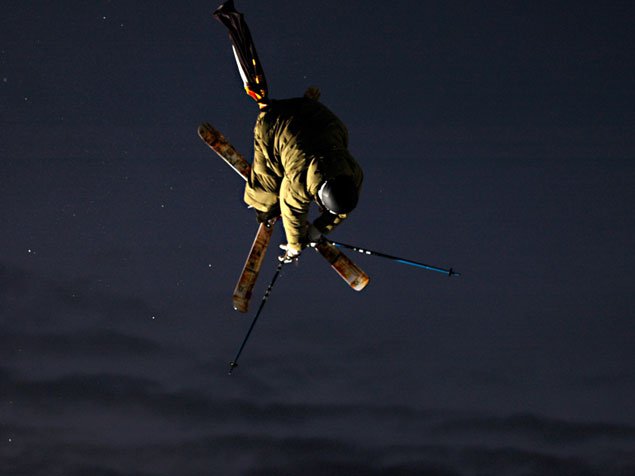 Spring 2006
Photo: Eric Schmitt
Rider: Tim RusselVail, Colorado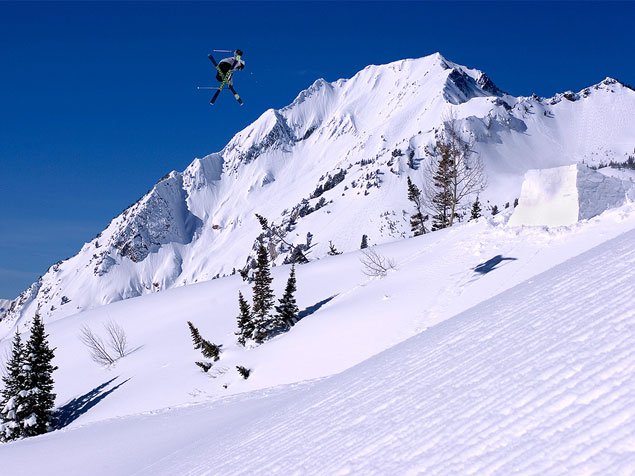 Spring 2006
Photo: Felix Rioux
Rider: Arnaud Rougier
Little Cottonwood Canyon, Utah"Last season my good friend and newly appointed Dynastar team manager
Phil Dion calls me one night and tells me he needs a photographer 2-3
weeks from now to shoot in the Utah backcountry. I couldn't turn down
the opportunity to shoot for 10 days with Loic Collomb-Patton and a few
more French skiers. Corey Vanular and Tanner Rainville were also
scheduled to be there, but Corey got hurt at the X-Games and Tanner got
jacked by one of his roommates or something like that and had to go
home to Mammoth. That jump took a day and a half of work. Berman and I
argued with the guys that we needed to build it in blocks, to make sure
it had a very massive and clean aesthetic. All they wanted was to build
it as fast as possible and jump! After some debating we got our point
across and the work was well worth the effort; the shots came out great
and they went home knowing a bit more on how to make a kicker look
good." — Felix Rioux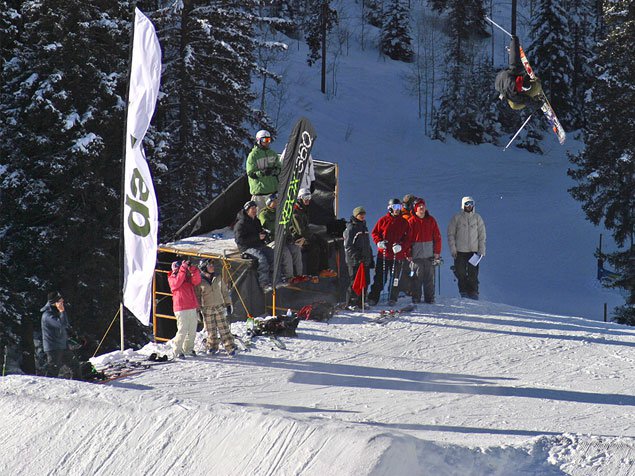 Winter 2006
Photo: Chris K. O'Connell
Rider: Tanner Hall
Vail, Colorado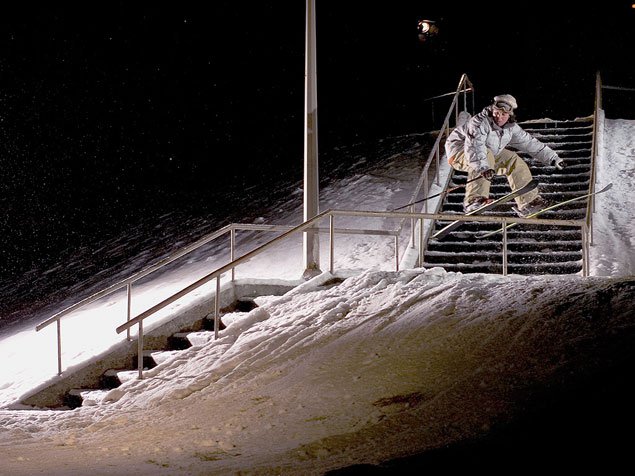 Winter 2006
Photo: Felix Rioux
Rider: Frank Raymond
Saguenay, Quebec"People don't always realize how much energy goes into shooting urban
rails. This rail, for example, is a five-hour drive from where I live,
once you've actually found the spot, then there's at least 1-2 hours of
set-up to do before we can start shooting, like taking all the snow out
of the steps and installing all the spot lights and flashes. The rail
is way more difficult than it looks on the picture; the first down is
very steep and fast, waiting at the bottom is a two-foot flat, then
five feet of flat turning to the right before the down rail...
Frank was hitting this kink for about 45 minutes and couldn't make it
past the last down rail. I told him to take a break and relax a bit. LP
our cameraman went into the truck to roll a little one. 10-15 minutes
later I showed him a picture I had from his previous attempts and said,
'This will be an epic shot that everyone will be stoked on.' He went
back up and nailed that sucker in a few tries." — Felix Rioux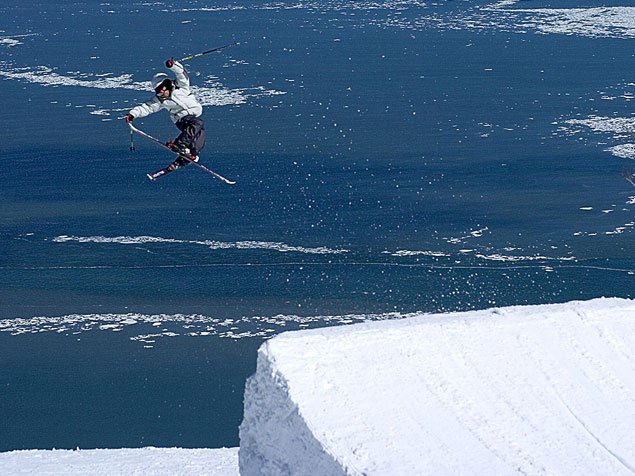 Fall 2005
Photo: Felix Rioux
Rider: Charles Gagnier
Le Massif, Quebec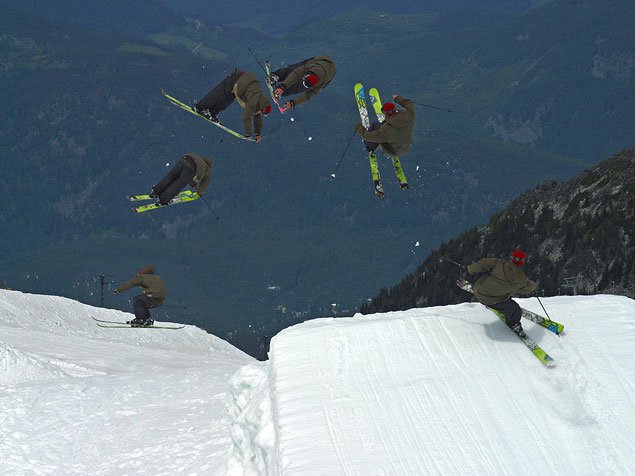 Summer 2005
Photo: Chris K. O'Connell
Rider: Colby West
Whistler, British Columbia"As soon as I saw Colby busting out the double-nose I was on a mission to get it on the cover. Luckily enough we were roommates at High North that summer and as soon as I brought it up Colby, was down to try to get a shot. The very next day happened to be the campers' first day off, so we headed up and sessioned for a couple of hours. In that short amount of time I must have got at least 10 shots of Colby "the machine" West stomping different variations of the double-nose. The trick may have lost some of its novelty since then, but Colby's switch 7 is as stomped and as stylie as you're going to see it, even two years later." — Chris K. O'Connell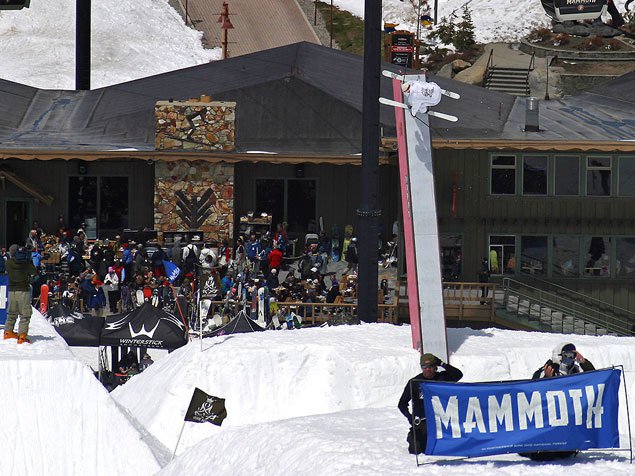 Spring/Summer 2005
Photo: Chris K. O'Connell
Rider: Matt Sterbenz
Mammoth, California
"Shooting the Masters is always a hectic experience. Things go by so fast and you're trying to keep track of what's going on with the actual event, while moving around to different features hoping to get a shot. '05 was nice because the up-box was something that really stood out and was accessible from most angles around the course. I had originally hoped that Candide would get the shot as he had been going for it in practice, but he tweaked his knee early on. That left, well, everyone else. Sterbenz ended up getting the highest with the most style so he bagged the cover." — Chris K. O'Connell