The week before iF3 I wrote an article about the films I was looking forward to seeing most. Now that I've seen pretty much every ski film of the season, I'm super excited to get ready to ski. All of them pumped me up, but these 10 films really stood out as the best. These are going to be my personal views on the films, so you may not agree with me. However, I feel that it's important to say that out of all the films I say over the course of the weekend, I can honestly say that I did not see one single bad film (something Jamie Walter and I realized while we were waiting to cross the boarder from Canada). I'm only going to focus on the ones that really stood out to me, because quite honestly, they're all so good that it would be too hard to talk in depth about them all. So here's my top 10 films from iF3.
#10 - Teton Gravity Research - Almost Ablaze
This years Film of the Year was full of massive big mountain lines and amazing back country segments. Tim Durtschi and Nick McNutt's segments stand out as some of the best non-park/urban skiing this year. If you love watching big mountain and powder films, this is the one you're looking for.
#9 - Awone Films – Mixtape 2014
Awone Film's Mixtape came on during the free screening on Friday night. I'm sure many people skipped this one, or didn't give it any credit before hand, but those that saw it know that it came up as a surpisingly awesome film.
#8 - Indeed Productions - #SKIGOODMONEYWILLCOME
This was by far the funniest movie at iF3 this year. One of the most creative approaches to creating a ski film. And even though it was full of old footage, it was still amazing to see.
#7 - The Hood Crew - Thirsty
If there was an award for the people that have most fun in a ski film, Hoodcrew would win it easily, hands down. Freed's opening segment was hilarious and awesome. The editing seemed random, and it was awesome that way. But the best part isn't the tricks, it's that at the end of every trick they show how pumped up the entire crew is on it, for example Scrappy Joe is always there going nuts when Freed makes it to the bottom of a staircase.
#6 - HG Skis - 5to9
This one featured some of the best up and coming riders from the East Coast. Cole Gibson, Lupe Hagearty, and Connor Gaeta's segment stand out as the most impressive in this film. Don't sleep on HG Skis.
#5 - Armada Skis - Oil and Water
Stacked with talent and style, the Armada team put together their footage in a very impressive way. Phil's closing segment is out of control, don't miss it.
#4 - Clayton Vila Studio - Five
Clayton Vila is a true master of street skiing. What he put together in one season could take people years to get done. It might be "really weird" as he called it, but either way, it's extremely fun to watch.
#3 - 4bi9 Media - Burn
Over the years, the 4bi9 crew has really evolved their approach to both skiing and filming. Burn features the perfect balance of creative, beautiful cinematic shots and amazing skiing. After the film I got to speak to Tom Arnell, one of the filmers, and was told to my surprise that the film was actually quite finished yet. The fact that a film could show at iF3, truly excite the crowd, and still not be done is amazing. Not a single person in the crowd outside of the 4bi9 crew themselves could even tell. So I can't wait to see the finished project when it drops in October. Literally the only downside to the film was that the sound system wasn't really loud enough to soak everything in, but that didn't stop the crowd from going crazy at every single hammer of a trick that was thrown.
#2 - Stept Productions - Ten and Two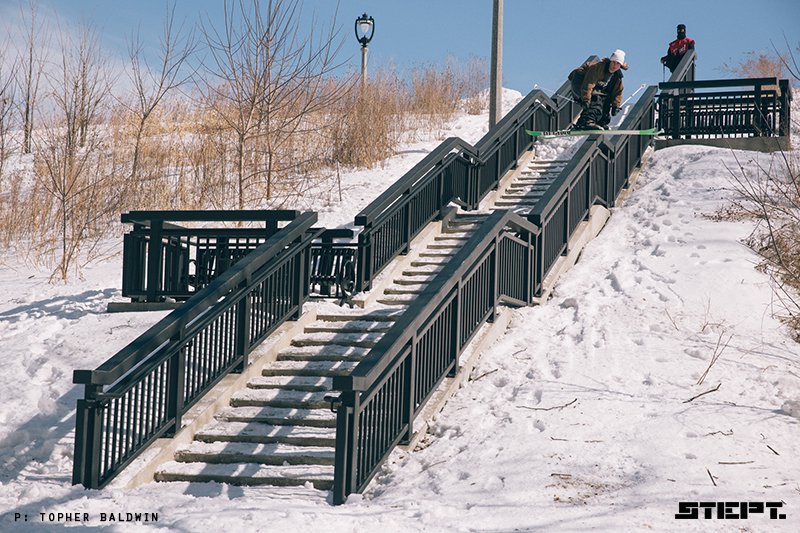 Stept has made some amazing movies in years past, but Ten and Two is on a completely different level. In a film dedicated to the late Tom Warnick, Stept has created a story that earned them the Best Story Telling Award, as well as some amazing street skiing that won them the Best Urban Film Award. I don't want to give too much away, because I feel that it is very important that everyone see this film. However, ABM's jump segment, Shea's comeback street segment and Cam's award winning segment are the some of the most impressive skiing you'll see this film season. This one is tied for my personal Film of the Year Award.
But most importantly, it's very obvious that everyone in the crowd, including myself, misses Tom. Rest easy, buddy, I'm very grateful I got the chance to meet you.
#1 - Level 1 Productions - Less
I had a really hard time trying to decide between Ten and Two and Less for my personal Film of the Year. And honestly, the biggest reason I decided to put Level 1 Productions at #1 is that Less is more well rounded that Stept's film. Less features some amazing skiing in every single aspect of the sport. The urban segments of Magnus and Khai are insane (Khai's opening high speed park line is also quite mind blowing and got him nominated for the best single shot award), McChesney goes absolutely massive on the jump segment, Delmore and the returning Duncan Adams crush the backcountry and big mountain lines. But it's LSM who really stands out. Lucas' approach to skiing is like no other, it's creative, it's stylish, it's just plain different. And it's this approach to skiing that makes LSM stand out as a future star of this sport.
Honorable Mention: Poor Boyz Productions - Twenty.
This one could have easily been on the list. Between the nostagic clips and Karl Fostvedt's Windells lines, this was a super fun film to watch. But the stand out segment is easily Tanner Hall's. Seriously, I know Tanner never left, but the Ski Boss reigns supreme in the Backcountry this year. Some of the most epic lines I've ever seen.
See you all next year!