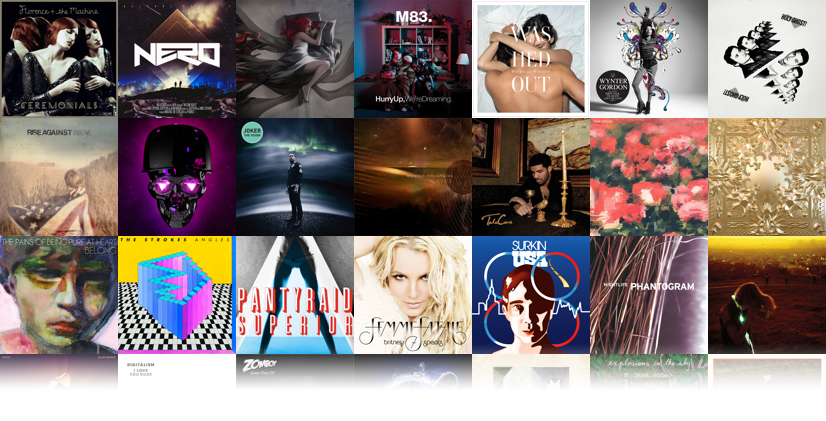 As 2011 comes to a close, I thought it would be fun to take a look back at my favorite albums released this year. I listened to a lot of music. With great services like Spotify and iTunes Match recently released, I found myself listening to music constantly. I continued to explore new genres and, as a result, new artists. Many of the artists in my Top 50 are new to my music library this year. It's been an exciting year of music discovery for me and I can't wait for 2012!
Top 50 Albums of 2011
1. Florence + the Machine – Ceremonials
2. Nero – Welcome Reality
3. CunninLynguists - Oneirology
4. M83 – Hurry Up, We're Dreaming
5. Washed Out – Within and Without
6. Wynter Gordon – With The Music I Die
7. Holy Ghost! – Holy Ghost!
8. Rise Against – Endgame
9. Kill The Noise – Kill Kill Kill
10. Joker – The Vision
11. Moving Mountains – Waves
12. Drake – Take Care
13. Rival Schools – Pedals
14. Kanye West & Jay-Z – Watch the Throne
15. The Pains of Being Pure at Heart ? Belong
16. The Strokes – Angles
17. PANTyRAiD – Superior EP
18. Britney Spears – Femme Fatale
19. Surkin ? USA
20. Phantogram – Nightlife EP
21. Neon Indian – Era Extrana
22. Rustie – Glass Swords
23. Digitalism – I Love You, Dude
24. Zomboy – Game Time EP
25. Knife Party ? 100% No Modern Talking
26. Gotye – Making Mirrors
27. Toro Y Moi – Freaking Out EP
28. Explosions in the Sky – Take Care, Take Care, Take Care
29. In Flames – Sounds of a Playground Fading
30. The Weeknd – House of Balloons
31. Bassnectar – Divergent Spectrum
32. Mogwai – Hardcore Will Never Die, But You Will
33. Radiohead – The King of Limbs
34. Gang Gang Dance – Eye Contact
35. Gladkill – LoveLost EP
36. Coldplay – Mylo Xyloto
37. Above & Beyond – Group Therapy
38. Blue Sky Black Death – Noir
39. Destroyer – Kaputt
40. Mount Kimbie – Carbonated EP
41. LIGHTS – Siberia
42. Eisley – The Valley
43. Com Truise – Galactic Melt
44. Cut Copy – Zonoscope
45. Bibio – Mind Bokeh
46. Asking Alexandria – Reckless & Relentless
47. Sleeping with Sirens – Let's Cheers to This
48. Mimosa – 58 Degrees EP
49. Porter Robinson ? Spitfire EP
50. I See Stars – The End Of The World Party
I decided to break the list down into a few sections. I created mini-lists to group the albums by genre. This should make it easier to find the best albums in your favorite genre. I hope these lists will encourage you to explore some new music.
Best Dubstep/Glitch-Hop Albums
Welcome Reality by Nero
Kill Kill Kill by Kill The Noise
The Vision by Joker
Superior EP by PANTyRAiD
Game Time EP by Zomboy
100% No Modern Talking by Knife Party
Best Hip-Hop/R&B Albums
Take Care by Drake
Oneirology by CunninLynguists
Watch the Throne by Kanye West & Jay-Z
House of Balloons by The Weeknd
Best Pop Albums
Ceremonials by Florence + the Machine
With The Music I Die by Wynter Gordon
Femme Fatale by Britney Spears
Mylo Xyloto by Coldplay
Best Dance/Electronic Albums
Hurry Up, We're Dreaming by M83
Within and Without by Washed Out
Holy Ghost! by Holy Ghost!
USA by Surkin
I Love You, Dude by Digitalism
Era Extrana by Neon Indian
Best Rock Albums
Pedals by Rival Schools
Belong by The Pains of Being Pure at Heart
Angles by The Strokes
Endgame by Rise Against
Waves by Moving Mountains
Take Care, Take Care, Take Care by Explosions in the Sky
Most Surprising Album
Britney Spears' Femme Fatale was probably the most surprising album for me this year. I've never been a huge fan of Britney, even though I do listen to a decent amount of pop music. I'd assumed her career was basically over, so you can imagine my surprise when I first heard this album. While the lyrical content is rubbish, I love the overall dance and electronic vibe of the album. I found myself listening to this album a lot more than I'd be willing to admit.
If you enjoyed this post, you should check out my music blog, Album of the Week.